Back

By Jon Cardinelli
One last shot
Morné Steyn laughs when he's asked for the secret to his longevity. He shrugs after it's put to him that he falls into the same category as Tom Brady, Roger Federer, Sachin Tendulkar and Serena Williams – freaks of nature who have gone on to win big matches and titles well into their late thirties and early forties.
Most will remember Steyn for the kick that broke the British & Irish Lions' resistance in 2009. Since nailing that series-clinching penalty in the second Test at Loftus Versfeld, Steyn has gone on to enjoy many more title successes with the Springboks, Bulls and Stade Francais.
His story took an unexpected turn when he joined a rebuilding Bulls franchise in late 2019. With Steyn back in the number 10 jersey, the Bulls went on to dominate all domestic tournaments across the 2020-21 season and proceeded to end a decade-long title drought.
All things considered, it shouldn't come as a surprise to hear that Steyn – even at the ripe old age of 36 – has been sounded out about a role with the Springboks over the course of the 2021 season.
It's not hard to understand why Jacques Nienaber and Rassie Erasmus may include a player of Steyn's reputation and experience. The 66-cap fly-half will add value to the squad dynamic, and could, in the event of injuries, provide another starting option. Outside of the World Cup-winning duo of Handré Pollard and Elton Jantjies, the Boks are short on experienced fly-half alternatives.
I grew up watching Morné slot all those kicks for South Africa – kicks that meant the difference between winning and losing matches, series and tournaments

Handré Pollard on Morné Steyn
The 2009 series, and indeed the events that shaped the outcome, have been revisited in detail over the past few months. The result had a profound impact on the next generation of Boks – Pollard chief among them.
Pollard told The XV that he attended a couple of the midweek games in 2009 as a passionate fan. He watched Steyn win the series in Pretoria, and continued to follow his goal-kicking exploits in subsequent years. In 2014, Pollard had the opportunity to work with Steyn after he was drafted into the national team.
To say that Pollard is something of a Morné Steyn fan is an understatement.
"I grew up watching Morné slot all those kicks for South Africa – kicks that meant the difference between winning and losing matches as well as big series and tournaments," Pollard recalls. "That kick to beat the Lions left a big impression on me."
It all comes back to that kick in the second Test. After Ronan O'Gara took Fourie du Preez out in the air, the Boks were awarded a penalty inside Lions territory.
Bok captain John Smit looked around the field for Frans Steyn, who specialised in long-range attempts. Instead, he saw Morné Steyn, a rookie playing just his second Test off the bench, walking towards him with a tee in his hand.
Steyn's lack of international experience, however, meant nothing in the context of that particular challenge. By then, he was already a veteran for the Bulls, having played and won many big matches for the franchise at Loftus Versfeld.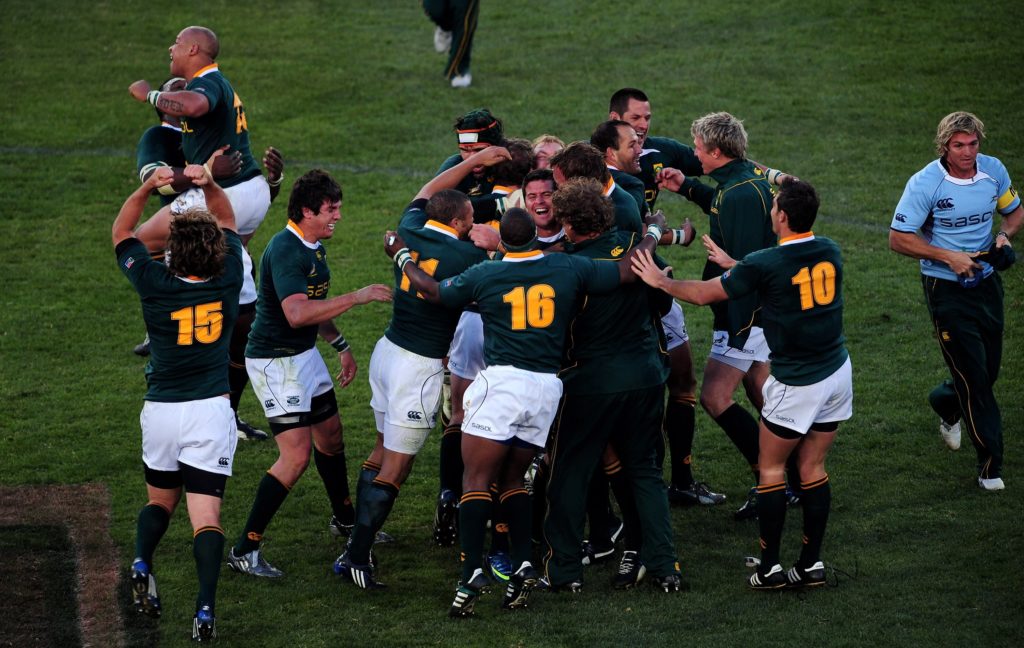 As Heyneke Meyer explained to The XV, Steyn was never going to miss.
"I remember standing on that field during a Bulls training session, shouting at him as he lined up a kick. 'Morne, this one is for the Super Rugby title! Morné this one is for the World Cup!'
"By the time he got the call-up to play against the Lions, he was used to the pressure. I saw him nail plenty of big kicks on that particular ground. I was confident that he would get the job done against the Lions."
Meyer is best placed to comment on Steyn's evolution as a rugby player, as he coached him extensively at club level, first at the Bulls and later at Stade Francais.
Meyer went on to coach the Boks between 2012 and 2015. He didn't hesitate to make Steyn his starting 10. The pecking order changed, though, after Pollard, then 20, was backed for the position in 2014.
Pollard points out that he and Steyn have different strengths. But as Meyer explains, Steyn was considered more of a 'running fly-half' when he was first drafted into the Bulls squad in 2003.
What's more, Steyn's goal-kicking was woefully below par.
Steyn grew up in Bloemfontein, but attended Sand du Plessis instead of the world-renowned rugby factory, Grey College. He didn't kick for his school, and he didn't start for the Free State Craven Week side.
After a loss, he'd put his arm around a team-mate and make a joke. He'd have this big smile on his face. That annoyed me a bit. I wondered if he didn't care about losing

Heyneke Meyer on Morné Steyn
"There was no hype around the guy when high performance manager Ian Schwartz and myself brought him up to Pretoria," remembers Meyer. "We felt vindicated, though, when we saw him play. Even at the age of 20, he had plenty of guts."
Steyn joined the Bulls on a tour to Georgia. While he impressed with his distribution and running game, he missed the bulk of his opportunities in front of goal.
At that stage, the Bulls had Springbok fly-half Derick Hougaard on their books. Meyer realised the importance of squad depth, though, and pressed on with his plans to develop an alternative.
"I had a good relationship with Dave Alred, who worked with Jonny Wilkinson and England as a kicking coach," says Meyer. "Dave made a big difference when he came in to work with Morné and the other kickers.
"From there, it was all down to Morné's attitude. He just didn't stop training. Perhaps that was part of his attitude too – he set himself a task and then fought and fought until he got it done."
It took some time for Meyer to appreciate the player's laid back nature.
"After a loss, he'd put his arm around a team-mate and make a joke. He'd have this big smile on his face. That annoyed me a bit. I wondered if he didn't care about losing.
"I soon realised that was part of his personality. It was actually an important part of who he was – and still is – as a rugby player. Morné had the ability to cope with disappointments, to move on. He doesn't allow losses or setbacks to break him.
"After a while, that mental resilience filtered into the rest of the team."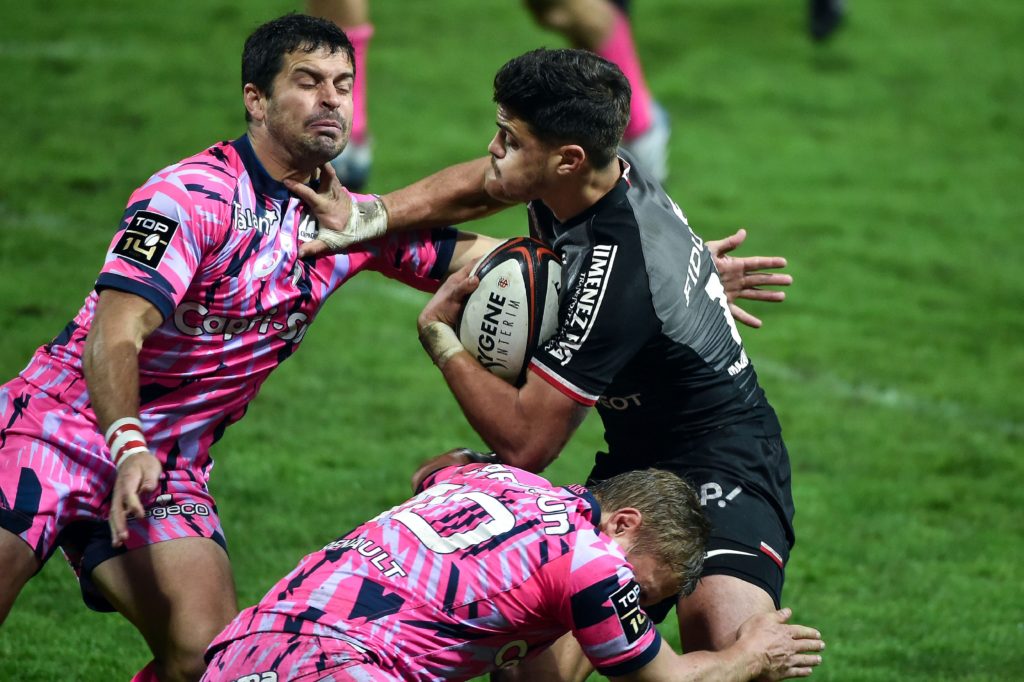 After replacing Ruan Pienaar as the Boks' first-choice pivot in 2009, Steyn proceeded to break a series of records over the next few years. Over the course of 2009 and 2010, he enjoyed a streak of 41 successful kicks at goal.
Steyn was part of a great Bulls side that won the 2009 and 2010 Super Rugby titles. He played a key role for the South African team that went on to beat the All Blacks three times and win the 2009 Tri Nations.
Most critics and fans agree that Dan Carter was the best fly-half of that era – and yet few will deny that Steyn was a match-winner of rare ability.
He travelled to the 2015 World Cup behind Pollard and Pat Lambie in the pecking order. After rejoining Stade Francais, he wondered if his time in international rugby had come to an end.
In 2016, South Africa lost Pollard and Lambie to serious injuries. The Boks were soundly beaten by the Wallabies and the All Blacks in Australasia, and coach Allister Coetzee went into the home leg of the Rugby Championship desperate for any sort of win.
Steyn was recalled to the squad and rushed straight back into the starting side. At the time, Coetzee explained that Steyn – a reliable sharpshooter – represented the Boks' best chance of victory against the Wallabies at Loftus.
While the Boks went on to produce yet another insipid collective performance, the decision to back Steyn paid dividends. The veteran kicked four penalties and two drop goals in an ugly, yet crucial, 18-10 win.
The Boks were brought to earth with a thump the following week. New Zealand racked up 57 points and nine tries at Kings Park, and handed South Africa their heaviest defeat on home soil.
That match against the All Blacks on 8 October 2016 was widely viewed as Steyn's last in the green and gold. Until now.
I thought returning to the Bulls would be a good way to end my career and to have a bit of fun. I obviously wasn't thinking about the Boks at that stage

Morné Steyn
"It was great to come back into the team and to win that game against Australia at Loftus," Steyn told The XV. "That would have been a good way to finish my career.
"The reality is that we went to Durban the following week and got hammered by the All Blacks. You go into every game with the intent to win. To lose like that was very disappointing."
Steyn returned to France and dedicated himself to the task of serving a struggling Stade Francais team. When Rassie Erasmus revived the Boks in 2018 and steered them to World Cup glory in 2019, Steyn looked on as an interested observer.
Then he got a call from the Bulls, more than three years after his last Test for the Boks.
Local billionaires Patrice Mostepe and Johann Rupert had acquired a controlling stake in the franchise. In 2020, former Bok coach Jake White was appointed director of rugby.
"I thought it would be a good way to end my career and to have a bit of fun," Steyn says. "I obviously wasn't thinking about the Boks at that stage.
"When I returned, I was impressed by the structures that had been put in place. They were very clear about my role as a mentor, but at the same time Jake felt that I had more to give as a starting player.
"One thing led to another, and the team gathered momentum. We won a couple of titles, and I relished every opportunity I got to contribute.
"We might even have the chance to play in the Rainbow Cup final [on 19 June]. That would be massive for the younger guys who have never played overseas before."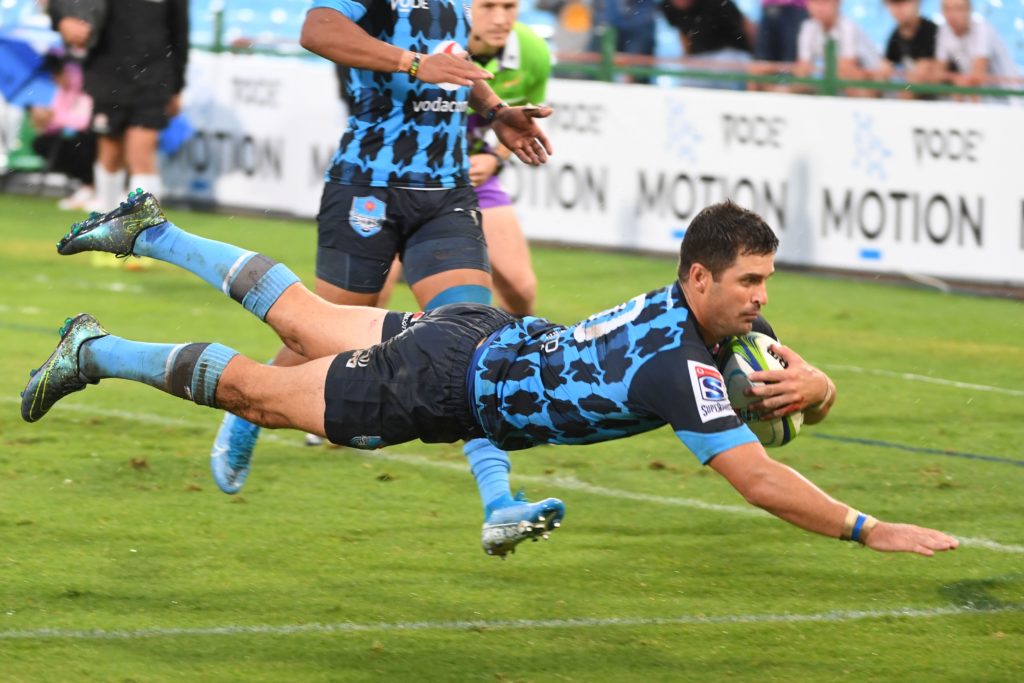 Duane Vermeulen – a key member of the Springbok leadership group and the Bulls skipper – believes that Steyn has added value since returning to South Africa.
"Morné has been absolutely fantastic," Vermeulen told this website. "He's been around the block a few times, and I don't think it would come as a surprise to see him in the Springbok mix for the Lions series.
"Handré and the other fly-halves in the group would certainly feed off his experience. He has so much to share, as a guy who has won a Lions series and so many other big games before."
There's no getting around the fact that the South African teams haven't been exposed to international rugby – at club or Test level – since the national lockdown ended in September last year.
Steyn will be 37 by the time the Lions series commences. Can he really be expected to deliver at that level of intensity?
Meyer believes that Steyn's age shouldn't be a factor in the debate.
"He reminds me of Jonny Wilkinson in terms of his attitude and work ethic – and like Wilkinson he has had a long and successful career," the former Bok coach says.
"In all the years I have coached him, he's probably missed four or five training sessions. He has never really had a serious injury. That's incredible given the nature of a collision sport like rugby.
"Fitness is a big measurement, and Morné is still right up there. He's simply a freak of nature. Age is not part of this equation.
"I remember taking the call from the Bulls medical and conditioning staff when I was still coaching Morné at Stade Francais. I told them that Morné was still one of the fittest guys in the team."
I would pick Pollard ahead of him – and I did that at the 2015 World Cup. If Pollard was injured, I'd back Morné to start. He's shown this season that he's still good enough.

Heyneke Meyer on South Africa's fly-half options
Some players let themselves go when playing abroad, especially in France where conditioning standards aren't always a priority. Steyn is an individual who prefers to set his own fitness goals.
"From the outset, I made a point of looking after my body," he says. "Stretching is so important. I'm not a gym or weights freak. I place an emphasis on flexibility and mobility.
"Other than that, I must have had a few angels watching over me for the past 20 years, because I've never had a bad injury. Hopefully that will continue."
Steyn doesn't try to hide the fact that he's engaged with Nienaber and Erasmus over the past few months – even though the identities of the players selected for national alignment camps have not been disclosed to the media and public.
He also doesn't conceal his desire to return to the Bok set-up, or to add a second series win against the Lions to his long list of achievements.
"That would be amazing," he says. "Not many players get the chance to face the Lions twice."
Meyer puts South Africa's fly-half debate into perspective. As was the case at the 2019 World Cup, the group will need more than 15 or even 23 players to realise their goal over a series of three Tests.
"I would pick Pollard ahead of him – and I did that at the 2015 World Cup," Meyers says.
"That said, I wouldn't mind having Morné on the bench. His goal-kicking and experience would be an asset, and he can cover centre as well as full-back.
"If Pollard was injured, I'd back Morné to start. He's shown this season that he's still good enough.
"He's known for his tactical kicking and goal-kicking. I really believe that his attacking game is underrated, though, if you look at how he has been putting Bulls players through gaps over the past few months.
"His cross-kicking to the wings has been exceptional this season. That's given the Bulls yet another big attacking weapon."
Pollard doesn't hesitate to offer his view on the matter.
"I was struck by how humble he was when I got the chance to work with him at the Boks in 2014 and 2015. He's so good at what he does, yet he has no ego. He always has time for younger guys and I learned a lot from him.
"Another thing that has always struck me about Morné is his response to pressure. That's something I've worked towards as a player, something that most of the top fly-halves seem to have.
"Composure is everything. When you're that calm, it filters into the rest of the team. I'd be stoked if he was part of the Springbok squad again ahead of the Lions series. His experience would be an asset."
More stories from Jon Cardinelli
If you've enjoyed this article, please share it with friends or on social media. We rely solely on new subscribers to fund high-quality journalism and appreciate you sharing this so we can continue to grow, produce more quality content and support our writers.