Back

By Garry Doyle
New Zealand v Ireland: The final frontier
Anyone visiting Auckland this week won't need to dust down their history books for evidence of Ireland's mediocre past. The local bookmaking firm, TAB NZ, have kindly saved us the trouble. "0 wins in NZ," is the wording on the billboards scattered around town, subtle reminders of Ireland's dismal record from 12 tests played against the All Blacks on New Zealand soil.
Another slogan encourages locals to smile at their visitors while feeling a sense of superiority. "Think the flight was long? Try a 28-year unbeaten streak at Eden Park."
Like any bookmaker, the firm is out to make money rather than friends but the positioning of the billboards, close to the Ireland team hotel and en route to the stadium, will leave Andy Farrell in no doubt about the scale of task ahead.
"The last time the All Blacks lost in the Garden of Eden was the same year Forrest Gump hit the big screen, and Friends began its glittering 10-season run on TV," said TAB's marketing manager, Jodi Williams.
Losing is something the All Blacks rarely get a taste of. As for losing at home, well, that's an entirely different scenario again, just two defeats coming in New Zealand since 2009, one to the Lions, the other to the Springboks. You have to go back even further, to 1994, for the last time they lost a home series.
Within a single conversation, Eddie O'Sullivan uses the following words and phrases to describe what it's like to tour New Zealand: fascinating, tortuous, exciting, painful, an experience of a lifetime and pressure. Four times he visited there in a professional capacity, first as Ireland's strength and conditioning coach in 1992, then as their head coach in 2002 and 2006, also as an assistant to Clive Woodward's Lions in '05. All in, he was involved in nine tests … and nine defeats.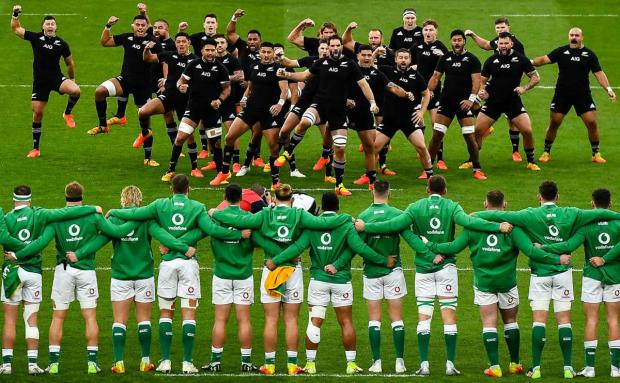 So, he's well placed to describe those spikes of adrenaline, that hollow despair. Those peaks and troughs exist in all sport but when you tour New Zealand, emotions are heightened. The what-ifs, the near misses, the humiliations – Irish rugby has experienced them all, often in the space of a week.
Let's go back to 1992 to remind ourselves of how quickly hope can disappear.
"Welcome to Gisborne," said the sign, "the first city of the sun." Well, at least that's what journalist Brendan Fanning thinks was written. "I can't be 100 per cent sure sign because it was raining so bloody hard when we got there."
A dark cloud stayed over the team right through that tour. A year earlier Ireland had come within minutes of knocking the eventual champion Wallabies out of the World Cup. But this was the old amateur era and continuity and planning were non-existent in the Irish game. So by the time they rocked up to the first city of the sun, they were scraping around for a team.
The difference then is that New Zealand rugby players were lifting weights whereas people in our part of the world were running laps of the field.

Eddie O'Sullivan
The nearly-men of '91 were yesterday's men, only five of the side who pushed Australia to the wire available to tour New Zealand seven months later. It showed. There were some awful hammerings, Canterbury beating Ireland 38-13, Manawatu putting 58 points on them, Auckland 62.
Eroni Clarke, a star of the Auckland and All Blacks teams of that era, looked to swap gear after their 55-point win in Eden Park. Bear in mind the Samoan-born Clarke was a centre. But the only Irish player who could fit into Clarke's shorts was Nick Popplewell, the Irish loosehead. "The difference then is that New Zealand rugby players were lifting weights whereas people in our part of the world were running laps of the field," says O'Sullivan.
Somehow, though, Ireland nearly produced a miracle in the first test, Vinnie Cunningham – a clever, elusive, inside centre scoring two tries, Jim Staples a third. "They panicked," recalls O'Sullivan. But just to an extent. Frank Bunce crossed twice; the aforementioned Clarke got a third try, flanker Paul Henderson a fourth. "The All Blacks had come for a training run and found themselves in a dogfight," says Cunningham. "It was the biggest disappointment of my career that we didn't beat them that day."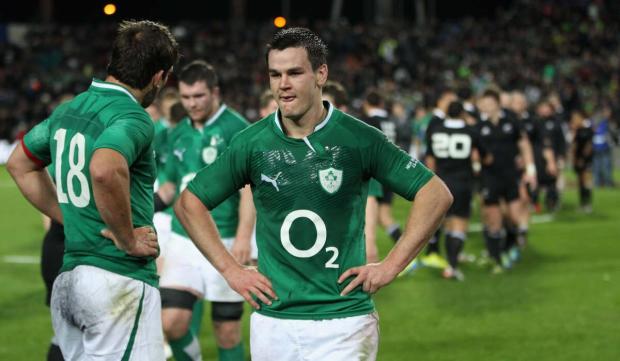 Emotional scars would be followed by physical ones a week later, Neville Furlong crossing for an early try to put Ireland ahead before order was restored. As many as 17 regulars had withdrawn from the original Irish squad. Those left behind were left to soldier through an intense eight-game, four-week tour. It was too much.
Flanker Mick Fitzgibbon got hurt early in the second test and had to go to hospital. O'Sullivan was despatched to accompany him in the ambulance. The door had barely opened when Mark McCall – now the Saracens director of rugby – came in to join them. "We were about to pull out of car park," remembers O'Sullivan. "Then suddenly there was a knock on the door."
Jim Staples, the full back, had arrived on a stretcher. "It was like something out of M*A*S*H," laughs O'Sullivan. When they left the car park it was 15-6. By the time they got to the hospital waiting room, O'Sullivan asked a porter to switch on the TV. "By then it was 37-6. It was just carnage."
When Brian was on the field, I felt we had an opportunity to win any game, even when we weren't playing well. He was extraordinarily confident and comfortable in himself and his abilities.

Keith Wood
That in a nutshell wasn't just the story of Irish tours to New Zealand but of Irish rugby period in the 1990s. "There was no belief," says O'Sullivan. And you can see why. This was a decade when the team failed to record a single win over France, Scotland, New Zealand, Australia or South Africa. Italy beat them three times in a row; Namibia beat them twice.
But by the time O'Sullivan and Ireland next toured New Zealand a decade later, things had changed. A guy called Brian O'Driscoll had arrived.
"When Brian was on the field, I felt we had an opportunity to win any game, even when we weren't playing well," says Keith Wood, the captain of that 2002 tour. "He was extraordinarily confident and comfortable in himself and his abilities and it rubbed off on a whole lot of players. I'm not sure there was much belief in 1992 but by 2002, there was. In the first test in Dunedin we were right in the game with five minutes to go."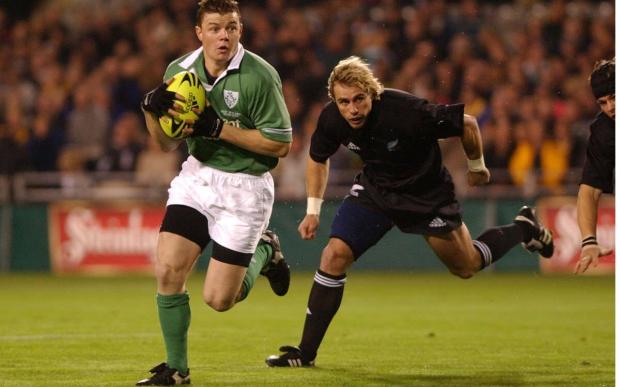 O'Sullivan, as well as O'Driscoll, deserves credit for that. He'd appointed Mike Ford as Ireland's first ever defence coach earlier that season. "Prior to then it was a case of 'get up and try harder next time'. The whole notion of a defence coach was pretty new in rugby back then; it was worrying because we knew players had to buy into this concept."
This was the day when they were won over, 15 June, 2002. "We threw a curveball at them, changed our midfield defence, going up and in, in the rain. We put O'Driscoll at 12 to help Rog (Ronan O'Gara) on his inside and John Kelly on his outside." It worked. An early O'Driscoll drop-goal put Ireland ahead before Doug Howlett responded.
At half-time it was 10-3 to New Zealand but an O'Gara penalty cut the gap to four and a disallowed try – Geordan Murphy had clearly crossed – proved to be a point of contention. "We should have won that game," says Wood. "We got a lot of things right and only a few things wrong."
One of those issues – believe it or not – was O'Gara's kicking. He landed just one shot at goal with a controversial Adidas ball that was being tried out in the series. "The ball was like a pig," said his opposite number, Andrew Mehrtens, who also had his goalkicking struggles that day. "Ah, the lemon," recalls O'Sullivan. "To be fair, it was tough on both kickers."
Oddly, I've sometimes come off the pitch against the All Blacks feeling I could play another game, because I've been unable to get near them

Donncha O'Callaghan
Defeat was particularly tough on Wood. He'd end his career without a win over New Zealand and without the medals to accurately reflect his standing in the game. Those would come to his successors, O'Driscoll helping Ireland win their first Triple Crown in 19 years and first grand slam in 61 years.
The generation who followed fared even better. There were back-to-back Six Nations championships in 2014 and 2015; a first ever win over the All Blacks in 2016, a first win against them on Irish soil in 2018, the same year they won a series in Australia for the first time since 1979. Add in a victory away in South Africa and you can see why New Zealand is the last frontier, the only side Ireland have never beaten on enemy turf. "We're better organised now than ever," said Wood last week.
O'Sullivan agreed: "Twenty years ago they had the edge in athleticism. You wouldn't say that now."
But still, you can't say Ireland are favoured to win. Their last visit here ended in a 60-point chastening.
Donncha O'Callaghan played in that Test. In all, he faced the All Blacks 12 times (twice with the Lions, 10 times with Ireland). And he lost 12 times. Nine of those defeats were in New Zealand.
"They give it to you hard in defence and at the set piece," he says, "but when they're in their flow, there aren't too many collisions; their skillset is too great, their ability to attack space too attuned for them to be bashed around the place. Oddly, I've sometimes come off the pitch against the All Blacks feeling I could play another game, because I've been unable to get near them."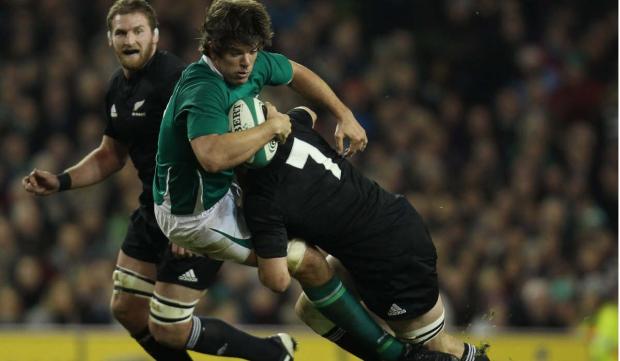 You can see that in some of the scorelines: New Zealand 60-0 in the final test of the 2012 tour; 42-10 in the first test; 40-8 in 2002; 59-6 in 1992. But the other eight tests Ireland played there were close-run things.
In 2006, they led in the first test. "And should have won," says O'Sullivan. "They got a couple of calls, Denis Leamy being unfairly punished at the breakdown, resulting in three points; one of their tries being a clear knock-on.
"The difference is that by 2006, we believed we could win. We had a different mindset. We knew we could spar with them. It was not as if we were looking at the clock wondering, when is this game going to end? They dodged a bullet. By 2006, they respected us."
They still do. Why else would those TAB NZ adverts be so insulting? You know you have made it when they are resorting to name-calling. "The more you play them, the more confidence you get," says O'Sullivan. "Like everyone went on and on about the fact it took Ireland 111 years to beat New Zealand but to be fair, we only played them 14 times in the twentieth century.
"Since then, we've played them 19 times in 22 years. Physically we caught up with them so it is case now that when it is our day, as it was last November, when the Ireland coaching staff got it right tactically, we can win. Sure, it's harder to win down there – but we can do it."
It'll be fascinating to see them try.