Back

By Daniel Gallan
Monty Ioane: 'I came close to quitting. I thought it was the end'
It should have been the highlight of his career. Instead, Montanna 'Monty' Ioane just felt numb.
Just a few short hours after Italy had claimed a remarkable 22-21 win over Wales in Cardiff, which ended a run of 36 consecutive defeats in the Six Nations, Ioane, outstanding on the day, found himself alone in his hotel room.
"I honestly can't explain it," he says, taking his time to once again make sense of his emotions that felt incongruous with the occasion. "We'd just done something really special on the field. After the final whistle I was buzzing but I suddenly felt, I don't know, like nothing. It was weird."
Throughout our conversation, Ioane doesn't use the word 'depression' but he says that he felt "sad", "disconnected" and "lost". He explains how he needed to create distance between himself and the game he loved.
"I'd given my life to rugby, to this team," he says. "I don't have the words to explain to you what I felt. Maybe I won't ever have the words, I don't know.
"I'd lived my whole life expecting certain things and wanting certain things from my rugby life. I told myself that I'd feel full when I achieved them. When I didn't feel those I started to question everything in my life. I was overwhelmed by this emptiness. Then I was overcome with this gush of sadness and I couldn't understand it.
"I stayed like that for three weeks. I couldn't shake it. I continued to feel strange. I called Kieran [Crowley, Italy's head coach] and told him I needed a break."
Ioane went back to Melbourne, his hometown for the first 16 years of his life. It was the first time in four years that he'd seen his parents. With his partner, Melissa, and their two young daughters, Ioane was very rarely alone. He filled the void that rugby had created with the love of his family.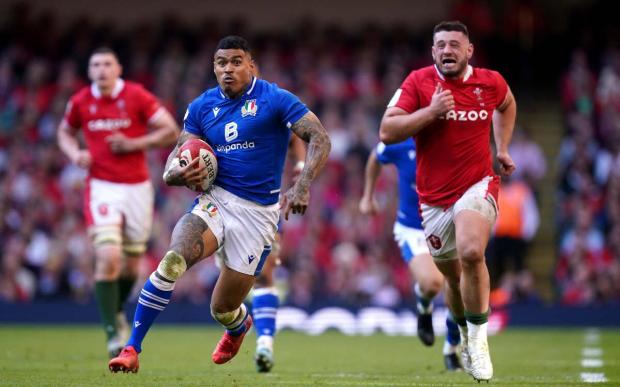 Not that he could escape from rugby entirely. During Italy's summer tour across Europe, fans and journalists started to openly doubt his loyalty. As a foreign-born player his allegiance had previously been called into question, as if he were simply a mercenary. His social media accounts were soon awash with damning comments. He was told to stay in Australia, that Italy never wanted him, that he wouldn't be welcomed back. He read somewhere that he had retired from the sport.
"I came close to quitting," he says. "I thought it was the end. I couldn't believe my commitment was up for debate. I'd given everything for my adopted country. I love this country and this team. But I do understand why people were upset. It was difficult hearing those comments from people I knew and respected. I'm glad they never came from my teammates."
It was during this period that Ioane signed with the Melbourne Rebels, which will fulfil a childhood dream of playing Super Rugby. He accepted that his international journey might have ended after 14 Tests. Then he got a call from Crowley asking if he'd like to join the squad for the Autumn Nations Series.
After the game, one of the backroom staff from Samoa came up to me and said he was so proud of me that I was representing Samoan people on the world stage. That meant a lot to me.
"I was surprised but I didn't hesitate," he says. "Kieran is such a special guy. I don't know what exactly he does but he makes you want to go out on the field and give your life for him. He's such a driven man. All the players are willing to do anything for him. He has this influence on people, it's incredible. He's changed Italian rugby and I'm so happy to be a part of this project."
More than that, the first two Tests of the Series offered Ioane a rare chance to simultaneously connect with his past and take control of his future.
Last week, he played against Samoa, scoring two tries against his father's homeland. He explains how cousins and uncles sent him tongue-in-cheek messages to go easy on the Pacific Islanders. His father told him to "remember his roots".
Those messages didn't work. Ioane scored two tries in a thumping 49-17 win in Padua.
"I had to do what I had to do," he says with an almost apologetic laugh. "But after the game, one of the backroom staff from Samoa came up to me and said he was so proud of me that I was representing Samoan people on the world stage. He said it was great that I was playing for Italy. That meant a lot to me.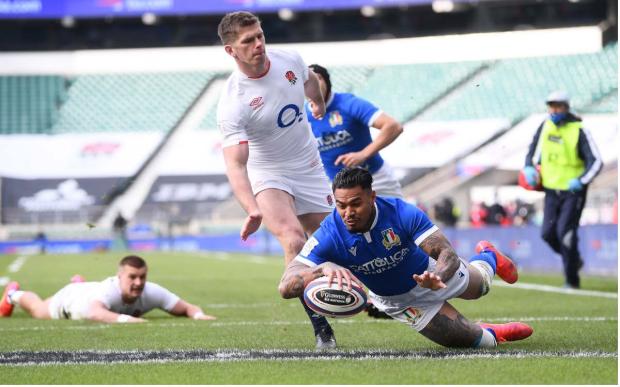 "Culture is fluid. Identity is fluid. In my heart I'm Samoan. In my heart I'm Australian. I love playing for Italy and I'd give everything for this team now that I've rediscovered my passions. You don't have be of one heritage. It's a beautiful thing."
Ioane recognises that his words are at odds with the politics of his adopted nation's government. Giorgia Meloni, who swept to power with a comprehensive victory at the polls in October, ran on an anti-immigrant and xenophobic campaign.
Ioane is conscious of what he represents but says he is desperate to perform against Dave Rennie's Wallabies. "I'm excited. I'm not sure what to expect. When I was a kid I had this vision of me playing for Australia, singing the national anthem. I'm not sure how I'll feel when I hear it on Saturday. I'll probably be singing it in my head. It will be special scoring a try against them if I can."
I loved the lifestyle but I didn't enjoy the rugby. Digby was a legend. But he babied me and at the same time he put so much pressure on me. I was hyped up and had this expectation to be like him.

Monty on following in the footsteps of Wallaby wing Digby
Beyond the ambitions of an elite athlete, Ioane is motivated by two powerful aims.
Firstly, he wants to prove that he belongs at this level, a ubiquitous drive across sports, but one he keenly feels given the start to his rugby adventure.
He was 16 when he moved to Brisbane to take up a scholarship at Anglican Church Grammar School, a renowned multi-sport talent factory, and join the Queensland Reds academy. He moved in with his uncle, Digby, a 35-Test Wallaby winger, and his cousin, Pete Samu, who he'll face on Saturday in Florence.
When Digby fell out with the management team at the Reds, he moved to Paris to join Stade Francais. Monty felt he had no choice but to head to the City of Lights.
"I loved the lifestyle but I didn't enjoy the rugby," Ioane explains. "Digby was a legend. But he babied me and at the same time he put so much pressure on me. I was hyped up and had this expectation to be like him. He cast a massive shadow. He was a winger too which made it even harder. I found it hard to be myself."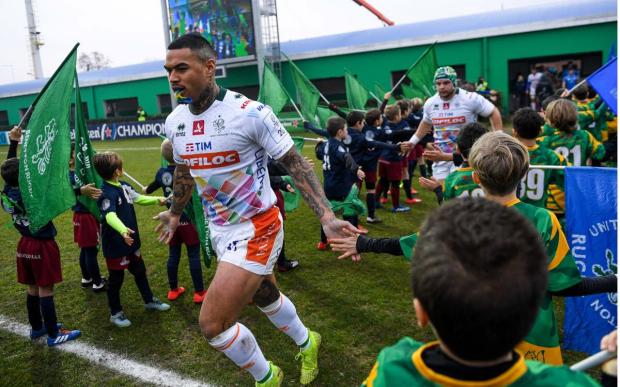 Ioane didn't last long in Paris, playing just two games. His next stop was in New Zealand where he worked under Rennie, who was coaching the Chiefs in 2015. "I learned so much under Dave," he says. "He thought of things I'd never see any other coach do. One practice, we were working on creative offloads and he soaped all the balls. It was crazy. He's a brilliant coach. I'm not surprised the Wallabies are cooking right now."
Plan A was always to remain in Australasia. An Australian Super Rugby side was interested after some impressive displays in the Mitre 10 Cup. Then his agent told him about a possible gig at Benetton. "I was like, 'OK, let's have that as Plan B' but I never actually thought it would happen."
A formal offer was made by Crowley, who was coaching Benetton at the time and laying down a foundation block on which the rest of Italian rugby has since built upon. He outlined exactly how he wanted to use Ioane and the sort of rugby he intended to play.
Over the past six months, from everything that has happened, I see life with a new perspective, I see the purpose in what I'm doing.
"I told him that I'd be interested but only if the Super Rugby deal fell flat," Ioane says. "I was nervous to tell him that because he might have thought that I was only half interested. But he was completely understanding. Not every coach would be like that. So when the Super Rugby deal never came I went to Italy. And far out, look where it's taken me. I'm so grateful. This is why I want to give back."
That is perhaps Ioane's raison d'être. He routinely speaks of his desire to fulfil a variety of debts. To his father's culture, to his nation, to his new home.
"My partner is constantly asking me what I do for myself," he says. "I guess in order to receive you must give first. I'm doing what I'm passionate about. To go out there and give people joy, to the likes of my city, my country. In return I'll receive the love from people.
"I can't find the words to say what I do for myself, but this is enough. Over the past six months, from everything that has happened, I see life with a new perspective, I see the purpose in what I'm doing. That finally is doing something for myself."