Back
By Bryn Palmer
Hoggy the Test centurion hoping to celebrate Triple Crown glory
Reaching 100 caps for your country may not have the rarity value it did 20 years ago, when the venerable England prop Jason Leonard became only the third men's player to achieve the feat.
In these days of a dozen Test matches a year for the leading nations, a new generation from Brian O'Driscoll (141) to Richie McCaw (148) and the remarkable Alun Wyn Jones (169 and counting), have blitzed the records set by the first centurions – the great French centre Philippe Sella and Wallabies wing legend David Campese – in the amateur era.
Donna Kennedy, a pioneering figure in the women's game, blazed the tartan trail for longevity when she achieved the feat in 2007, going on to win 115 caps over a 17-year career.
At the last count, 87 men had reached the 100-cap mark. But only three of those – Chris Paterson, Sean Lamont and Ross Ford – were Scots until Stuart Hogg joined them on three figures against Wales in the second round of this year's Six Nations Championship.
Including his two caps for the British & Irish Lions in their 2021 series against South Africa, that was Hogg's 100thTest, but it was short-lived. He was forced off after just 13 minutes with a head knock.
Most rugby fans with a beating heart would wish the Exeter full-back a more fitting celebration when he wins his 100thcap for his country on Sunday against Ireland, with Scotland targeting a first Triple Crown since 1990.
Hogg has arguably shone brighter than any other Scot during the Six Nations era, a beacon of hope and individual excellence even during prolonged periods of under-achievement for the national side.
"He will go down as probably the greatest player that has played for Scotland," says former hooker Ford, who won 110 caps for Scotland, plus one for the Lions, from 2004 to 2017. "He is right at the top for me. Every time he gets the ball, you expect him to make something happen. He delivers time and again. The way he has impacted this Scotland team is huge, having somebody of such world class."
Paterson, who retired from Test rugby after the 2011 World Cup as Scotland's record points scorer, with 809 from his 109 Tests, also believes Hogg should be in any conversation about Scotland's greatest player, even if he lost out to Gavin Hastings for the 15 shirt in an 'all-time XV' poll in 2020.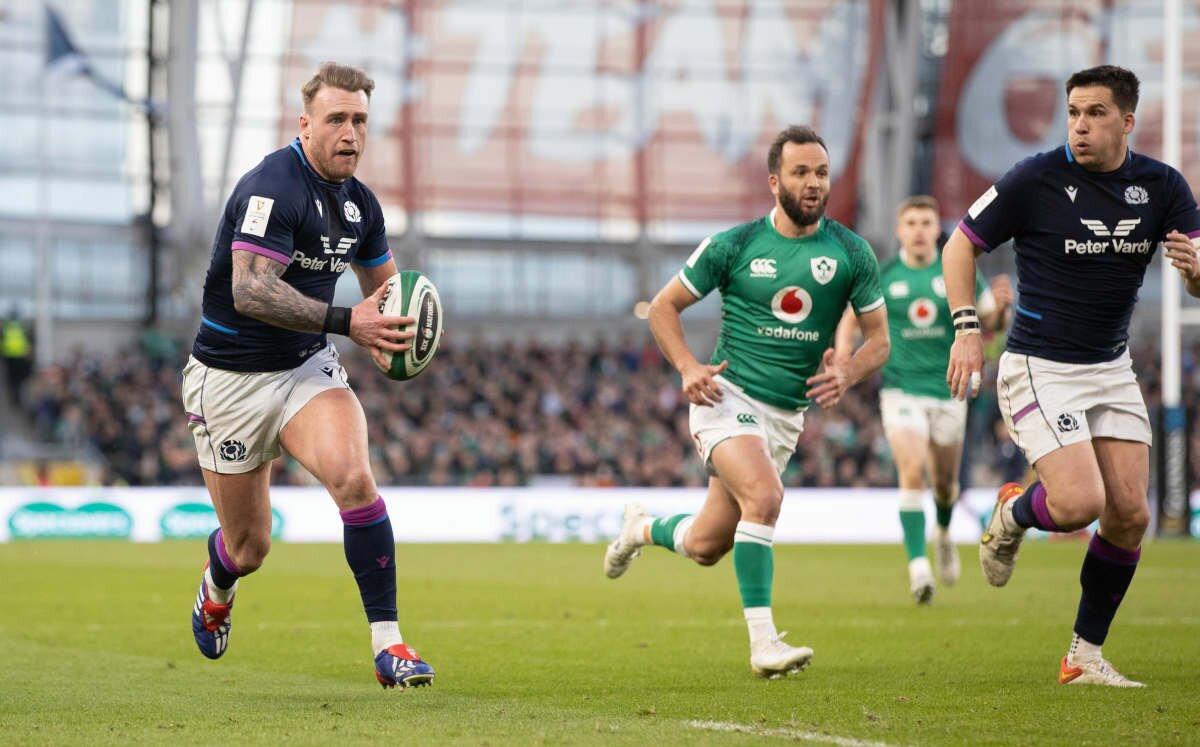 "He is quite unique in having that level of ability but also that drive to improve," says the former full-back. "There is natural talent there of course, but a real work ethic as well.
"He has probably achieved what he has under more pressure than some others in the past. There was always pressure in international rugby but there is so much more scrutiny now.  Every game Hoggy plays is on TV – every catch, every pass, every tackle is out there for assessment – whereas for players of yesteryear, it may only have been three or four games a season. He had to continually improve on areas of his game in the public eye, and that takes a lot of mental strength."
Paterson is well qualified when it comes to the top two inches. His own 100th cap for Scotland in 2010 proved to be quite the ordeal. Not in his wildest dreams – and being an inveterate goal-setter, Paterson admits he was so desperate to hit the century that he "thought about it too much" – could he have imagined what lay in store.
Presented with his jersey beforehand by Gregor Townsend, then an assistant coach to Andy Robinson, Paterson led the team out against Wales into the cathedral of Cardiff's Principality (then Millennium) Stadium.
The initial diagnosis was I might not play again. I can remember lying in my bed thinking 'no way is this it, your career is not ending on 100 caps – it looks like a token'

Chris Paterson
"That was awesome and then bang, five minutes in, I split my kidney into three," he recalls. "I didn't know it at the time. Even though I realised 'this isn't great', my attitude was to keep fighting. I was determined to keep going, setting mini goals – 'get to 10 minutes, then to 20 minutes, then to half-time'.  I managed to kick a goal, then I missed a kick, but I thought if I could battle on a bit longer…"
Remarkably, Paterson lasted half an hour before giving way to the "horrific" pain. He was about to be loaded into an ambulance at the stadium when wing Thom Evans, who had suffered what proved to be a career-ending neck injury, was understandably deemed a more urgent case. But Paterson spent the next three days in Cardiff's University Hospital of Wales, still wearing his match kit.
"Rugby is a combination of the highest highs and deepest lows. Your career is full of emotion, courage, bravery, spirit, wins, losses. In the space of 20-odd minutes in that match, I experienced an entire career.  Everyone wants it to be a fairytale, but rugby is hard.
"The initial diagnosis was I might not play again. I can remember lying in my bed thinking 'no way is this it, your career is not ending on 100 caps – it looks like a token'. The goal quickly turned to 'how can I get back playing and get to 101, 102?'. That mindset and desire didn't change."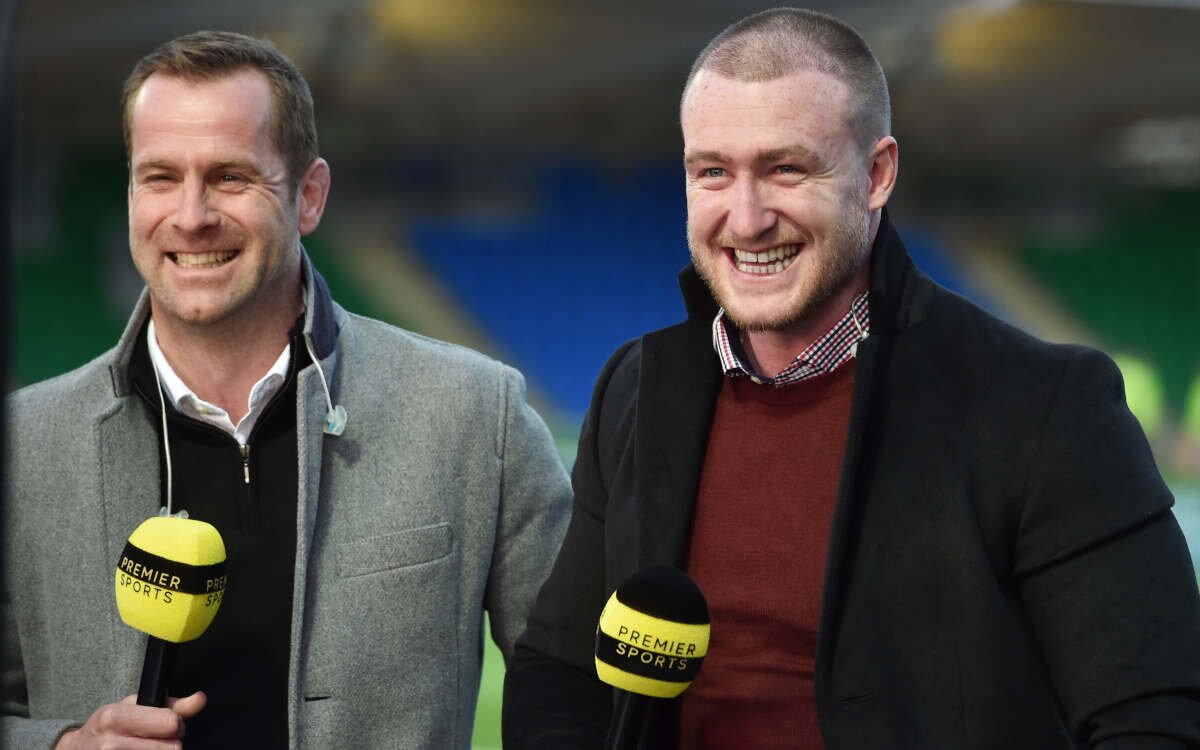 It was around that time, towards the end of his own career, that Paterson had his first interaction with Hogg. Already aware of the teenager making waves on the Borders sevens circuit – Hogg's elder brother Graham played for Scotland's sevens team and trained with Edinburgh – he was asked by Richie Gray, the breakdown guru who has worked with South Africa and Scotland among others, to do a session with the 17 and 18-year-olds on Gray's Borders Academy college course.
"Richie told me, 'This one is something special, he's got the lot', Paterson recalls. "So I went down to Earlston Rugby Cub and sure enough, he was utterly brilliant. We played touch rugby to warm up and I couldn't get near him. He had this confident swagger and smile on his face. The instinct and rugby intelligence was already there. At the end, someone said 'why don't you do a goalkicking challenge with Hoggy?'. I was still playing international rugby, and he won that too! He could do everything."
It wasn't long before Hogg's talents reached a wider audience. Nine days after scoring a sensational solo try for the Scotland A team against England, he was promoted to the senior squad and came off the bench in Cardiff to make his Test debut on the wing as a 19-year-old in February 2012.
When Hoggy first came in, he was the youngest in the squad and he played up to that role. Off the pitch he was the joker but he enjoyed training and he worked hard at it.

Ross Ford
A week later he was handed the 15 jersey against France at Murrayfield, marking the occasion with a try. All of his caps since his debut have been as a starter, all but one – against Italy in 2021, when he played fly-half – at full-back.
"He never looked back," recalls Ford, who was Scotland captain in 2012.  "When he first came in, he was the youngest in the squad and he played up to that role. Off the pitch he was the joker but he enjoyed training and he worked hard at it. It was just about trying to contain his energy sometimes.
"But when it came to games, you could see there was something special there. Every time he got the ball, you knew something was going to happen. He just had that talent and ability."
The highlights reel in those early years illustrated Hogg's raw pace, vision and footwork. Some of his tries are up there with the best the Six Nations has seen – the 90m effort against Italy in 2013, the electric arcing run from his own half against Ireland in 2016.
He was voted Six Nations Player of the Championship in 2016 and 2017 (only the great O'Driscoll has won the award more) despite Scotland finishing fourth in both those years.
Since Gregor Townsend took over as head coach in the summer of 2017, Hogg has matured into not just an outstanding player but a totemic figure in the Scottish game.
Captain in 22 Tests (only Greig Laidlaw and David Sole have led Scotland on more occasions) from the start of the 2020 Six Nations to the end of last year's campaign, he remains a key part of the leadership group, despite Townsend opting to hand the reins to Jamie Ritchie last autumn.
"By the time I retired, you could see the transformation – he had developed into a real leader," Ford says. "But even quite early on in his career, he was taking more ownership, he was demanding of boys, he would let them know if it wasn't good enough.
"He always had that in him. He was not shy in coming forward. If he wants something, he will say 'give us a bash at it'. But he has matured really well and commands respect from everyone. I thought he was a good captain and his game understanding is phenomenal. When you get to know Hoggy he is a really great bloke too – he cares about folk.
"The mark of him is he has allowed players around him to get better.  He wants to be the best. He has always been like that, very competitive. It's how he was brought up. You could see he was really passionate about winning. Even in training, he didn't accept losing."
Hogg, along with renaissance lock Richie Gray, is a rare breed among the current generation in having two wins over Ireland on his CV.
Losing became a frustratingly familiar feeling early on in his international career though. Hogg tasted defeat in his first four Scotland Tests, and in 14 of his first 20. Given that start, it is a sign of Scotland's overall improvement – and Hogg's role in it – that his overall win percentage is now a tad under 50%.
One of the notable exceptions in those early years came against Ireland – a backs-to-the-wall 12-8 victory in 2013. Hogg, along with renaissance lock Richie Gray, is a rare breed among the current generation in having two wins over Ireland on his CV. The other was Scotland's last win in the fixture in 2017 – a thrilling 27-22 triumph at Murrayfield in which Hogg scored two early tries.
But he has also been on the losing side 11 times against the men in green, including the last seven meetings during Townsend's tenure. While Hogg will no doubt embrace his personal milestone on Sunday, you suspect the tangible reward of victory – a Triple Crown and an outside shot at the championship – will provide far greater motivation.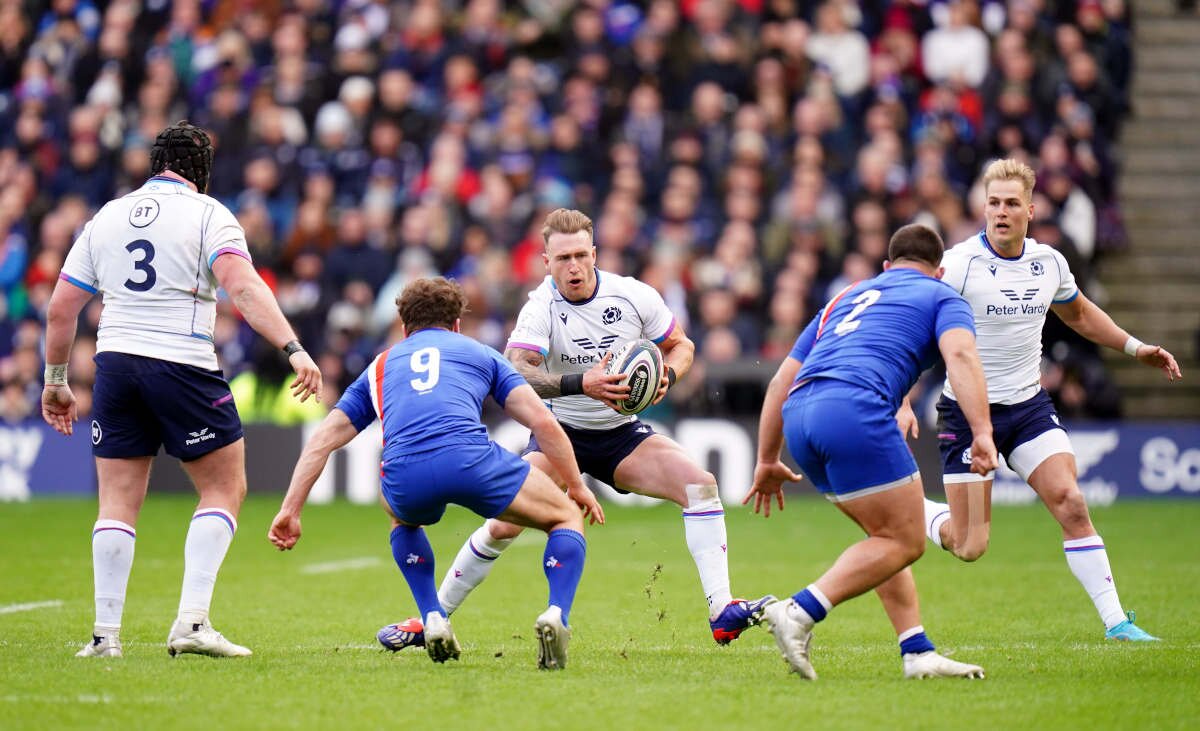 "I would have swapped caps for trophies," reflects Ford. "That's the good thing about Hoggy now. He has got to that point where they are in a position to be successful and it is about taking that next step to a Triple Crown and hopefully a Six Nations title. For him it is do-able."
Hogg, 31 in June, is already Scotland's all-time top try-scorer with 27, having overtaken Ian Smith and Tony Stanger's previous mark in their final autumn Test of 2021 against Japan.
"I know that meant a lot to him," recalls Paterson. "He wants to be up there among Scotland's greatest players and you could see the delight on his face at that moment.
"He is one of those guys who even if has a super-strength, he still wants to develop it. Quite often players only want to work on their weaknesses and not so much on parts they are already good at, but Hoggy does both. He wants to push boundaries with the things he already does well and see how much better he can get at those too.
"Quite often he'll say to me, 'Can you have a look at this game and assess what I did in this area?' or 'How can I do that better?' He was always looking to improve from the word go, and still is. There is that constant drive."
With a fair wind on the fitness front, Hogg should overtake Ford's haul of Scotland caps, assuming he continues to play Test rugby beyond this year's World Cup – or even during it if Scotland were to somehow progress beyond a fiendishly difficult group including Ireland and South Africa.
"I fully expect him to blow my record out of the water," adds Ford. "He is playing some great rugby at the moment. I would have no problem with him smashing it. He looks after himself and he will deserve it. It is totally in his hands. He is full of ambition and can play for a long time yet."