Back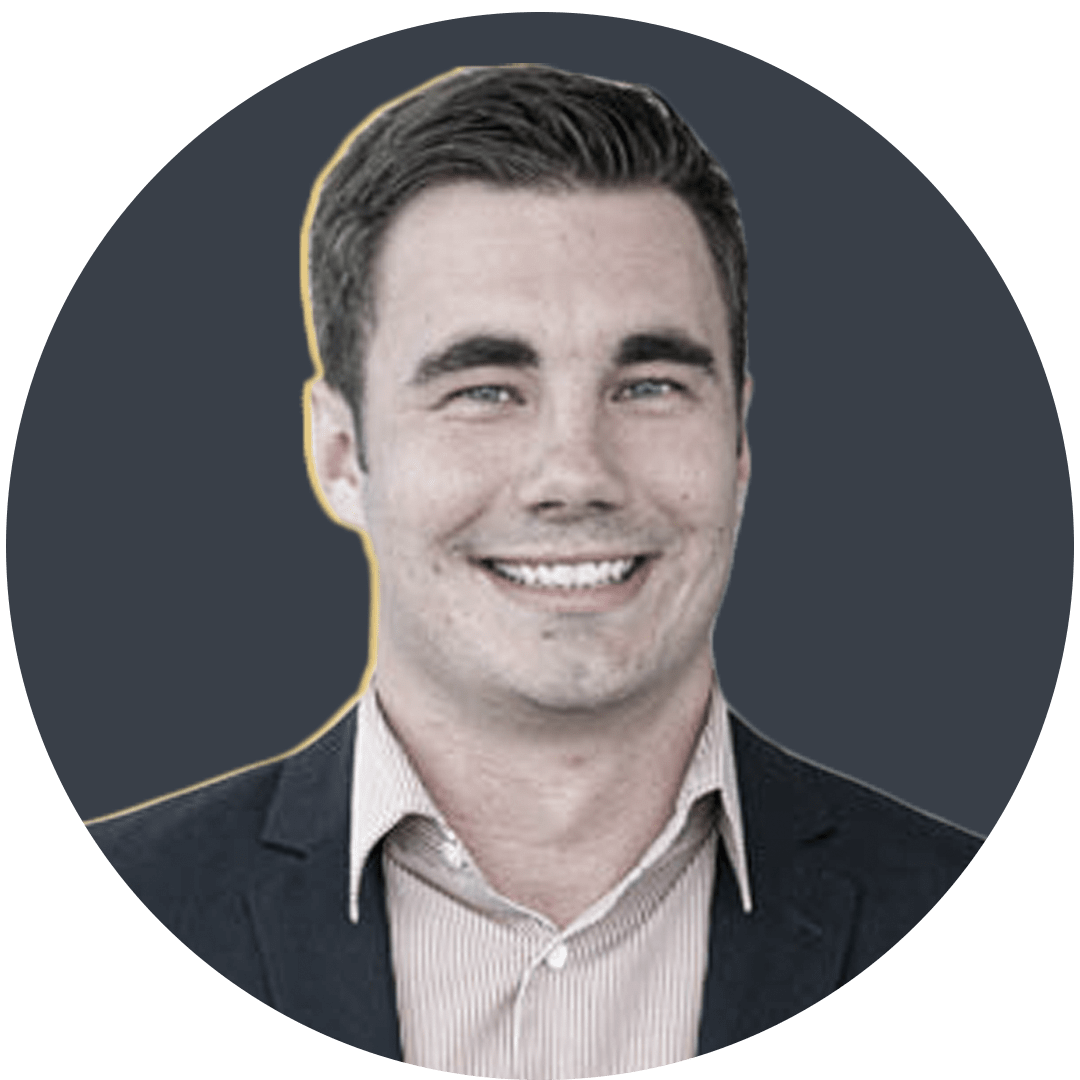 By Tom Vinicombe
Fresh start
Having spent four seasons representing the Chiefs, outside back Solomon Alaimalo has decided it's time for a change and is heading south to the Highlanders on a three-year deal.
Alaimalo burst on to the scene in the 2016 Mitre 10 Cup and after some eye-catching displays for the Chiefs over the following two years, many were picking that the 24-year-old was a possible inclusion in the All Blacks.
The call-up never came, however, and Alaimalo's past two seasons have been marred by injury.
With a bit of luck, the Christchurch local will reignite his career in the deep south – and hopefully lock down a starting roll in his preferred position.
"I genuinely love the Chiefs team – all the boys, the coaches, everything," Alaimalo told The XV. "But I just felt that it was probably time for a change.
"I want to put my best foot forward as a fullback – that's where I want to grow my game more, and it's where I see myself playing, especially if I ever finish up in New Zealand and head offshore."
I genuinely love the Chiefs – all the boys, the coaches, everything. But I just felt that it was probably time for a change.

Solomon Alaimalo
While Alaimalo earned his first Super Rugby contract at fullback with Northland in the NZ provincial competition, he's been used just as regularly on the wing for the Chiefs.
The outside backs have always been a position of great strength for the Waikato-based franchise and Alaimalo has job-shared the No 15 jersey with the likes of Shaun Stevenson, Etene Nanai-Seturo and Alaimalo's fellow South Islander, All Blacks utility Damian McKenzie.
Bar the early stages of 2018, when the Chiefs were trying to find a long-term replacement for Aaron Cruden at flyhalf, McKenzie has dominated the fullback position – when fit and available.
Last year, McKenzie ruptured his ACL just weeks into the Super Rugby season and although the diminutive utility back is still finding his way back to full form, his presence at the Chiefs always meant Alaimalo would be forced to play second fiddle.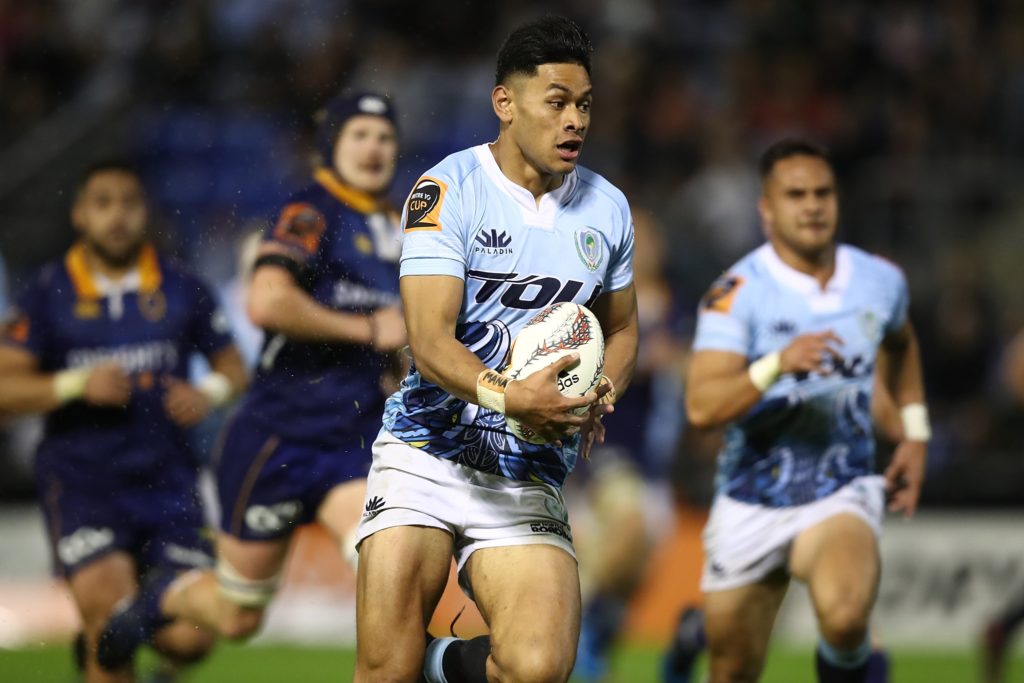 "You've got Big Jim [McKenzie] up here, one of the best fullbacks in New Zealand," said Alaimalo. "I'd never count myself out, but I just knew if I did want to push my case for a regular starting spot as a 15, my best chance was to be down at the Highlanders – and I'm excited for the challenge down there.
"Damo helped me a lot as a fullback when he was injured, he would always ask us if we needed any help around all the additional stuff that comes with playing at the back. I've learned heaps off him – but like I said, it's time for a change."
Ben Smith's departure from the Highlanders at the end of last year created a gap in the Highlanders backline that was never conclusively filled in 2020.
Josh McKay, Michael Collins and Mitch Hunt all wore 15 for the Highlanders this season but McKay hasn't picked up a contract for 2021 and Collins was used primarily in the midfield during the Aotearoa campaign.
Obviously there's competition there too… but that's what it's all about – bringing out the best in us.

Alaimalo
Hunt, meanwhile, could be tasked with guiding the team around the park from flyhalf, given his form for the Tasman Mako in this year's provincial competition, which means there are just as many question marks around the fullback jersey heading into 2021 as there were at the start of this season – and that presents a massive opportunity for Alaimalo.
"Obviously there's competition there too – there's Skuds [Nehe Milner-Skudder], MC [Collins] is also there. But that's what it's all about – bringing out the best in all of us.
"I'm all for competing and stuff. I'm all for that and I just love learning off those type of players and how they see the game as well. It can only help myself and, obviously, I'll have ideas as well to throw into the ring as well."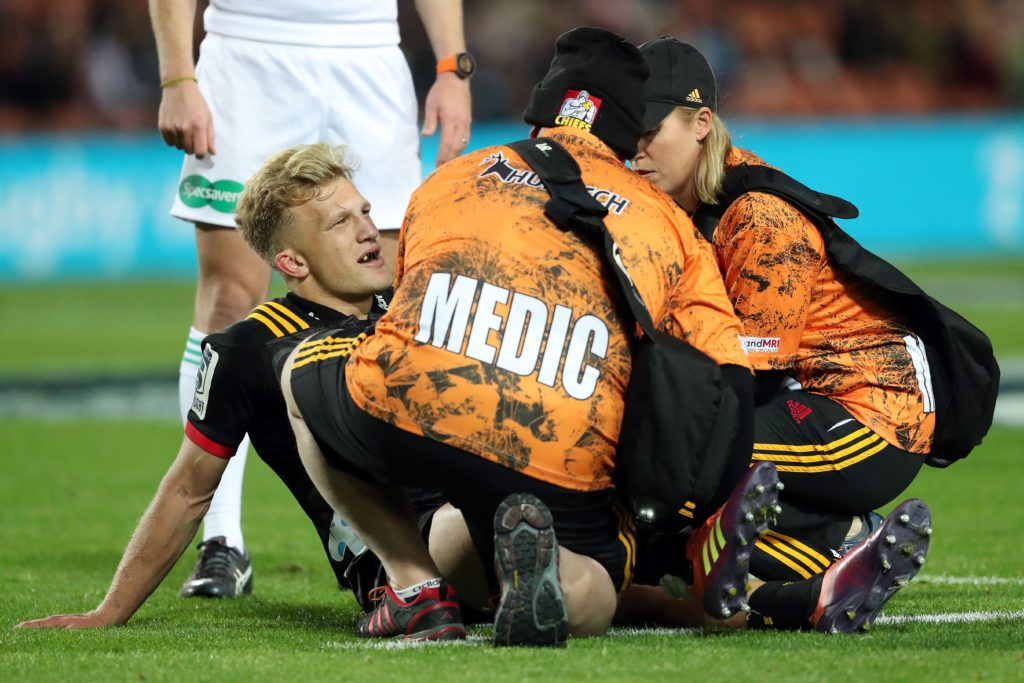 With 10 kilograms on Milner-Skudder and Hunt, and 10 centimetres on Collins, Alaimalo's size is one major advantage he has over his competitors at fullback and a point of difference that could hand the Cantabrian the first opportunity to stake a claim for the jersey at the beginning of next year – especially given new head coach Tony Brown's comments during the off-season that the Highlanders were on the lookout for an outside back in the mould of new All Black Caleb Clarke.
Pace and power are probably the two greatest strengths that Alaimalo has brought to the Chiefs backline in the past and he'll have no problem reproducing those traits in the deep south, but Alaimalo has turned his attentions to one of the admittedly weaker aspects of his game that he hopes to fine-tune under the watchful eye of former All Blacks flyhalf Brown.
In the past five years, the onus has been put on New Zealand fullbacks to not just to inject themselves at the end of a backline move or cart the ball back from a kick, but to step in as first receiver.
At the highest level of the game, the All Blacks selectors have opted to start a playmaker in the fullback jersey in almost every match against tier one teams since mid-2018.
Before the test season kicked off earlier this year, head coach Ian Foster acknowledged that even Jordie Barrett, arguably the form player of Super Rugby Aotearoa, needed to work on his ability to step in as a first receiver before he could threaten to take over as the first-choice No 15 for the All Blacks.
At the highest level of the game, the All Blacks selectors have opted to start a playmaker in the fullback jersey in almost every match against tier one teams since mid-2018.
While Alaimalo is simply looking to make a strong return to Super Rugby before he targets a black jersey, he's well-aware that his playmaking ability needs to be developed if he wants to progress as a fullback.
"I've always known that that's been a part of my game that I need to work on because I've always been a run-first kind of 15," he said.
"After I'd pretty much confirmed the deal down south, I had a Zoom meeting with Browny and told him where I saw myself and where I felt I needed to work on my game and he was basically thinking exactly the same way. He said my ability to play first receiver and stuff as a 15 is where I needed to get better.
"Obviously there's so much more to playing fullback than just running the ball back. Once I chip away there, I just feel like I'll be able to see the game a lot more clearly, so that's where all my focus will be going towards.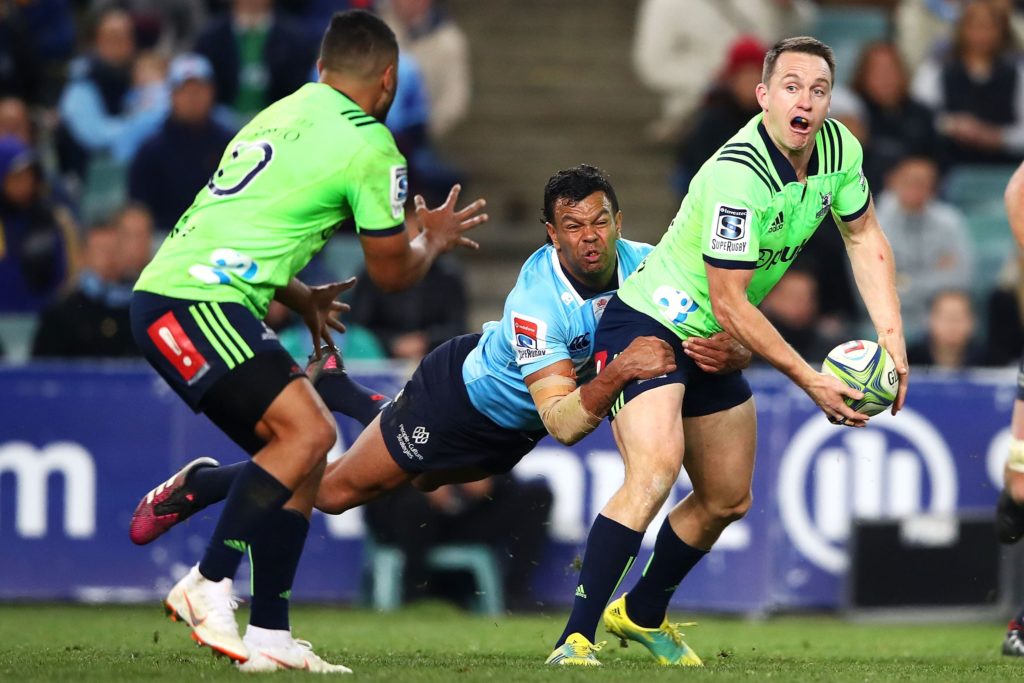 "I'll be in my fifth year [of Super Rugby] next year so it's about time that I open that part of my game to move forward as well. I'm genuinely excited by it and having Browny there will obviously help a lot too."
There's a surprising touch of irony to Alaimalo's shift south, because the 24-year-old credits former Highlanders captain Ben Smith as playing a key role in his on-field development as a fullback.
Although he had worn No 15 for St Bede's College in Christchurch as well as the Northland provincial team, the nuances of the position made the step up to Super Rugby more sizeable than Alaimalo had anticipated. It wasn't until the Chiefs took on the Highlanders with Smith parked at fullback that Alaimalo started to learn the subtleties of the role.
"In 2018, I was still really fresh to the position," admitted Alaimalo. "I'd played there during the Mitre 10 Cup and stuff but it's just a different level.
We played the Highlanders and Ben Smith was their fullback… I was actually watching his positioning off set-piece and was wondering why he was doing the things he was.

Alaimalo
"We played the Highlanders up here [in Hamilton] and Ben Smith was their fullback and because I was so fresh, I was actually watching his positioning off set-piece and I was wondering why he was doing the things he was.
"Genuinely, I was thinking, 'Heck, I'm a bit lost here' – it was probably only like my second or third game at fullback. There were a couple of positions we were in during the game that the Landers had been in beforehand, so I started mirroring what he'd done on defence in those scenarios.
"I got asked the question afterwards, 'How was it going up against Ben Smith?' Obviously we don't really come across each other's channel as 15s much but it still was unreal. I didn't really know what I was up to at times, like off set-piece defensively, so I just mirrored what he was doing because he was one of the best in the game."
It was somewhat of a baptism by fire for the then-22-year-old, but a match-up that he stills credits to this day as having a massive impact on how he operates and defends as a fullback.
Smith isn't the only opposition player that's aided Alaimalo's development and helped build his confidence, however.
Starting out on the wing for the Chiefs, Alaimalo had plenty of time to adjust to the rigours of Super Rugby before stepping into the No 15 jersey, and in just his second New Zealand derby, Alaiamalo was called on to mark Julian Savea – the man with the highest try-scoring rate in tier one international rugby.
"My confidence took off after a game against the Hurricanes in 2017," Alaimalo said. "That was one of my first starts and I've never been so nervous because I was marking Jules.
"I remember asking a few of the boys, 'Bro, how am I supposed to tackle this guy? If I go up high, he's going to bump me off. If I go off low, he's going to step over me.' To this day, I've never been so fixated on an opposition player – I watched his highlights montages before games and that didn't help. I was just psyching myself up."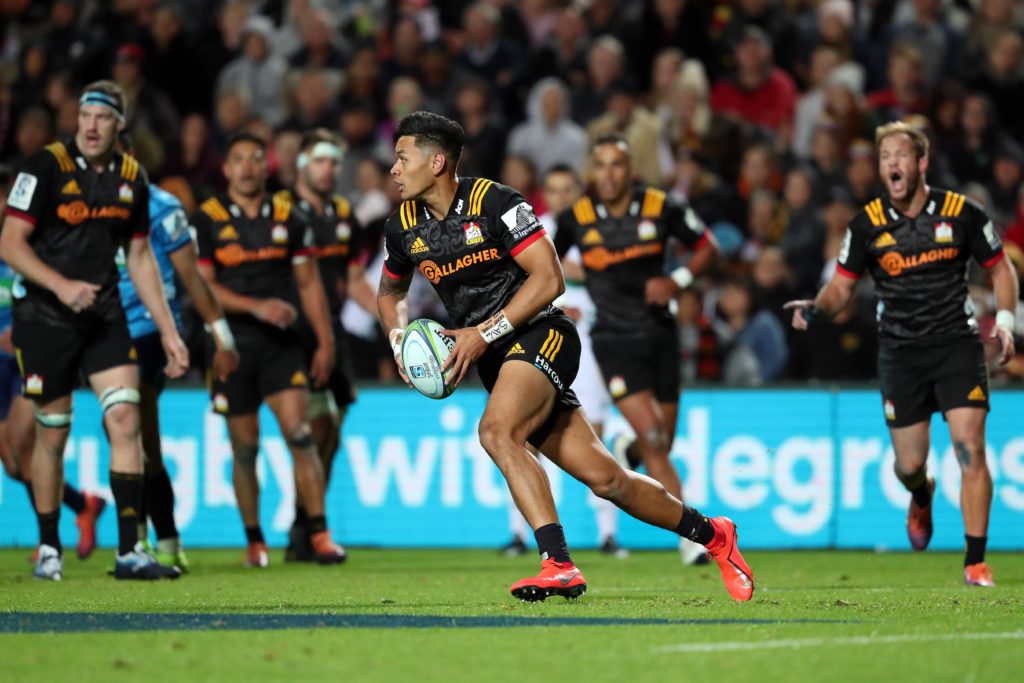 Thankfully, when the time came to put a hit on Savea, Alaimalo had a bit of support from his teammates.
"He got the ball on the edge and he was real close to the sidelines. I was just inside him and I was sure he was going to go over me, but I just closed my eyes and I tried to wrap his legs and then I just felt someone get over the top – I think it might have been Sam Cane – and we bundled him out.
"After that, it was all good. I had a pretty good game and my confidence from then on was fine – but it was obviously scary at the time."
Alaimalo's latest injury, a dislocated shoulder, prevented him from taking part in the final matches of the Chiefs' Super Rugby Aotearoa campaign, but it's also given the aspiring fullback time to reflect on his career to date and how he's progressed as player – though he admits he was "pretty dark" in the first few weeks following the dislocation.
Despite showing plenty of promise for St Bede's, the two years following high school were tough going for Alaimalo and minutes were hard to come by in the club and age-grade scenes.
"I had a couple of setbacks in the club stuff," he said. "Under 19s, I wasn't really a regular starter because I just I didn't have enough of a voice on the field.
"Growing up, I was always a bit of a shy kid but one of your key roles as an outside back is communicating with the guys around you. Because I've never been a loud person, I didn't talk like an outside back and that's something that I always try to drive now wherever I'm playing on the wing or at 15.
I just feel that maybe I was a bit robotic back then. I didn't really just play my own style of game but tried to mimic how players in our squad were playing because they were getting picked ahead of me.

Alaimalo
"My goal when I was young was always to play for Canterbury – I was a big Crusaders supporter growing up. I just know that in those two years post-school, I probably should have taken more control of my game.
"I just feel that maybe I was a bit robotic back then. I didn't really just play my own style of game but tried to mimic how players in our squad were playing because they were getting picked ahead of me and stuff, whereas I probably should've just played the way I played.
"I knew what I had to do, but I just didn't have the confidence to apply it at the time. Looking back at it now, I just think, 'Why didn't I act a bit earlier?' – but it's all part of the journey. I wouldn't really change a thing."
After the two years in Canterbury, Alaimalo was lured to Australia and spent the early stages of the 2016 pre-season with the Melbourne Rebels. The Kiwi didn't take to the new environment, however, and when an opportunity presented itself in New Zealand's far north, Alaimalo jumped at the chance to return home after almost giving up on a professional rugby career altogether.
The future Highlander linked up with the Northland Taniwha thanks to assistant coach Dale McLeod – his former high school coach and a man who he credits with both kick-starting his career and also getting it back on track – and from there the wing-cum-fullback was quickly picked up by the Chiefs (though not before the Blues almost managed to nab his signature). His journey back to the South Island and to the Highlanders is just one more winding road in Alaimalo's already intrepid travels.
"I've been all over the place now, but I wouldn't change a thing," Alaimalo said. "Once I got the hang of it – or when Dale pushed me in the right direction – my career just kind of took off.
"In my first year of Mitre 10, he made sure that I was training to get myself ready for Super Rugby. All my numbers and stats and stuff, we weren't testing me against Mitre 10 levels, I was testing towards Super Rugby. All my work-ons for an outside back were everything the outside backs at Super Rugby level needed. That's what I just focused on that whole year.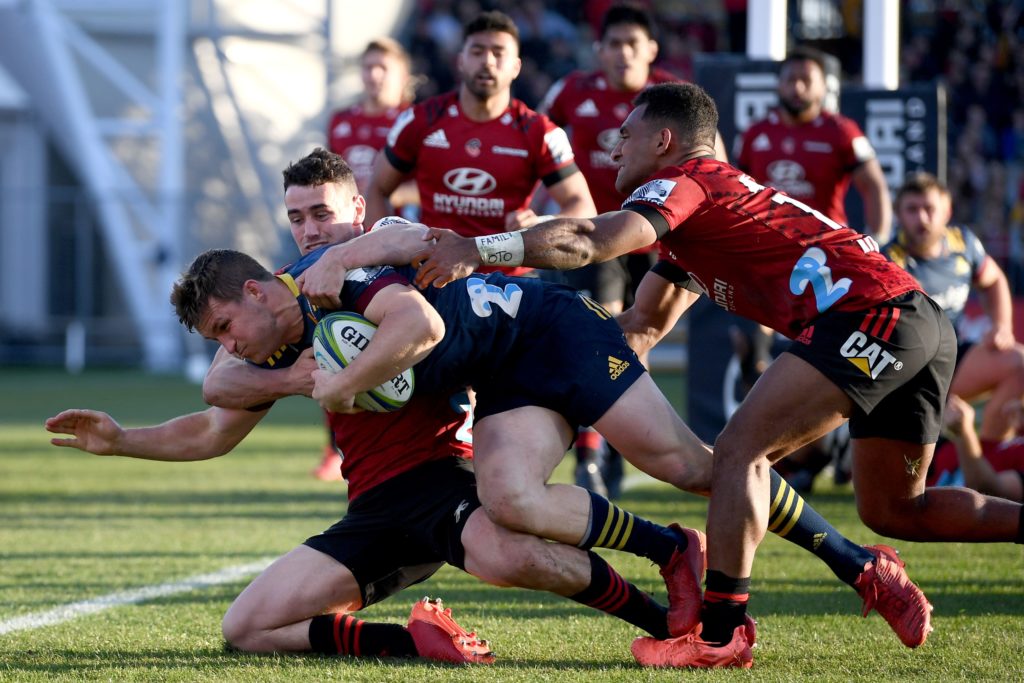 "Since that first season with Northland, I've been just trying to sort of more play the game my own style – nothing like when I had just left school. At the same time, I'm always asking the coaches for feedback and where I need to grow my game more as a footy player because the day that you think you know everything, you're in trouble."
At just 24, Solomon Alaimalo still has a huge future ahead of him – whether that's in New Zealand or offshore. The utility is hopeful that an injury-free season with the Highlanders could be just the tonic he needs to get his career back on track – but not necessarily because he wants to gets his hands on a black jersey.
"The main thing for me, at least for the next wee while, is just getting back to enjoying my footy," he said. "And it's about having that balance too – getting life right outside of footie. That's why I think moving down to Dunedin and having me and my partner's families a bit closer and being able to visit them will be a good thing.
"I know Anton [Lienert-Brown] talks about it a lot, just finding that balance. He's talked about how a lot of players after games, if they've had a bad game, they can think it means that they're a bad person.
"I'm pretty bad like that and that's something I'm still working on. It's all good to invest yourself into the game. I just think I probably invest myself too much to the point where it's almost not enjoyable to me. That's why I think having a fresh change and like I said, bro, being closer to our families will make things a bit easier."
Alaimalo is on track to be fit and ready for the Highlanders' first pre-season match of next year's campaign and with the Forsyth Barr roof over his head for his new team's home matches, the talented fullback will no doubt make a huge splash upon his arrival in Dunedin.
While it's been a tough few years for Solomon Alaimalo, 2021 is shaping up as one of the biggest and most exciting of his career.
More stories