Back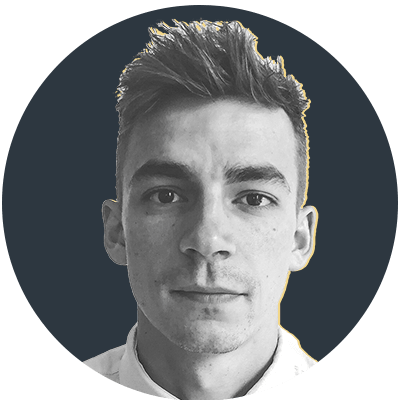 By Andy Clarke
Fly-half focus: The men who could decide the Six Nations
When it comes to creating a style of play, fly-halves are the linchpins of a rugby side. Decisions taken in possession create specific kinds of attacking opportunities. Ball distribution, carries and kicking tactics all play a part in creating space and offensive platforms. This year, the imposing form shown by Northern Hemisphere sides in the Autumn Internationals makes calling a Six Nations winner particularly difficult to call.
But although it might prove difficult to prise this year's Test sides apart from one another on the points table, the same cannot be said about the style of play they employ. Finn Russell and Romain Ntamack belong to an exciting group of fly-halves who like to play with a joie de vivre. In this year's tournament, these in-form players will once more face up against the experience and reliability of veterans Johnny Sexton and Dan Biggar.
And how does Marcus Smith fit into this picture? With Owen Farrell, very much cut from the same cloth as Sexton and Biggar, set to miss the entire Six Nations tournament this year, England fans will hope the young No 10 can lead the line with style and assurance.
Attacking Style
With ball in hand, a No 10 must choose to either kick, pass or carry. These options carry different risk factors and take the ball to different areas of the pitch. Cross-field attacking kicks passes pose a high-risk, high-return strategy but, if successful, can wipe out finely tuned defensive structures. Simple carries near to breakdowns are unlikely to create immediate try-scoring opportunities but instead suck in defenders in the hope that space will be created for the next phase of play.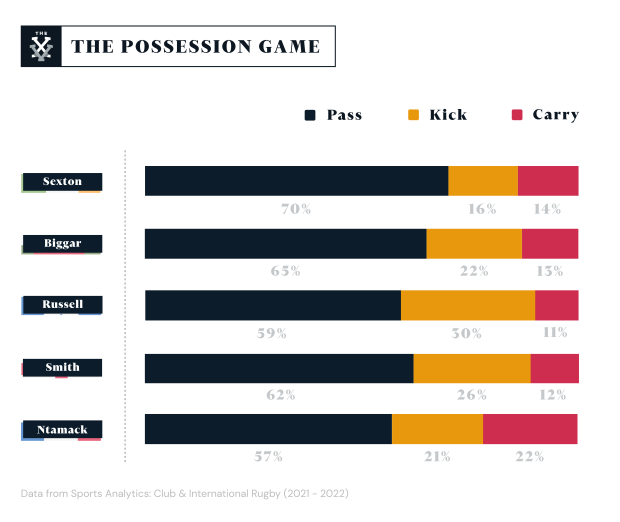 Breaking down these decisions reveals the tactical intent of a fly-half. Since the start of 2021, Finn Russell kicks 30% of the time he has possession, almost twice as much as Johnny Sexton has during the same time period. Scotland fans, enamoured by the attacking instincts of their 29-year-old fly-half, will know that a number of invariably deft kicks either put opposing defences under immense pressure or create a genuine try-scoring opportunity.
Of all fly-halves at this years Six Nations, Russell is the least likely to carry the ball. Romain Ntamack, who can also play at 12, is the most likely to do so with 22% of his possession culminating with a ball carry. At just 22-years-old, France's rising star has set new standards for No 10s around the world with brilliant attacking play for Toulouse and his country. A flourishing relationship between Ntamack and Antoine Dupont has helped the fly-half to make brave and defence-shredding runs.
Threat
However, Ntamack is not alone in his ability to light up matches with dazzling carries. His counterparts in Finn Russell and Marcus Smith also post impressive running records. Smith's spring in his step and low centre of gravity help him to slip tackles and he averages 4.2 metres gained per ball carry. Russell is not far behind with an average of 3.8 metres gained each time he carries.
Dan Biggar and Johnny Sexton have less impressive carrying records when it comes to breaking the gain line. The Welsh fly-half averages just 1.8 metres per carry and the 36-year-old Irishman averages 2.7. This is an area where youth and flair seemingly have the advantage over experience, helping to build up a picture of the attacking strengths and weaknesses that will be on show over the coming weeks.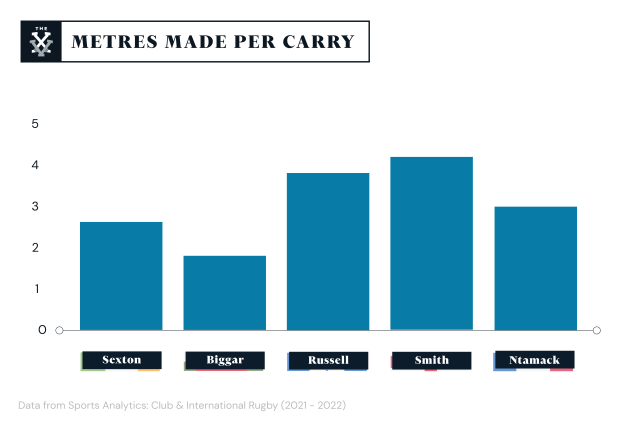 Kicking Tactics
With Finn Russell using up 30% of his possession to kick, it's even more revealing that 42% of these kicks are intended to supply his teammates with a platform from which to attack from. This is a consistent statement of intent from Scotland's number ten and completely indicative of the way Russell can control and dictate matches.
In-play kicking tactics from fly-halves at this year's Six Nations vary significantly. Over 30% of in-play kicks from both Marcus Smith and Romain Ntamack tend to be territorial kicks, intended to win pitch space for their sides. Ntamack very rarely puts up a contestable kick, often opting to carry instead, whereas 35% of Johnny Sexton's in-play kicks are contestable.
In the absence of Owen Farrell, Marcus Smith has an opportunity to run Test matches with the confidence he has shown at Harlequins. In what is expected to be consecutive starts in an England shirt, with the white-hot intensity of Test rugby, it will be interesting to see if the young No 10 includes as many attacking kicks in his toolbox as he has done in the Premiership.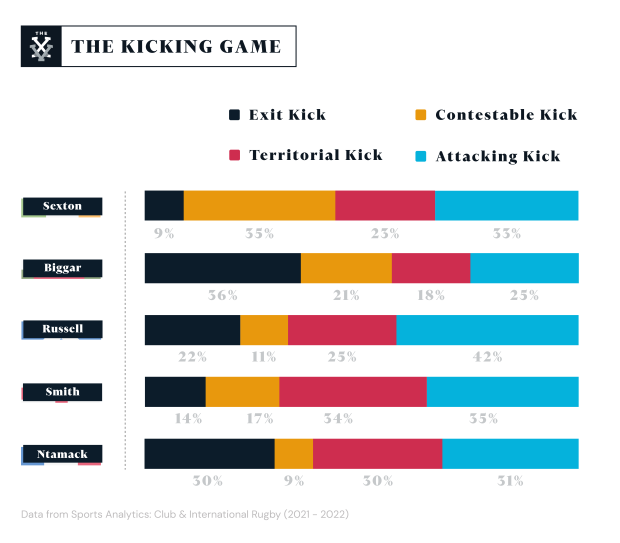 The form of Marcus Smith at club level means that he goes into the Six Nations this year with the best record of creating chances through his passing play. Smith has assisted an average of 0.8 tries in each match he plays in, a testament to his importance in the Harlequins squad.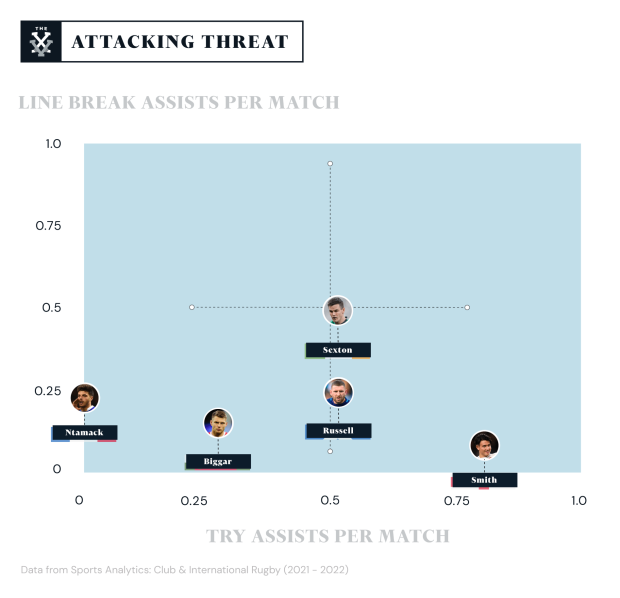 Kick Success
Dan Biggar's reputation as a place kicker precedes him and will certainly be something that Wales depend upon over the next six weeks. With an 84% kick success rate for club and country since the start of 2021, Biggar tends to step up on big match days in front of the posts. The same can be said of Johnny Sexton who posts an even higher success rate of 88% during the same time period.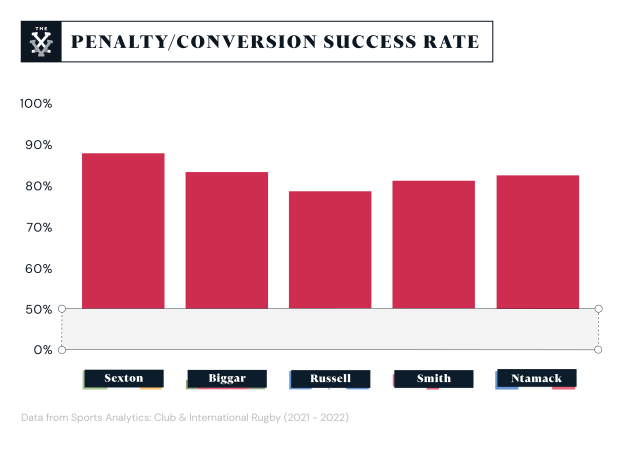 Accurate goal kicking is a crucial part of clinical Test performances. The closeness of the contest at this year's Six Nations adds even more emphasis to the importance of converting kicking opportunities. Biggar and Sexton have a better record in this regard compared with their younger counterparts in Scotland, France and England. Smith and Russell sit either side of the 80% mark and although Ntamack only narrowly trails Biggar, confidence and experience can count for more on Six Nations match days.