Back

By Russell Forbes
Can Leicester breach the Sale Sharks defensive wall?
Leicester, England's most successful side, travel up the M6 in hope rather than expectation for the blockbuster play-off semi-final. Why? Because they haven't registered a victory at the AJ Bell since 2018, and they were humbled 40-5 in their last encounter, as they were shut out and only registered a solitary try from Handre Pollard.
The bedrock of Sale's obduracy is their defence, which is unsurprising given their head coach is Alex Sanderson, a disciple of the famed Wolfpack at Saracens for so long. Another long-term architect of the defensive structure was so successful that he has been headhunted by Warren Gatland, and will travel with him to the Rugby World Cup. Former rugby league player Mike Forshaw spent a decade at Sale, where he built a reputation as a teak-tough motivational defensive coach. For now Sanderson has taken on a more hands-on role, along with Jamie Langley, the former Bradford Bulls legend.
Indeed, this season Sale has been miserly when it comes to crossing their defensive line and with only 53 tries shipped, the next closest side is Saracens with 64 tries. Sale's recruitment has been honed with defence in mind, and with the Du Preez brothers, Curry brothers, Manu Tuilagi and Jono Ross prowling the defensive line, the aim isn't just stopping the ball-carrier, it's driving them backwards at a rate of knots.
Here we look at different aspects of Sale's defensive. The challenge for former Sale Sharks player and proud Northerner, Richard Wigglesworth, is how he takes a sledgehammer or a key to unlock the defensive line. If he can do they, they have a fighting chance, if not, Sanderson has a huge chance to bring silverware back up North for the first time since 2006.
Sale's try scoring
Although Sale's strongest asset may be their defence, they have still scored the 4th most tries in the league, only Saints, Quins and Saracens have scored more. In terms of conceding tries, Sale top the charts and are the only team to average under three tries conceded a game. By showing the average difference between tries scored and conceded, the below graph shows how Sale have the best combined attack and defence, having a try difference of +1.1 a game and +0.4 higher than the next best team (Saracens).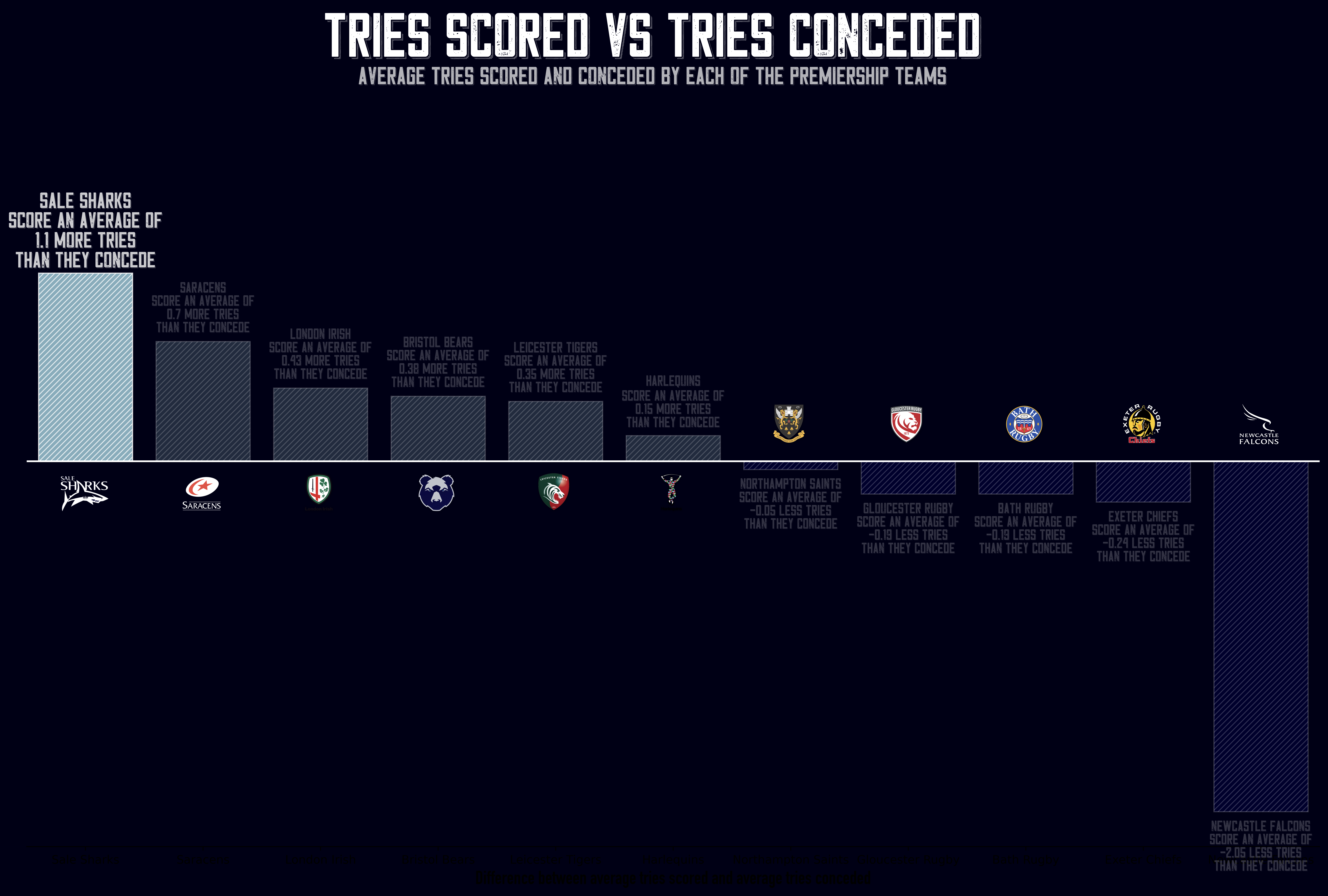 Sale's 22 Defence
The two obvious metrics behind conceding tries are how many times you let teams into your 22 and how good you are at stopping them form scoring when they are in your 22. The graph below sheds some light on Sale's performance in both areas. They are only the 4th best team for average points conceded per 22 entry (2.4), with Irish (2.35), Gloucester (2.33) and Bristol (2.2) slightly ahead of them. However, it is their ability to stop teams getting into their 22 where Sale really excel, giving teams an average of just eight entries per game, 1.1 less entries than the second best team in this area, Saracens.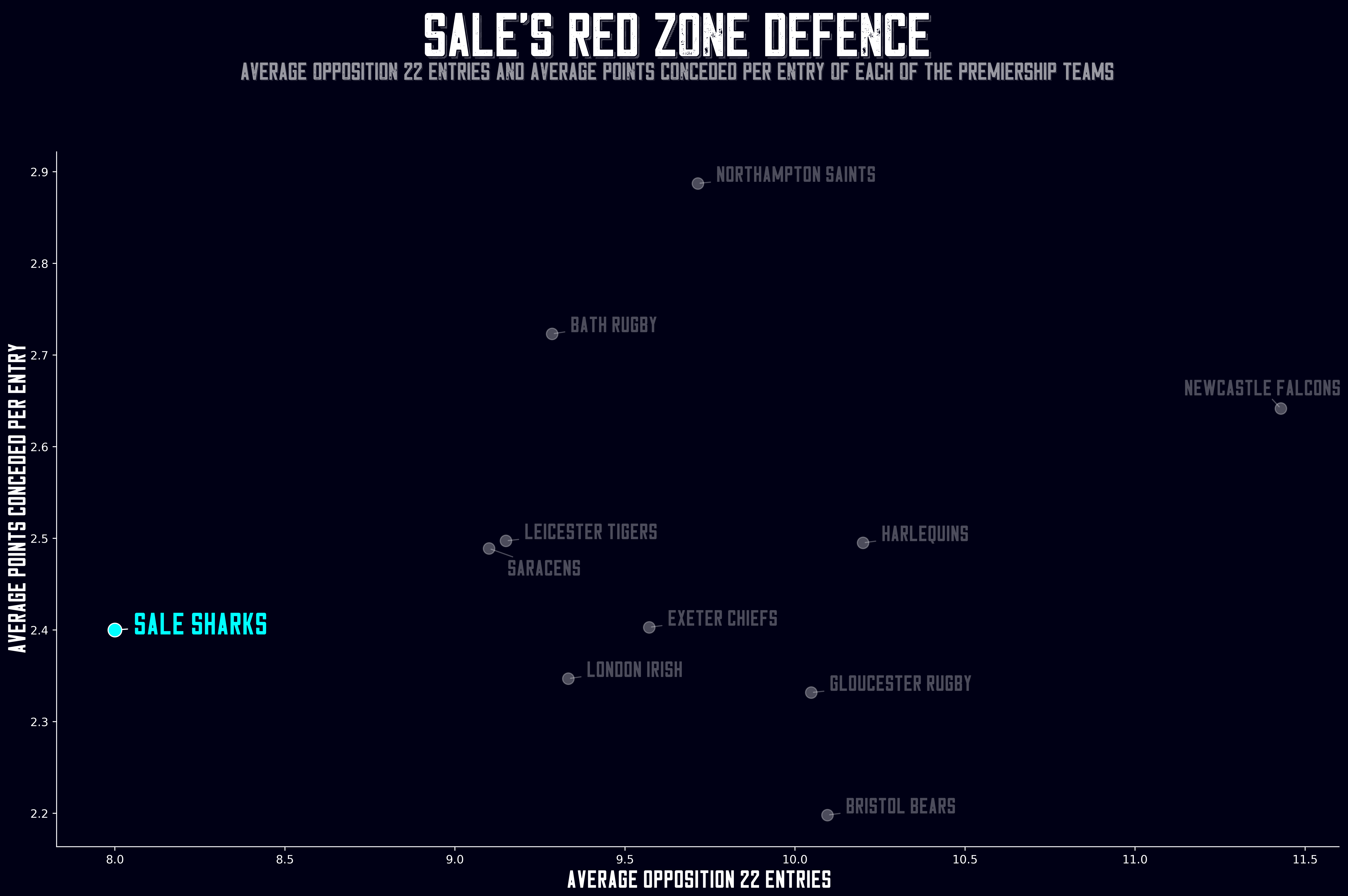 Possession vs Territory
By giving teams just eight entries a game it could be assumed Sale spend more time with the ball than without it. However, Sale have had the lowest possession of any team this season, averaging 47% a game. In comparison, they are the top team for average territory, at 55% a game. Together, these stats point towards Sale's ability to put the ball in the right areas (second highest team for average kicks per game with only Leicester kicking more) and defend long phases in the opposition's half.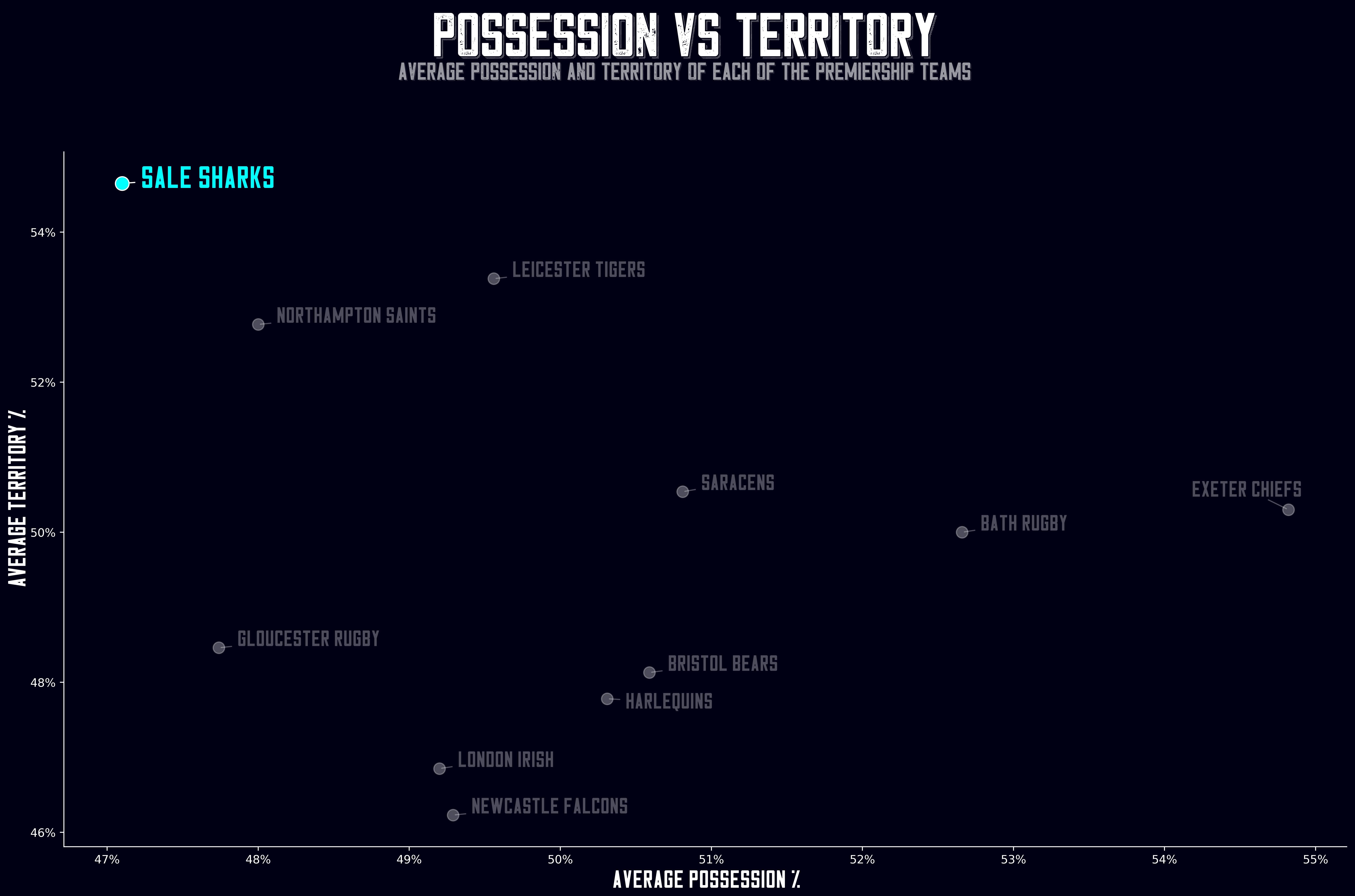 Sale's tackle dominance
The above graphics have shown an array of metrics which point to while Sale are such a strong defensive outfit, but first and foremost, defence is built on winning collisions and Sale do that better than anyone. They average the most dominant tackles a game (14.3), over one more than next best Exeter (13.2) and three more than third placed Saracens (11.3) and furthermore, only two teams have a better tackle completion than Sale (86%). It is quite remarkable that of the 13 players who are ranked in the top 10 for dominant tackles made this season, seven play for Sale.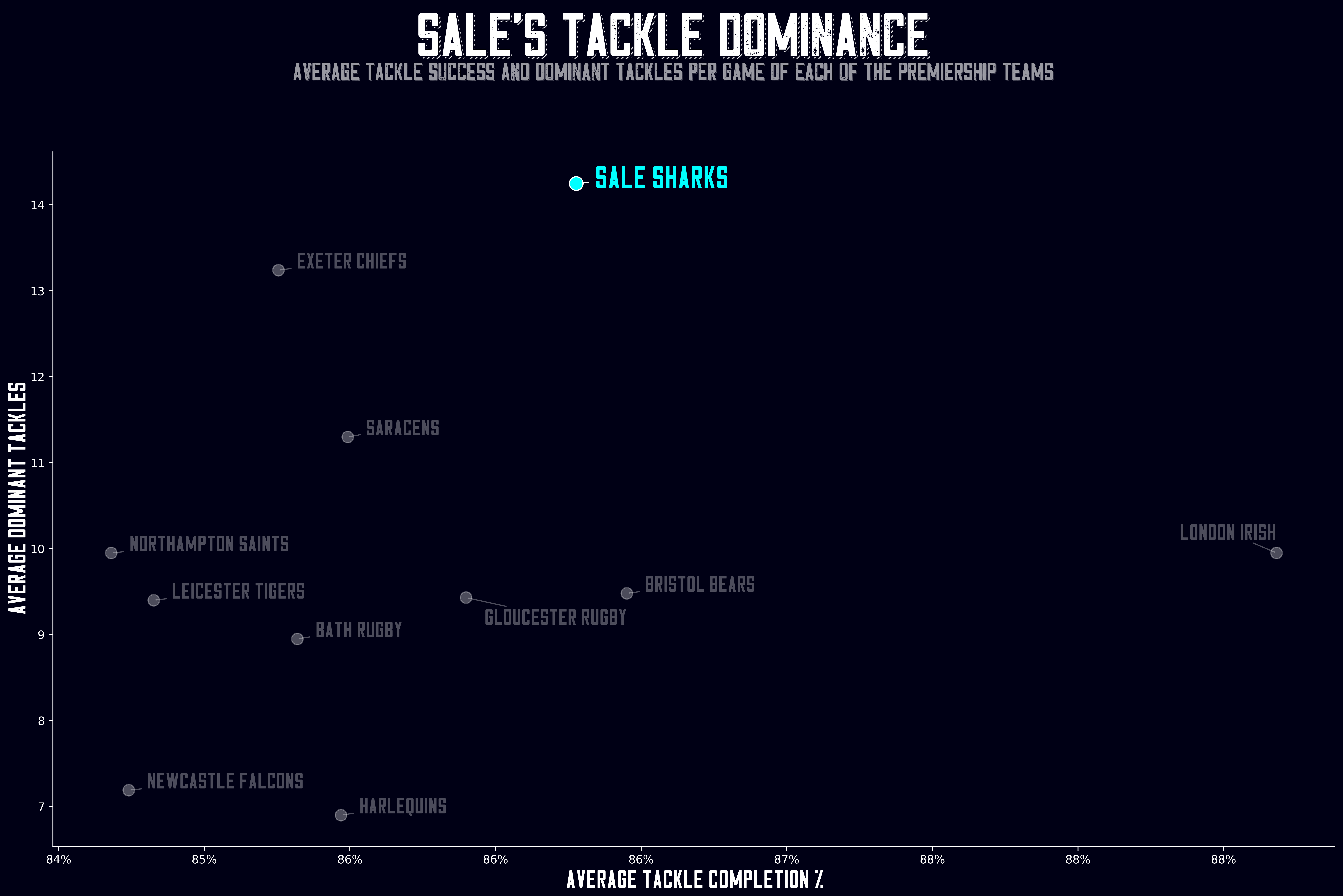 Sale's Gainline Dominance
The combination of Sale's defensive dominance and tackle accuracy has seen them win the gainline battle in 14/20 of their premiership matches this season. The graph below shows Sale and their opposition's attacking gainline % for each game, with red bars indicating when a team has got the better of Sale. Northampton have won the gainline battle vs Sale in both of their fixtures, suggesting they have the skillset to get round them. Interestingly, their biggest positive gainline difference vs their opposition has come against their semi-final opponents this weekend.