Back
By Owain Jones
Big Red
One of the many pleasures of growing up with a teenage daughter is the cacophony of noise barracking your eardrums on a daily basis. Indeed, one of the features of lockdown has been listening to the mellifluous melodies of Justin Bieber, whether I like it or not.
'What on earth has this to do with rugby?' I hear you chime in unison. Well, there's a track called 'Never Say Never' in which a teenage Jaden Smith raps about his adversary being, 'Bigger than me, faster than me and stronger than me'. Those lyrics could easily apply to South Walian schoolkids taking the field against Rhys Carré in their formative years.
The point was reinforced when chatting to Duane Goodfield, Carré's Cardiff Blues forwards coach, about the gargantuan Wales loosehead. Standing at 6ft 3in and a few McDonald's shy of 21st, the Corpus Christie HS-educated 22-year-old was always a Gulliver running among the Lilliputians as a youth.
He almost had a Pacific Islander genetic make-up… no one could control him. He was so difficult to bring down and would have a huge influence on games."

Duane Goodfield on Rhys Carré at age-group level
"I first came across him at Under-16 level after he was talent ID'd playing for Cardiff Blues South." said Goodfield, a former Cardiff hooker. "All I saw was this huge kid. He almost had a Pacific Islander genetic make-up and he was too good for anyone at Under-16, Under-18 and Under-20 level. Literally no one could control him. He was so difficult to bring down and would have a huge influence on games."
But Goodfield believes that Carré's natural size has, inversely, almost stunted his development. "In a way, growing up, he found it too easy. He didn't have to work as hard as the other boys," he said. "Until recently, he'd never experienced what it was like to be dominated by someone else."
Throw the clock forward six years and that fresh-faced 'Islander' kid was part of a Welsh maul that powered over the Scotland line at Parc y Scarlets, emerging from the melee with the ball to celebrate his first Test try. But, speaking to him via Zoom before the Autumn Nations Cup game tomorrow night against Ireland, he was still smarting about the Six Nations defeat by Scotland. "It was bittersweet to get my first Wales try but not get the result we wanted," he said.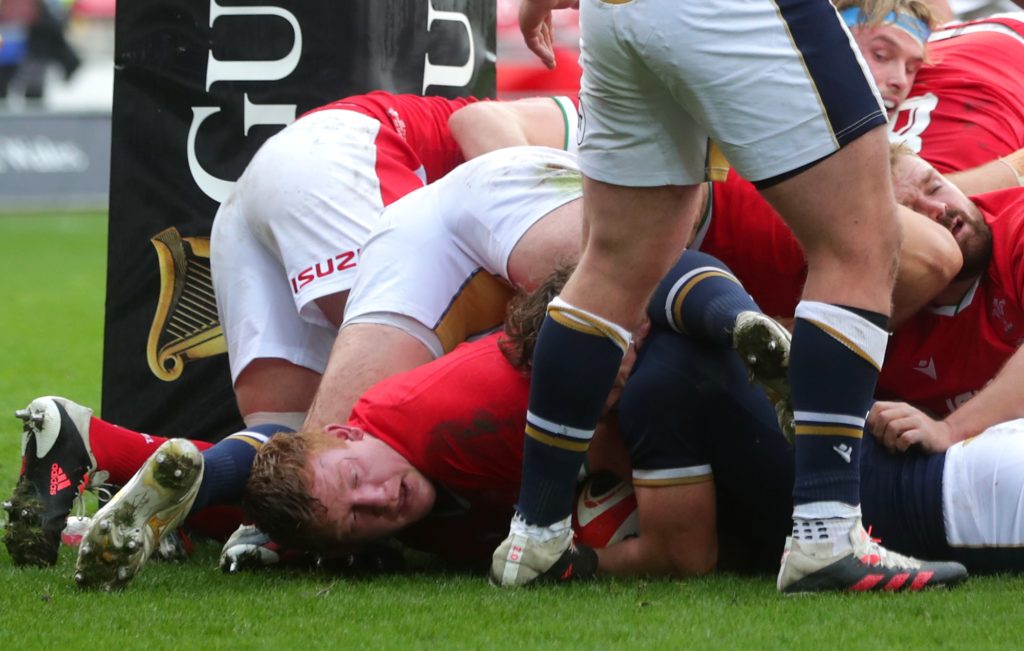 For Carré, the watchword is consistency and working with Gethin Jenkins, his recently installed defence coach with Wales, he knows complacency isn't an option. "I see every minute in a Wales and Blues shirt as the chance to get better," he said. "Gethin has told us not to relax and never to get in a comfortable place."
In propping terms, Carré still has his L-plates on. He will play his 40th professional game of his career against Ireland, in which a quarter have been in a Wales shirt. It's a point not lost on the loosehead.
"Obviously, I'm still learning and just trying to take in every bit of experience I can, whether it's speaking to Wyn (Jones), or Mel (Jenkins). It's just trying to take on board information and get myself in the best shape I can going forward," he said.
Goodfield says Carré's self-awareness and emotional intelligence bode well for his development. "You can also see similarities with Adam Jones," he said. "I remember Steve Black used to be on top of him at all times to keep on top of his fitness and I think Rhys appreciates that the conditioning staff need to work with him because his natural body type is to add mass."
I saw it as my chance to mature as a person and improve as a player. Obviously, the stuff off the field with the club didn't quite go to plan.
That self-discipline has been tested to the limits in the past 12 months, when Carré has gone from a World Cup in Japan, to a few months at crisis-hit Saracens and a pandemic where he was locked down in alien surroundings. It was a lot for a then 21-year-old to take on.
"Moving to London was tough. The hardest part was not having my mother with me to do the washing, the cooking and cleaning. I didn't even realise you had to put bleach down the toilet," he said.
"I saw it as my chance to mature as a person and improve as a player. Obviously, the stuff off the field with the club didn't quite go to plan. I thought I'd have a chance at winning things and playing week-in, week-out. When I signed, I was in the Wales camp and expected to be there for two years but things didn't turn out like that."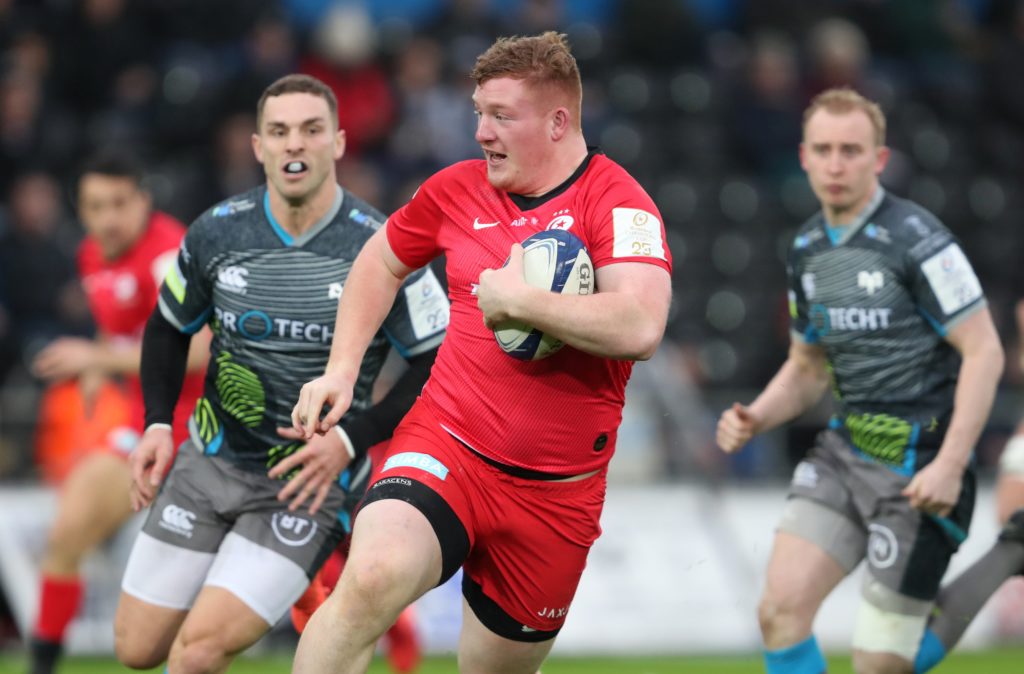 Carré did, he admits, find it a struggle to self-police without the hands-on support of his club due to the lockdown. "When you're not training, you're not burning as many calories and you can't really replicate how we train in a team environment," said Carré. "I was in a one-bed flat. I didn't have weights available to me. I didn't have a garden. I'd just trundle over the park on my tod and train."
You sense the solitude and a time away from his family took its toll in what was a coming-of-age period, as the English champions suffered a dramatic fall from grace and the pandemic thrust rugby, headfirst, into the mire.
"The Saracens boys were there for me but most of them had families so I was isolated. It was a life experience, I guess, so if the shit hits the fan, I know I can come out the other side," said Carré.
Goodfield, who clearly cares deeply about his players, has watched Carré graduate to international honours after cutting his teeth at semi-professional level. "When I was coaching Cardiff RFC, I could already see Rhys had raw ability but what he didn't have was that nous you get with experience," he said. "That ability to work his way round an opposition prop if sheer size wasn't working. Dare I say, he's had to learn the dark arts."
The Saracens culture is world renowned and just being a part of that environment opens your eyes to what is possible.
The Pontypridd-born coach added: 'I had asked him for more brute force and physicality. You know, to find that survival instinct in the front row that stops you from getting turned over. His response was, 'But I'm not a nasty guy'. I said that having grown up around Ponty boys Michael Owen, Gethin Jenkins and Geraint Lewis, they all found a way, even though they were gentlemen. Rhys' development has similarities to Tomas Francis, who is winning his 50th cap for Wales against Ireland."
This growing maturity was no doubt chivvied along by rubbing shoulders with some of the best players in world rugby in north London, which Carré readily acknowledges: "I only played eight games up there but if there was any 'take-away', it was the Saracens culture. It's world renowned and just being a part of that environment opens your eyes to what is possible. Say, if you weren't doing things right in training, they'd pull you up and go out of their way to talk you through technicalities. The way they saw it was if they made you better, it would make the team better and gave them a better chance of winning. Their ethos is something else."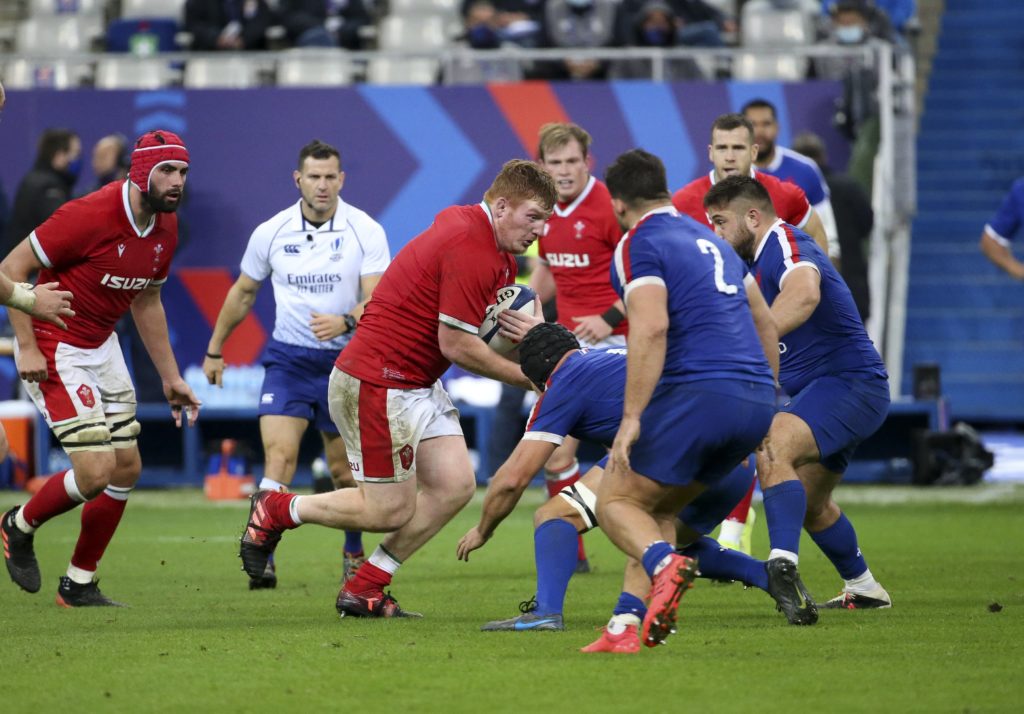 Since easing his way back into familiar surroundings in unfamiliar circumstances, Carré has had to bide his time at his home region. He will be spurred on by the talented Corey Domachowski at the Blues, fighting for the No3 shirt under Goodfield's watchful eye.
"I have a good relationship with Jonathan Humphreys, the Wales forwards coach, and I've been honest," said Goodfield. "I said Corey has been more consistent and is training better at the moment but I do recognise Rhys' strengths and what he can bring on a Test stage. He's a kid of 130kg who can smash holes in defences. He has massive X-Factor coming off the bench with 30 minutes to go."
Gethin Jenkins broke the mould 15 years ago, and hopefully Rhys can do the same. The world is his oyster.

Duane Goodfield
Off the pitch, Goodfield says, as a character, Carré is very relaxed. "Old-school coaches, who want to concentrate on the set-piece all the time, would probably struggle with Rhys. He drops goals for fun in training and has a laugh. Like many youngsters coming through now, he has his own identity. He's comfortable in his own space," he said. "I'm sure he'd have got on with Mako Vunipola, who has similar gifts. Gethin broke the mould 15 years ago, and hopefully Rhys can do the same. The world is his oyster."
Such is Carré's potential that he's even been mentioned in some respected pundits squad for the Lions tour next summer, but the player himself isn't buying into the hype. "My main focus is becoming a better player in this Autumn Nations Cup and hopefully the Six Nations," he said.
"It would be a massive achievement for me to go on the Lions tour but I can't really aim for it or pretend that I'll be going. For now, I just want to give my best for Wales and the Cardiff Blues."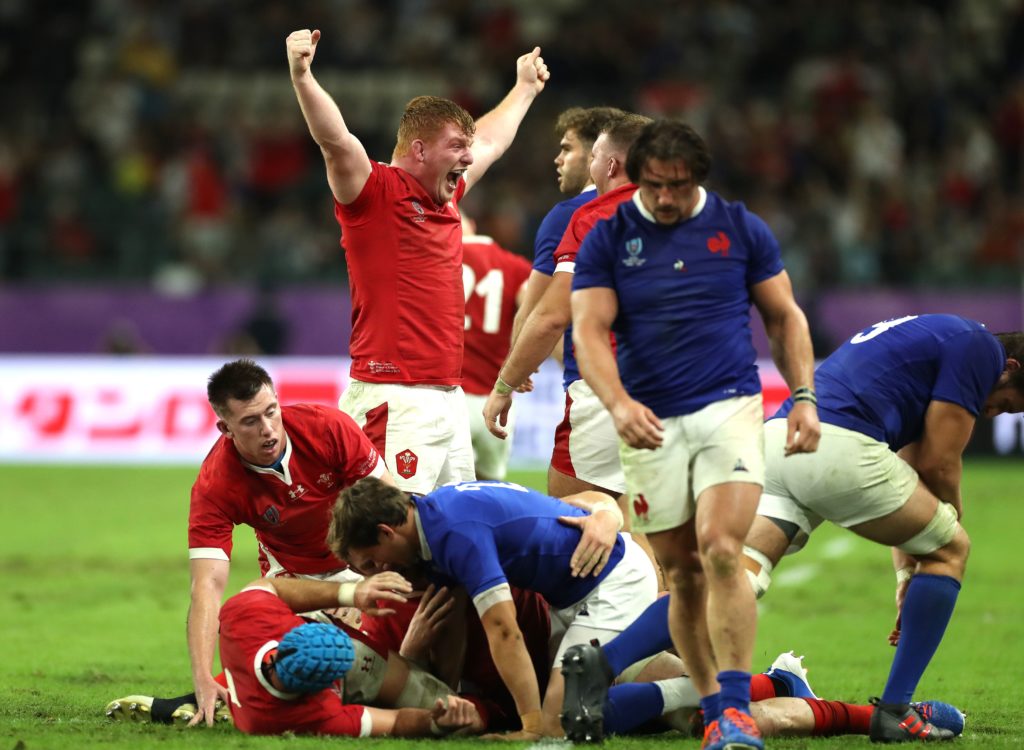 Goodfield says the young prop is doing all the right things and that patience is required from fans. "People shouldn't forget Rhys still has a young 'scrum age' and the international game, the demands are now so high in the scrum that it can be difficult to get around the pitch and be impactful in the game. He just has to find a way of imposing himself on the game."
There is no doubt, though, the Blues coach buys into the potential of the red-headed behemoth. "We don't get people of his size often in Wales. He is a very powerful athlete, who moves extremely well. His biomechanics are probably better than any of the props I know," he said. "If you watch him play football and he has all the skills in the book. He has that hand-eye co-ordination which means he can turn himself to any sport."
When Wyn Jones, a renowned set-piece prop, replaced Carré and demolished the Scottish front row in Llanelli, many commentators purred and Goodfield believes Carré can only benefit from being around the scrummaging loosehead from mid-Wales: "Wyn has a much older scrummaging age but Rhys is progressing. When Wales turned over the French scrum in the World Cup quarter-final against France, Rhys was a big part of it."
I've been asking Stephen Jones when I'm going in the hole for a drop-goal, but he won't let me.
As for Carré, the next four or five months will be another block towards becoming the top-class professional many expect him to be, with the Welsh management integral to that development. "I speak with Wayne (Pivac) and Stephen (Jones) all the time. They just want me to get my hands on the ball a bit more," he said.
While Carré isn't able to give me chapter and verse about the exact specifics of his role in the new system, he has a rough idea. "I know have to stay between the 15s (15m tramlines). I've been asking Stephen when I'm going in the hole for a drop-goal, but he won't let me," he adds with a smile.
That dry sense of humour will be a boon in the battlefield of the international front row and should stand him in good stead. So can he become one of the world's great looseheads? Never say never.
More from Owain Jones
If you've enjoyed this article, please share it with friends or on social media. We rely solely on new subscribers to fund high-quality journalism and appreciate you sharing this so we can continue to grow, produce more quality content and support our writers.