What's going on with Rieko Ioane?
The amount of talent and overpowering potential that sensational All Blacks wing Rieko Ioane possesses is no secret to anyone.
Those who have followed the 22-year-old ever since he was a schoolboy at Auckland Grammar have known the game breaking ability that he wields for some time now.
Back then, the former New Zealand Schools captain made a name for himself as a centre, but ever since bursting onto the professional scene as a 17-year-old with an electric tournament at the Wellington Sevens in 2015, Ioane has shone as a wing.
Many defenders have had the unenviable task of having to drag the 1.89m, 102kg speedster to the ground while at full tilt, and more often than not, it's Ioane's direct opposite who ends up second best.
Whether it's his blistering pace, lightning agility or imposing physical frame, Ioane knows how to get the better of his opposition and exploit their defensive deficiencies.
It's no surprise, then, that less than two years after his spellbinding display at Westpac Stadium, he had two World Sevens Series campaigns, two Mitre 10 Cup seasons, half a year of Super Rugby, an appearance at the Olympic Games and two All Blacks caps all under his belt by November 2016 – still only aged 19.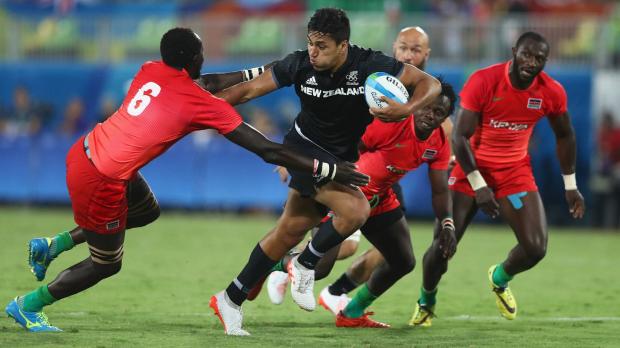 It wasn't until 2017, though, where his real breakout year came.
After a compelling Super Rugby season with the Blues as one of the hottest young properties in the sport worldwide, Ioane made the All Blacks squad for that year's British and Irish Lions series.
Most people expected his inclusion in the squad, but what many didn't anticipate was that he usurped seasoned veteran Julian Savea and was thrust into the starting lineup for the first two tests of the series.
Illness robbed Ioane of appearing in the infamous third test, but he went on to light up both the Rugby Championship and Northern Hemisphere tour to earn himself the World Breakthrough Player of the Year award.
At that point, he had scored 11 tries in 13 tests, and then virtually replicated his form in the test arena last year, finishing the season with a career tally of 22 tries from 24 outings.
It was enough to earn him a second successive World Player of the Year nomination, and his status as the world's premier wing was well and truly cemented.
Ioane was widely seen as a player that was indispensable to the All Blacks, and one that should go on to make a significant impact at this month's World Cup in Japan.
That broadly-accepted train of thought, however, has been altered in 2019.
After scoring nine tries in 14 matches for the Blues this year, Ioane maintained his impressive strike rate which has been evident across all levels of the game throughout his career.
Another dismal showing from the Auckland franchise, though, saw them bundled out of Super Rugby by June, and subsequently, Ioane had to wait until the end of July to get back into first-class action.
His first foray into international rugby this year was against the Springboks in Wellington, and it was there where the rustiness that comes with six weeks out of rugby was clear for all to see.
Normally such a strong force on the left wing, particularly against South Africa, Ioane was frozen out of the game in what must be considered his weakest showing in the black jersey to date.
Running for just 22 metres from nine carries, Ioane was uncharacteristically error-prone in the Kiwi capital, finishing the match with three turnovers with a raft of spillages as Springboks star Cheslin Kolbe punched well above his weight to outshine his opposite.
Of course, it wouldn't be fair to lay the blame for that draw entirely on Ioane's underwhelming output, with missed kicks at goal and the loss of Brodie Retallick to injury, among other things, key factors in the All Blacks' inability to secure victory.
Similarly, Ioane shouldn't be – and hasn't been – blamed entirely for his side's stunning 47-26 capitulation against Australia in Perth last month.
While he managed a try – his 23rd from 26 tests – following some good play between Dane Coles and Aaron Smith, Ioane didn't deliver a typically emphatic performance that most have come to expect from him.
Three missed tackles from seven attempts was the obvious black mark on Ioane's stat sheet, and the repercussions were severe.
Head coach Steve Hansen took a ruthless stance and chopped Ioane, fellow wing Ben Smith and 108-test prop Owen Franks from the side to take part in the re-match in Auckland a week later, with Crusaders rookies Sevu Reece and George Bridge coming in as the replacements out wide, while Nepo Laulala was handed the No. 3 jersey.
Hansen's shock selections calls worked wonders as Reece, Bridge and Laulala put in awe-inspiring shifts at Eden Park at the All Blacks crushed the Wallabies 36-0 to retain the Bledisloe Cup.
Reece and Bridge picked up a try a piece, and Laulala demolished his way through the Australian forward pack.
In doing so, all three solidified their places in the World Cup squad.
Ioane and Smith have also made the cut, but Franks – a two-time World Cup-winner, three-time Super Rugby champion and all-time great – wasn't so lucky.
Following on from the Eden Park test selections, Franks' omission from the World Cup side was one that sent shockwaves not just through New Zealand rugby circles, but all around the globe.
More importantly, though, it illustrated Hansen's cut-throat approach surrounding any one of his squad member's form.
That's not to say Ioane, whose last captivating test in national colours would have been when the All Blacks dispatched the Wallabies 37-20 in Yokohama last October, should be panicking about his waning form.
As we've seen since the beginning of 2015, he is capable of turning a match on its head and can be a game-winner for whichever side he plays for.
But with Reece's and Bridge's efforts against Australia not going unnoticed by the rugby public and the selectors, Ioane should be itching to regain his status as the undisputed premier All Blacks wing.
Perhaps that desire to reignite the outrageous form that made him a mainstay in the New Zealand set-up is already there, but at only 22, Ioane still has at least another two World Cup cycles ahead of him.
After having established his outstanding credentials so early in his career, it's imperative that he guards against complacency or any off-field distractions of which could impact his performances – particularly with such a bright future ahead of him.
Such distractions include that of Facebook, Instagram and Twitter, and Ioane has previously spoken of the negative implications that come with the pressures of social media, which some suspected could have influenced the way in which he played against South Africa and Australia.
"Sometimes social media takes its toll on the team, the boys," he said ahead of a rare outing for Auckland last week, where he scored a try in a 19-13 win over Bay of Plenty.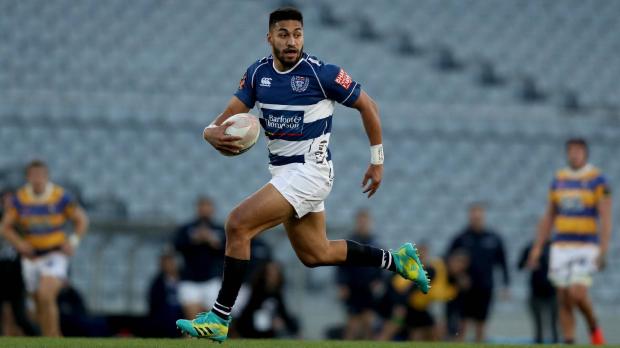 "Not so much on me but some of the boys get talking, and then you get messages from other boys, asking 'what's going on?'
"But I'm good. I'm happy being me. I'm happy with the way I'm playing and that's just the way rugby goes sometimes. There's no big dramatic feeling."
It's reassuring to hear rejections of such inklings that may be weighing Ioane down, as the last thing anyone would want would be for a repeat of what happened to the man of which Ioane superseded as New Zealand's star flyer.
After four seasons as the world's top wing, the supposedly untouchable Julian Savea was hit by an unanticipated collapse in fitness, form and confidence following the 2015 World Cup, which saw his demise from the All Blacks throughout 2016 and 2017.
As rapidly as he, and Ioane, had risen to the peak of his powers, the bubble burst on Savea after he played a leading role in the All Blacks' second successive world crown in England four years ago.
Within the space of a couple of years, he went from the best player on the planet in his position to being demoted to provincial rugby with Wellington.
Unsurprisingly, when Euro-rich Toulon came calling for his services after his exclusion from the All Blacks, Savea was released from halfway through his big-money, four-year deal with New Zealand Rugby at the age of 27.
Although Ioane's decline in form has not been anywhere near as steep or sharp as that of Savea's, there are comparable attributes that can be drawn between the downfall of two big men, both of whom have shown signs of wobbliness after a substantial tenure on top of the world.
For Ioane to be culled from the starting lineup or national squad, or even depart these shores, so prematurely like Savea would be a massive disappointment on all fronts, so the quicker he returns to his breathtaking brilliance, the better.
This week's clash against Tonga in Hamilton – the All Blacks' final match before the World Cup – presents no better opportunity to do just that.
Hansen has indicated that he will field his strongest possible side for the fixture, meaning Ioane will probably resume his role at No. 11.
With Reece and Bridge breathing down his neck and murmurings of his spot in the starting XV under threat, don't be surprised to see the Ioane of old come to the fore at Waikato Stadium on Saturday afternoon.
Rugby World Cup city guide – Fukuoka nightlife:
Comments
Join free and tell us what you really think!
Join Free