It's weird how small the rugby world can be. Toulon welcome London Irish to Stade Mayol on Sunday for a European Challenge Cup quarter-final that will have a strong Cork flavour to it with James Coughlan now the defence coach at the Top 14 club and Declan Kidney the director of rugby at the Exiles. 
It was way back in 2006 when Kidney gave Coughlan his Munster No8 debut. Sixteen years later, they are on opposite sides of an Anglo-French duel that is being served up on TV ahead of the afternoon's main event, the Champions Cup quarter-final in Paris featuring Racing and Sale. 
We all know the ins and out of the venerated Kidney, the two-time European champion who went on to coach Ireland to the 2009 Grand Slam before resurfacing at the Irish in 2018 to orchestrate a rebuild that has trundled along incrementally. 
In contrast, the 41-year-old Coughlan is earning his coaching stripes in a very different way. It was 2014 when the home bird surprisingly quit Munster, ex-All Black Simon Mannix offering him the chance to play out the final years of his career in France. 
Eight years later, he is still going strong despite some bumps along the road. He hung up his boots in 2017 at Pau and immediately went into academy coaching at the club. Next came a 2019 switch to Provence to marshal their forwards and then a 2021 move to Brive to coach their defence.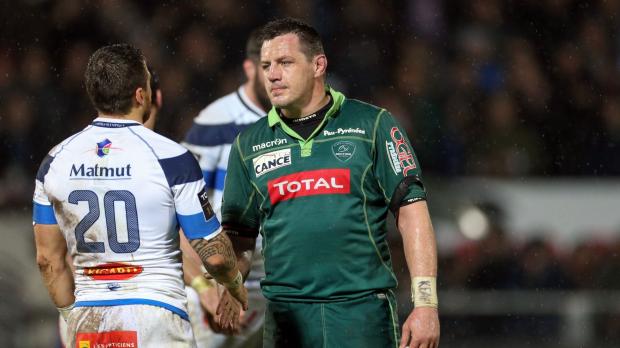 That gig ended disappointingly, but Coughlan was at a loose end for just a single week as Toulon came calling. What has since unfolded has been a roller coaster, some brutal results forcing the exit of Patrice Collazo, leaving Coughlan running the show for a week before Franck Azema was installed as the new boss. 
Toulon haven't looked back since. Eight wins in the last ten Top 14 outings have them on the cusp of the title playoffs, a far cry from the relegation anxiety of a few months ago, while the pull of Europe is very strong with the Challenge Cup final set to be staged in Marseille, the stadium down the road that they packed out just last month when defeating Toulouse in the league. 
It's a frantic existence, to say the least, and when RugbyPass touched base with Coughlan the other morning over the phone, he already had half his working day done as he is habitually in the office at 5am to prepare for when the players arrive. "It's just workload. There is a lot to do. You have to have everything ready by the time the lads come in, you can't be looking around for stuff in front of 40 men," he explained about his frequent twelve hours days.
"We're really lucky here where we are in Toulon. I come out of work and collect the small fella from the creche and then you go to the beach and just relax, you leave the laptop away and I don't feel too guilty leaving after going in early. I'd prefer to be in early rather than stay late."
A father of four, Coughlan's three older kids live with his ex-wife in Finland except for their summer holidays in France, a time in the calendar where there can be no guarantees about what club dad might be working at. "There is no job security," Coughlan emphasised. "Oscar, he will be three in a couple of weeks so there is not that stress of, 'Oh God, we are changing schools' and all that. But you just have to be ready to move. 
"You go where the work is so at the end of last season after Brive, you were weighing up what to do and I was pretty lucky, a week later Toulon contacted me so there wasn't that much of a delay between the two. A lot of guys usually have a season before they get something else so you have to kind of prepare for that as well.
"That is the pressure and sometimes it is not even results-based, it's about something else. You just do the best job you can and be as professional as you can, be as open as you can to everything and things hopefully work behind the scenes without too much trouble. It's just part of your life, a coach's life. 
"One of the best bits of advice I got when I did retire was from Damian Mednis, who was an S&C coach at Munster. He sent me a message, 'Remember Chuck, coaches rent houses they don't buy them'. He hit the nail on the head. You try and build as big a story with a club as you can, but you know it is only a passage and there is an end date to all our contracts. You do as much as you can with a club to put them in the best possible position. 
Je suis absolument ravi de rejoindre ce club incroyable. J'ai hâte de commencer. Delighted to join up this amazing club. Can't wait to get cracking https://t.co/HekqRadYX3

— James Coughlan (@corkmaninfrance) July 26, 2021
"It's an added pressure but I could go work in a bank if I wanted stability, do you know what I mean? It is an exciting job, something that I love doing and something I will try and do for as long as I can without harming my real life behind it.
"I would have been a teacher if finished out my college stuff, would have gone into being a PE teacher. Every coach knows that there is a shelf life, so I will do some personal development over the next few years with regard to going into management consulting because we are either teaching 40 big children or we are managing 40 big children. A management/consultancy environment is what I'm looking at long-term." 
Toulon was a scorching baptism of fire, though. Player unavailability due to international tour call-ups and injuries put the kibosh on much of pre-season and once numerous early-season results went south, Collazo was out the door to be replaced by Azema, someone Coughlan had never met before. That was late October but there is now a very different vibe at the club. "It has been a complete roller coaster, I've had a bit of everything," he said, reflecting on a crazy eleven months. 
"We'd a tough pre-season because we were missing so many people and then the start we had was difficult. But then once everyone was back, Franck obviously came and we have found a rhythm now, the lads have found a way of playing with how we are coaching them. They are happy now with how they are playing and what we are doing and the results are coming good.
"Thankfully we hit it off straight away," he added about Azema's mid-season arrival. "I only knew him from playing against him, but we hit it off straight away and it has been great since he has come, brilliant. And I was so grateful to Patrice when he was here to give me the opportunity. I have been very lucky and I'm going to be here for next season."
What does Coughlan remember from his hectic week in charge when the club were in-between head coaches? "After the La Rochelle game, Patrice decided he was going to step away and I filled in. It opened your eyes to the madness of what it is to be a head coach because you are pulled and dragged from everywhere. 
« Les joueurs se sont beaucoup parlé cette semaine. Ils ont respecté ce qu'ils avaient dit, j ai vu des coéquipiers, de la solidarité. Maintenant, c'est une nouvelle histoire qui commence », dit James Coughlan #RCT pic.twitter.com/VXVvR6hWO2

— Fanny Lechevestrier (@fannylechevestr) October 30, 2021
"It's a bit of a mad week anyway when a club changes coach in the middle of the season but just the administration stuff, the press obligations, organising the medics, the buses, everything that goes into it… you do have staff behind you but you're involved in all those meetings so it's a really heavy load for the head coach. It gave a good insight into what goes on."
Coughlan's fluency in the language was a comfort throughout. "I did my Leaving Cert in '99 and moved to France in 2014, it wasn't like the French was rolling off the tongue. I could ask for a coffee, that was about the size of it. But everything at Toulon is French. The English is more just to translate for Eben (Etzebeth), for Quinn Roux and a couple of the English lads.
"I made a big effort when I came initially to France to speak French. Luckily, I roomed with a Georgian lad when I moved to Pau. He couldn't speak English and I couldn't speak French so I had no choice, I needed to be able to communicate with him. He had a French exam to do for his visa so I said, 'Look, I'll do the French exam with you'. 
"It gave me something to aim towards so by the end of the second year I'd passed that exam, so I knew that my French was at a decent level and everything now at Toulon is in French. To be honest, Niall (Woods, my agent) laughs frequently at how bad my English has gotten because I am in French all day. 
"I'm in French work, my partner is French so when I go home I speak French with Marie and Oscar speaks French with mom. My friends were here a few weeks ago for the game against Clermont, the lads from Dolphin, and they were going, 'Christ, your accent is no longer Cork'. I'm quite frequently laughed at – my French accent is laughed at and then my English accent is laughed at."
Coughlan is taken very seriously where it matters, though, in the Toulon dressing roo1m where he says he could spend the day listing off all the excellent characteristics of the players at his disposal. "The big names shout off the team sheet, guys like Eben, he has been amazing since he has come back from his concussion. 
?? ?? ????? @spvie vous présente les 2??3?? ? & ?? retenus pour le match de dimanche au Stade Mayol face aux @londonirish pour ce Quart de Finale de @ChallengeCup_ ! #RCTLIR pic.twitter.com/jE6B1jLmJk

— RCT – RC Toulon (@RCTofficiel) May 6, 2022
"He is getting better every week with the more games he has played. When you are standing from the outside watching him play for South Africa, you see the intensity he brings and everything but here every week he is driving standards in the group. Charl (Charles Ollivon) has had a really long injury with his knee, he is coming back from a cruciate and has come straight back into the same kind of form. He has been brilliant. 
"Baptiste (Serin) has been the general all year, he has been controlling things and you can see his game management is really coming on and has stood to us towards the end of the season. But the guy who has been here from week one and has been in brilliant form from week one is Aymeric Luc, who signed from Bayonne at then of last season when they got relegated. 
"He has been brilliant all year, has been absolutely outstanding and has got some amazing tries as well. I could be here all day. Gabin (Villiere) has been brilliant since he has been available for us. There are some very big characters and they thrive in that competition. We have been in horrible situations that guys haven't been used to. 
"Cheslin (Kolbe) has spoken about never being in that situation where you are having to make sure the club stays up, but they are used to this competition, they are used to fighting for championships and trying to win competitions, so you can see them thriving now. We have turned that corner and are looking to go and win something now.
"It's mental, always mental, the atmosphere here is amazing," he added. "The whole town ties in behind the club. That is a challenge as well because when the results aren't going how supporters feel they should go they tell you and you know about it. But, likewise, when you win they will tell you about it as well."
How someone so settled in his Cork hometown has allowed himself to be swallowed up by the intensity of French rugby had its genesis in the atmosphere that used to surround Munster's big European fixtures against French opposition during Coughlan's time there. "My life is here now with Marie and Oscar, my life is in France and rugby-wise it's just that challenge, every week is a different challenge, it's a cup final.
"When I was with Munster the big games were nearly always against the French clubs and that challenge is still here every week and I just love it. I love the lifestyle, I love being associated with such an amazing club like Toulon. I never thought that would ever happen and I just love being in France and doing as much as I can with the club to see where we end up.  
"Cork was home but when Simon was leaving, the opportunity to go to France came up. I'd never experienced anything outside of Cork, outside of Munster, and I just thought it would be good for me and the family to experience a different way of life, a different culture. That was eight years ago and it's hard to imagine it's so long ago now.
"Pau academy was a great learning place," he continued, even though it is now years since Coughlan last spoke with Mannix who is back in France in charge of Arcachon in Nationale 2 after a stint in Singapore. "You can make mistakes, you can try things with the academy boys that maybe when you get to a professional level you can't try because it is so heavily reliant on the results. In the academy, it's about boys signing professional contracts, not about winning every week. 
"The important thing is you develop lads with regards to being able to play regardless of what system the club is using, whether it is the 1,3,3,1, the 2,4,2, whatever it is, it's about their basics being always good and that they are able to play whatever system is put in front of them. The French system is so heavily reliant now on the academy boys coming through, there is a huge dependence on the academies.
"Provence and Brive then were very different. Provence is a young club and it was about developing the club but we got stopped in the middle of the season with the covid, so the brakes were put on there. Then in Brive, it's a well-known club that has won a Heineken Cup and they had just come back up the season before covid, so it was about making sure they stayed in the Top 14.
"We did that and now in Toulon, it is a different pressure again. It's about winning things, it's about being as productive and competitive as possible and the objective of the club is to be the best team in France and that is what we are working on every day to be. Different experiences, different pressures but the coaching life is as good here as it is anywhere else."
Comments
Join free and tell us what you really think!
Join Free