The 'huge' role Jerome Garces is playing behind the scenes with France
When former referee Jérôme Garcès retired, he could have laid down the whistle for good. Instead, he decided to move his expertise to the training pitch where he is now working alongside the French national team to help them deliver a first Six Nations title since 2010.
Garcès enjoyed an illustrious refereeing career which peaked in 2019 when he became the first Frenchman to officiate a World Cup final, taking charge of England against South Africa. Soon after, Garcès called time on his vocation, but any hopes of a quiet retirement were soon put to one side when Fabien Galthié offered him a chance to work with Le Bleus.
Garcès accepted the job and has spent two years with the international team, using his knowledge and insights on the game to help improve France's discipline, an area which has been notoriously lacking in years gone by.
Clear progress has been made. France conceded the least number of penalties in last season's Six Nations, albeit while receiving one red and three yellow cards during the tournament.
If Les Bleus are to improve upon their runners-up finish in 2021, keeping their penalty count low once again could prove vital. Garcès will keep an eye on this, but he was not brought in just to stifle the penalty meter.
His role is more far-reaching and involves the practice of leveraging refereeing knowledge, and more importantly influence, at Test level. Bernard Jackman, the former head coach of Grenoble and the Dragons, was quick to point out as much when appearing on the latest instalment of Le French Rugby Podcast.
Jackman: "Is Garcès there just to ref training or to build up a relationship with the referee that's coming up that weekend?" 
In response, co-host Ben Kayser described the three crucial duties which Garcès is fulfilling.
Kayser: "Garcès's role is huge. He sneaks in information to the refs before the game and potentially gets feedback after the game," the former French hooker said. "He has the relevant amount of expertise and pointers to make it digestible for refs, summing it up in a way that will speak to them.
"The second thing he does is work like Richie McCaw used to do – "what's the rule, how can I get around it?" It is about figuring ways around the rules, especially around rucks and forward play.
"And thirdly, Fabien Garthie has brought in what he calls the "high intensity workout". They do a full-on opposition match for 25 to 30 minutes every week in training, usually on a Wednesday. It's at full tilt with Garcès refereeing, so they are non-stop repeating those [matchday] efforts.
"This is the main reason why France are doing so well."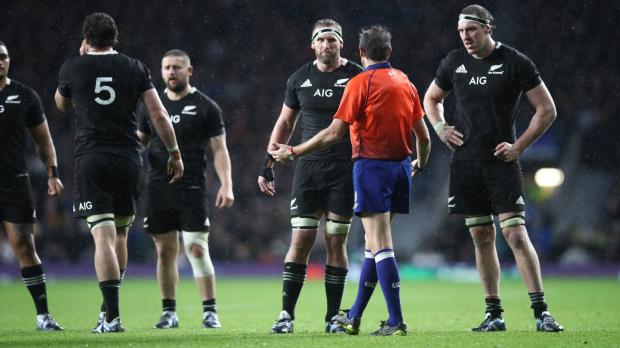 Kayser was a member of the French squad for a decade during their international barren years, and describes how in that time his intensity levels would drop when he was on international duty when compared to his domestic duties with his club. He wasn't the only one who experienced this effect, but it's a dynamic that has been flipped on its head by Galthie, who has transformed the training patterns of the national team to include high-intensity periods of sustained physicality.
Not only does this help keep players energised, it gives them a chance to react to refereeing decisions in near Test level intensity during training matches overseen by Garcés.
Garcès's speaking directly to referees – his with former colleagues – appears on the surface hugely advantageous. The analogy of an FDA regulator stepping down only to be hired by Big Pharma might be an apt one here.
Yet trying to steer officials at Test level is nothing new. Kayser is quick to point out that numerous other coaches chat directly with officials prior to kick-off.
Kayser: "I think Joe Schmidt is world-renowned for the amount of information and clips he used to send to the refs before a game. It was almost too much."
Of course, France are not the first team to try to subtly influence refereeing decisions. In fact, Garcès has been on the receiving end of such antics during the World Cup final.
Lloyd Burnard described in his book 'Miracle Men' how the South Africans went to extreme lengths in their World up campaign to study the mannerisms and reactions of top referees. With this information, Rassie Erasmus et al then devised subtle ways to make on-field decisions more favourable.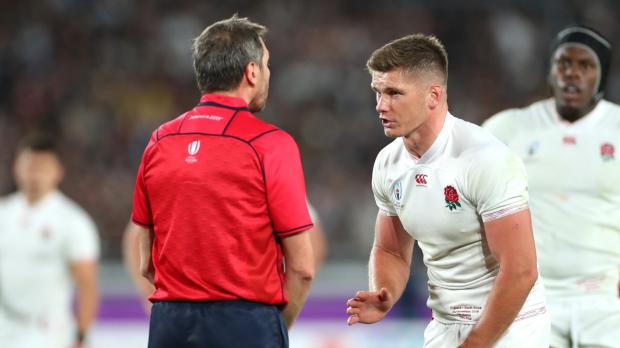 When studying Garcès, South Africa found that praising the Frenchman's physique and fitness levels positively impacted decisions. They also discovered he preferred set pieces to flow smoothly, and so hookers were instructed to quickly get on with their duties at scrum time and lineouts.
Perhaps the most shrewd tactic employed by the Springboks was the efforts made by players to bend over or kneel when talking to the referee, feigning a sense of breathlessness or a need to re-tie shoelaces. This was done to assert the superiority of the official, who stood above the player.
The fact that the eventual world champions went to such lengths to influence the officiating suggests their methods may bear fruit. And why else would Garcès be employed with France?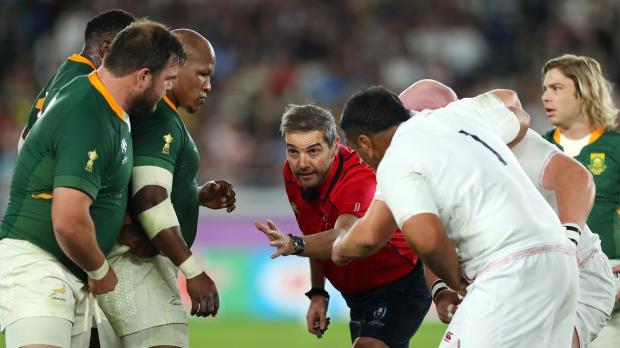 Not everyone is sold on this approach though of inviting former officials; Jackman remains skeptical about the recruitment trend.
Jackman: "Montpellier brought in an ex-referee [Alexandre Ruiz] as defence coach. I wouldn't be giving referees coaching jobs now."
Yet in France and Garcés' case, where gamekeeper has turned poacher, it appears to be an experiment that's worth pursuing. And if France do indeed triumph in this year's Six Nations, more nations may follow suit and take a leaf out of the French playbook.
Comments
Join free and tell us what you really think!
Join Free