Tempest got Spencer red card spot on – Andy Goode
Will Spencer's sending off was the major talking point in the Premiership at the weekend and the debate still seems to be raging on but it's a red card every day of the week in the modern game.
There are a lot of current, as well as former, players saying the game's gone soft but the laws are clear and they're there for their protection. And, it's going to become even more of an issue if and when the new regulations regarding tackling beneath the line of the nipples come in, so players are going to have to adjust.
In truth, though, it hasn't ever really been legal to tackle someone in the head with your shoulder. I know there was no intent but unfortunately that isn't really relevant.
Geordan Murphy's one of my best mates and I understand his frustration when he talks about the game being "too PC" but I think everyone needs to take stock and realise where we're at.
World Rugby have gone down this route because of the number of HIAs and impact injuries players are suffering and the current application of the laws has been in place for over a season now so players should know what the situation is.
Spencer is a big lad at 6ft 7in but some people are talking as if Tommy Taylor's small. I've stood next to him and he's a decent unit, he's 6ft 2in.
I don't think Spencer has really tried to dip into the tackle at all. He's quite upright and has thrown his shoulder in trying to get a big shot. Unfortunately for him, you know you can't hit that high or you're running the risk if you do so you've got to bend and that's a question of tackle technique.
Continue reading below…
Watch: Beyond 80 – 'Knocked'. RugbyPass series takes an unflinching look at the reality of concussion in rugby.

You cannot tackle someone with that force and connect with the head using your shoulder. There are big players around the world playing by these rules and adhering to them, so being 6ft 7in isn't an excuse. You've got to aim lower.
There is an impact on the game and the way players are coached as a result because there's no point even aiming at chest height when you're 6ft 7in, you've got to hinge at the hips a bit more and get lower.
Tom Youngs said on the field that the game's changed and he's right, it has because players are bigger, stronger and more powerful and the laws have been altered slightly over the years to protect the players.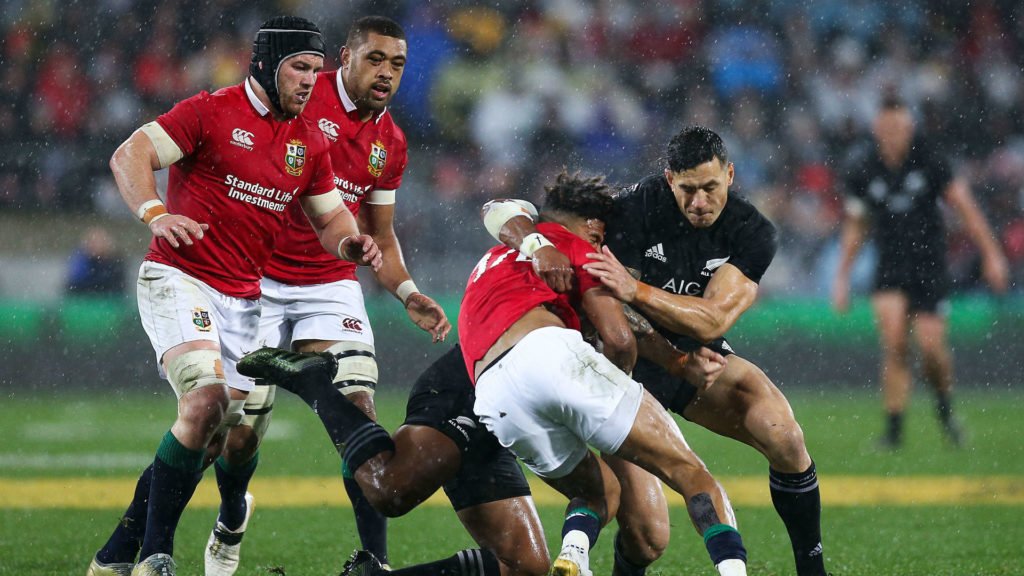 Look at Sonny Bill Williams' hit on Anthony Watson on the Lions tour. There was no intent to bang him straight on the jaw but his technique was poor and he went in with a sort of rugby league style shoulder charge so it was a red card.
Referees can have empathy and they are allowed to take mitigating circumstances into account to a certain extent but I don't think Spencer has gone low enough and I don't think Taylor has ducked that much either.
I certainly don't think Ian Tempest deserves criticism. It's not his fault and he's refereed it to the letter of the law. It's tough but they are the laws and his hands are tied. I'm not sure if the referee would be getting the same level of criticism if it was Wayne Barnes, who is in the top two referees in the world, but I think he'd have given a red card as well.
Some people have said that he shouldn't have been sent off because there was no injury to Taylor and maybe they would have a different view if he had been knocked out but you can't referee on that basis.
Dai Young said after the game that he hopes he doesn't get a ban and I don't disagree with that but the game has moved on immeasurably and I just don't see how that's not a red card under the current laws.
There are measures that you could bring in, such as the 'on report' system that's used in rugby league, but I think people would still disagree about what sanction should be taken then.
The laws now mean you can't put your boots on bodies on the ground to ruck them out the way, which you used to be able to do years ago, and players have adapted to it so they're going to have to adapt to this in a similar way.
It's an interesting debate, prompted partly by the high-profile nature of the game and the coverage on BT Sport, but the law book is there and everyone steps onto the pitch knowing what the laws are. The game hasn't gone soft but it has changed and players will have to continue to adjust as a result.
Mailing List
Sign up to our mailing list for a weekly digest from the wide world of rugby.
Sign Up Now