Rugby must rethink shirt sponsorship and constant kit changes
For so long the gold standard in Gallagher Premiership rugby, Saracens are now sentenced to playing in the English second tier from next season.
Over the last couple of months, the sporting and financial penalties inflicted on them have been unprecedented in English sport. However, it might well be the reputational cost that Saracens have paid that is the heaviest punishment.
The club's long-term sponsorship partner Allianz will find other ways to spend £2million a year of their shareholders' money – apparently, a relationship with an organisation convicted of financial wrongdoing is not a good look in the insurance world.
The deal between Allianz and Saracens was reportedly the largest in the Gallagher Premiership and entailed stadium naming rights, shirts logos and all manner of other offerings that come with such a deal. How do Saracens replace such a valuable partner? Maybe a little asymmetric thinking is in order?
Rugby needs to decide what it wants to be. On the one hand, it looks like an American sport with a salary cap but on the other hand, it looks like football with constantly changing kits, relegation and a league pyramid system (for now).
(Continue reading below…)
WATCH: Ex-Ireland international Darren Cave joins the team as they preview the Guinness Six Nations
Saracens will use their trip to the Championship to have a hard reset within the organisation. It might also use the time to restructure its commercial offering to partners that more closely align with the sport rugby is becoming.
The Saracens shirt is badly tarnished, but the people in the shirts are still some of the most valuable assets in all of rugby. Have you ever wondered why NFL teams, don't have shirt sponsors? It's because the NFL Players Association negotiated to protect the commercial value of the players. Would Panasonic sponsor a player who has Sony across his chest?
In football, players can be paid literally whatever someone wants to pay them… and this might include payments for their individual image rights. Rugby's salary cap means that a club can, in reality, only pay the players their rugby value. So why should Maro Itjoe and Billy Vunipola, along with Owen Farrell, be walking billboards for a club sponsor? This might be a valuable area for the Rugby Players' Association to look at next time they come to negotiating the salary cap.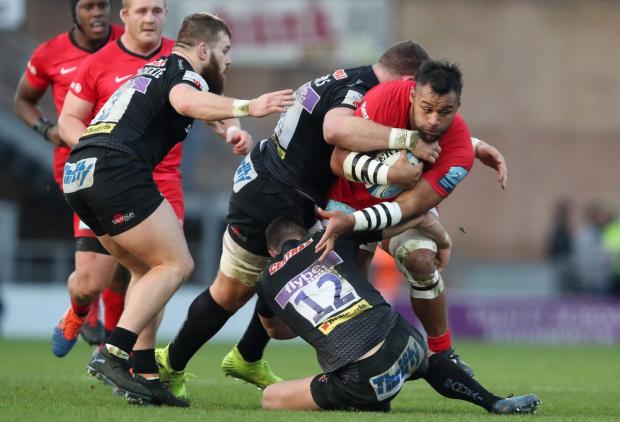 Premiership shirt sponsors have a large range. At the very top of the market, you can have anything from £600k upwards. Leicester Tigers would hope to have their main shirt sponsor for about £1m a year.
However, the more likely amount is between £175,000 to £350,000 – surprisingly low. The shirt is not the only thing teams can sell. They can still offer the stadium naming rights, advertising hoardings and all sorts of other things for those willing to pay. England, for example, will have paying lunch guests come to Pennyhill Park to observe training and meet players  – which is a pretty cool thing to do with a Tuesday afternoon.
Removing the shirt sponsor might not suit a club like Newcastle or Worcester because of the profile of the team and the players, but as demonstrated above they also have least to lose. For Saracens' sizable international contingent, this could work very well. That said, coming up with ways to pay players might not make them too popular on their Gallagher Premiership return.
EXCLUSIVE

'I would be lying if I said I didn't want to play for England again'

Marland Yarde on the top sprint coach he's working with, deleting his Twitter account and playing for England #ENGvIRE – in conversation with @chrisjonespress ???????https://t.co/UeioZ5EfRA

— RugbyPass (@RugbyPass) February 19, 2020
Then there is the relationship with fans. One of the bugbears of sports fans in the UK is the never-ending line of 'new' kits. England have had a bewildering array of shirts over the last decade, as have most clubs.
For a Gallagher Premiership team, the standard is three shirts – home, alternative and European – and all cost considerable pocket money. This is of course self-defeating. Who would want a full price shirt knowing they need to buy another very soon?
More importantly some of these new kit creations are questionable at best. Leicester, for example, maybe the finest club shirts in all the land, racing green (or light green) with red and white hoops. Wonderful stuff.
Fair play. https://t.co/Ic6ovaP6fz

— RugbyPass (@RugbyPass) February 19, 2020
However, the constant hunt for new shirts designs meant that in 2015 this institution of English rugby played their game in what can only be described as a monstrosity.
There are obviously commercial drivers for this. Aside from the change in shirt sponsor, a team might also change its kit manufacture. Even this is not insurmountable. The Green Bay Packers have had basically the same kit since 1961. Admittedly it has been slightly updated it to 1997 but since then nothing has changed in 23 years!
Even when the NFL kit supplier changed from Reebok to Nike, the Packers insisted on the same uniform down to the fabric it was made of. The notoriously money-hungry NFL have a rule that a franchise can't change uniforms within five years of its last change. This is one of the reasons that a league that plays a sport only competitive in one country can have so many dominant brands.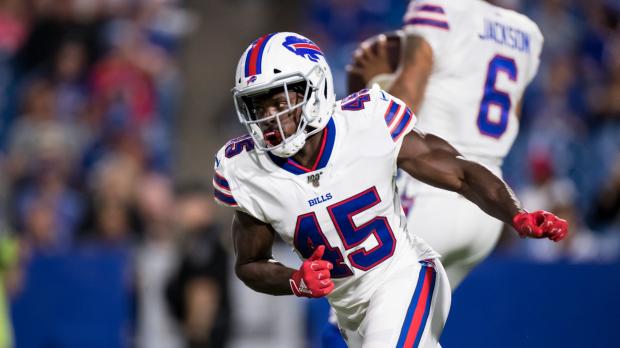 If Saracens made a commitment to keeping the same kit for five years, it would ironically become the bestselling English club shirt overnight as well as a statement of goodwill to the fans. This is not to say they don't wear commemorative kits or change the third strip on occasions, but it does mean the home jersey is sacrosanct.
It's also untrue that just because a new jersey is not on offer fans won't spend money. Most shirt purchases are predicated on the player inside rather than the novelty of yet another new strip. The 40-year-old Tom Brady has had the same uniform for 20 years and is constantly near the top of the NFL shirt sales.
From a brand perspective, this is great. If a fan wishes to buy merchandise, they might buy and wear branded ties, cufflinks, scarfs etc. They might use their Sale Sharks mug in the office or wear the hoodie in their leisure time. This is branded merchandise that people away from the sport will see rather than a replica playing shirt they only wear among other fans. Besides, no self-respecting adult wears their team's latest kit to the office.
Dane Coles has copped a lot of flack for his aggression recently, but aggression is something the @AllBlacks are severely lacking when compared to some of their key rivals. #SuperRugby #AllBlackshttps://t.co/3oPAzvIVTm

— Tom Vinicombe (@TomVinicombe) February 19, 2020
It's not even that obvious the sale of new kits is that lucrative for kit manufacturers. On a visit to Canterbury, I was told that producing the England kit is not what makes for good margins. That comes from all the branded training gear and leisurewear. So why bother changing the shirt?
However, let's not mince our words. If I were Saracens, I would remove all sponsors from the kit and produce a clean, one-off kit that could almost be a badge of honour about the time they were used as the punch bag of the league.
Combine that with an 'All or Nothing' style documentary where them club controls the narrative and suddenly Saracens would be on the front foot again, in charge of the narrative and rewarding the loyalty of supporters. Would there be a cooler jersey to wear when Saracens reach the summit of English rugby again then a Farrell No10 jersey? I doubt it.
WATCH: Clive Woodward calls on the SRU to take drastic action against Finn Russell
Comments
Join free and tell us what you really think!
Join Free