'My father is from Cardiff' - Meet Dylan Sage, the ProD2 flyer with Test dreams
Centre has become a problem position for Wales with head coach Wayne Pivac having tried 13 different midfield combinations so far in his three-year tenure. Wales' midfield struggled to unlock defences during this years' Six Nations campaign with their attack unsuccessful in unleashing a potentially world class back three which includes Liam Williams, Alex Cuthbert, Louis Rees-Zammit, and Josh Adams.
The likes of Willis Halaholo, Nick Tompkins, Owen Watkin, Jonathan Davies, and Johnny Williams all have their strengths but finding the right balance in the middle of the park has eluded Pivac and his attack coach Stephen Jones.
But as of December, Wales will have another potential option in the shape of former South Africa Sevens international Dylan Sage. The man from Cape Town last played Sevens for the Blitzboks in 2018, and under World Rugby's recently revised eligibility laws can throw his lot in with Wales courtesy of his Cardiff born father.
Sage, who currently plies his trade for Montauban in the French ProD2 is passionate about his Welsh roots. "If I can reach my goal of playing test rugby that would be a dream for me," he said. "Playing test rugby is my goal and running out for Wales would really appeal to me as my father is from Cardiff, and even speaks some Welsh.
"I played with Cheslin Kolbe, Kwagga Smith, Francois Hougaard, Juan De Jong, Seabelo Senatla, and Rosco Specman at Sevens. They've all gone on to play a high level of rugby union so that's given me the motivation to go and achieve something similar.
"You have to be very good to play Sevens for South Africa, so now I want to make my mark on the 15 a side game. I think I've got the attributes to play test rugby and playing rugby in the UK in either the English Premiership or for a Welsh region is something I want to explore."
Sage, who currently plies his trade for Montauban in the French ProD2 is passionate about his Welsh roots. While he is a proud South African who has come through the system in his homeland Wales was always a big part of his household growing up. His grandparents Mike and Pat Sage, along with his father Chris emigrated to South Africa in the 1980s to run an electronics business.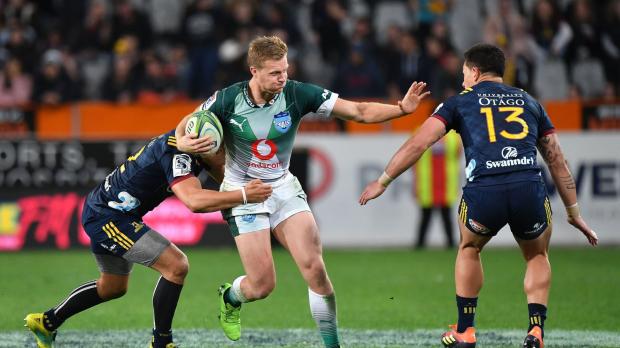 Despite being over 8,000 miles away from home, they retained strong links to Wales which rubbed off on Dylan and his brother Jarryd. "I still have some family in Wales, on my father's side," he said. "Some of my grandmother's sisters are still there and some of their husbands. And some of their kids are still that side of the world.
"Growing up me and my brother were always told stories of Wales from my dad, and then my grandparents. Obviously, being South African the Springboks were everything to me, but watching Wales play was also very special.
"It used to be a bit more of a fight in our house back in the old days. I think my grandfather was still really support the Welsh as much as he can. I think my father kind of gets torn, he is more of the Springbok side now.
"I was born in South Africa and so I always supported the Springboks, but I do have that affiliation with Wales. I do always want Wales to do well, and I like to support them.
"I think it was my grandfather and grandmother, they moved over, so my father's mum and dad moved over when the television age was coming through. They were sort of bringing TV and all of that stuff to South Africa.
"They opened their own business in South Africa and have been there ever since." Sage made 134 appearances for the Blitzboks, scoring 155 points, while he was part of the squad which won a Bronze medal at the 2016 Rio Olympics. But he eventually decided to throw his lot in with the XV a side game, impressing for the Bulls in Super Rugby before upping sticks and heading for the Northern Hemisphere. So, what's his point of difference over other players?
"I've got a good defensive mind and I read an attack quite well," he said. "I can see where I need to make my tackles, and just work along the defensive line. "As a 13 it can be as if you are on an island somewhere by yourself, so you have to make quick reads and be able to communicate. I'm a direct ball runner, and I've got good skills from my time playing sevens.
"The one thing that helped me with the Sevens is picking up those extra skills which perhaps you wouldn't get just playing one position. I think being the size that I am, I'm not a small guy at 6'2 and 100 kilos, so I can well manage in the contact area.
"I've got quick feet, and I can move quite quickly. I think I'm a good leader, and I communicate very well with people."
The 30-year-old is coming to the end of his contract in France and is considering his next move. There has been interest from several Gallagher Premiership clubs, along with a host of French sides. Pivac has made good use of Welsh rugby's exiles programme with the likes of Will Rowlands, and Nick Tompkins now mainstays of the Wales side while South African born hooker Bradley Roberts was a shock selection last autumn.
Sage wants to make an impact at club level to position himself for higher honours.
"I'd love to play in the English Premiership or the United Rugby Championship," he said. "There's plenty of miles left in me, and I want to prove myself. "I'm ambitious and even though I'd be considered as an older player there's plenty of miles left in the tank. Playing sevens at such a high level has given me a skillset that some other players don't have, and I think it could have prolonged my career.
"You look at someone like Hadleigh Parkes who made such an impact for Wales when he was in his 30s. My focus is performing at club level, and whatever happens after that is a bonus."
Comments
Join free and tell us what you really think!
Join Free