'Mental illness is not something you can switch on and off… it's a constant battle that you do fight against'
Denny Solomona isn't your typical rugby player. Given the negative booze and bans headlines he has endured over the years, it would be understandable if he blandly chose his words and limited conversation to a few dull observations that wouldn't make anyone ever sit up and take notice.
Instead, what RugbyPass experienced on Wednesday evening was Solomona uncut, a no-holds-barred insight into the 25-year-old's mind as he battles his demons. It was the sort of honest chat that left you thinking the Aucklander – who first arrived in England in 2014 – is a complicated soul deserving of sympathy rather than pillory.
His visit to train the Lymm RFC under-15s in the company of Sale colleagues Faf de Klerk and Jono Ross transported him back to his own time growing up. How meeting star All Blacks at the time made a lasting impression on him.
That memory was why the shackles came off in midweek, ensuring there were no lame answers on a night in a Cheshire village where youngsters were being honoured by Premiership Rugby title partner, Gallagher, for their passion for growing rugby in an inclusive way.
"I have been to a few clubs actually and it's great to give back, to share some of the knowledge that I have acquired over the years," Solomona told RugbyPass as he warmed to the theme of openness and the meaty issue of tackling his own mental health at the Train With Your Heroes event.
(Continue reading below…)

"I also remember when I was this age meeting the likes of Christian Cullen, Tana Umaga, so it's a feeling that takes me back to my childhood. It makes me understand how important it is to the kids for us to come down and pass a ball with them, kicking the ball with them and sharing our life story or a tip here and there about nutrition or what they can do better. It's a great thing to be a part of."
The message from his All Black mingling was for the kids to always express themselves no matter what they went on to do in life. Even now, that advice is helping him develop his own coping mechanisms to detach from the stress, anxiety and pressures that stem from professional rugby.
— Premiership Rugby (@premrugby) February 27, 2019
"People express themselves in different ways. I have obviously managed to express myself in a sports manner, so I'm doing everything I can to make sure I make the sacrifices that I need to make in order to become who I am today really.
"It [depression] has been going on for a while. I have always known that I needed to switch off or I needed to relieve some sort of pressure and anxiety that people that suffer from mental illness and anxiety will know about it. It's not something you can switch on and off. It's a constant battle that you do fight against.
"It takes a lot to switch off from rugby. When you go home you're either looking at training that day or at games ahead of you, you're watching games from the past, so it's hard to switch off and do something that you love doing, finding a hobby and not doing anything rugby related.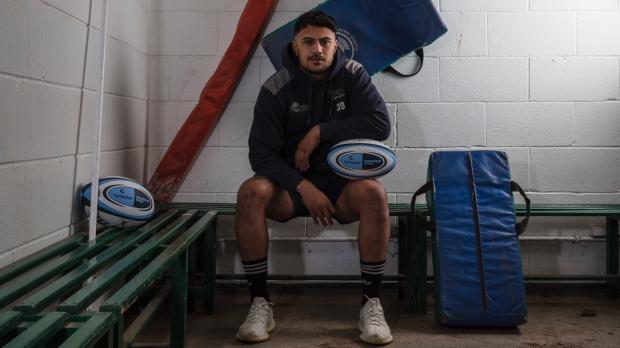 "I like fishing, going to the lake, and hiking. Rivington Pike. Snowdonia. It's not big hikes like Mount Everest, it's just get out in the fresh air, clear my mind, refresh the body, just being out in nature really. Breathe the fresh air, not your air con or heated air in your house."
This positive energy of being out and about helps him enjoy functions like Wednesday night at Lymm. The innocence of youth means there can be excellent questions that stop him in his tracks, making him think about the way he has lived his own life.
"This question has only asked twice but they said if I had a chance to go back, is there anything I would have changed? That is a great question, especially at this age. Kids nowadays don't usually think about that these days, they think about Fortnite or PlayStation or television.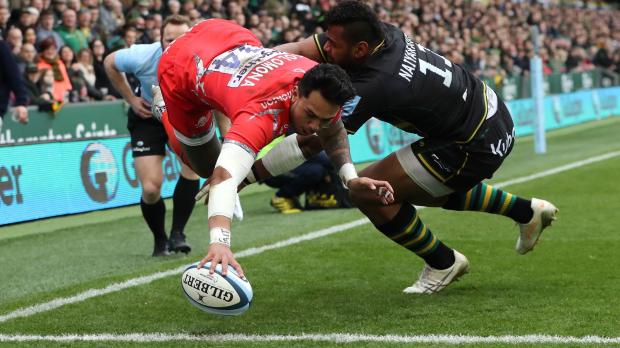 "To actually be able to get into depth with how they want to develop as a player is great and the one thing I would probably have changed is maybe my environment that I was in, maybe changing who I hung around with to make myself a better person and a better rugby player as well."
Solomona freely holds his hands up. He has done some things he would prefer not to have done. "Everyone still forgets how young I am as well. Everyone makes mistakes. I have made mine and I have learned the lessons that have come from it.
"I know that I won't ever take my opportunity for granted again," he continued, chuffed that Sale's work in the community encourages him not to be shy about telling his own story if it means the youngsters listening gain something from his insight.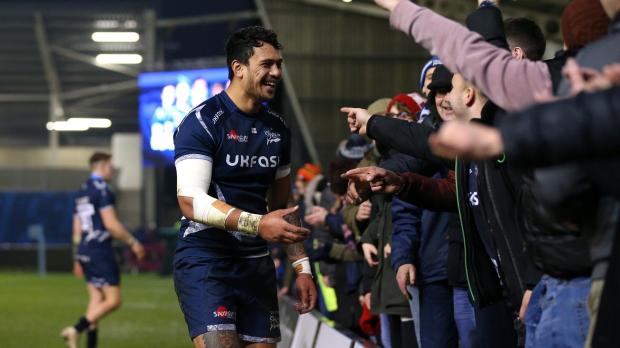 "We have the platform as well, the following to help boost that awareness, especially for me struggling myself with mental illness. Even struggling to now, it helps to have someone who has been in your shoes, been there, done that and also made the mistakes that you don't have to.
"I know I have made a lot of mistakes and a lot has gone wrong in my life in order for me to fix it and become who I am now. To pass on that information and guide other people who are struggling, to tell them that it is all going to be okay and it's going to be fine if you just keep on trying and learning the lessons that need to be learned, that's great."
In other words it's okay not to be okay. "The world has always created that stigma for us males, especially the ones that play sport or any male in general, to be emotionless. When you show some sort of emotion everyone is quite shocked and surprised by the emotion, so males don't know how to deal with that.
We're rolling out our new secondary school programme #HeadGuard

Covering themes like…
Good to talk ?
Dealing with Stress & Pressure ?
Dealing with Failure ?
Social Media ?
Goal Setting ?
Mental Well-being ?
All alongside physical activity ????????

For more info ? ?

— Sharks Community Trust (@SharksCommunity) February 26, 2019
"When we do this [talks] it's all about trying to make it comfortable so that us males do find it comfortable to speak about the emotions and cry and just be upset. That is the hardest thing for a male to do because it shows less dominance and less alpha male type of behaviour, but for some times it's okay to cry, it's okay to speak, it's okay to say you feel in some sort of way.
"That is what we're trying to do. We are making it so that you can speak to us and you can talk, but it's all the people around that person as well, just being aware of maybe signs or behaviour patterns that they will show… it's great to spread awareness and to do what we need to do so that people understand that it's okay to speak and to talk about their feelings."
Sale, as a club, do this well, according to Solomona. "Him [Steve Diamond] and the club have handled my side really well. We have sat down and had a coffee here and there and really just spoken to him not as a coach but as a friend.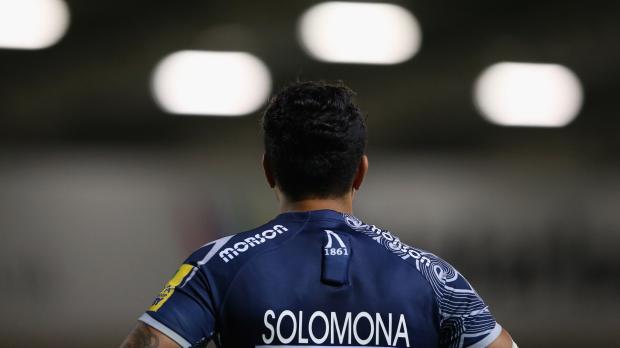 "Diamond has media people paint him out to be a straight shooter, a tough guy, when he is actually a nice guy when you get to know him. Me, him and the boys, we just all go out for coffees in Altrincham and he gives us some great advice because he has been through the mill as well.
"He's an ex-player himself so he knows where we are coming from and what we have done and going through as well. It's great having him around at the club and to support our campaign as well, our mental health issues."
On-song, Solomona's talent gets him noticed. Having represented Samoa in international league, five union caps have been won for England under Eddie Jones. But he isn't beating himself up that he hasn't been involved since last June's tour to South Africa.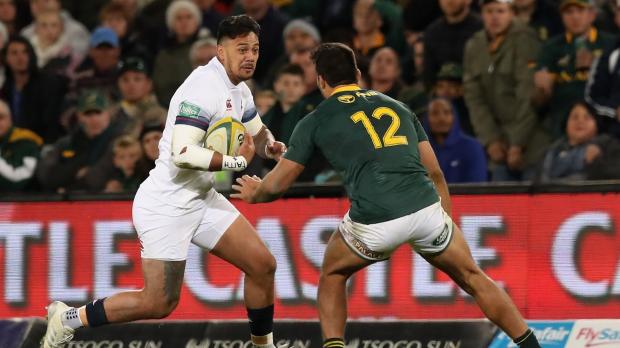 "To be fair I'm not really looking to making it back in. I'm trying to do my job as best as I can at Sale. I don't think I have been in the best form. At the beginning of the year I dropped the form and I feel like I am only beginning to come back into it.
"I'm only getting my feet back and getting all my strength, and I'm just trying to play well for Sale," he said, admitting it took time to become instinctively accustomed to the nuances of union after leaving league in 2016 following stints in Super League and NRL.
"I was still struggling last year and during England as well, I was still kind of struggling with getting a full-on grasp of the union way. I was just winging it really. Now I have really put all my efforts into understanding and getting to know my trade.
"I have got the likes of Chris Ashton, Byron McGuigan, Marland Yarde at Sale – they are all really good international wingers and there is no better person to learn off at wing than Chris. He's a great guy, has been around a lot and knows a lot about rugby union, a lot more than me, so it's great to hear what he has to say."
Comments
Join free and tell us what you really think!
Join Free