John Barclay: What I texted Hoggy after the game and that drop
Desperately fine margins are the difference between joy and despair in Test-match rugby. Nowhere was that more evident than in Dublin last Saturday.
As a Scotland player, I loathed the valiant losers tag. I found the whole notion entirely patronising, people telling us, 'well done, Scotland, you did your best but it wasn't enough' after yet another brave defeat. Valiant losers are losers nonetheless. Watching the Ireland game and the immediate aftermath, I could sense the same emotions from some of the boys.
I've been involved in my fair share of those coulda-shoulda-won matches. I used to get so frustrated after them, probably more so than after a heavy loss. Scotland snatched defeat from the jaws of victory, and that won't sit well with the players, who will see it as a huge missed opportunity after the disappointment of the World Cup.
For all the anguish, I was immensely proud to watch this Scotland team. The intensity and skill execution was often outstanding. Peter O'Mahony, the Irish flanker, described the game rather aptly as "borderline warfare" – two hugely committed sides with little or no regard for their own bodies. The way the Scottish pack stood up to an Ireland eight littered with Lions should give them great confidence moving forward. From one to eight, they were truly colossal.
Continue reading below…
WATCH: Stuart Hogg and Gregor Townsend spoke to the media following Scotland's 19-12 loss to Ireland in Dublin.
In my opinion there were two areas where Scotland underperformed – the breakdown and the penalty count. To put it in perspective, in an average game you will throw in to roughly 10-15 line-outs and feed between five and 10 scrums. There can be as many as 200  attacking rucks and bossing the contact area is so incredibly vital to a team's chances of winning.
Here, split seconds are the difference between success and failure. Scotland won 92% of their own rucks, but the ones they lost counted. Despite an impressive 11 visits to the Irish 22 – a good indication of their control and game management – they only left with six points. Improving what they do at the breakdown will make them much more potent in the red zone.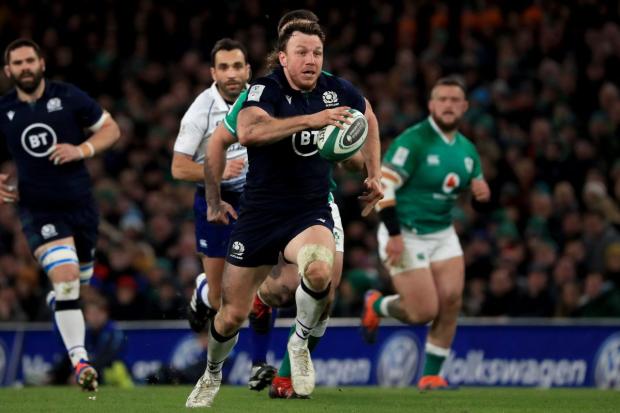 Conceding 14 penalties to Ireland's nine was a killer too. If you look at Wales, who won the Grand Slam last year, their penalty count is frequently as low as four or five. Scotland committed too many needless infringements.
These are not massive issues to address. One they cannot control, and one that can be extremely frustrating, is the inconsistent refereeing of the breakdown. As a player, it can be infuriating when offences that were penalised earlier in a game are ignored in the latter stages and cost you possession. Each referee has a different style – sometimes very different – to the extent that not only do you analyse your opposition, but you do a lot of homework on officials too. Rugby is a complex game, but it seems counterintuitive that the application of the laws can look so different from match to match. Consistency from referees is top of the players' wish lists and we didn't always get that on Saturday.
What definitely did not cost us the game was Stuart Hogg's fumble over the Irish try-line. I messaged him afterwards and as you can imagine, he was gutted. Scotland kicked a penalty from that attack anyway, and I said to Hoggy, 'mate, you've probably cost the team two points, at most four'. We lost by seven. I know it's not that simple but Hoggy dropping the ball is a small issue. I highly doubt that it will be brought up in the debrief, save to add a little light humour to the week… cue the Benny Hill music. Hoggy had a fantastic game and the burden of leadership clearly didn't weigh him down as it so very easily can. He and the senior players must have been on-point with their leadership in the build-up because of the way the guys fired into their jobs. Leaders set the tone for those behaviours.
I am really pleased too that we are not talking about what a grievous loss to the team Finn Russell was. In place of the exiled fly-half, Adam Hastings looked really assured. He kicked well, passed well, and the balance of his play was great – it was a seamless ascent from club to international rugby, and nice to be praising that rather than ruing the fact Finn wasn't involved. There would have been certain people desperate to write about how much we missed him and the story would only have grown bigger and bigger, particularly with the Calcutta Cup showdown next.
It is going to take another massive performance to keep the trophy in Scottish hands for the third year running. This is the biggest game in the Scottish rugby calendar, especially when it's at BT Murrayfield. I was injured last season, so I missed out on playing a part in the insane mayhem of the 38-38 draw at Twickenham. I was there, though, alongside a couple of former England players. I can tell you, sharing a box with Austin Healey and Ugo Monye as England galloped into a 31-0 lead felt like being stuck in a nest of vipers. Like most rugby players, neither Ugo nor Austin are shy in the banter stakes and to say it was an uncomfortable 40 minutes would be an understatement.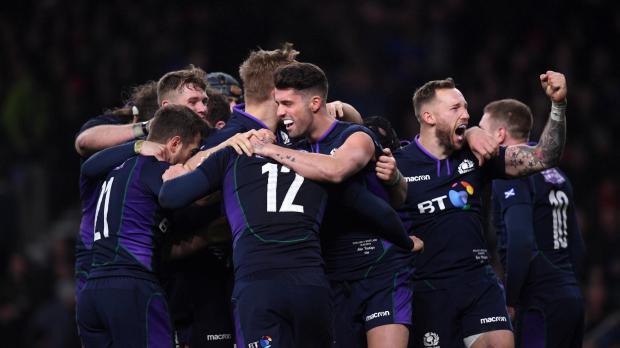 Ugo is a good mate but he took great delight in chanting 'we want 50' to me before half-time. Having said that, he wasn't even that excited because England were tearing us apart with embarrassing ease. The first half was awful, such a non-contest that we nearly left and went for a beer somewhere else. Thank god we didn't.
Being part of the crowd took me back to being a kid; screaming with excitement, frustration and euphoria. When Scotland took the lead, it was my turn to chant 'we want 50' to Ugo. If you want to demonstrate the importance of momentum in sport, play a video of that game. The ending, when George Ford scooted in to tie the contest, almost reduced me to tears. I desperately wish I'd played that day.
Still, my last Calcutta Cup game isn't such a bad memory. As captain two years ago in a convincing 25-13 win, I had the honour of fulfilling a childhood dream – walking up the steps of the West Stand at BT Murrayfield and lifting the trophy into the Edinburgh sky.
Seems like the longer this continues, the harder it will be to kiss and make up https://t.co/YsTlv97Cql

— RugbyPass (@RugbyPass) February 4, 2020
I vividly remember watching Andy Nicol, blood pouring from his mouth, hoist the cup above his head in cascading rain 20 years ago, and the images of each victorious Calcutta Cup captain are ingrained in my mind as nostalgic and cathartic childhood visions. As rugby-daft children, we were running around imitating the actions of our heroes. To be able to tread the very same steps to collect the Calcutta Cup was both surreal and exhilarating in equal measure.
In the past, we've shied away from the rivalry a bit because as players nowadays we're not really supposed to talk in such visceral terms. It's all gone a bit vanilla in the public eye. But the last two games have been so good, plus the little flare-up in the tunnel two years ago, that some ill-feeling between the sides has been fostered. I don't mind that at all. In fact, I think it's a good thing. It's ok to have an intense rivalry – it what's the players want and it helps generate an incredible atmosphere. It doesn't mean you wish ill on your opponent.
Eddie Jones caused controversy in French rugby circles via his pre-match comments, and they duly backfired.https://t.co/5cP6x4CMZ9

— RugbyPass (@RugbyPass) February 2, 2020
But there's a fine line between stoking the rivalry and running your mouth unnecessarily. I've never been able to understand the Eddie Jones sideshow. As a player, it didn't irritate or motivate me; I just didn't understand it – the rationale or the choice of words. It's not how I was brought up or how the coaches that I worked with behaved. Part of me admires his audacity; part of me really can't face it. Would rugby be a more boring place without him? Arguably. Would I care? Absolutely not.
I saw that Gregory Alldritt, the France number eight, spoke of how Jones' words were used as serious motivation by the victorious young French team. They never had such an impact on me, but they can definitely be used as fuel for a team's performance. But part of me respects that if you put yourself out there as he does, you are setting yourself up to be knocked down.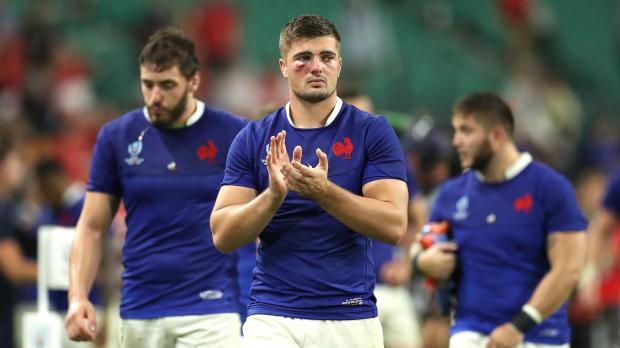 To win, and keep Jones quiet, Scotland must do several things: play with the same style, aggression and enthusiasm as they did in Dublin; cut out stupid penalties; look after the ball better at the breakdown and be more ruthless when they get into the opposition 22. It sounds like a lot, but these are relatively simple fixes – it's about fine-tuning what was a very good performance.
You'd expect an English backlash – the World Cup finalists who completely dismantled New Zealand have not suddenly become a bad team – but this is an opportunity for Scotland to put pressure on while they're a bit vulnerable.
Where can England be exploited? I'd like to see Scotland really go after their line-out, and have Sam Johnson charging down Ford's channel all day. Johnson was quality on Saturday; Ford is England's defensive weak link and they try to hide them as much as they can. But the teams are very evenly matched. If Scotland play with tempo, they can make sides look ordinary. It'll be close, but I really think they'll do it. This will be no day for valiant losers.
Comments
Join free and tell us what you really think!
Join Free