'It's a really bad game of musical chairs: twelve chairs, 13 clubs and somebody misses out - relegation doesn't serve any sort of purpose'
Newcastle Falcons club executive Mick Hogan finally got a taste on Friday of what Gallagher Premiership life will be like in the winter months ahead. Not since March 13 had they staged a match at Kingston Park, a routine Championship win over Bedford watched by 4,000 people, but they were finally back in home game mode 245 days later, defeating Ealing 21-12 in a behind closed doors friendly ahead of this month's top-flight kick-off.
They are at Bath next Saturday, with Sale then due in the north-east on the 27th. The weeks will then past by in a blur, an avalanche of matches following an eight-month lay-off where the club was in cold storage, its staff furloughed while they existed in limbo, promoted from the Championship but with nothing to play in for an inordinate length of time.
"No fans but we'll take what we can for now," tweeted Newcastle administrator Hogan after seeing Dean Richards' charges back in home action after so long. There was a weirdness to it all, hearing players talk and experiencing crunching collisions without a crowd noise drowning those sounds out. It's something the administrator doesn't want to repeat too often.
"It's eerie, completely different, and we can't wait for the day we get fans back in, even if it is at just reduced capacity," he told RugbyPass. "Fans make the sport. I keep saying when football first came back you looked at it and it was just lacking that atmosphere. It was like a really high standard of Sunday league football, 22 players, a referee and no-one watching."
Now that they are back in the Premiership a year-and-a-half after their relegation at Gloucester in May 2019, don't dare suggest to Hogan that the stint in the wilderness was some sort of nourishing therapy for Newcastle. It wasn't.
It's been a while but great to be back at Kingston Park for a game again. Slightly strange being a Friday afternoon and no fans, but we'll take what we can for now.. pic.twitter.com/Rma3bpRVVO

— Mick Hogan (@MickHogan2) November 13, 2020
For years he has advocated ring-fencing the top-flight and no amount of chatter about Exeter and their recent double-winning season will alter that view. The Chiefs made their ascent a decade ago at a time when there was no guarantee the relegated Premiership team would come straight back up.
Now, the rebound is all too predictable, money dictating the outcome as seven of the last eight relegated clubs have come straight back up, the financially ruined London Welsh the only exception.
For a sport struggling to wash its face even before Covid shattered matchday revenue streams, Hogan believes it is financial madness to persist with the current format, something that saw the average Newcastle Kingston Park attendance drop from 7,354 in the Premiership to 4,407 in the second tier last term.
"Look, I want to dispel this myth that people have a year out and they regroup. It's not good. You have a year out and it absolutely is incredibly difficult financially and you spend another two, three years trying to rebuild.
"The only upside to not being in the Premiership is you win a lot more games but look at the crowds when you go down, they are half or even a third of what they normally are. There is this throwaway line that people go down and they rebuild.
"There is a small element of truth in it but the reality is you lose even more money and I don't think there is a level of intensity there in the Championship. There are some great clubs and we had some great contests but ultimately we went unbeaten. You have got to ask how much of a preparation is that to come back to the Premiership? I don't think it's that great.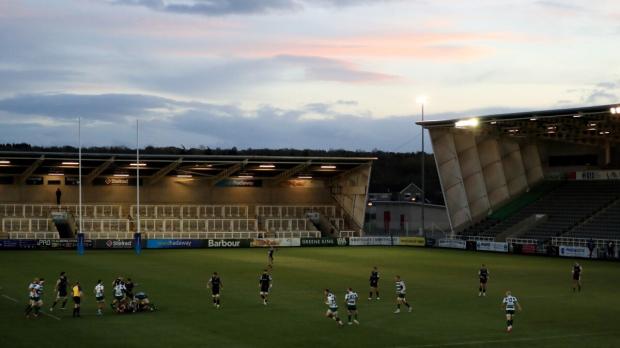 "I have said ring-fencing for 20 years," Hogan continued, warming to the theme of pulling up the rope and shutting a trapdoor Newcastle slipped through twice in eight seasons. "Promotion and relegation don't work. Everybody will point to Exeter. They are the only exception rather than the rule. They came up through the systems, it has worked for them, they have done it really well, they are a great club but promotion and relegation doesn't work. It has led to bankruptcy in a number of clubs.
"Championship clubs spend money they don't have to try to reach what they think is the promised land and a number of the Premiership clubs probably spend money they don't have to try to avoid what is a pretty big drop into the Championship. There is a lot of money going out of the sport that doesn't need to just to change one team every year."
Best in the business! https://t.co/bSwnnOjuII

— Newcastle Falcons (@FalconsRugby) November 13, 2020
The situation is now poised to become even more complicated. With no concrete start date yet on the horizon for the 2020/21 Championship season, relegated Saracens are problematically on ice. There is speculation that if the division doesn't go ahead the Londoners, excluded due to repeated salary cap breaches rather than disastrous results, will be invited to the top-table party but no one can say for definite that will be what unfolds.
"I don't have an answer for this," admitted Hogan about the potential for Sarries to be handed a free pass without playing a match in contrast to a Newcastle promotion where they won all 15 matches before the pandemic shut down the season.
"I completely empathise with Saracens in that they will want the opportunity to bounce back at the first opportunity. Look at the last seven, eight years, the team that has gone down has come straight back up. What that says to me is relegation doesn't really serve any sort of purpose.
"It's like a really bad game of musical chairs where we have got twelve chairs and 13 clubs and somebody misses out, sits on the sideline but a year later comes back in the game. I know there are ambitious clubs who want the chance to come up as well, but I see the difficulties in just handing that automatic promotion spot to Saracens without having played a game. There is absolutely no answer. Good luck to the people who unfortunately may have to make some difficult decisions."
Hogan hopes no promotion comes at the expense of Newcastle. They went from fourth-place Premiership semi-finalists to languishing in twelfth last time out in the big league and another relegation would be cruel. They come to the start line at a disadvantage, though, their eleven rivals having played the delayed 2019/20 season to a finish while Newcastle kicked their heels.
Fixture announcement day! Usually a highlight of the off season but so much apprehension and uncertainty this year.

We need to find out a way to get fans safely back in stadia. We. Ant wait till April as there will be no professional rugby. The game is nothing without our fans. https://t.co/2AaOP2f0Hg

— Mick Hogan (@MickHogan2) September 29, 2020
"There are two ways to look at it. Early on we could be under pressure. No one has ever had to deal with an eight-month break before. That is a challenge but the flip side is once we get into the season those other teams may suffer fatigue or more injuries because they are coming off the back of an intense nine-game season.
"We are going to have to get used to the new law adaptations, get used to the pace of the game, but once we clear Christmas we're going to be in a good place because we are going to be fresher for the rest of the season compared to other clubs… it's just the effect of not playing for eight months, how much that is going to be a factor? That is the unknown at the moment.
"It's going to be intense, at times a war of attrition, but we're just excited to be talking rugby again. We know we start half a step behind other clubs but the freshness in our squad and hopefully the lack injuries will start to pay dividends in the new year to get enough wins and ensure we're not in twelfth place next June."
For sure, Covid has been a pest for Newcastle, not only disrupting their business but also seeing Hogan himself rushed to hospital in March. "It wasn't pleasant," he reflected. "I had to spend three nights in hospital but I was incredibly well looked after by the NHS and the support I got from the rugby community was absolutely outstanding.
"It really lifted me to see all those messages. I lost a stone-and-a-half in about ten days but I came through and thankfully have put it back on with some extra pounds for good measure. I didn't eat for about two weeks but it has flipped the other way, every time I walk past the fridge now I have to go open it to check what is in there… the appetite has come back in abundance."
It's been a painful return, with even England's Mark Wilson suffering https://t.co/9gpuneQO2I

— RugbyPass (@RugbyPass) November 13, 2020
The long-term hope for Newcastle's finances is similar, that revenue can eventually return in abundance once pandemic restrictions are lifted, but the hardships have been real in 2020 for a region that has grown professional rugby in recent times, the staging RWC 2015 match, the 2019 European finals, an England vs Italy friendly and a whole host of marquee rugby league fixtures.
"Everybody has taken a reduction in salary be they players, coaches or off-field staff," explained Hogan. "It's just what everybody had to do to make sure we have a sport moving forward. I have always said it is better to have a percentage of something than 100 per cent of nothing.
"We could all dig our heels in and say we're not going to be paid a penny less, but if you do that you won't have the club. People at Falcons have taken a very pragmatic view to survive and we have got to thank people for their support. We're all in this together and that is very much the feeling that has come back from everybody at the club.
"I'm only part-time at the club now but what I have learnt through this and being involved with our rugby league club is you have got to have really fluid plans. You can make a lot of plans and the whole situation changes so quickly and so many times, sometimes you look at the plan you have put together the previous week and it's so far now wide of the mark you can't really use most of it.
"You have got to remain agile because we are in a situation where a lot of the decisions made by the government we are getting no prior warning on. I urge the government to look at a safe return to stadiums for fans. We all understand the reasons why it's not going to be an easy decision and I get that but like all clubs, we are missing a seven-figure sum in just tickets.
£250m! That's the economic impact that pro rugby has contributed to our region over the past 5 years.

People, quite rightly, asking why the government should support elite sport? The economic and social impact benefits are just two (pretty big) reasons. https://t.co/plwHBhMbM1

— Mick Hogan (@MickHogan2) October 3, 2020
"A similar amount again in corporate hospitality, and also sponsorship. So it's millions of pounds gone missing and this is why we do need some government support. The club has led the way in bringing big rugby events to St James' Park in the last five years.
"Independent studies have shown the combined effect of that and having professional rugby in the region is over a quarter of a billion pounds. If you don't have clubs up here funds like that don't come, simple as that.
"When you have got the social impact and what we do with the community, that is a £2.5m over the five years in community programmes that tackle employment issues, mental health, education, social inclusion, but the foundation only exists because we have the Falcons and the Thunder.
"People need to take a step back and realise why rugby is important to this region. It's not about trying to support players wages, although ultimately you have to pay the players to have a club that can compete at the top. Everything is linked and just like other sectors are getting support, we'd like to see professional sport get government support as well."
Comments
Join free and tell us what you really think!
Join Free