'He can do freakish things that are beyond Johnny and Owen' - Dan Carter puts Barrett in a class of his own
Former All Black Rugby World Cup-winning flyhalf Dan Carter has offered his thoughts on the current crop of international flyhalves Beauden Barrett, Jonathan Sexton and Owen Farrell in a column penned for The Times.
Since Carter retired from international rugby after the 2015 Rugby World Cup, Barrett, Sexton, and Farrell have been regarded as the best 10's in the world.
Beauden Barrett won back-to-back World Rugby Player of the Year awards before Sexton took home the award in 2018 while Farrell led England to back-to-back Six Nations crowns before Sexton's Ireland completed a Grand Slam.
Continue reading below…

"Beauden is the kind of player, whether at flyhalf or fullback, who has the X factor to change a game with one play. He has lightning speed and can do freakish things that are beyond Johnny and Owen," Carter wrote for The Times.
Carter says each has their own strengths, but he felt Sexton and Farrell were more adept at organising the troops around them in as a game manager. He said Barrett's game management has come under the microscope recently.
"Beauden has had to grow into that role over the past couple of years. It is not as natural for him as for the other two," Carter said.
"In tight World Cup matches, your game management needs to be world-class and there have been questions over Beauden," he said.
He said that Farrell's goal-kicking under pressure is 'right up there'. Since the last World Cup, Owen Farrell has kicked 100 percent during the last 10 minutes when kicking a decisive goal to seal or win a match. Barrett's had his issues at home, most notably during the Lions series and against South Africa.
"He may have had the odd bad game kicking-wise, but you just have to look at his career. He is accurate and professional so there are no doubts at all, come the big occasion, that he will step up," Carter said.
"He is a class player with a cool head, who reads the game well, and there are no worries there. He will learn from his setbacks – like against the Lions when he missed some kicks. The closest thing to a World Cup is a Lions series in terms of being able to perform under pressure, so if he is in a similar situation I am confident that he will have learnt a lot."
Carter praised Sexton's organisation on the pitch, saying he runs the team 'extremely' well and picks the right moment to kick.
"Jonny runs the team extremely well. He probably doesn't have the attacking flair of Beauden but is very good at game management."
Farrell's physicality was also highlighted as a trait that inspires his teammates. He believed Farrell's temperament has changed recently, saying he is 'a lot more level-headed than a few years ago'.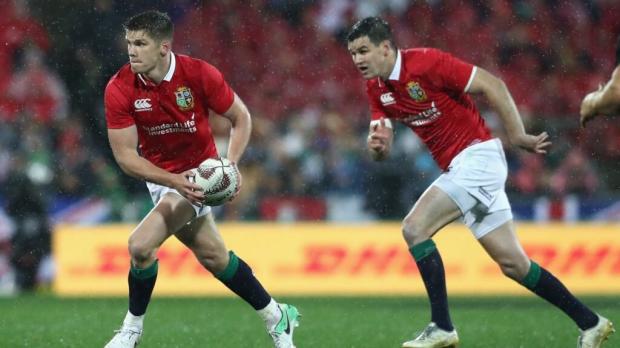 "When you see your No.10 putting in a big shot, it inspires the people around him. He got a couple wrong last season, on André Esterhuizen and Izack Rodda, but his temperament has changed.
Sexton holds a 3-1-1 team record over Barrett in the five clashes they have had since the last World Cup, with two wins and one loss playing against the All Blacks with Ireland and one win and one draw playing for the British & Irish Lions.
Farrell lost his only clash against the All Blacks playing for England last November, while he started in all three tests on the Lions tour for an overall record of 1-2-1 since the last World Cup when facing Barrett and the All Blacks.
Rugby World Cup city guide – Oita:

Comments
Join free and tell us what you really think!
Join Free