Fiji insider's World Cup warning for Wales and Australia ahead of 2023
Acting head coach Gareth Baber has warned World Cup opponents Wales and Australia that Fiji will be even more dangerous at the 2023 tournament in France thanks to the launch of the Fiji Drua Super Rugby franchise and the return from injury of Semi Radradra and Levani Botia.
Radradra, the brilliant Bristol centre and La Rochelle's "Demolition Man" Botia missed Fiji's 38-23 defeat by Wales when a European based squad coached by Baber – standing in for head coach Vern Cotter who is in New Zealand – came close to upsetting the odds in Cardiff last weekend.
Wing Eroni Sau was sent off and flanker Albert Tuisue and Eroni Mawi received yellow cards in the loss to Wales which saw Fiji reduced to 14 men for three-quarters of the match and having to operate with just 13 for a total of 20 minutes.
Fiji, who face Georgia in Madrid on Saturday, are in Pool C at the 2023 World Cup with Wales and Australia along with Europe 1 qualifier and the final qualifier winner and Baber, who is coaching Fiji alongside Ireland's Rory Best and the Scottish duo of Richie Gray and Duncan Hodge, believes the Fijian Drua franchise is going to give Cotter even more talent to utilise in France.
Baber told RugbyPass: "I am very excited about what Fiji could do at the 2023 World Cup. I know what Fiji can achieve when they have the right mindset and clarity of purpose while adhering to the standards they set. It makes them a very powerful squad.
"Besides the players in Europe who will come back in you will also have the Drua team which means that you will see a squad of players under the Fiji banner who are experiencing Super Rugby. I have every confidence that a good group of Flying Fijian players will come from that Drua squad and that is particularly exciting because it hasn't happened before where players are operating every week together. It will be of real benefit to Vern and the coaches.
"The intention against Georgia is that this current group will take another step forward to showing what they can do at the World Cup. Fijian players learn quickly and I know people say you should just let the players perform instinctively but that isn't giving credibility to their learning ability.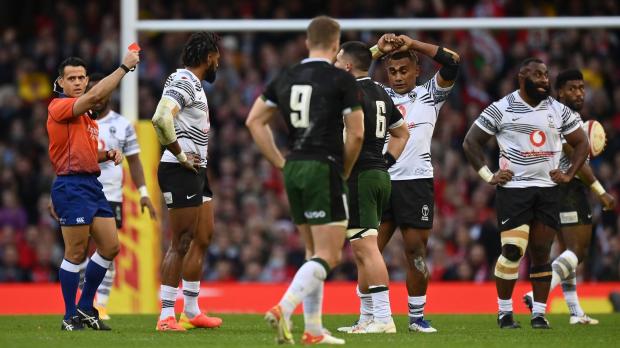 "Early on with the sevens squad I realised that kind of attitude was a myth and I saw that here was a group of men who understood the Bible, had the ability to talk about details – I was sitting amongst guys who were professors of the Bible. I had people telling me players couldn't take in detail when obviously they could and then it becomes a case of getting the balance right to ensure they can still deliver their special rugby talent."
The two yellow cards and one red in Cardiff confirmed that while Fiji are one of the most exciting attacking teams in world rugby, their discipline remains a major flaw and Baber wants his players to copy the tackling excellence of captain Waisea Nayacalevu to avoid more disciplinary problems as they end their Autumn test series against Georgia. Baber added: "We have previously talked about this with the sevens squad and the way the game in Fiji is very physical and we need to continue working on it. There is a great deal of mental preparation to control yourself in the kind of position we were in at Cardiff.
"Eroni Sau has been in France and plays the game tough but got something wrong and you have to keep players on the pitch with that element of control. You want a situation where players can be effective without getting red and yellow cards and it takes a lot of effort from coaches and the support network to make sure players are learning from these situations. No one could argue that we didn't come to the Principality Stadium with an intention to play in a physical battle with Wales and when you get one or two of those wrong you have to look at yourselves.
PLAYER RATINGS: A depleted Fiji played with 13 players for 20 minutes of this contest and will be kicking themselves with a big scalp in the offing. @chrisjonespress ??? rates the players #WALvFIJhttps://t.co/rkn6QjMgsg

— RugbyPass (@RugbyPass) November 14, 2021
"Waisea and the team had to work extra hard in defence and there were a number of dominant tackles he made where I have seen others take the opponent's legs above the 90 degrees. It is testament to his technique that it didn't happen and that comes with experience and developing technique. Every player doesn't think the same and that is the challenge top get everyone tackling like Waisea did against Wales."
Baber knows his men now face an even tougher physical battle with Georgia who gave France problems last weekend and he added: "Mentally it is easier to get up for a game against a Top 10 team in their city. We are playing Georgia in Madrid and it is about how we prepare mentally and physically after a short week with travel thrown in. The context is similar to what Fiji could face in the World Cup.
"The reality of international rugby is that you have to front up the next week and that is exactly what happens in a World Cup. The messaging this week has been about putting the Welsh game to bed and recreating the performance and that needs a good strong group of coaches and players. We know we are in a battle against Georgia."
Baber will return to his family in Wales after the Georgia game and then head to Edinburgh to start his role as skills and attack assistant coach and is relishing the new challenge. He added: "I head to Edinburgh and they are going well and I am looking forward to getting to know the players. It's the next challenge and one I am looking forward to."
Comments
Join free and tell us what you really think!
Join Free