EXCLUSIVE: 'I may have to look at my technique' - Vunipola on injury, rehab and the World Cup
Mako Vunipola will join England's World Cup training camp on Tuesday having discarded his crutches and will tell head coach Eddie Jones he is confident of appearing in at least two of the warm-up internationals before the squad heads to Japan.
Vunipola revealed to RugbyPass the severity of the injury he suffered helping Saracens beat Leinster to win the Heineken Cup at Newcastle on May 11, with the England prop damaging a tendon so badly that the hamstring came off the bone.
He was given a three-month recovery period and is on course to hit that return date which is scheduled for the second week of August.
Surgery reattached the hamstring and Vunipola's famous powers of recovery – he has returned early from every serious injury he has suffered during his career – will see him come back "better than before" in the crucial final weeks of England's World Cup preparations.
Remarkably, Vunipola has been able to follow his carefully prepared rehabilitation programme while undertaking long haul flights home to Tonga for brother Billy's wedding, a trip that was followed by a family holiday that took in Fiji and Samoa.
To make those journeys, Vunipola had to self-inject for two weeks to ensure deep vein thrombosis did not become a factor and thanks to the gyms at the various hotels he booked into, the world's best loosehead prop was able to stick to his fitness regime.
The England medical staff, who work closely with the Saracens medical team, will get their first chance on Tuesday to check over Vunipola's progress and the Saracens prop, who could only watch as brother Billy helped the club register a Gallagher Premiership triumph and make it another double-winning season, will walk into the examination without the need of crutches.
Vunipola is happy with his progress and is mentally preparing to be in action for at least two of the warm-up Tests that see England take on Wales (August 11, 17) and Ireland (August 24) and Italy (September 6).
29 players have been called up for next week's England training camp ?

See who's in ? https://t.co/S6BByCkCzW pic.twitter.com/oKDtATDKop

— England Rugby (@EnglandRugby) June 20, 2019
He said: "I have spoken to the specialist who said I should be back for two of the warm-up games, but I have to be smart because the hamstring is not like a bone that heals. I have to take it day by day and I am confident of playing two or three games before the World Cup.
"I injured my hamstring while jackalling against Leinster and I may have to look at my technique! I overextended my leg and then pushed off and made it worse. The scan showed that I tore one of the tendons and the hamstring muscle detached from the bone at the top.
"It wasn't a nice feeling but the euphoria of winning the cup again carried me through. The surgeon attached it back to the bone and it has healed well with everything progressing on track.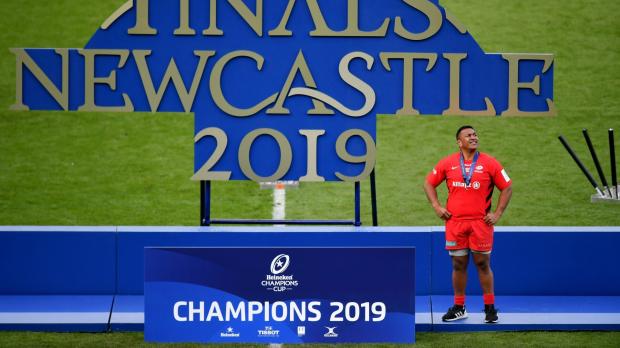 "I came out of hospital in the week of the play-off semi-finals and then the weekend after the play-off final it was my brother's wedding in Tonga. It has been a hectic few weeks with my son Jacob also celebrating his first birthday and it has been really enjoyable to have time away relaxing with the family.
"For Billy's wedding we wore similar traditional outfits and it was great that Sarries players Richard Barrington and Scott Spurling made it. James Haskell and his wife also flew in for the wedding and he made two speeches which was a highlight. He really got caught up in the emotion. Because of all of the flights I was given injections that I had to do myself for a couple of weeks to prevent blot clots.
"Rehab-wise and conditioning I had videos from the England guys letting me know what simple things I could do and I was able to crack on with it. I'm now off crutches and I go into camp with England on Tuesday. Everything will start then.
GET WELL SOON, MAKO ?@Saracens and England prop @Mako_Vunipola ruled out for three months: https://t.co/Bq2PjYzfTM pic.twitter.com/Vr5m8VYQwC

— England Rugby (@EnglandRugby) May 17, 2019
"I have learned, having had a few injuries in recent seasons, that it is a good opportunity to come back better than before and I was given the three-month plan, but things actually happen quite quickly.
After the wedding festivities, Vunipola and his family headed to Fiji and then made a first visit to Samoa to complete a tour of the major Pacific Islands rugby nations.
Not surprisingly, Vunipola was constantly recognised with plenty of requests for photographs. "We had two amazing weeks in Samoa," he added. "Rugby is so big in the islands but they are also so respectful. Now, I want to be in the best possible shape for the World Cup and there is no holding off."
WATCH: Going Pro, the new RugbyPass documentary on the Saracens Women's team

Comments
Join free and tell us what you really think!
Join Free