Eddie Jones screening of Bakkies Botha video left England No.8 traumatised
Former England No.8 Nathan Hughes has recalled how a video of Springbok hardman Bakkies Botha shown to the England squad prior to a match left him terrified before his debut.
The 6'5, 128kg Fijian born back row left New Zealand in 2013 to further his budding career in England under the tutelage of Dai Young at Wasps, a path that would later see him win 22 caps under Eddie Jones between 2016 and 2019.
Now on loan at Bath, Hughes' career is in resurgence, with the 30-year-old heading to Clermont at the end of the season after impressing in his stint at Bath. Yet he remembers how he knew little of English rugby or its greatest players when he landed in the UK as a naive 21-year-old nine years ago.
"When I came from Fiji, the only players I knew from the England team were Martin Johnson and Jonny Wilkinson, because they were quite big," Hughes told the RugbyPass Offload podcast.
"My first week coming into the Wasps set-up, they did this welcome video, showing me the past players that had been here. They were saying 'Lawrence Dallaglio, Billy Vunipola…' and I turn around and say 'Lawrence Dallaglio. Who's that?' They had to cut that bit out," laughs Hughes.
Absolute gold from Nathan Hughes ? #Wasps #Offload pic.twitter.com/ZxBMzbDuZm

— RugbyPass (@RugbyPass) March 30, 2022
"No disrespect, but I was coming from Fiji. I only know players from southern hemisphere rugby; Australia, New Zealand or South Africa. I didn't know anyone from this side. We only knew Jonny Wilkinson because of his famous drop goal.
"When they mentioned this I was like s***. Went home that day and started Googling Lawrence Dallaglio. I'm like f***, this guy is a legend. The man's won the Premiership, the Heineken Cup… and then two weeks later he comes in to Wasps, because he's one of the big guys at the club, and I'm like licking his feet and 'Ah hi' and all that!" quips the hulking loose forward. "That was in 2013."
Hughes played in a Wasps back row alongside Springbok Ashley Johnson and England forward James Haskell, a trio who dubbed themselves the 'Oreo back row'.
"Those days were quite good because me and Ash [Ashley Johnson] basically just carried. We never hit any rucks. Hask had to hit every ruck.
"Hask went to Dai [then Wasps head coach, Dai Young] and said 'Dai, I want to get my hands on the ball. Why am I cleaning 30 to 40 rucks a game?' Dai says 'You're the one putting yourself in that position.'
"He [Haskell] was great to have in the squad. He was off-field trying to be a DJ. At the start I thought these tunes are rank, but he's actually a decent DJ now.
"He brought so much morale into the team. When we went on a team social, he'd be up the top. He'd buy like drinks for the young boys and take charge of everything. As a young player, seeing that, we looked up to players like that."
Hughes would make his England debut against South Africa three years later in 2016, a day he would never forget, not least because of Eddie Jones' terrifying build-up to the game. The Australian screened a video of South Africa's preparation for the 2007 Rugby World Cup final in France, a video that left an impression on the relatively young Fijian.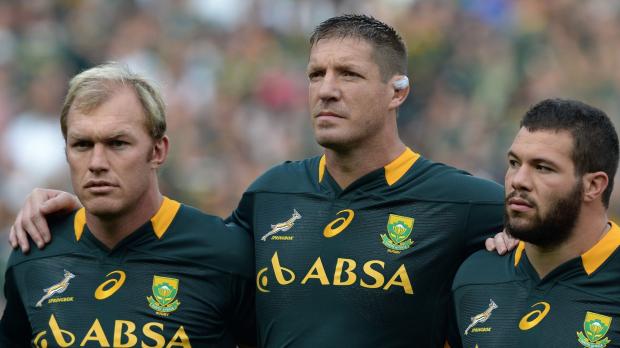 "In autumn when we had South Africa in Twickenham, that was my debut game and honestly one of the scariest things I ever had to do, first time playing in a big stadium, 82,000 people screaming.
"I remember the first conversation we had with Eddie in the meeting was about South Africa. He brought up the Boer War and he showed us videos of when he was coaching South Africa and the final in 2007 where Bakkies Botha is basically slamming his head in the changing room, before they go out in the final.
"The thing [locker door] is all dented and he's bleeding and Eddie's like 'This is how much it means to South Africa to play against England, they just talk about the Boer War."
"That was our meeting the first game and I was like f***ing hell, I am already nervous here and you scared me even more. I am only 24 and this is my first game playing."
Eddie's shock tactics seemed to work. England ultimately ended a decade-long wait for victory over the Springboks with a resounding 37-21 victory.
"We went out, managed to beat them and it was a great debut.
Nathan Hughes on Eddie Jones' pre-match meeting before England vs South Africa #EnglandRugby #SouthAfrica pic.twitter.com/640uvhUBDR

— RugbyPass (@RugbyPass) March 30, 2022
"Played three games in autumn and won the Six Nations but the year after that it just fell apart."
Hughes has played his final game for England, but he hasn't given up on returning to Test rugby. He has declared that he wishes to play for Fiji, a move which is now possible given the change to World Rugby's eligibility laws. It's been over three years since he last played England and is clear to play for the nation of his birth, should they want him.
'I'd like to go to the World Cup for Fiji but like I've always said, it's performance week in, week out, and let the selection happen."
Comments
Join free and tell us what you really think!
Join Free