Bath U18 Max Ojomoh is far more than just a famous name and here's why
Anytime a player comes along in the U18s who boasts a famous name, there are certain, often unfair, expectations put on them.
The last few years have seen a blossoming in the number of 'second generation' players, with the rugby stars of the 90's seemingly having enjoyed the extra time on their hands after retirement particularly vigorously.
The likes of Ollie Sleightholme, Samson Ma'asi, Tom Hardwick and Tom de Glanville have all impressed with the U20s this season, whilst James Grayson is going well for Northampton Saints and Cam Redpath was an ACL injury away from potentially making his senior England debut last year as an 18-year-old.
That production line of ex-players' sons is showing no signs of abating, either, with Louis Lynagh, Jack Rowntree and further Hardwicks and Graysons all playing U18 rugby this season.
One name that fans of a certain vintage will be well-acquainted with is Ojomoh, with the latest player to wear that name, Max, the son of former Bath and England forward Steve Ojomoh.
An U18 player with Bath, the younger Ojomoh recently agreed terms on a senior academy deal at the West Country club and is set to link up with the full-time squad at his father's former side in the summer.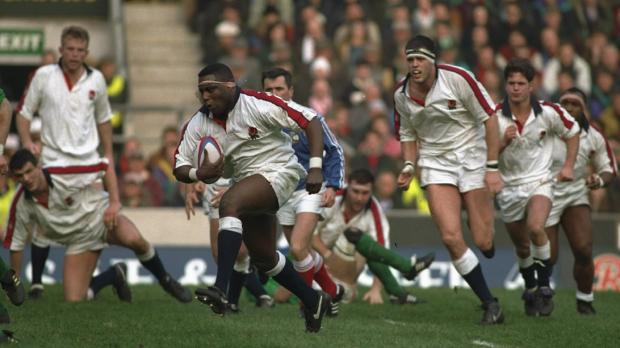 Unlike his father, Ojomoh has opted for a career in the backs, rather than the back row, and is a player that, whilst expectation should not be burdened upon, is worth getting excited about if you're a fan of the blue, black and white.
As an U17 and student at King Edward's School, Ojomoh didn't get the early call up to the England U18 side that players of high potential often receive at that level, but if anything, that has only sparked his development. It's impossible to say how his development would have gone had he received that call, but without it, he has come on leaps and bounds in his second year playing in Bath's U18 side.
There is usually a significant improvement that players make when they move from U17 to U18, in part due to physical development and increased self-confidence, and the only way to describe Ojomoh's improvement has been as extremely noticeable. Some players take strides in that final year, others take leaps, and if being snubbed at U18 level in the 2017/18 season was even partly responsible for that leap, then it could well be one of the better things to happen to the centre in his young career.
He was rewarded with an U18s cap this season, however, scoring a try in the match against France at Cheshunt RFC in March, as he finished off a break from Lynagh, something which resembled a bizarre Anglo-Australian 90's XV dream team. Due to the changes that occurred last season to the cut-off age for the U18 side, though, he will miss the annual end of season tour to South Africa, which will be made up of players heading into their final school year in September.
Again, that's not the worst thing in the world for Ojomoh, who will now have a full summer to use as a comprehensive offseason and potentially steal a march on the seniors in terms of preseason preparation for his first campaign as a professional rugby player.
With players seemingly proving ready for senior rugby at an ever-younger age, what scope is there for Ojomoh to be involved with Bath next season is a legitimate question.
Redpath has played for Sale Sharks this season, Ollie Lawrence debuted for Worcester Warriors and became a fixture in the matchday 23 before an ankle injury ended his season, and the quartet of Marcus Smith, Nick Isiekwe and the Curry twins all had similar exposure to the senior game in their first seasons out of school.
Ojomoh has the speed and footwork that will translate to the senior game. Speed remains the toughest attribute to defend in rugby and his very impressive acceleration and good top-end pace should allow him to mix it with the seniors, whilst the quickness of his footwork is exceptional. That's something he will need to work on, as to when and how to use it successfully in a game that will be tighter than he is used to in the age-grades, but it's also a potential difference-maker for him in the long-term. Not a lot of players have that speed of foot movement.
Strength-wise, he's in a very solid place for his age, but that's the physical learning curve that will have to be tackled. The senior strength and conditioning coaches at Bath will want him to be bigger and that's understandable with the physical toll the game will take, but it's important to remember that he's not going to be a hammer, he's going to be a knife. He generates power in the contact through his speed and footwork, as well as his strength, and whilst there will undoubtedly be a certain level of weight needed to be added, you don't want to take away from his game, which is one of incision, not bludgeoning.
From a technical standpoint, for a centre that is able to carve up as a runner as well as he does, his passing game is better than you might expect. There is a depth and range to his passing that allows him to link play almost as well as he spearheads phases as a ball-carrier. The desire and technical skill to execute the offload is there, he's an eager support-runner and when the line does need to be straightened, he targets inside shoulders and the space between defenders. This allows his side to keep their width in attack, as well as making him a merchant in broken tackles.
One big part of that leap he has made over the last year has been in the improvements he has made to his defensive work. Communication is key on defence and that's one of the areas where he has looked as though he has really stepped up, showing all the confidence required to be that vocal presence and organiser of the players around him. He is strong in the tackle and likes to go low, which is always a positive in the current climate of sanctions, and then drive up through the ball-carrier, denying them the momentum to break his tackle.
That confidence which is on display in his defensive duties is another key factor behind players who tend to successfully transition to the seniors. You go from being a big fish in a small pond, to a very small fish in a very big pond. Integrating yourself into that environment, both on and off the pitch, is often a daunting challenge and having that confidence certainly helps with it, not least so because it emboldens you to replicate what you did as a player in the juniors, in the senior set-up. When young players try to change their games because they're over-thinking or not confident in their own abilities, that's when they tend to encounter problems on the pitch.
The 'coach's son' mantra seems to fit him perfectly, too. He loves the game and he has all the hallmarks of a player that will embrace the grind that rugby can be for professionals. You go from rugby being a hobby to being your day job, and the hours spent analysing his own game, watching video on opponents and generally ensuring he is as prepared as possible, all seem as if they are boxes he will tick off with gusto.
Those are the positives. He is a young player with immense potential, but potential only goes so far. He will work hard to improve himself, just as his coaches will do similar to nurture his talent, but there are extraneous variables at play, most notably opportunity and coaches' willingness to take risks.
Injuries can stall players' careers, or they can jump-start them. If Bath lose midfielders to Rugby World Cup duty or significant injuries, then Ojomoh's chances of featuring will obviously increase. They clearly aren't blind to his ability, having used him in the Premiership Shield earlier this season, and finding young players who can contribute early is always a bonus from a squad building point of view. Not only does it allow you as a club to help develop the player's abilities, it also creates a contributor who is on a very affordable salary, which then opens up the possibility of investing salary cap space in other areas.
Patience is a virtue, though. Not every player is ready for senior rugby the moment they leave school. Bath's coaches will have a better handle on that than anything that can be written or suggested in this article and it would be wise to trust in their judgement. When thrown in at the deep end, some players swim, whilst others sink, and it's not always a straightforward answer as to when you should let them go. Before you throw them in, though, you at least want to know they've mastered the doggy paddle.
For a comparison, the one with Lawrence at Worcester is not the worst.
They're slightly different players, with Lawrence slightly more physical in contact when he was at this point in career, whereas Ojomoh has a bit of an advantage in his distribution game, but there are plenty of similarities in the footwork, the way they run and their shared proclivity for keeping phases alive.
Lawrence has come in with confidence and done well with the opportunities that Worcester have given him. Were it not for the ankle injury suffered for England U20s against Scotland, he would have been pushing for a starting spot in the XV down the stretch for Worcester. That self-belief is something that will help Ojomoh, too, as will backing himself to play his natural game.
English rugby has an unerring ability to focus on a player's weaknesses rather than their strengths, and not allowing them to showcase the latter until they have worked on the former, instead of allowing the former to come on as they excel with the latter. Thankfully, there are signs that philosophy is changing at the club level and it's been demonstrated by the opportunities that have been given to youngsters in recent seasons.
In fairness, Bath are often a little more reluctant to throw players straight in, tending to give them a couple of seasons in the senior academy playing Premiership Cup and Shield rugby before they turn to them in the league or in Europe. In part, that is due to Bath having a stronger squad than Worcester, as well as being a club that recruits relatively heavily, and that will play into how much senior rugby Ojomoh sees next season. Should Bath fail to qualify for the Heineken Champions Cup, the Challenge Cup will also be on offer as a valuable stepping stone.
The England U20s should be a route to extra playing time, too, with Redpath, Lawrence, Hardwick, de Glanville and Fraser Dingwall all graduating from the side this summer. He will have an opportunity to put a marker down for the 12 jersey, whilst pushing a claim for senior involvement in the development competitions at club level.
Regardless of how much game time he does see next season, there is a promising future ahead for Ojomoh, just as there is for Bath, if they can handle the development of their young playmakers and provide a pathway for them.
With Ojomoh slotting in at 12, de Glanville showing plenty of potential at full-back and a fly-half coming through their junior academy by the name of Orlando Bailey, there is scope for a very dynamic back line at Bath in the years to come.
They've recruited heavily in recent seasons, most notably from London Irish and Yorkshire Carnegie, but hopefully there is a homegrown core forming at the club that can help take them back to contending at the top of the Premiership, just as it has done for Saracens and Exeter Chiefs in recent years.
Watch: The Crusaders are set to review their name and branding
Comments
Join free and tell us what you really think!
Join Free