Armand expected England omission
Exeter back rower Don Armand says he expected to be left out of Eddie Jones' England squad for the autumn internationals, despite going on tour to Argentina in the summer and starring for the Chiefs at the start of this season.
Armand made his international debut in June as a replacement in the first Test against Argentina, has won the most lineouts in the Premiership so far this season and scored two tries in his club's famous European win away in Montpellier recently.
However, despite being widely considered the form flanker in the English top flight and tipped to be included in the squad, he knew Jones had certain issues with his style of play and expected to be omitted this autumn.
"Having trained with Eddie [Jones] during the summer tour, I knew what he wanted from the balance of the squad and where he wanted to go in the future," Armand told The Rugby Pod.
"I knew what my work-ons were and that I had more areas to work on, so I was half-expecting him not to pick me this time around."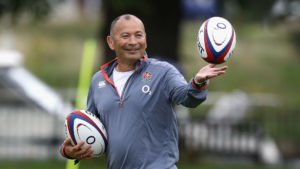 Jones suggested, when naming his squad, that Armand played too much out wide and the 29-year-old Zimbabwe-born back rower says that is something he has taken on board but that it's tricky to change given Exeter's style of play and hinted that his omission might also be down to a lack of experience.
"He has said that he wants his loose forwards to always be around the ball and obviously at Exeter at certain times in a game guys in different positions will stay out wide," he said.
"There probably are times when I am out wide and I should be in the middle but I've got to stick to Exeter's system and there's not really anything I can do about that.
"I think the simplest way to move on with the question is to give an answer that is kind of true and that nobody can really argue with.
"I think he needs experience to go with the new guys that he's blooding in the squad and that makes more sense to me.
"I think the stage that he's at with the squad means he needs guys that he knows can do the job so that the others around them can build themselves up."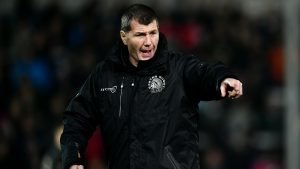 Armand is likely to have an unexpected break for a couple of weeks now, with Rob Baxter set to give his younger squad members a run in the Anglo Welsh Cup. He told The Rugby Pod that he hadn't spoken to Baxter about his omission but that he tries to keep club and country separate and the best way to get back in Jones' good books was to keep doing his job well for the Chiefs.
"I try not to mix the two [Exeter and England] and we had a short turnaround in the week that the squad was announced, so I haven't actually sat down with Rob [Baxter] and had a chat," he said.
"But when I came back after the off-season I said that I can't really change what I do at Exeter because if I go out of system, then I'm screwing the whole team over to make myself look good and I don't want to do that.
"I've got to where I have by sticking to the system at Chiefs and, as Rob has said in the papers, I've just got to carry on doing what I'm doing, keep myself in Eddie's vision and hope he sees a place for me.
"I've trained the way he wants to train and he has seen me train and gave me good feedback from that. I know you can't see much from training compared to playing but I think he know I'm capable of doing that kind of thing."
Listen to the full interview with Don Armand on this week's episode of The Rugby Pod…
Mailing List
Sign up to our mailing list for a weekly digest from the wide world of rugby.
Sign Up Now