Back

By Jon Cardinelli
Why 'quitting was never an option' for injury-ravaged RG Snyman
RG Snyman has won the United Rugby Championship with Munster, earned a recall to the Springboks and looks set to travel to the World Cup in France later this year. Those who are close to the big man reveal how long and hard he has fought for those opportunities – in spite of a series of serious injury setbacks – and how he has inspired many others in the process.
Few have been more pleased with Snyman's recent successes than former Munster coach Johann van Graan, who is now with Bath. Van Graan and Snyman go back a long way, having worked together at school, South Africa Under-20 and Springbok level, before Van Graan brought the giant lock to Munster in 2020.
Van Graan has walked alongside Snyman throughout this difficult journey. While he is no longer with the Irish club, he was thrilled to see them ending their title drought recently and to watch Snyman playing such a key role in the decider against the Stormers.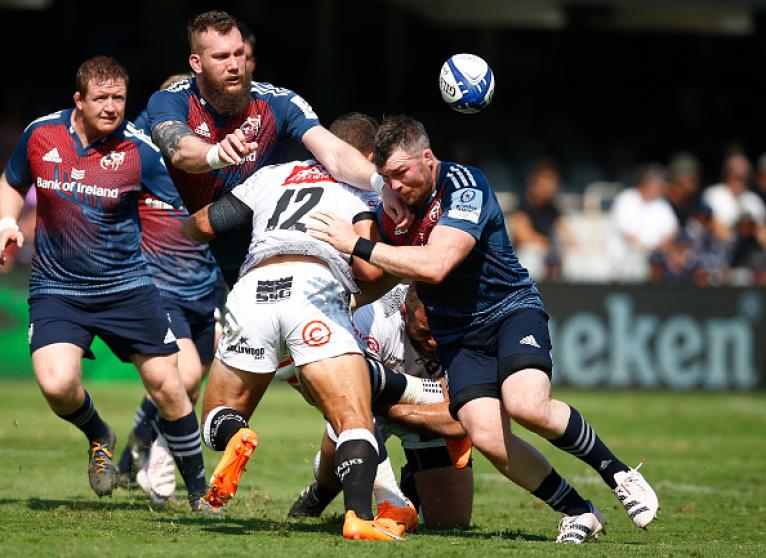 Snyman sustained his first serious knee injury in his very first game for Munster against Leinster back in 2020. The world champion rose to claim a lineout, and when he went down, he didn't get back up. It was later confirmed he'd torn his anterior cruciate ligament (ACL).
Nearly a year later, Snyman returned to play. Unfortunately, three games into his comeback, he injured his knee again. Van Graan picks up the story.
"We had just brought Jason Jenkins to Munster, and at that stage, we were hoping to play RG, Jason, Tadhg Beirne and Jean Kleyn in the same squad," he remembers. "When I announced the team, I spoke about Jason and RG as our two tanks. We were all very excited about what they could achieve as a combination. Then Jason tore his quad the same day at a training session. RG came off the bench in the game, and injured his knee again, this time in a freakish manner.
"We took a photo together that evening, and we were smiling. I told him that we were going to get him through this, and he responded in his usual positive way. We looked at the other players who had made it back – David Pocock from three ACLs, Arno Botha from two. He had the support, but he also had the will to succeed. There was never a moment when he thought of packing it all in. Quitting was never an option.
He was burned very badly in the firepit incident. Not long after, his mother passed away. It was a very tough time for him.
"Then there was the much-publicised firepit incident," Van Graan continues. "He got burned very badly, and I remember going to hospital to see if he was all right. Not long after that, his mother passed away. It was a very tough time for him. Fortunately, he has a lovely wife in Saskia, and an incredible support system. The club and the IRFU also stood by him. And in response, he committed to making his way back.
"Through it all, he never lost that characteristic smile of his. You wouldn't think of it if you watched him play, but he's a gentle giant. He's such an inspirational person, and not just because of what's happened with his injuries. He's always strived for a balance in his life. He's also willing to share his experiences and help other players through the tough times. He's an incredible guy."
Van Graan remembers the first time he saw Snyman play like it was yesterday. While coaching at the Bulls, he got a call from a teacher at Afrikaanse Hoer Seunskool (Affies) – a high school across the road from Loftus Versfeld in Pretoria. The teacher insisted he make the short walk to see this kid play.
"RG was in his second year of high school and was already a big boy. What blew me away was his skillset. I had the chance to coach him at Affies, but I'd moved on by the time he'd made his way through the Bulls ranks.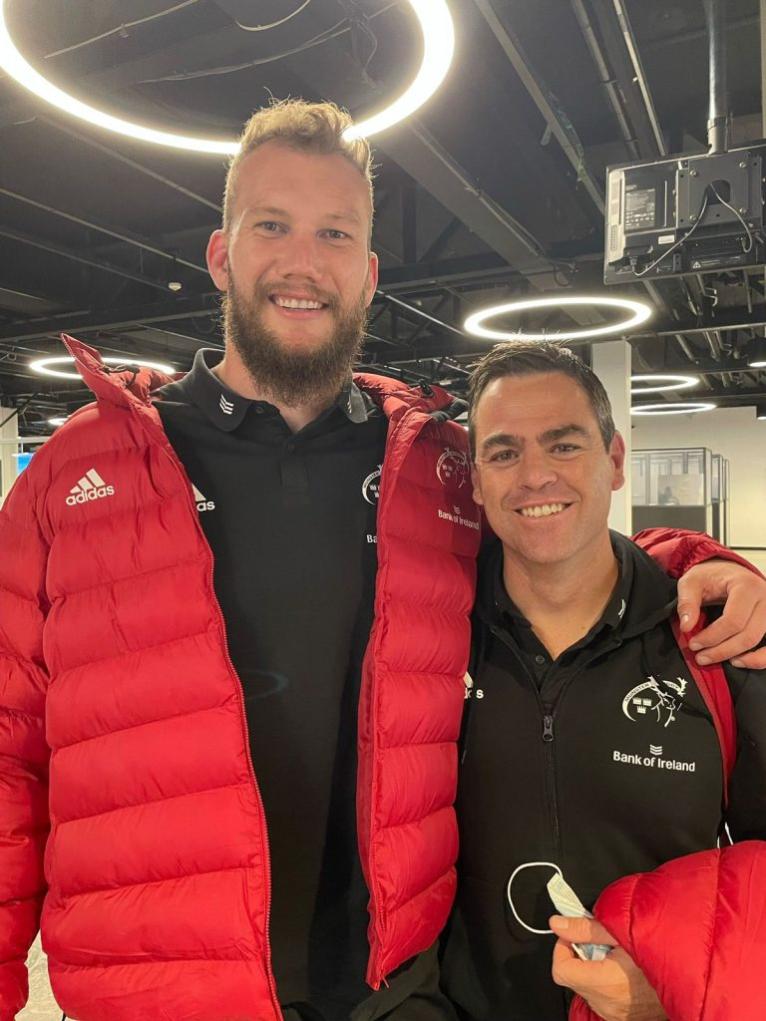 "Our paths crossed again when I was working with South African U20s, and then when he made his debut for the Boks against the Barbarians at Wembley in 2016.
"He's one of the most talented players I've ever coached. Early on in my career, I had the chance to work with some of the best locks the game has ever seen. Bakkies Botha was the physical presence, the enforcer. Victor Matfield was the lineout master. Later in the game, Danie Rossouw came off the bench to make an impact. He was one of the best in terms of defence.
"Now, if you ask me about RG, I think he's a good mix of all three players. He has Bakkies' presence and Danie's ability to get around the park and make big hits, but he also has Victor's finesse."
Following the game against the Barbarians, Snyman had to wait nearly two more years for his first Test opportunity. When Eben Etzebeth was ruled out of the series against England in 2018 with a shoulder injury, new coach Rassie Erasmus didn't hesitate to throw Snyman into the starting mix.
Snyman became a regular member of the matchday squad. The Boks went into the 2019 World Cup quarter-finals with a six-two split on the bench, which became known as the famous 'bomb squad'. Snyman was one of its most explosive members. While he made massive contributions at the set-piece and in defence, his ability to offload in contact was viewed as one of the team's biggest assets.
I was straight with him, I told him he could be better. He'd already made a hell of a statement in terms of his contributions for the Boks, and was a World Cup winner. But I told him that he couldn't sit on his laurels.
After the Boks won the World Cup, Snyman returned to Suzuka to represent his Japanese club, Mie Honda Heat. Then Munster came calling.
"When Damian de Allende and RG moved to Munster after the World Cup, Damian was better known," notes Van Graan. "When the guys started training after Covid, however, they got to see what RG could do.
"I've coached him for a long time. We have an honest relationship. I was straight with him, I told him he could be better. He'd already made a hell of a statement in terms of his contributions for the Boks, and was a World Cup winner. But I told him that he couldn't sit on his laurels. He had to push to reach the next level, just as the great players had in the past."
In an interview with this writer in 2020, Snyman spoke about his move to Europe and his goals for the future, reiterating much of what Van Graan said about striving to scale new heights. As much as he'd enjoyed serving time on the bomb squad, he was set on pushing for a starting Test role. He yearned to take on the British and Irish Lions in 2021 then help South African defend the Webb Ellis Cup in 2023.
Sadly, Snyman could not have foreseen what was to come. He played four club matches over the next two years, and missed the entire 2021 and 2022 Test seasons.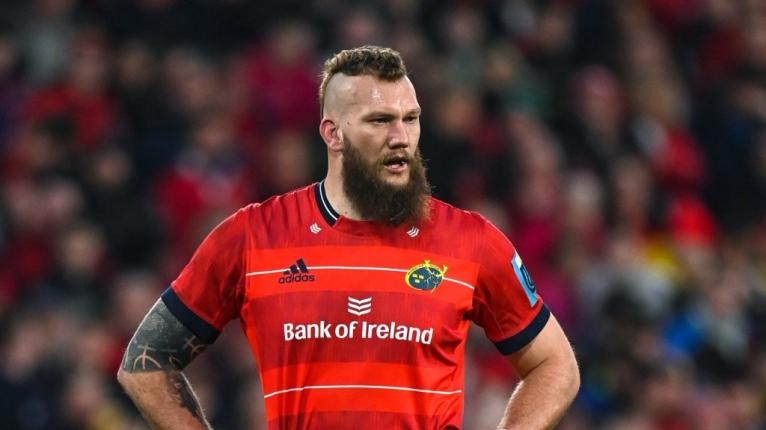 That characteristic determination was evident, however, when he eventually made his return after 17 months on the sideline in the latter stages of the this past season's URC. As fate would have it, Snyman made his comeback from the bench against Scarlets once more. This time, he came through the game unscathed, and Munster claimed a 49-42 win in a see-sawing contest.
At one stage, Munster looked to be in danger of missing out on the URC play-offs, as well as Champions Cup qualification. Then they went to Snyman's homeland. They scalped the Stormers in South Africa – becoming the first team to win in Cape Town for nearly two years – and earned a valuable 22-22 draw against the Sharks.
Having battled their way into the top eight, Munster faced perhaps the most savagely difficult play-off run of any champion team, in the URC or its previous iterations. They defeated high-flying Glasgow, fierce rivals and hitherto all-conquering Leinster, then the mighty Stormers in their own respective back yards. It was during this period the Snyman of old emerged.
"It took him a few games to get back into the swing of things, but you saw how he started firing in the latter stages of the URC," says Van Graan. "The way he played Beirne through a gap at the end of the final with a lovely late pass, and the way he took the ball with one hand to steal a lineout… His subtle contributions at the maul, and his power at the scrum. He's a game changer.
"That's why he was picked for Rassie's bomb squad in 2019. He hasn't played much since, but he clearly hasn't lost the ability to make an impact in the big games."
After the URC final, an emotional Beirne went out of his way to pay tribute to Snyman.
I just can't say enough about his talent. Some players have one special thing about them – very few tick all the boxes.
"For a man who has been so unlucky with injuries, he's one of the most positive people I've ever met," said the Lions forward. "Through all those setbacks, he always believed that he would get back to his best.
"Since he's returned, he's brought a lot to the mix with his experience and a physicality that is second to none. He's world-class, and we're really lucky to have someone like that in our squad. He's not just an incredible player, but an incredible person too."
The Boks will look to harness those special qualities in the Rugby Championship and subsequent World Cup. While Snyman hasn't played Test rugby in nearly four years, the Bok coaches believe that he still has what it takes.
Van Graan points out the game has changed since 2019, and those changes may suit a player with Snyman's particular skillset.
"The laws of the game currently favour attack. He's a tall guy at 2.06m (6ft 9ins) who has always had the ability to get his hands through the tackle and offload. With the tackle height dropping, he will be even more effective. I just can't say enough about his talent. Some players have one special thing about them – very few tick all the boxes.
"This will be the most closely contested World Cup yet. Those quarter-final matches will be massive, and it may come down to one player making one big play to win. It wouldn't surprise me if RG – as one of the best players in the world – is the guy who steps up in that scenario."