Back

By Gregor Paul
Why Ian Foster conundrum differs to All Blacks' past struggles
These are not unprecedented times. The All Blacks have been here before.
They have faced this sort of pressure to axe a coaching team or coach on two previous occasions and although they never actually did it, they would have in one instance had there been a viable alternative and in the other, they instigated an internal reshuffle to at least look like they were listening to the public clamour for some sort of change.
That first instance was in 1998 when the All Blacks lost five tests in a row which left head coach John Hart hanging by a thread. It was a thread that would have been cut, but the chief executive at the time, David Moffett, says there was no credible alternative to put in Hart's place.
Graham Henry would have been offered the job after the All Blacks had lost to the Wallabies in Sydney, but he'd already decided the previous month to throw his lot in with Wales.
Hart had enjoyed two brilliant seasons as head coach in 1996 and 1997, but in 1998 he was hit by the triple whammy of losing captain Sean Fitzpatrick to retirement and long-servers Zinzan Brooke and Frank Bunce to overseas contracts. Age and injury caught up with Michael Jones and Hart, with so few options, had to ask a young and inexperienced Taine Randell to captain the side before he was ready.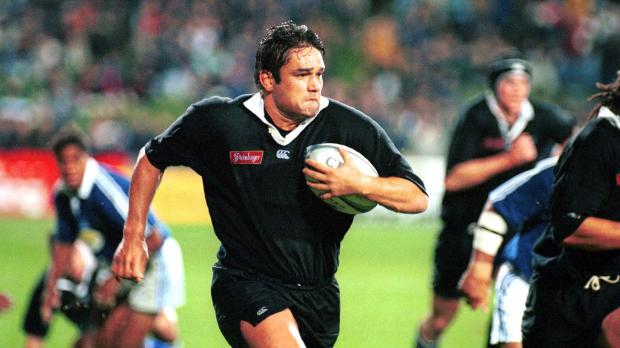 An immature group lacking natural leaders struggled – beating a terrible England twice before losing twice to South Africa and three times to Australia.
When Moffett weighed up all the circumstances, he concluded that Hart wasn't the best New Zealand coach, but he was the best available coach and hence the decision was made to give him one more season in charge.
And then in 2009 there was nationwide angst about the state of the All Blacks and the decision to re-appoint Henry, Steve Hansen and Wayne Smith. All three men had been with the All Blacks between 2004 and 2007 and while their overall record was outstanding, they presided over the worst World Cup campaign in history.
But the NZR board saw past that failing and decided that all three would have learned from that campaign and they were kept at the helm. Not everyone agreed with that decision and when the All Blacks lost their opening game of the 2009 season against France in Dunedin and then lost three more to South Africa to sit on a record that year of having played eight, won four, lost four, the knives were out for change.
Most specifically, the media went after Hansen who was in charge of a forward pack that was not competing well at set-piece.
They haven't built any statues for critics or wannabes yet. My job is not about listening to those people.

Steve Hansen after copping criticism in 2009
Hansen made life worse for himself when he decided to go to war with the media and bit back when he was asked to explain why the lineout kept failing. "They haven't built any statues for critics or wannabes yet," he said.
"My job is not about listening to those people. My job is about making sure that we stay on task and make sure we do the job we've got to do and do it well.
"There's no point me getting concerned about what people are saying. This is not pressure, pressure is when you knock on someone's door and say, 'Sorry, your son's just died' or, 'Sorry, I've got to take your baby who has died in a cot death away'. That's pressure.
"This is a game. We're passionate about it and we want to win but mistakes happen in sport."
Shortly after he had said that, the All Blacks beat the Wallabies in Wellington – but Hansen wasn't asked to front the media as per usual with Henry and Smith. A few weeks later an announcement was made that for the end-of-year tour, Henry would coach the forwards and Hansen would take over the attack.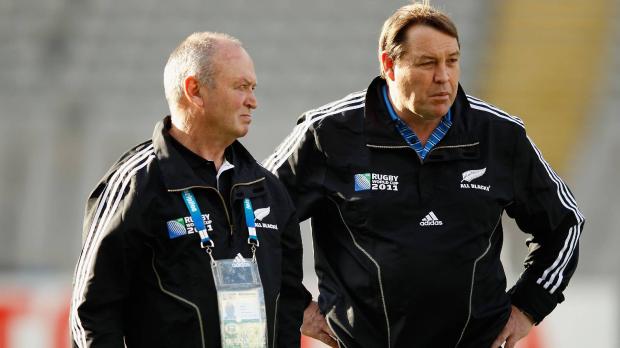 The change was a way of refreshing Hansen, of acknowledging that he needed to change some thinking and behaviors.
So what we have now, New Zealand Rugby under intense pressure to remove a head coach and or his assistants, is not new. And because NZR have never actually gone ahead and axed a coach mid-contract, assumptions are being made that they won't do it this time either.
Most commentators have labelled the NZR conservative and self-protective and therefore not likely to make a coaching change a year out from the World Cup – not when Foster and his team are all locked in until the end of 2023 and it will cost anything from $3m to $4m to pay them out.
But arguably the situation is more intense than any that have gone before because there are multiple factors piling up and while NZR have never axed a coach or even an assistant before, that does not mean that they won't do it now.
There are multiple factors at play here, starting with the fact that the Ireland series was by no means an aberration. The All Blacks have lost four of their last five tests and five of their last nine.
It's not just results that are painting such a damning picture. Each of the last five defeats has carried a recurring theme of being out-muscled and beaten in the collision areas.
Their only big wins under head coach Ian Foster have come against South Africa once in 2021 and Ireland in the first test of this year. Other than that, they have lost three times to Ireland now, once to France and once to South Africa.
And of course, the big problem for the All Blacks is that they know they will definitely play France in the World Cup and almost certainly, given the draw, one of Ireland or South Africa in the quarter-final.
But it's not just results that are painting such a damning picture. Each of the last five defeats has carried a recurring theme of being out-muscled and beaten in the collision areas.
The All Blacks are recidivist offenders in the art of contact warfare and the problem is not just that they are continually losing but that they are showing no discernible signs of improvement and, in fact, may be regressing.
Foster tried to put some gloss on the series loss to Ireland after the third test defeat, claiming there were some positives and areas of improvement – specifically the ability to play with some calm in the face of a rush defence – but he was careful not to overdo the positives because he knows that the story of the moment is not one of advancement.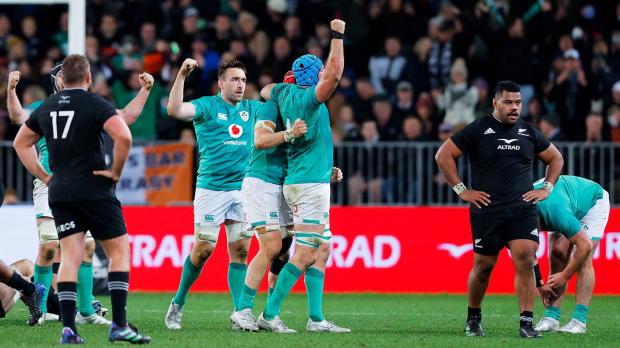 As he also said: "For some reason we're not as calm, particularly defensively. It's more the defence where we're getting fidgety early, we're letting a few holes through. Ireland aren't a team that you can allow to get behind you. That is when they play an up-tempo game. We've done that and it's hurt us. We've worked on it but, again, they got that early momentum.
"The first half we got too loose at times. In the second half we carried, we were more direct, some of our counter-attack stuff was working well. There were a couple of times post linebreaks we couldn't get our support quick enough on the man. Those moments hurt. We'll dig into that."
But the problem for Foster is that they keep having to dig into why things have gone wrong. In his tenure they have set unwelcome records: the first All Blacks team to lose to Argentina, the first to lose a home test to Ireland, and the first team since 1998 to lose two consecutive tests in New Zealand.
That can't be sustainable for the All Blacks who, it can't be forgotten, are also on the verge of accepting a $200m cash injection from private equity group Silver Lake.
The US fund manager has valued the business at $3.5bn but it won't be happy about that if the losses keep mounting and the brand continues to be devalued.
Our focus now is to work with Ian and his team to understand thoroughly in advance of the Rugby Championship what is needed to improve performance and where to from here.

Comments from NZR CEO Mark Robinson following the All Blacks' loss to Ireland
And this is why the situation is so finely balanced. The All Blacks are now big, big business. Not only are they about to have a third-party investor, but they also have around $60m of new sponsorship investment on their kit this year from Ineos and Altrad.
The stakes are so much higher than they have ever been, illustrated by the fact NZR chief executive Mark Robinson felt compelled to release a media statement on the Sunday after the All Blacks had lost the series to Ireland.
"Congratulations to the Irish team for their well-deserved win last night but clearly the performance across the series for the All Blacks was not acceptable as we know they have reflected," Robinson said.
"We all know there is a huge amount of work to do.  Our focus now is to work with Ian and his team to understand thoroughly in advance of the Rugby Championship what is needed to improve performance and where to from here. We will begin this work immediately."
It wasn't quite the vote of confidence Foster was hoping for and if anything that has intensified the pressure on the beleaguered coach.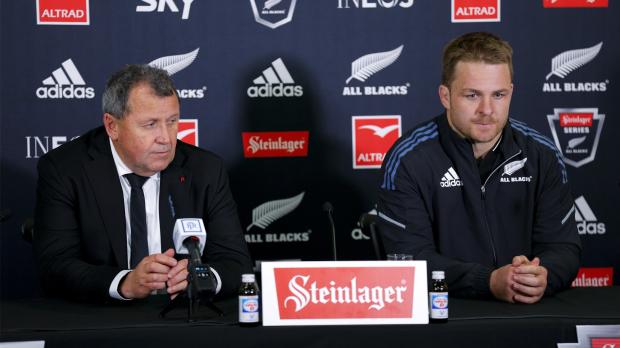 He was, supposedly, going to be summonsed to NZR HQ after the Irish series to present a plan to the board on how he can fix things. They have asked him to confirm his selection plans and detail some of his thinking about how the All Blacks can win in South Africa where they will play two tests – one in Mbombela and the other at Ellis Park.
After that, it is expected there will be a definitive decision made by Robinson about whether to keep Foster and all of his current coaching team or make a wholesale cleanout.
And unlike 1998, there is a viable alternative: Scott Robertson, the enigmatic Crusaders coach is waiting in the wings.
He could be in the job the day he's told he's got it because he's currently contracted to NZR. And so too could his likely wider team be on the ground within hours as he will probably ask his Crusaders forwards coach Jason Ryan and Blues head coach Leon MacDonald to join him, with Joe Schmidt remaining as a selector/analyst.
We are not seeing anything yet we haven't seen before, but perhaps that will change in a few weeks when the All Blacks return from South Africa – a country in which they have only once before won a test series.