Back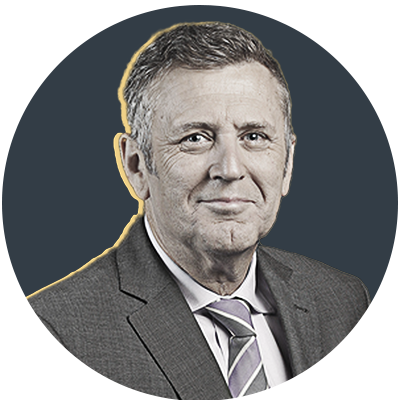 By Tony Johnson
Who's to blame for the red card epidemic?
The torrent of red cards in Super Rugby Pacific has shown no signs of abating, and it's become abundantly clear that the message just isn't getting through.
Over the first eleven weeks of Super Rugby Pacific, 15 red cards were handed out, nearly all for high tackles or illegal ruck cleanouts. That's a red card for every four games played.
The Crusaders may have fallen off their traditional perch atop the points table, but they are leading the way in the sending off stakes with three, the most recent of which saw Hamish Dalzell marched for a clumsy tackle on Wallabies skipper Michael Hooper at a crucial late stage of the Waratahs match, which undoubtedly contributed to their defeat.
It means the Crusaders now have two of their locks sidelined by suspension for dangerous play, with All Black Scott Barrett still serving a four-week ban. Hopefully, Hooper will not have any ongoing issues – but he won't feature for the Waratahs this weekend.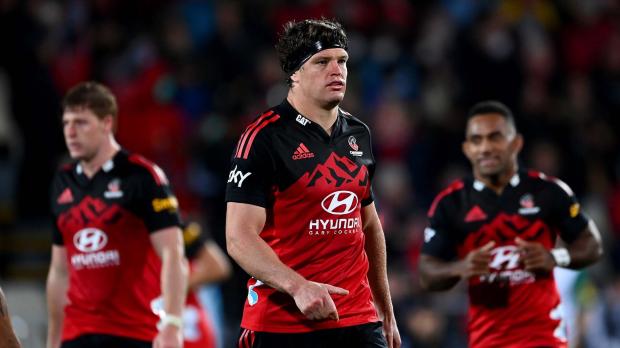 Faced with a stream of at times quite tragic revelations about the effects of head injuries, and a brewing legal storm in the Northern Hemisphere, rugby has been forced, albeit belatedly, to act.
The players were given notice before the season started, and too many have clearly not heeded the warnings.
Emboldened perhaps by the 20-minute red, refs have certainly not held back in sending players off. Sure, there have been a couple of marginal calls, overreactions even, and a couple missed, but the referees cannot be blamed.
If you really want to find someone in officialdom to have a pop at, you could start with the judiciary.
The most common outcome this season has been for an act of dangerous play to be deemed mid-range, and for the entry-level penalty of six weeks to be trimmed down to three amidst a litany of "showed remorse" and "previously clean record" mitigations.
Scott Barrett received four weeks for his red in the Blues game, which seems light for someone who's been sent off twice inside three years.
Nepo Laulala even had his sentence for a dangerous ruck clearout cut to two weeks because he agreed to undergo a 'Head Contact Process Coaching Intervention' programme. Seriously?
Such remedial education should surely be a compulsory add on, not a discount.
Scott Barrett received four weeks for his red in the Blues game, which seems light for someone who's been sent off twice inside three years. Melbourne's Ray Nu'u also got a month for a crude high tackle in his first game back from a three-week ban for the same thing – again, less than the recommended sentence because of his "remorse, young age, and conduct at the hearing".
Put it all together and it would appear that the combined impact of the 20 minute red and the judicial process simply doesn't appear to be enough of a deterrent, and if we're to reduce the numbers of players suffering concussions, more needs to be done.
So what options are there?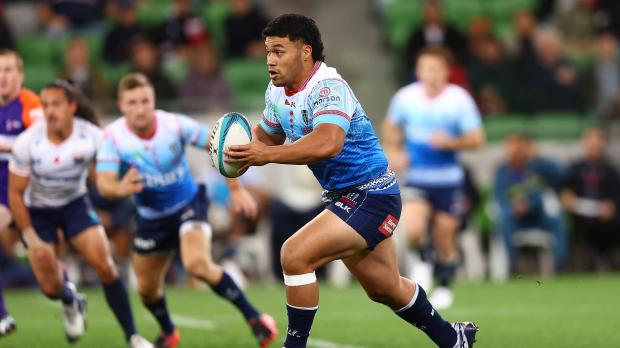 I'll start with one that will struggle to get out of the batter's box, let alone to first base, and that would be to bring back the ruck.
Yes, it was a concept that was abused to the point of extinction, but you can't get away with any skulduggery in this day and age, and I'd wager that far fewer players suffered lasting damage from being caught at the bottom of a ruck then there have been from being smashed by a flying clean out.
No jackals to blow away, no hands on the ball to slow it down. What's not to like?
But we know that won't happen, so we move on.
Lowering the allowable height of a tackle to below the "nipple line" has been discussed. This has merit, although some players would have the advantage of lower nipples, so how that gets policed is a tricky one!
The 20-minute red is effectively a lesser punishment and has to be balanced out by stricter sanctions.
Besides, a low tackle can be dangerous too, more so for the tackler, because of the tendency of some players to raise the knee and lunge into a tackle. It's something the incredible Taniela Tupou has shown a tendency to do in the past, not in a malicious way, but still potentially harmful if his knee were to connect with a crouched down head.
God forbid helmets would ever become part of rugby, and they are not the answer. They use them in the NFL, and the list of players who have gone completely, at times catastrophically off the rails because of the effects of brain injuries is proof that all they really do is give the players a false sense of security.
And don't start with the "on report" system used in the NRL. It might be fan-friendly, and appeal to the 'Bring Back the Biff' brigade, but it's even less of an incentive to clean up.
No, the onus is with the players, and those who coach them, to get it right. And it's also on those charged with dishing out the bans.
The 20-minute red is effectively a lesser punishment and has to be balanced out by stricter sanctions. No getting a week trimmed off because a player sold hot cross buns for the local scout group, no getting a week less because they turned up at a hearing full of remorse, four days after nearly taking someone's head off.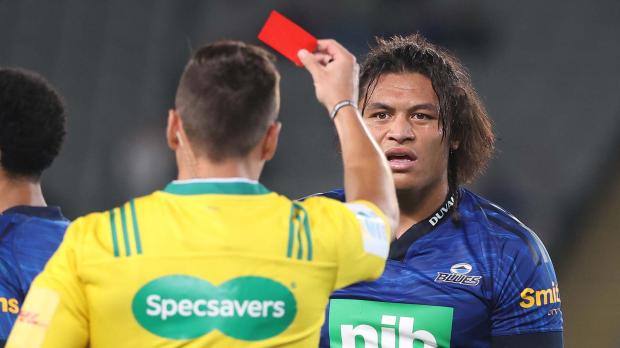 An entry-level of six weeks should mean just that, and if that doesn't work, then start hitting players where it really hurts, in the pocket.
Finally, five card related curios, courtesy of SKY NZ stats guru Andrew Wood at AE.LIVE:
The Queensland Reds, with two reds and a whopping eleven yellows, have played a man short for 120 minutes, that's 15 per cent of their season.
The Blues have coped the best with players in the bin. Despite being a player short for 103 minutes, second only to the Reds, they've scored 21 points to 19 in that time, and are the only team to have overall scored more than they have conceded whilst down in numbers.
Despite their three red cards, the Crusaders have only been shorthanded for 55 minutes, but have also had just 12 minutes with a one-player advantage.
The Waratahs have profited most from the 'cardemic', having had a one-player advantage for over a game and a half (106 mins). They've turned that 'power play' time into 10 tries and an overall points difference of plus 44.
Conversely, Moana Pasifika have had a one-player advantage for 51 minutes, but have scored only 12 points in that time, and conceded 20, making them the only team with a negative differential whilst a player up on the opposition.