Back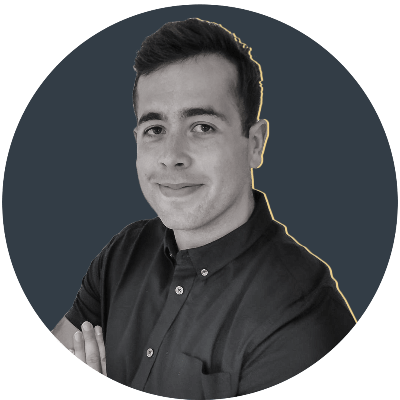 By Jamie Lyall
URC breakout stars of the season
The inaugural URC season has delivered fresh intrigue, compelling narratives, and the infusion of South African might.
It has also heralded the arrival of new players on the elite stage, as the next batch of budding stars announce themselves.
These are our breakout players of the season.
Ethan McIlroy
Ulster's array of backline thoroughbreds is lavish – and insanely so. Robert Balocoune is 24, James Hume and Mike Lowry a year younger, and Stewart Moore just 22. Nathan Doak and Aaron Sexton, who have taken compelling strides in senior rugby this term, are younger still. Even Jacob Stockdale has only just turned 26.
It's a mighty arsenal, but if we're talking real breakout seasons, then it is McIlroy who has seized his opportunities in a sizzling back-three. Primarily deployed on the wing, though he seared to prominence with Methody at full-back, he is a lithe and powerful runner through contact, with deft hands, aerial prowess and superb finishing acumen. Every top rugby player is competitive, but some, like McIlroy, move like a man who would happily elbow his granny in the face to claim a high ball. The 21-year-old's two tries in Ulster's gut-wrenching Champions Cup loss to Toulouse were prime examples of his ruthlessness in attack.
Evan Roos
There was widespread uproar recently when the list of players selected for the Springbok alignment camps came out, and Evan Roos' name wasn't on it. A few days later, Roos took the field in Cape Town and laid waste to Glasgow, making a dozen typically punishing carries for nearly 100m, one of which ended in a try, beating five defenders and putting in seven tackles.
"Well done," tweeted Rassie Erasmus. "That's how you react to disappointment and make sure you can't be ignored!"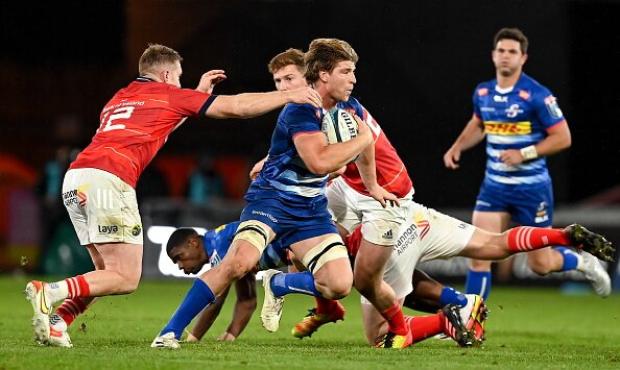 The 22-year-old has been delivering this level of excellence all season, most notably against gnarled Test incumbent Duane Vermeulen when Ulster were in town a fortnight ago. He tops the URC charts for successful carries and defenders beaten. The Boks' back-row depth chart runs deeper than the Mariana Trench, but Roos' time will come soon enough. Elrigh Louw is another titanic international prospect for the Bulls.
Mack Hansen
Perhaps the signing of the season. Already a key man for the Brumbies, his breakout year in Europe has been so spectacular it yielded four Ireland caps and rousing acclaim from across Europe. Andy Friend described Hansen's capture as a "coup" for Connacht, and though at 24 he is no rookie, has taken this unfamiliar league by storm in his debut campaign.
The winger has speed, athleticism and vision in spades; nobody has beaten more defenders on URC duty and few have a better strike rate than six tries in 10 appearances.
Ben Muncaster
Often looked like the Incredible Hulk playing against minions during Scotland's semi-professional Super6 tournament last autumn. This has been a coming-of-age campaign for the abrasive, dynamic back-row, who had played only two senior matches since moving north from Leicester Tigers' academy. Already, at just 20, Muncaster has frightening venom on the carry, and a work rate to match. The softer handling skills are being honed and polished by Mike Blair, and Gregor Townsend has had him in training with the Scotland team. He is a safe bet to win a first cap on the July tour of Argentina.
Jordan Hendrikse
Rugby folk in Johannesburg are growing giddy at the prospect of the "new Faf and Elton", a dauntless young half-back pairing who could steer the franchise for years to come. If Morne van den Berg is cast in the mould of 'mini Hercules' De Klerk, then Hendrikse fulfils the role of swashbuckling Jantjies. Unusually for a 20-year-old pivot, Hendrikse is a stout defender, positionally sound and firm in the tackle. He can also make his backline sing beautifully, as numerous vanquished high-profile visitors to Ellis Park can verify.
The Lions' upturn in fortunes coincided with his return from an ankle injury. And perhaps most tellingly, Roc Nation, the gargantuan JAY-Z-founded agency taking rugby by the scruff, has signed him to their roster. The Lions recently retained both half-backs on new deals and each could vie with his illustrious franchise predecessor for Springbok honours when Wales come knocking.
Madosh Tambwe
The Bulls have unleashed Tambwe to deadly effect this season, the spearhead of a backline that melds experienced Springboks and younger tyros. Tambwe, in tandem with the outrageously elusive Kurt-Lee Arendse, has an ankle-breaking sidestep, top-end pace and neat distribution in the tackle. The pair of them are the top two for URC metres gained and clean breaks made; Tambwe is joint-second for defenders beaten and fifth for offloads. He has established himself as one of the most lethal wingers in the competition.
Dan Sheehan
The Leinster production line is fabled, and off its gilded conveyor belt has popped Sheehan, the rambunctious, free-running hooker. In keeping with pretty much every young player at the province, Sheehan has had to be patient, such is the eye-watering volume of talent in Leo Cullen's stable. There was chat he might shift elsewhere in Ireland at the start of the season, but that has long since been put to bed thanks to a barnstorming campaign, culminating in seven Ireland caps, deputising for Ronan Kelleher and then replacing the top dog when injury struck him down.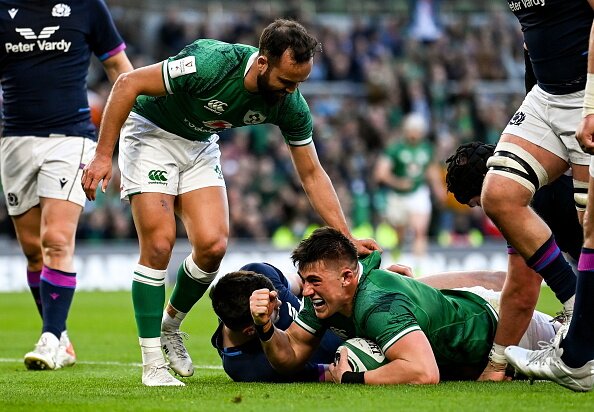 Remarkably agile – remember the try-saver on Melvyn Jaminet in the Stade de France – rapid and tidy in possession, Sheehan is an accomplished set-piece operator, which still trumps nearly every attribute expected of a front-rower. Leinster have developed another gem.
Jac Morgan
In moving from Scarlets to Ospreys after a thunderous first season, Morgan sought game time away from the logjam of open-sides in West Wales, and the opportunity to feast on the wisdom of the great Justin Tipuric.
Though Ospreys have laboured terribly at times, Morgan has been a consistent beacon of light. A classic fetcher, the 22-year-old is a tackle and turnover machine, scything down much larger specimens and hoovering up ball on the jackal. His carrying game continues to improve too – in the weekend's Welsh derby against Cardiff he made 60m from eight surges – and he performed well in his first exposure to international rugby.
Tommaso Menoncello
Pleasantly, there is a barrage of talent blossoming through Italy's pathways, and making itself known in Azzurri blue. Menoncello is one of the burgeoning stars, a brute of a 19-year-old centre at 110KG. Or a "bit of a freak", as Benetton defence coach Paul Gustard puts it.
"I don't say this too lightly, but he is in the top five young players I've ever coached. He's big, very, very fast and has a massive engine. The numbers he crunches in training are phenomenal. His softer skills and passing game will come but he runs hard and straight and defends really well."
Six tries in 10 URC appearances, and a corker on his Italy debut in the Stade de France, attest to that.
Honourable mentions:
Scott Penny was last season's next-gen award winner, so it would be unfair to tout this as his breakthrough campaign. The Leinster flanker has nonetheless backed up his brilliance of 2020-21 with another cracking stint. Theo Cabango, drafted in to play Toulouse amid Cardiff's coronavirus upheaval, has shown great promise, but only played four URC games – albeit he has scored in two of them. Dewi Lake looks to be the future for Wales at hooker. Andrea Zambonin of Zebre Parma is a towering lock with slick handling.