Back
By Nick Bishop
The midfielder who could have proved the difference for the All Blacks
It is fast getting to that time of the year – or rather, that time in the World Cup cycle. Four years of blood, sweat and tears shed will come to an end in France in October, and when it is all over an elite rump of players and coaches will be looking for a new start in 2024.
The 'boss of bosses' in the New Zealand second row for so long, Sam Whitelock, is set to join French Top 14 club Section Paloise after his last hurrah at the World Cup. Both of the country's premier No 10s, Richie Mo'unga and Beauden Barrett are off to Japan, and it was with a deep sigh of relief that the Chiefs recently announced the re-signing of Damian McKenzie to the colours.
As NZR Chief Executive Mark Robinson commented, "This is another key All Black signing, adding to the impressive group of players that will take us into the future. Damian has all the qualities you could ask for in an All Black and we look forward to seeing him evolve even more in our game."
With so many top players leaving for pastures new, it is high time that New Zealand Rugby got some of its own back. The growing migration of current Test All Blacks – not just Super Rugby and NPC-standard journeymen – on full-time contracts to the English Premiership and the Top 14 France, and sabbaticals to the Top League in Japan has diluted the playing pool and left the current iteration of Super Rugby a very pale shadow of the competition it once was – head-and-shoulders above all other rivals on the planet.
The Southern Hemisphere no longer leads the world in terms of rugby innovation because it does not have a class-leading provincial tournament sitting just beneath international level. For that reason, the relaxation of eligibility criteria for selection to the All Blacks from 2024 onwards would be a bold and very welcome breath of fresh air.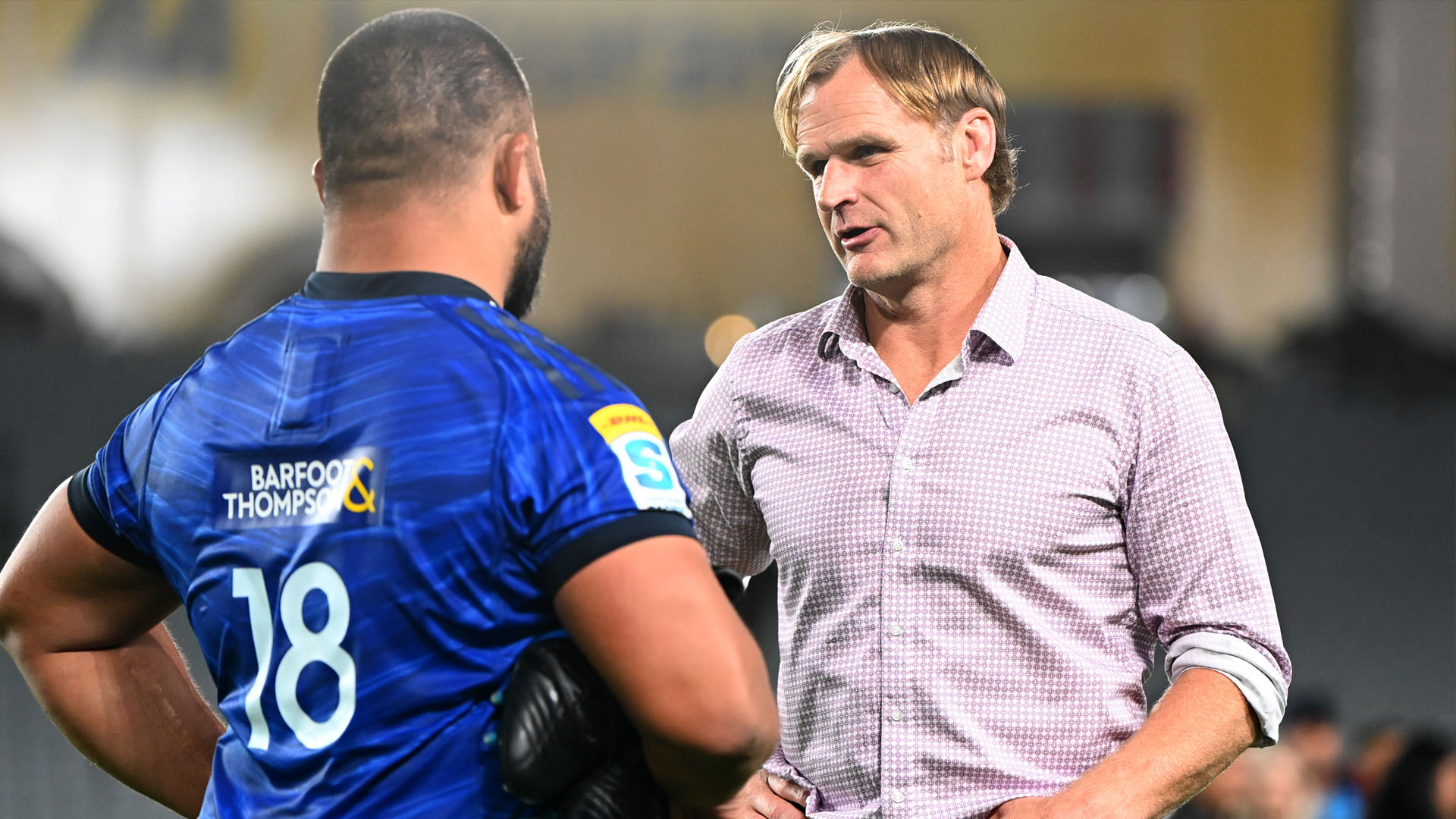 It is a move to which newly-crowned head coach-in-waiting Scott Robertson sounded open, but incumbent coach Ian Foster disagreed.
"I think it would be a disaster," he said. "We've got a Super Rugby competition which has fed our national team for many, many years. I don't think the Super Rugby competition is perfect at the moment, it needs a bit of work, but it is the development path, it's where we actually develop our players, where we're able to work with the franchises in that space, and I think we need to make sure we're selling that product to the public and we're growing our young players with our older players around them.
"The minute we open up the door, we know the worldwide demand for our players is huge and I think we'll lose a lot of our top players and I think that'll dilute our domestic competition too much.
"They need to stay here and play here."
Foster's comments were probably truer of the time when South African franchises were still playing Super Rugby than they are right now. With the Fijian Drua and Moana Pasifika in the infant stages of development, and Australian teams (outside the Brumbies) failing to provide a credible opposition, the nurturing culture and development paths that were there are no longer so viable.
A win rate of close to 90 per cent means that you end up measuring yourselves exclusively against internal rather, than external standards. It means you are guessing at how good you really are.
You can only develop when you are consistently challenged from without. If you take the Brumbies out of the equation, the other four Australian sides have only won eight games out of 65 played against New Zealand opposition in the last three seasons.
A win rate of close to 90 per cent means that you end up measuring yourselves exclusively against internal rather, than external standards. It means you are guessing at how good you really are.
The opposite is now true of European competition. Just ask the top English Premiership clubs who have been booted so unceremoniously out of the knockout stages of the Heineken Champions Cup. They all encountered opponents from Ireland or France and were found wanting, and now they know how much they need to improve. But New Zealand is still trying to measure itself, for the most part, from within.
Easing the selection criteria for the All Blacks would help correct that imbalance. There are a number of players plying their trade in Europe – Charles Piutau and Steven Luatua at Bristol, Charlie Ngatai formerly at Lyon but now with Leinster, and Tawera Kerr-Barlow at La Rochelle – who could have made a substantial contribution to the New Zealand cause over the last four years.
Some, like Luatua (on the blindside flank), Piutau (on the left wing) and Ngatai (at second five-eighth) could have helped solve problem positions for the All Blacks on the field, but all would have trafficked IP from some of the top sides in England, France and Ireland back home: critical information about playing patterns, refereeing attitudes, potential opponents and new innovations in the game.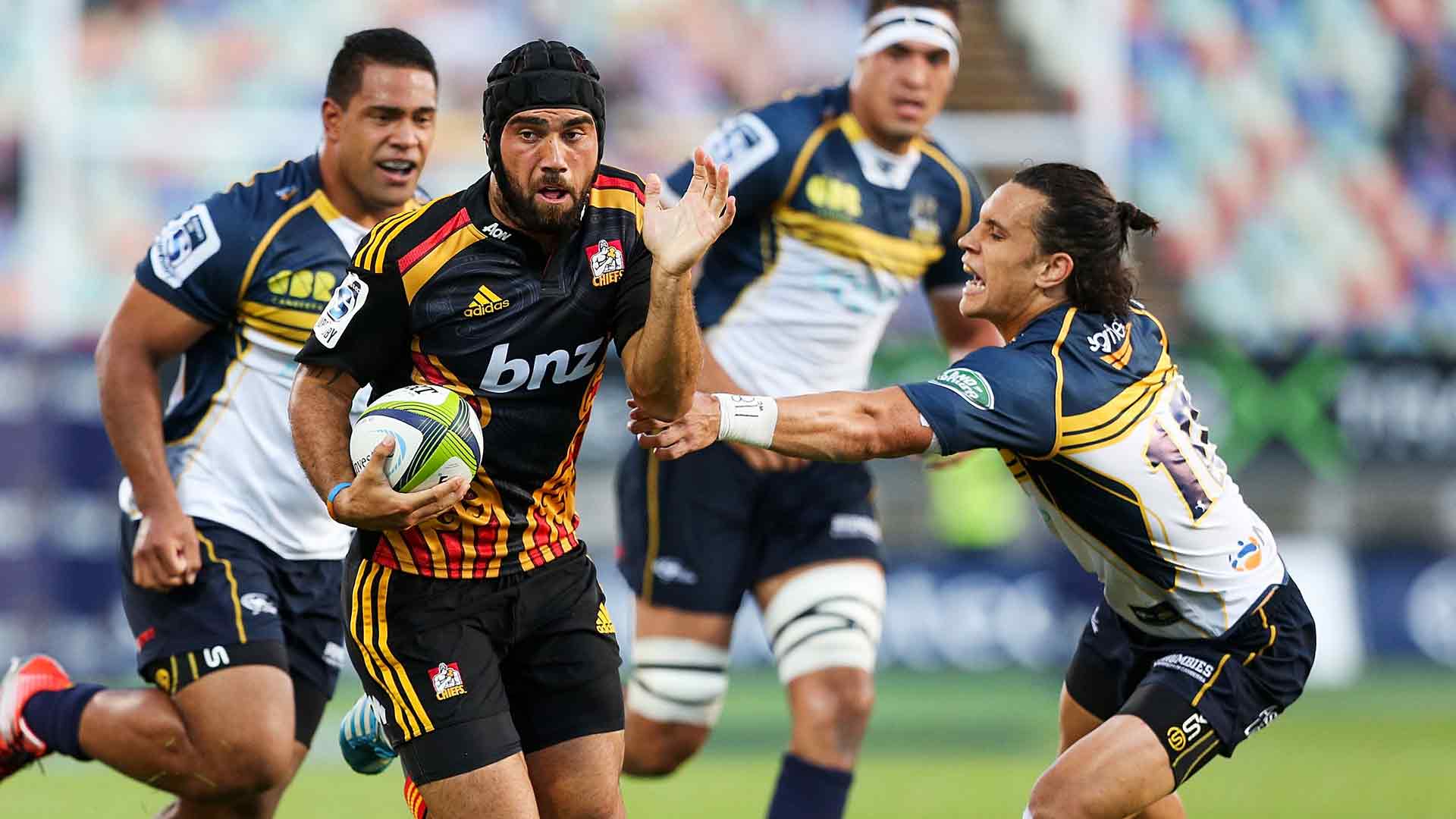 Charlie Ngatai is an excellent case in point. When he was playing for the Chiefs, Ngatai was hampered by a series of injuries which blocked his path to the All Blacks, but at his best he was the number 12 with the highest talent ceiling of any player in his position in New Zealand.
In my role researching Leinster's opponents at the group stages of the 2019-2020 Champions Cup, I was able to analyse Ngatai's range of skills more deeply because he was representing Lyon and his impact on the backline play at the time was truly remarkable: he was their main creative force and playmaker from 12, he was their best tactical kicker with a prodigious right boot, he was a captain who made tactical decisions, saw the shape of a game as it developed and led others around the field.
The impressions made on the Leinster coaching staff were indelible, and Leo Cullen and Stuart Lancaster made sure they picked up Charlie Ngatai when he became available ahead of the current 2022-2023 season. Although he is now 32 years old and beyond the threshold for selection to the All Blacks, he still has a great rugby brain and the majority of his unique set of skills intact, and he suits the range and tempo of Leinster's ball-in-hand attack very nicely indeed.
On Saturday, he was needed as an emergency replacement for Ireland number 12 Robbie Henshaw, and it was the first match he had played since January 7th because of injury. Charlie Ngatai proved that a relative lack of match sharpness and fitness meant nothing. Class is permanent, and it showed in the Dublin semi-final against French giants Toulouse.
The ex-Chiefs man began by announcing the home side's ambition to run ball back from deep within their own 22 when the opportunity presented itself:
With the last Toulouse defender turning his shoulders out towards the sideline, Ngatai picks the right option to step inside and link with his scrumhalf before swapping to an intelligent support line on his inside.
The pairing of Charlie Ngatai with number 10 Ross Byrne offered Leinster enviable flexible in switching the point of attack, with the Kiwi ready to step in at first receiver and particularly potent on left-to-right movements: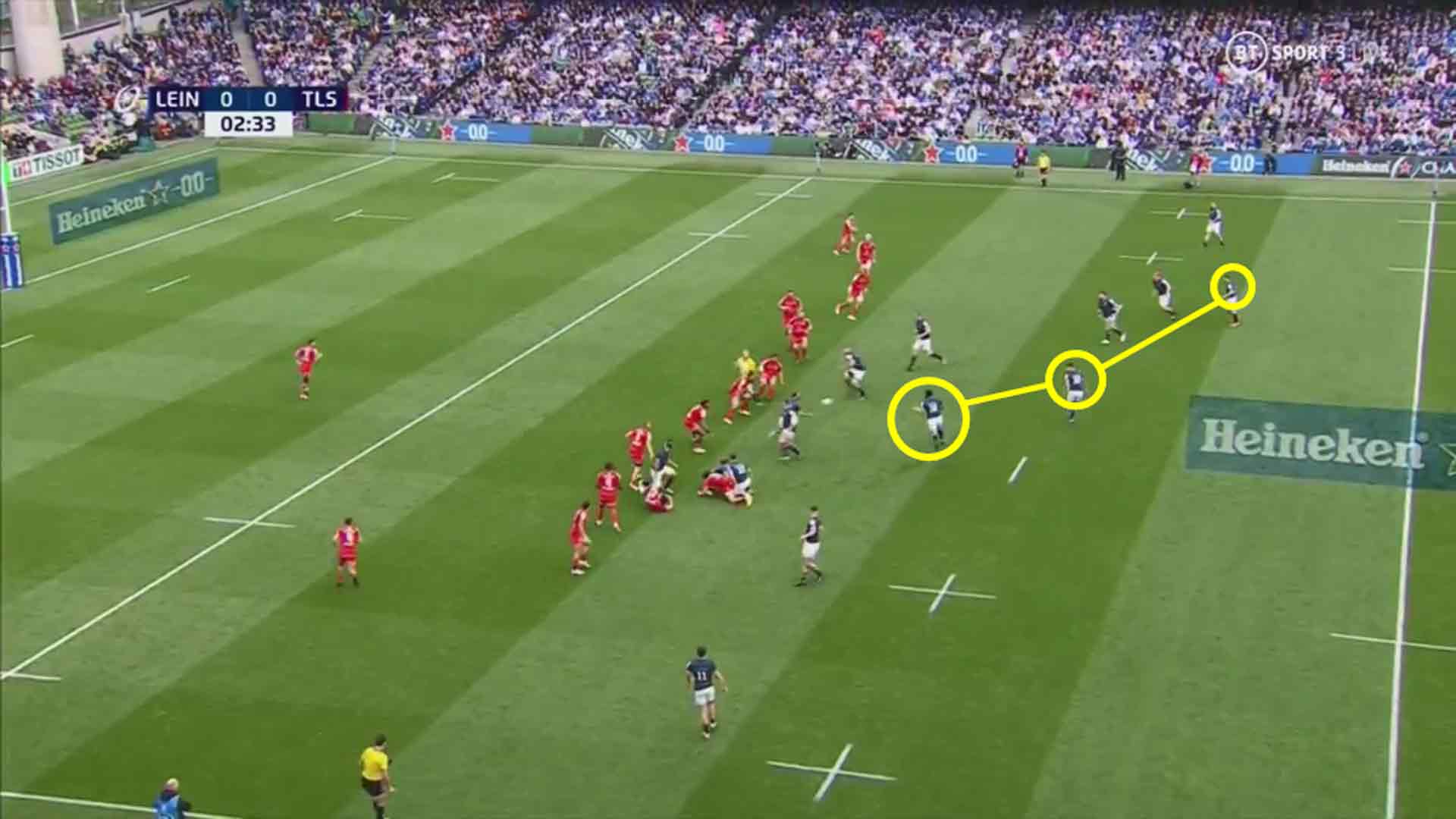 In the screenshot, after a lineout on their right, Leinster are primed and ready to sweep back to the near-side with Ngatai at first receiver and Byrne at second. They also used their 'comeback king' at first receiver, able to spin out long and accurate skip passes to explore the full width of the field with the home back-line.
It was another left-to-right phase threat with Ngatai at first receiver which set the scene for what could, and probably should have resulted in Leinster's third try of the game after 25 minutes: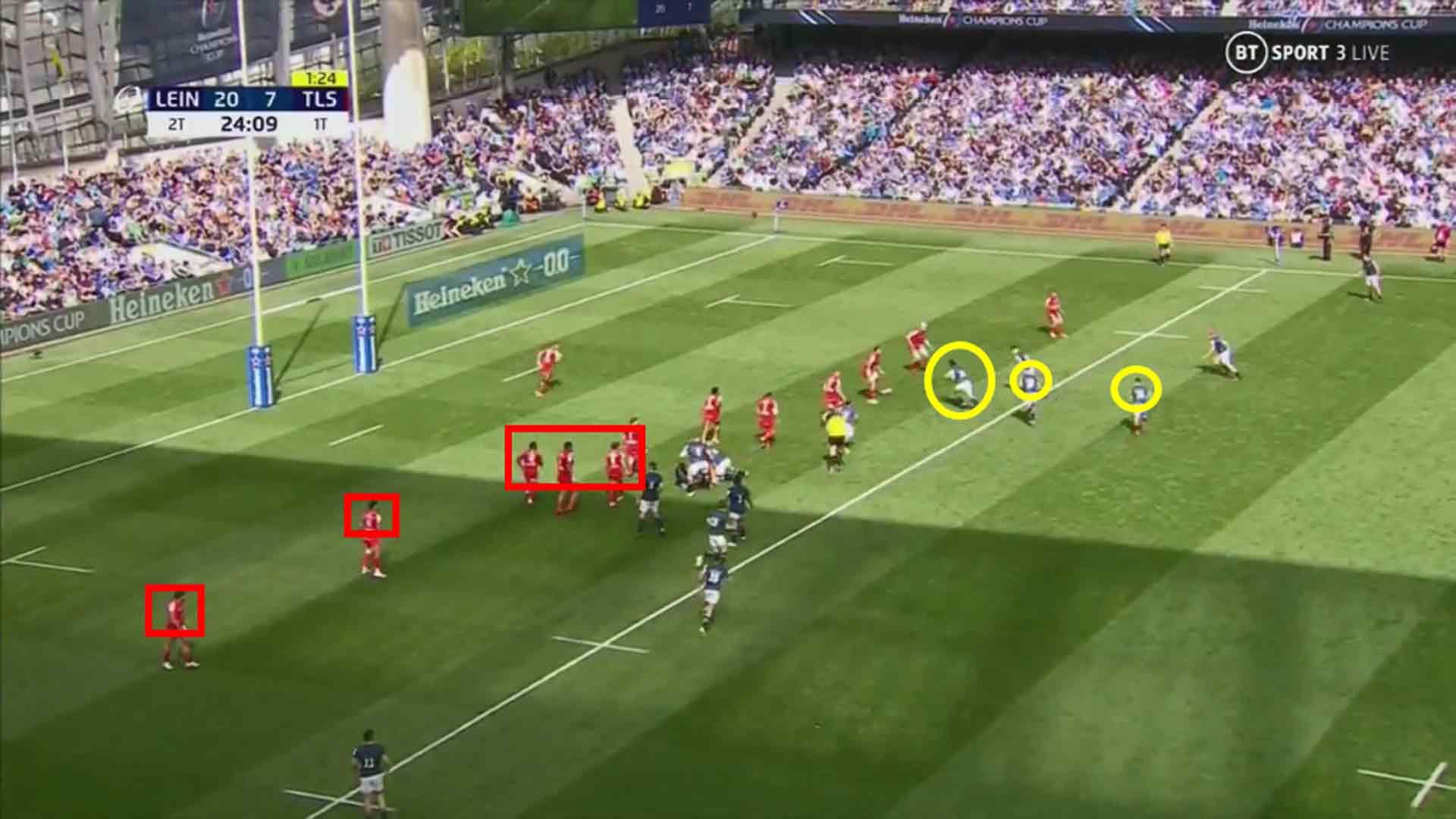 Ngatai and the Leinster backfield are shifting right in the still frame, but the real space in the following couple of phases is already developing on the opposite side, with two isolated Toulousain defenders and the French forwards beginning to coagulate in midfield.
Charlie Ngatai also got the opportunity to showcase his siege-gun right boot on one memorable occasion, with an inch-perfect 50/22 for the turnover lineout:
On defence, he was just as good in the 53 minutes that his comeback cameo lasted, making three dominant tackles, forcing two fumbles and winning one turnover at the breakdown:
That second example is the sort of double action that coaches love, with Ngatai forcing a fumble from the Toulouse ball carrier near the Leinster goal line, then getting up off the ground to lead a winning counter-ruck, just to make sure.
The good news for New Zealand is that their newly-anointed head coach from 2024 onwards, Scott Robertson, seems willing to broaden the horizons of the game, and loosen the restrictions which currently prevent Kiwis playing overseas from being selected for the All Blacks.
Those 'wild geese' will not only bring unique skill sets at the position they play, they will add a huge amount of intellectual property about the way the game is played and refereed in the Northern Hemisphere. They may even encourage the movement of English and Welsh players southwards, with the financial climate of the game currently so unpredictable in both countries.
That would, in turn, build quality in the new version of Super Rugby Pacific by increasing squad depth among both the Australian and New Zealand franchises. One thing is for sure: with South Africa out of the equation (at least at provincial level), New Zealand can no longer rely on Australia alone to provide the litmus test of quality in its domestic game. That test must come from the outside, and it cannot come soon enough.