Back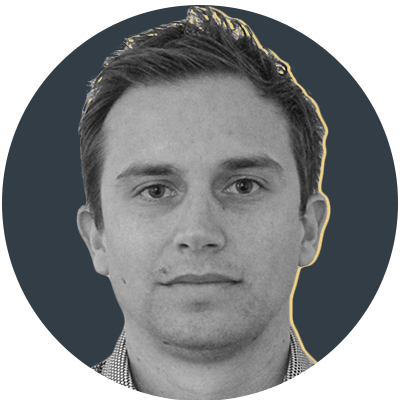 By Ben Smith
The glaring issues with the All Blacks' static attack
The end of the All Blacks season came with disappointment for Ian Foster's team as they were defeated by both Ireland and France.
The losses highlighted many aspects of the All Blacks play that are not functioning all that well and, as most parts of the game feed onto each other, being poor in one aspect leads to compounding pressure in another.
The main area the All Blacks really struggled with across the two tests was keeping the ball for extended phases during phase play, particularly in midfield zones. This led to either turning the ball over frequently or raising the white flag and kicking it away after being repelled backwards too far.
Giving away possession put their defence under more weight as the opposition got the chance to use the ball. Against Ireland, the defence couldn't keep them at bay as they rolled untold amounts of phases over them. France was a similar story.
The All Blacks look like a disorganised side trying to get into a rhythm with the ball. It is hard to discern any attacking shape at times as the players looked lost as to what to do, particularly after recovering from transition events like kick receipts.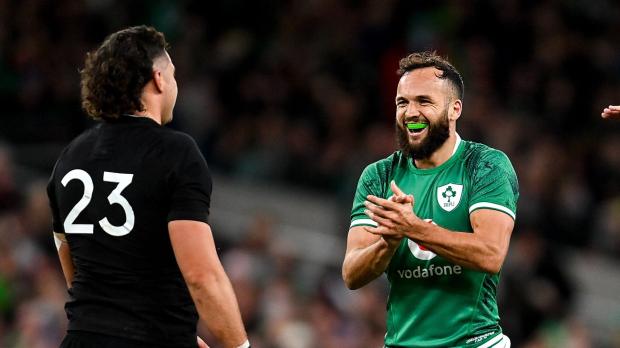 Early in the game against Ireland after Ardie Savea had recovered a bomb in an attacking part of the field, it took all of one phase for the All Blacks to give back possession again.
On the first phase after recovering possession, you would expect the side to shift the ball to the edge to then fall back into some kind of shape to begin breaking down Ireland's defence.
Instead Beauden Barrett (10), with three tight five forwards outside him, tried to thread a left foot grubber in behind, even with Irish cover in the backfield. The setup outside Barrett is noticeably flat, indicating that this kick play was called but he didn't really have the right personnel chasing, or the picture in front, to try it.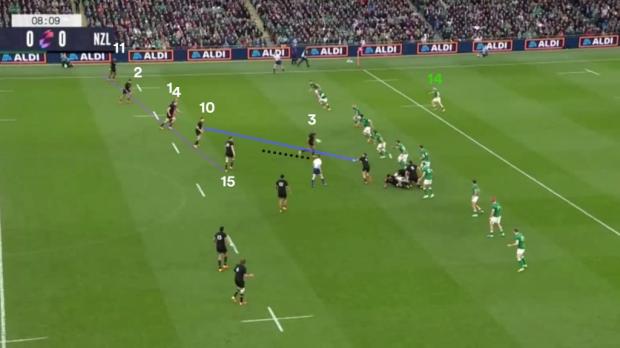 Irish wing Andrew Conway (14) is in the backfield covering the space, so the grubber kick does not have a high probability of being recovered, even if it makes it through the first line of defence. As it is, the kick is blocked by Caelen Doris (6) in the front line and jumped on by Ireland.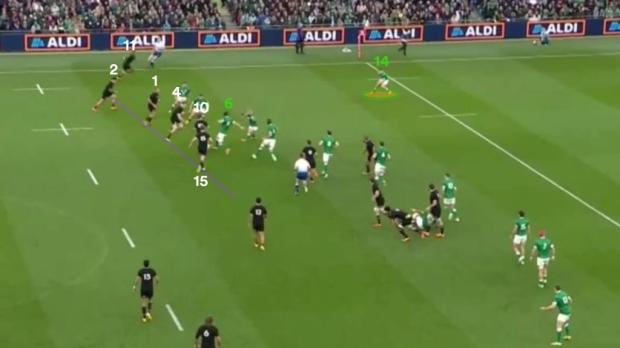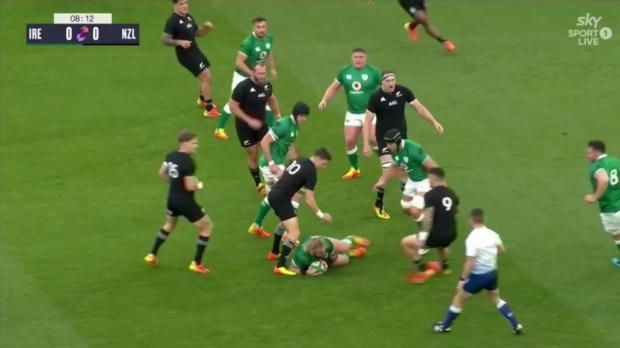 High-quality possession in an attacking zone was squandered within one phase by trying to put a grubber kick through for three tight five forwards and a wing.
This kind of decision by Barrett does not inspire confidence that the All Blacks are clear on what the best plan is after recovering possession.
Whereas Ireland were prepared to build pressure through phases and organised play, the All Blacks' phase play was incredibly disjointed and sloppy and led to negative metres.
After James Lowe's opening try, the All Blacks won back possession from the kick-off to be again in good field position but only proceed to go backwards through panicked and rushed play despite being just inside the Irish 22 to start with.
Anton Lienert-Brown (12) plays halfback in order to get the ball quickly to Ardie Savea. The No 8 is stationary, and adds 20 metres of depth trying to link to Beauden Barrett injecting from the backfield.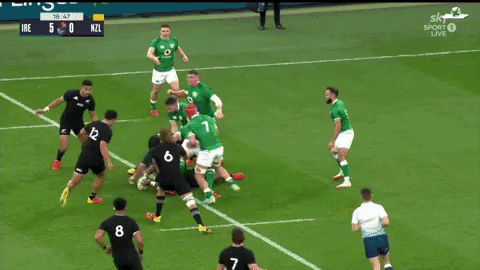 The rushed desire to strike quickly out wide causes more harm than good as the All Blacks lose ground and waste a phase trying to get organised. Players had to backtrack to support an isolated Barrett, and four All Black forwards get sucked into the ruck to secure the ball.
Aside from the play losing two metres, having four forwards caught up at the ruck is inefficient for settling into any pattern. Two are required at most to secure the breakdown. The next phase is no better, with a lack of directness and players who front-run the ball carrier.
TJ Perenara provides static ball to Jordie Barrett standing still at first-receiver, who plays out the back to Rieko Ioane. Barrett's flat option, Sam Whitelock, is front-running him, expecting some forward movement from his playmaker.
With Whitelock not a legitimate receiving option, Jamison Gibson-Park is able to fly up past him onto the next man. If you watch below, Ireland's halfback slides through and defends three different All Blacks all in one play, Whitelock, Ioane and then Lienert-Brown.
Lienert-Brown gets early ball once more but his outside option Sevu Reece is also front-running him.
After having all the space in front chewed up by the oncoming Irish defence, the All Black midfielder has to die with the ball for a loss and again, three All Blacks commit to the breakdown despite no contest.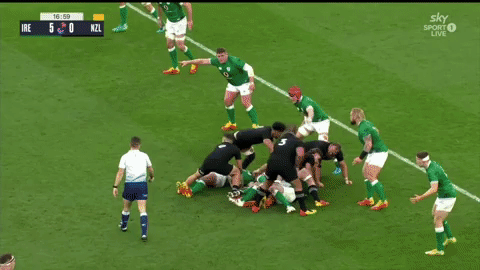 This is typical of All Blacks play at the moment: shovel the ball deep and early to one man, who then telegraphs his carry to try and rescue a situation from a bad spot. They aren't engaging the line with multiple options and asking many questions of the defence.
The picture by the third phase is shambolic, as Beauden Barrett is still retreating with his back turned to the defence after two negative gain line phases and the shape has all but fallen apart.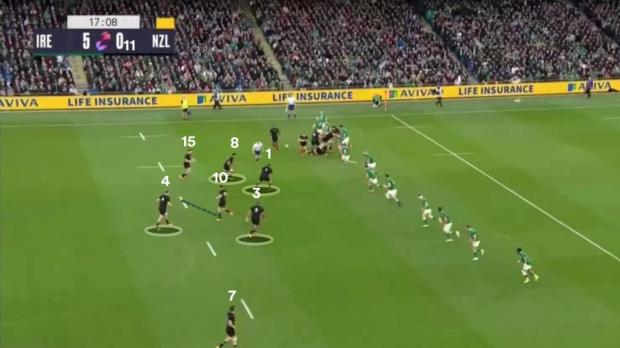 Another ball is provided to a stationary runner, Joe Moody (1), with just one supporting forward in Ardie Savea (8).
Brodie Retallick (4) and Nepo Laulala (3) are trying to get set for the middle pod on the phase thereafter. The Barrett boys are the only backs in the open side picture, and Beauden isn't ready to organise play yet.
Laulala (3) has to bail on the middle pod to go and help clean on Moody's carry, leaving Retallick by himself for the next phase.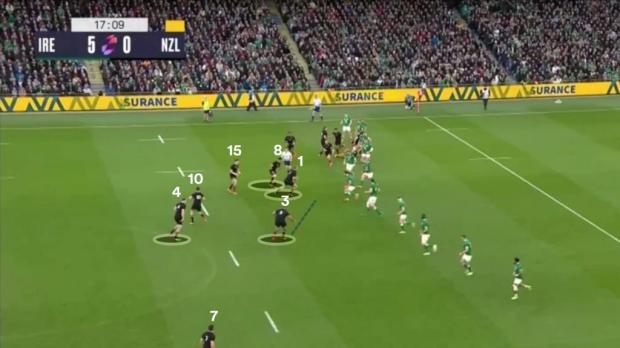 To solve one problem they just create another, never getting ahead of the play and finding the rhythm or shape that they want to play in.
After four phases and fifteen metres of lost ground, the All Blacks fortuitously win a penalty and take the shot at goal but the signs are ominous: they are going backwards at a rapid rate.
There isn't one multi-phase possession that leads to making positive ground in the first half, with Codie Taylor's try coming off first-phase after a Dalton Papalii line break.
It's not often you can find an All Blacks side that is poor with ball-in-hand, but that was the state of them by the end of 2021. They could not go forward and often no one looked like they had an idea of knowing what to do to fix it.
They weren't organised before any attacking phase, always playing one step behind as players overcommitted to rucks they needn't have, leaving players short elsewhere.
The ball carriers lacked options inside and out, or just disregarded them, as no one seemed to be able to anticipate support lines. There were no tip balls or well-worked offloads. One-out runners were easily gobbled up by both Ireland and France.
The ball was often static, sent to a runner standing still, and that runner failed to initiate any forward momentum for others to play off. They couldn't play direct and keep the defence honest as players shied away and fell away sideways with their passes.
The ball carriers lacked options inside and out, or just disregarded them, as no one seemed to be able to anticipate support lines. There were no tip balls or well-worked offloads. One-out runners were easily gobbled up by both Ireland and France.
It was all just so predictable.
The mechanics of it all were dysfunctional and the timing of everything lacked cohesion. Of most concern was a lack of desire to take the ball to the line until the final carrier had the ball, and no other options. The attack and ball-in-hand play across both tests lacked many basic aspects required at this level.
Contrast that with Ireland's phase play below, where their organised structure possessed all of those features.
Below the All Blacks defence do get a good press off the line to put pressure on, but the middle forward of the first pod, Caelen Doris, stays square, accelerates at the line and engages the oncoming defence into contact.
He has options flat and behind, in motion moving forward in lockstep with him, and plays Johnny Sexton out the back while initiating contact.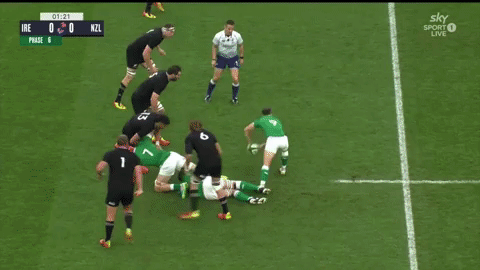 Sexton himself is coming onto the ball at speed, having been led forward by Doris' motion. He also engages the defence, initiates contact with Dalton Papalii and plays out the back a second time, behind two runners.
After the double pull-back play, Ireland have created space on the edge where they can now shift early to attack the space. Everyone is running onto the ball with purpose and timing. They breach down the right-hand side for a massive gain into the All Blacks' 22.
Despite initial line speed from the All Blacks, it all started for Ireland with Doris adhering to good principles and everyone else timing their runs off their lead pod. The ball carriers engaged the defence and took it to them.
It was night and day from the All Blacks inability to do anything with passive, static ball movement at players standing still instead of running onto it.
By the second half against Ireland, the direction from upstairs was clearly to kick early from midfield zones and win territory, which even then they couldn't do well.
After some kick tennis, a Jordie Barrett kick return set up play around halfway just one minute into the half. The All Blacks set up to kick again. Mo'unga is deep enough with protection to make the kick but instead adds even more depth, throwing the ball back to David Havili (23).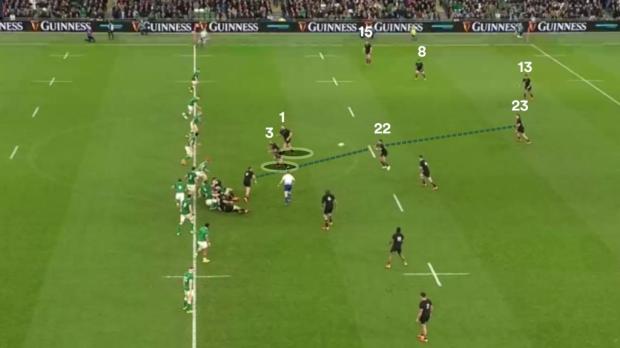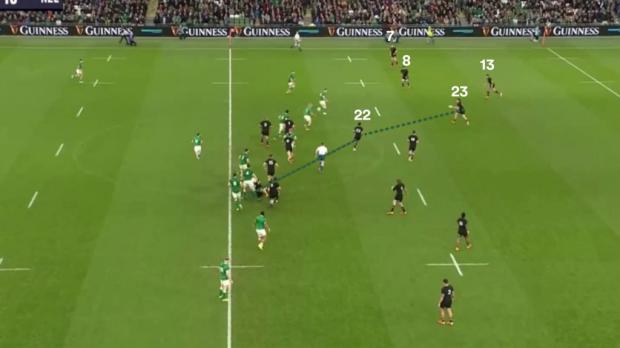 Havili is so deep that only Rieko Ioane (13) is onside outside of him, with Dalton Papalii (7) and Ardie Savea (8) in front of the kicker.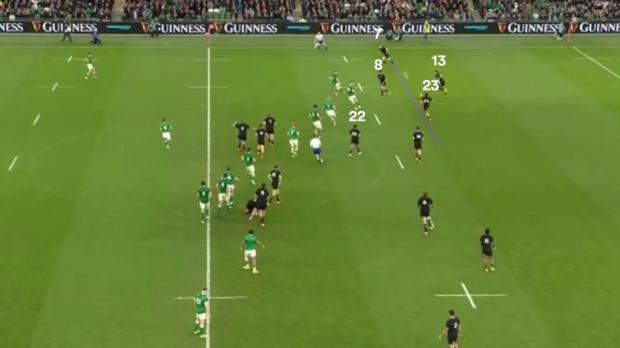 Despite not wanting to play any rugby in the midfield zone, the execution on the kick is terrible. The All Blacks can't all chase due to being in offside positions and Ireland takes an uncontested high ball and then receive a relieving penalty shortly after.
NZ's inability to organise quickly was apparent in transition phases after receiving a kick, as well as continual indecisiveness as to what their next plans were.
Often Richie Mo'unga would be set deep, as if to return with a bomb, only to pass even deeper to the next man.
In the following match, when Jordie Barrett returned the ball back early against France to set up the All Blacks phase play 40 metres out, this issue played out again.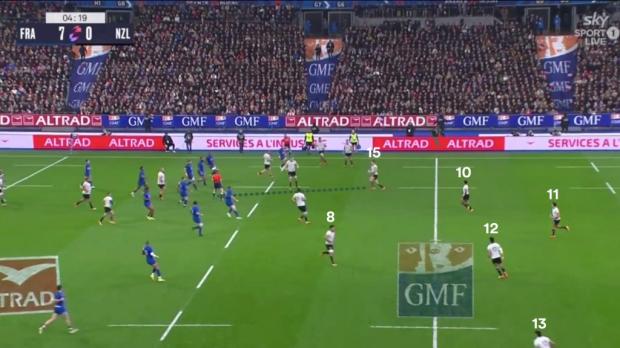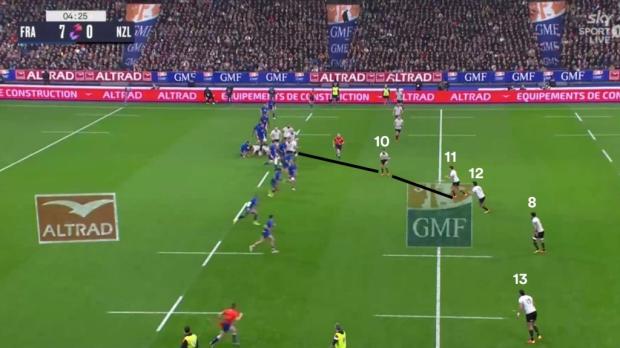 Aaron Smith gives deep ball to Mo'unga (10) standing still, who shovels it onward to George Bridge (11), who is also static.
The French defence was afforded the time to press up off the line, while the All Blacks didn't have any forward momentum by the time Bridge catches the ball.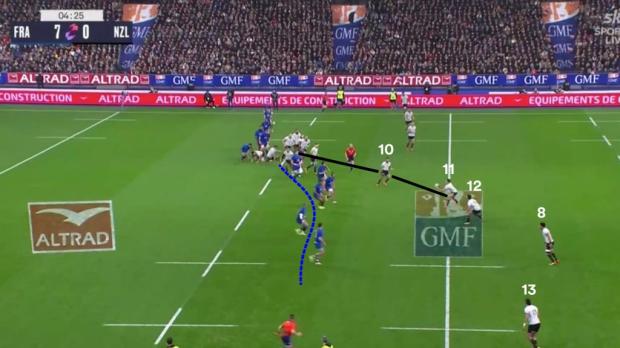 Quinn Tupaea (12) can't get a cue to time his run, stopping then starting as Bridge waits to catch the ball on the same spot. The All Blacks wing is then immediately under pressure, so decides to tuck and run into a French wall with just one player in a position to support, Tupaea (12).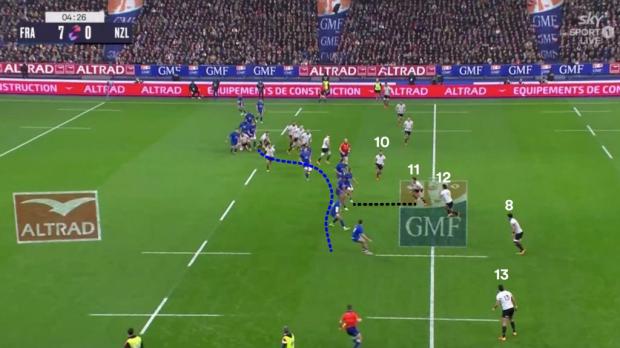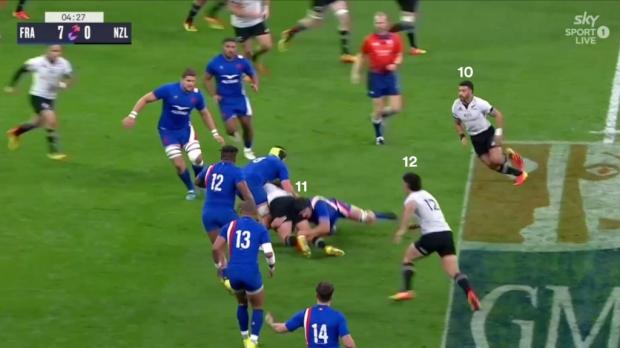 The All Blacks have to rely on two inside backs, Mo'unga and Tupaea, to clean out Gregory Alldritt (8) in order to save the ball from the isolated Bridge but had already lost eight or so metres in the process.
It's just braindead rugby all around. Why is Bridge trying to take a static hit-up outside Mo'unga, instead of the stronger carrier Tupaea?
If they wanted a crash ball to set a ruck in the middle, Tupaea should be running a line off Mo'unga at speed, instead of giving static, deep ball to a wing. Mo'unga can lead Tupaea into the line instead of standing still and shifting the ball deeper.
There seems to be no clarity around how or what they are doing in this situation, which requires clear organisation by Mo'unga to play off the platform set-up by Barrett on the kick return.
The phase play against France struggled with all the aforementioned problems as it did against Ireland.
After pouncing on an overthrown line out, a half-break from Ardie Savea gave the All Blacks a platform to attack from. Although they don't have a play called as it was France's overthrown ball, the backs are set too deep and again the attacking play is fundamentally poor.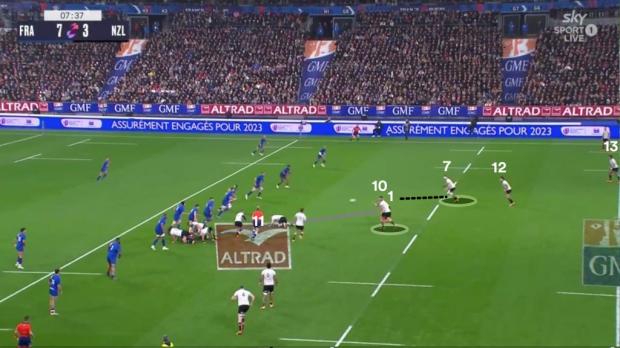 Mo'unga continues his deep pocket play, by staying deep and waiting for the ball to arrive.
The All Blacks then try to run a screen with Sam Cane (7) flat and Tupaea (12) out the back, but Mo'unga's early stand and deliver pass makes Cane's line redundant.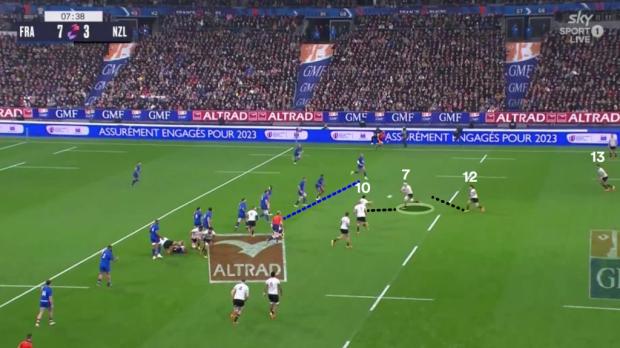 Without the All Blacks taking the ball to the line and engaging the defence, France can watch the play unfold.
The pass is delivered so early, five metres before the line, the defence can easily ignore Cane and begin to slide onward to Tupaea, who has no other option but to run or further compound the problems by giving another deep ball to Ioane (13).
When Tupaea is assessing his options at the line, Ioane is so deep he can't offer a line to hit a hole for his midfield partner.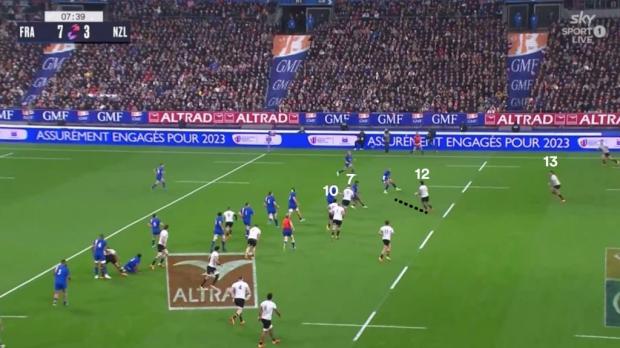 Again, the All Blacks fail to engage the defensive line with static, deep play which makes it easier for France to swallow up a one-off run by Tupaea.
Tupaea cuts back against the grain and beats one defender but is dragged sideways by Alldritt. The phase ended up with another one-dimensional run with no other flat options for the defence to think about.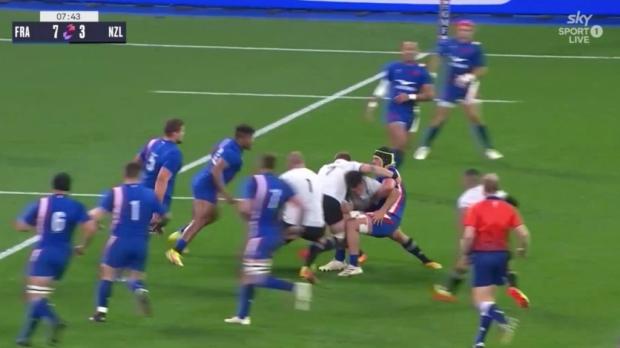 As Cane was in front of Tupaea due to the dummy line, the angles of the All Blacks cleaners aren't great and they struggle to generate quick ball for Aaron Smith.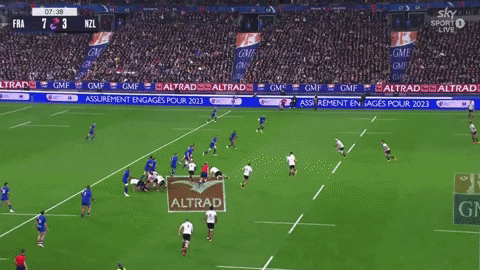 The next phase is another shovel pass from Mo'unga for another one-out runner in Ioane: a very predictable, manageable situation for the defence who identify Ioane will run without any other supporting options.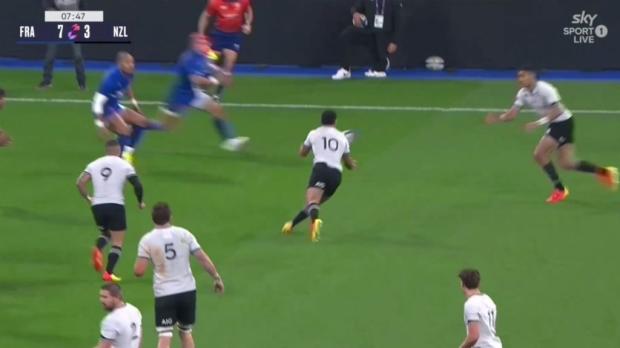 It is very one-dimensional rugby that is very easy to defend by international standards. After a forward carry off 9, the All Blacks finally have an open side shape set-up heading to the left.
Mo'unga has a two-man pod outside of him led by Retallick (4) and Laulala (3), with Tupaea out the back. In this scenario, the lack of direct, square running and non-engagement with the defence makes the play very easy to shut down for France.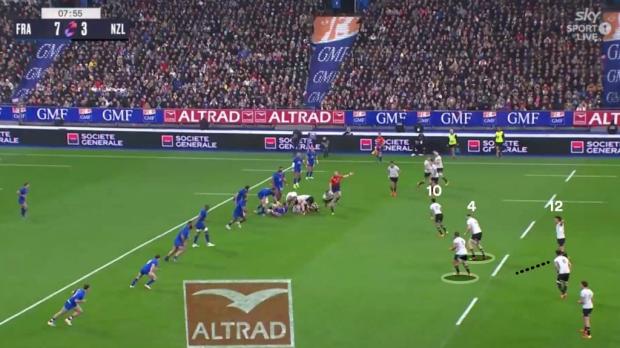 Neither Mo'unga nor Retallick moves forward, and the All Blacks lock's stand and shovel pass causes Laulala to overrun him.
As soon as Laulala is in front of Retallick, Antoine Dupont (9) knows where the pass is headed and rushes up to hit Tupaea for a massive gain line loss.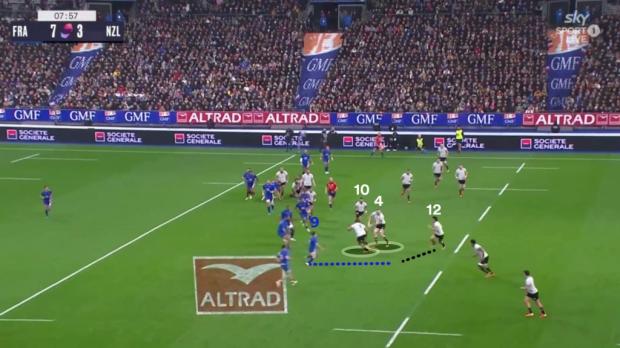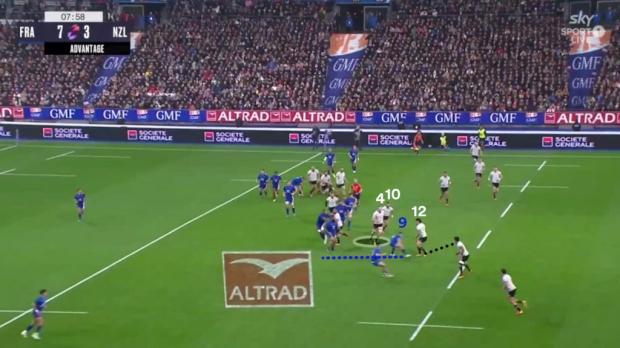 It was telling that the only time the All Blacks could get the ball moving forward was when they resorted to pick and goes early in the second half, a resignation that their phase play was malfunctioning.
Their poor execution in attack with ball-in-hand play is reminiscent of Michael Cheika's Wallabies, who were equally inept at building any momentum through phases with poor lines, poor fundamentals and a lack of engagement with the defensive line. That is saying something given this is the All Blacks, renowned for attacking rugby.
The All Blacks have only really scored tries against the top sides on this tour through individual brilliance off turnover ball, like Rieko Ioane's try in the second half, playing a tight game in the forwards and using the maul, or the odd set-piece strike.
From phase play they cannot hold onto the ball and make ground upfield, continually going backwards, which is a huge glaring hole in their game in terms of being able to apply pressure to a top tier side.
A side that can control the ball and dictate the tempo can wear down the defence by forcing them into high defensive workloads, which often leads to them giving away penalties and eventually, line breaks and scoring opportunities.
The system needs to change to create space for Mo'unga to find those running opportunities, and at other times Mo'unga needs to create space and momentum for others by squaring up and taking it to the line more to manufacture gain line, which he didn't do at all.
The All Blacks look a long way from being able to do that based on the evidence provided against Ireland and France. The side was in total disorder with the ball and it got progressively worse.
The play of Richie Mo'unga in this system is not currently fit for test rugby. You cannot stand still at that depth and shovel it deeper to another static runner against top tier sides.
He is not solely to blame but as the first receiver in most of the phases, the decision-making and initial cues for everyone's timing outside starts with him.
When he did decide to run against France, it was individualistic, trying to put footwork on to make something happen in an ad-lib fashion but like most of their other attack, without any supporting options, it was easy to shut down.
This is likely due to an eagerness to do something positive for the side but it often resulted in his team being put under more pressure once he was isolated without support.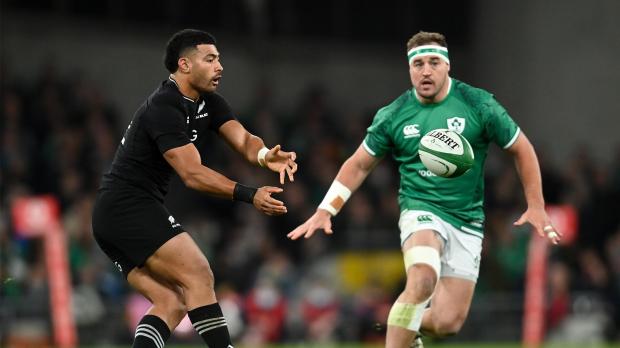 The system needs to change to create space for Mo'unga to find those running opportunities, and at other times Mo'unga needs to create space and momentum for others by squaring up and taking it to the line more to manufacture gain line, which he didn't do at all.
He was hands down outplayed by Romain Ntamack and Jonathan Sexton over the two tests, one in which he started and the other that he played 60 minutes in after Beauden Barrett failed his HIA.
Part of that disappointing outcome comes down to the overall inadequacy of the attacking plans by Foster's staff and the lack of cohesion within the team, and part of it has to fall on the players.
Because they couldn't control the ball or the gain line, they spent most of the time defending. There were no surprises they were on the wrong side of the possession stakes against Ireland. France was hardly better, although they won the third quarter of the game.
Ian Foster kept telling everyone they weren't tired despite the long months away in isolation. If they weren't tired, then it really comes down to coaching and preparation, which then means this staff failed.
Sloppy and fundamentally poor attack like that shown against Ireland and France will be shut down, no matter how talented the individual runners are.
Joe Schmidt would fire a rocket up this team if he was on Foster's staff overseeing this standard of attack, and quite frankly by all accounts, it looks like they need him as the structured play is anything but clinical. There is enough talent in the All Blacks side to produce a lot better than what was on show.
The All Blacks have to fix these issues in 2022 to become a force again in test rugby against Northern Hemisphere teams, who are now defensively very sound and tackle very well. Just having natural ball runners and athletes is not good enough.
Sloppy and fundamentally poor attack like that shown against Ireland and France will be shut down, no matter how talented the individual runners are.
They will get the chance against a quality side when Ireland come down to New Zealand at the end of their season.
No doubt Foster's squad players will be fresher in July but better performances will be absolutely necessary.