Back
By Nick Bishop
The All Blacks can't afford to lose Ardie Savea
Ardie Savea has always been an outstanding rugby player. The question in the past has been, which form of the game suits him the best?
Was it sevens, where Savea was to be found for four years between 2012 and 2016, under the watchful eye of Gordon Tietjens?
Or was it league, an idea Ardie juggled with when he felt he was bumping against a glass ceiling with his franchise the Hurricanes in Super Rugby?
"I thought of rugby league. I thought of giving that a crack or trying to give it a crack. But a massive one for me that I would love to do is play for Samoa. A big part of why I wanted to go to [rugby] league was because I could play for Samoa because of the rules."
Ardie Savea is truly 'the Everywhere Man'. He could have represented Samoa or New Zealand, he could have stuck at sevens or shifted across the great divide to league, and he would have been a success.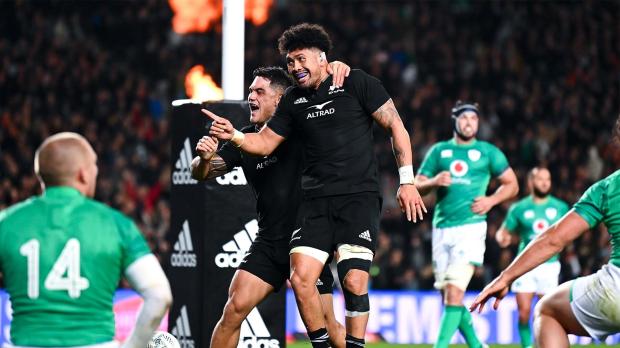 He can play at number 6, number 7 or number 8 in the back row. Heck, he could even convert himself into a Test-quality centre if he really wanted, even at this stage of his career. The truth is that Savea has always been an outstanding rugby athlete, but he has made himself into an outstanding rugby player and representative of the game, and that is a different kind of triumph.
Not all great rugby athletes make that transition and deepen their understanding of the game enough to match their ability to play it. Witness Israel Folau for the Wallabies – an outstanding athlete but also a player who never quite got to grips with the nuances of positional play in the back three in union.
Ardie Savea reached the point where he fully understood his value to New Zealand Rugby, and he proved it by negotiating a four-year deal with his employers back in 2021, all by himself:
"This process kind of took a while and the length of it was probably the longest you [can] negotiate a contract.
"I became real intrigued in contracts and what people get paid … How do they know their value? How do they judge it? I was real intrigued in that many years ago. For me, it was like I had been [through] enough in my career to understand what goes on. It was only a thought in my mind to do it, I was too scared, but then I just kind of had people affirm me.
"My thinking was more around challenging myself but also I wanted a seat at the table, so when it came time to crunch and fight for myself, there's no better person to go battle for me [than] myself."
Any player who would willingly navigate the clashing rocks of contractual negotiation in sport without a representative to shield him has to be admired, but in Savea's case it came from a rock-solid platform: he knew his ultimate value to rugby in New Zealand in general, and to the All Blacks in particular.
It is no wonder that New Zealand felt his absence in the recent Bledisloe Cup game against Australia in Melbourne so keenly.
Ardie Savea is a difference-maker because he can do so many things to such a high standard. The only problem for New Zealand is finding the right players and moulding a unit around him. Take a look at his highlight stats in Rounds 1-4 of the current Rugby Championship, among all four nations:
First in number of ball carries [51]
First in run metres gained by a forward [275 metres]
First in off-loads
Second in dominant tackles on defence
Fourth in breakdown pilfers
It is quite a 'story-in-numbers', and in Rugby Championship terms, only Argentina's all-action Pablo Matera comes remotely close. It seems almost incidental to add in Ardie's eight lineout takes, second for the All Blacks behind only the illustrious Sam Whitelock. A big number for anyone else maybe, but to Ardie Savea it is all just part of his everyday job.
It is no wonder that New Zealand felt his absence in the recent Bledisloe Cup game against Australia in Melbourne so keenly. Hoskins Sotutu is a talented replacement, but his six runs for 22 metres, nine tackles and three lineout wins looked pallid by comparison. The sheer range of work was just not there.
As a ball-carrying back-row forward, the Hurricanes man is a very rare bird indeed. He is equally capable running the ball inside and outside, at one-out or on the edge when he is split to a side-line by the attacking formation:
This is one of those occasions when New Zealand used the extra length of Aaron Smith's pass to get the ball the third or outside man in the three-man forward pod at Eden Park against Ireland.
One of the most intelligent midfield defenders in the world, Gary Ringrose, has Ardie in his crosshairs as he receives the ball, but even he is confounded by Ardie's step and acceleration on the outward arc:
Savea then beats another of Ireland's most solid defensive contributors (Robbie Henshaw) on the fold, and two more backfield defenders on a joyful romp to the goal-line, just for good measure.
The big Hurricane is just as effective when split to the edge on attack:
Ardie Savea has the power of a forward, and the speed and elusiveness of a back. With some room to move it makes him a nightmare for backline defenders like Jesse Kriel and Handre Pollard, in this instance from the second match between the Springboks and All Blacks at Ellis Park.
One of the most important developments for New Zealand on attack has been the rather unholy, but powerful alliance forged between Savea and hooker Samisoni Taukei'aho in tight carrying situations. Ardie may top the carries with 51, but Samisoni is second in the tournament with 40. Wherever you see the one, you will find the other in close attendance:
Whether it is Taukei'aho leading and Savea following, or vice-versa, it is power through contact, power building upon power:
To those of us who keep an eye on such figures, about two-thirds of Ardie Savea's metres are made after first contact with the defender(s), so he and Samisoni are 'YAC (yards after contact) merchants' for real. It makes for a punishing inside running combination.
On defence, New Zealand had reversed the usual roles of number 7 and 8 to take advantage of Savea's greater pilfering capacity on the deck, compared to incumbent All Blacks' skipper Sam Cane:
The idea is to get Cane doing what he does best, making tackles and lots of them, early in the phase count, with Ardie Savea and Sam Whitelock as the designated pilferers waiting to swoop in on the debris Cane leaves behind.
But why stop with Savea's work on the floor, when he can lead counter-rucks so effectively?
And why stop at counter-rucking, when he can lead the kick-chase harder than New Zealand's fastest back, wing Will Jordan?
The 'Everywhere Man' can do it all. Getting up off the ground quickly to score tries is just the icing on the top of a cake with a remarkable number of layers:
As the first Bledisloe Cup match in 2022 proved, if there is one player New Zealand cannot afford to lose ahead of the 2023 World Cup in France, it is Ardie Savea. The All Blacks will be very glad to have him back for the return game in Eden Park against the Wallabies. Savea has raised multi-tasking to the level of an art form in rugby. Lineout, carry – pick, short, or wide – hit with venom, pilfer, chase and counter-ruck.
At one stage in his career, his athleticism and sheer versatility threatened to derail his progress and curtail his international ambitions. He could not easily be pigeonholed in one position, and he was marked down for it by those without the vision to project the player he could be. That has changed because Ardie Savea understood his own potential value, both on and off the field. As the saying goes, 'When you learn how much you're worth, you'll stop giving people discounts.'