Smith and Fish serve up a festive feast of rugby
The weekend's rugby was ravaged by the cruel uncertainty of Covid with a plethora of games cancelled, yet there was still enough Christmas cheer to feast on for rugby lovers. Harlequins and Cardiff put on a glittering show of running rugby, while up in Glasgow it was the Warriors who emerged from the fog emboldened, leaving the Chiefs searching for answers. Leicester Tigers had to revert to their set-piece mastery to see off a dogged Connacht to leave fans sated and crossing fingers and toes for more Yuletide action…
Cardiff not singing the blues
Anyone would think that after a fraught trip to South Africa that cost the club nearly half a million, saw them move perilously close to a fallout with the Welsh government and deprived the club of their DoR and 42 players that Cardiff Rugby would be on their knees after games against the European and English champions, but that couldn't be further from the truth.
Despite two losses, the spirit, resolve and unabandoned joy Cardiff played with brought them an army of new admirers, and brought back the feelgood factor to the Arms Park. While Ellis Jenkins and Jacob Beetham shone against Toulouse, it was a 19-year-old, Theo Cabango, who raised the pulses and drew almost paternal, supportive words from Fijian superstar Nemani Nadolo. Cabango's time will come, but one player who looks more than ready for Six Nations action is James Botham who, after injury, backed up a standout game against Toulouse by showing his power, rocking 19st Alex Dombrandt back on his rump. Botham also crashed over in the first half and gave bite to a Cardiff back row as he emptied himself.
Stealing the show, however, was Dan Fish, the cult hero from Tremorfa. Fish normally plays at full-back but was thrown into No10 in the absence of Rhys Priestland and Jarrod Evans. Playing opposite burgeoning world superstar Marcus Smith, Fish, who retired back in October, did not look overawed. Far from it, he made numerous line breaks, kicked adroitly with a cultured left boot and threw some sumptuous floating passes to escape Harlequins' defensive edge to release Josh Adams and Cabango.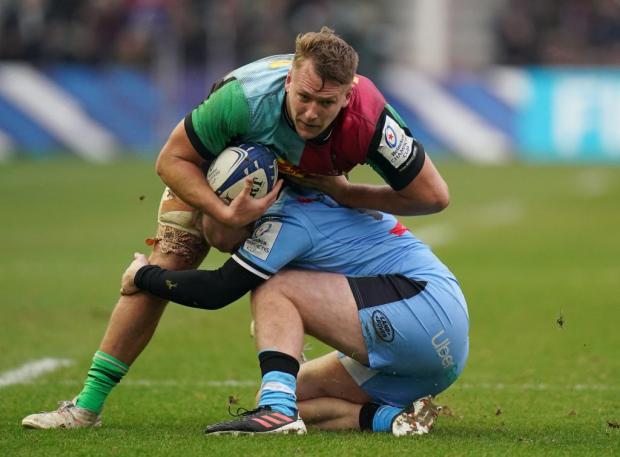 The game, which was played with enterprise and innovation, left neutrals purring. Against considerable adversity, the performances of the last fortnight have galvanised a region and Dai Young will hope to retain that unified purpose in the new year when the squad has reassembled.
Beware the trident
While Cardiff stole hearts with youthful brilliance, romance and sheer defiance, Harlequins thrust their deadly trident through its mark again.
In Dombrandt, Danny Care and Marcus Smith, the Premiership champions have an 8-9-10 trio for which most coaches would sell their mothers to a dog food cannery. There are few finer combinations in the club game.
It took a while for Quins to squeeze the last gasps from flagging Cardiff lungs but, when they did, those three were at the centre of it. Dombrandt with his thunderous carries, slick hands and breakdown poaching; Care with his distribution and nous; Smith with his strutting, swaggering magnificence, speed and skill.
The trident scored four of Harlequins' six tries. Care's early riposte to the incredible Cam Winnett opener; Smith starting and finishing an 80-metre peach, and Dombrandt charging in for two in the final quarter to put Cardiff to bed.
Quins are two from two in the Champions Cup now. Assuming – and it is a huge assumption – the pool stage is not further disrupted, they are a safe bet to make the knockouts and then, who knows? With their gunslingers locked and loaded, Quins are not only a dazzling watch but serious contenders.
Jack is the lad
Well, the best kept secret in Irish rugby is out now. That's what happens when you have a raft of postponements, fewer matches resulting in more scrutiny on those that take place. That's how Connacht took centre stage yesterday; or rather that's how they ended up on stage to fulfil the fall-guy role.
In the end they lost, and yet they won. For more than 30 years now, the Tigers have been an ornament on the Premiership's mantelpiece. In many people's eyes, the United Rugby Championship (URC) doesn't even have a mantelpiece let alone things to decorate it.
It's a gripe that irks and the only way the league can win respect is by events like this weekend. It isn't Leinster, Munster or even Ulster who'll win kudos for that league; it's the teams below them with smaller budgets, the Glasgows, the Connachts, positioned fifth and seventh in the table. Beat Exeter, as Glasgow did so impressively at the weekend, and the rugby snobs will take notice.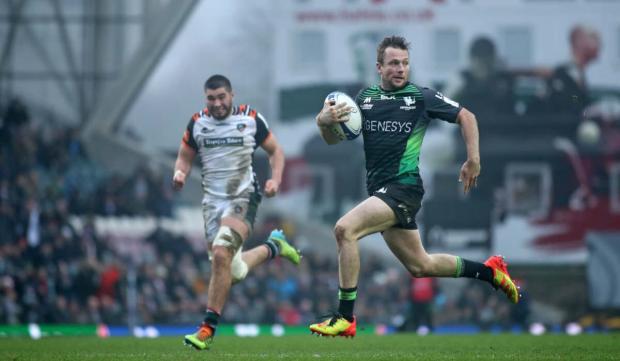 Scare Leicester – the 10-time English champions and Premiership leaders – and people will rightly ask, 'Who is this lot?' The answer is there if you bother looking. Leinster aside, no other team in the URC are as good to watch as Andy Friend's Connacht. In terms of ball carries, metres gained, defenders beaten, they are fighting with Leinster to top the URC table.
Yet in the one metric that matters most, they're mid-table, with three wins from seven.
That's why no one gave them a chance yesterday. The record books will show the Tigers won and those there will remember how, as the Leicester scrum demolished the Connacht pack in the second half. When push comes to shove, nothing matters more than a functioning set-piece.
There is another thing that comes close, though. A good No10.
In Jack Carty, Connacht have that. He has been sensational this season and yet he has still to win an Ireland cap since Andy Farrell took over as head coach after the 2019 World Cup. Little wonder Carty, even more so than Connacht, wasn't that well known outside the URC's borders. That's about to change. Once you do it on the European stage, people take notice. And once you do it behind a pack that is in reverse gear, and better again, against England's in-form club side, then your profile begins to soar. With Joey Carbery currently injured and Johnny Sexton's fragile body just about holding up, Ireland are in desperate need of a running mate for their captain in the Six Nations. Well, they've found one. Jack is just the lad.
ECPR should revert to the old way
Here is some free advice for the nice people in ECPR. Revert to what works. Rugby fans don't like complicated systems. They like things they understand. They like tradition. They loved the Heineken Cup's old format, six pools of four, eight quarter-finalists at the end of it, bravery and quality rewarded. This new structure, two groups of 12, 16 teams progressing, rewards mediocrity.
It's impossible to like a system like this. Perhaps the knockouts, eight games played over two legs in the round of 16, will bring a level of excitement to compensate for the drudgery of the pool stages. But why wait? What we had before worked; those back-to-back pool games in December providing a dramatic mid-season edge.
Under the old format, every point counted. Teams fought bitterly to win or deny bonus points. You got the odd dead rubber – mainly involving French sides whose priority lay with their domestic league – but each weekend, from the third round onwards, it felt like knockout rugby because there was such little margin for error, those leading the pools scrapping desperately to maximise their points total and get a valued home quarter-final.
In comparison to football's Champions League, rugby had something good going for it with its own cleverly structure. So why tinker with something that worked? Change is needed. Go back to the way it was. This new format is hateful.
Hope in the toughest of times for Phillips
Ifan Phillips isn't a household name. Indeed, his name would barely register outside Welsh rugby. To fill in the gaps, the up-and-coming 25-year-old Ospreys hooker still had a decade of rugby ahead of him and was good enough to be called in to train with Wales during the summer, yet fate dealt him the cruellest of blows a fortnight ago.
Sadly he was involved in a serious motorbike crash in Swansea that we were told would bring an early retirement from the game he loves. A JustGiving page was set-up in which a plethora of Wales' most celebrated players sent their best wishes and donated.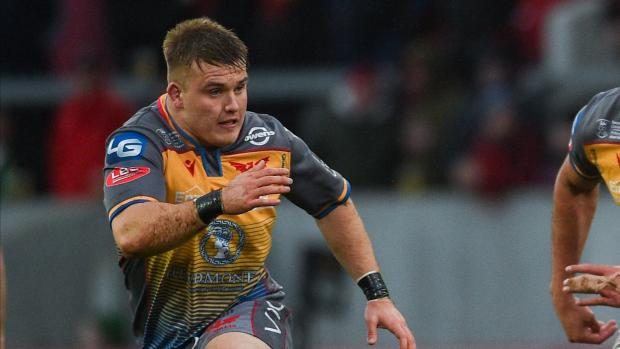 Yesterday, Phillips, the son of former Neath and Wales hooker Kevin, posted a picture of himself smiling where he announced that he had had his right leg amputated above the knee after the crash and he would be looking to spend more than £60,000 donated so far into buying a prosthetic leg to aid him in his recovery as he looks to start a new life.
For any individual, let alone a professional sportsman at the start of his burgeoning career, that news is enough to drain the most robust of characters, but Phillips, who is very highly regarded by his peers, remains smiling and upbeat.
There will undoubtedly be tougher days ahead as the realisation of the life-changing injuries hit home but the portents are promising and you hope that rugby will continue to offer the young man help in his rehabilitation.
Pob lwc, Ifan.
Glasgow find their muscles
For a long time, Glasgow were beaten up too easily on the European stage, overpowered and outmuscled by the heavyweights of England, Ireland and France.
The Warriors never had a weak pack, but nor did they possess the kind of run-over-the-top-of-your-granny-to-score-a-try belligerence the Champions Cup demands.
Danny Wilson was eager to change that from the moment he walked through the door at Scotstoun. The raging pandemic denied him so much in his first season – not least the opportunity to recruit as he wanted – but this is his team now, with his fingerprints all over its style.
Warriors were brilliant against Exeter Chiefs, easily their best performance under Wilson. Or at least, so far as we could all tell through the nigh-impenetrable fog that smothered the city, the stadium and the players.
Glasgow took Exeter on up front and beat them. That is a hugely significant victory in the development of this team. The whole pack was excellent, but Jack Dempsey, who already looks like signing of the season, stood above the rest. His unrelenting snarl gives the Warriors such an abrasive edge.
There is a long way to go, of course. Only last week, La Rochelle had too much grunt for Glasgow to handle, but that was a game Wilson will feel his team could have won. And Glasgow do tend to fair well against Exeter at home, but not in this way, not in a bruising, mist-splattered arm-wrestle.
This was a victory that will hearten Wilson deeply, and those Warriors fans he has yet to win over.