Back
By Jamie Lyall
Scotland can dare to dream after ending Six Nations account in credit
As finales go, this was blissfully, crazily Scottish. Murrayfield bonkerdom to cap a championship of riveting ebbs and flows. Scotland, having frittered away a 13-point lead and masses of momentum, teetering beneath a flurry of Italian punches, an improbable and shocking defeat looming. A loss that would erode so much of the feelgood built up over the tournament. Then a knock-on from Alessandro Garbisi. Another from Giovanni Pettinelli. A Scottish scrum, and a searing, bewitching 100-yard dash started by Duhan van der Merwe and anchored by the long-striding Blair Kinghorn. A potentially devastating defeat became a bonus-point victory.
An apt ending for this campaign, even if much of the preceding 79 minutes were anything but. Scotland were loose, careless and downright sloppy in a way they weren't for any of the previous four matches. They dropped ball after ball, got done at the breakdown, failed to knock a dangerous Italian side out altogether and were a whisker away from paying the price.
We'll get to Scotland in a moment, but first, a word for the Azzurri. The gallant losers shtick is one of the grimmest and most patronising tags in sport, but it sure as hell beats 'whipping boys' which, up until recently, Italy were. No longer. They have backed up their stunning success in Cardiff last year with big wins over Australia and Samoa in the autumn, and bigger performances still this spring. They gave some of the world's finest teams palpitations with the way they attacked in ferocious blue squadrons.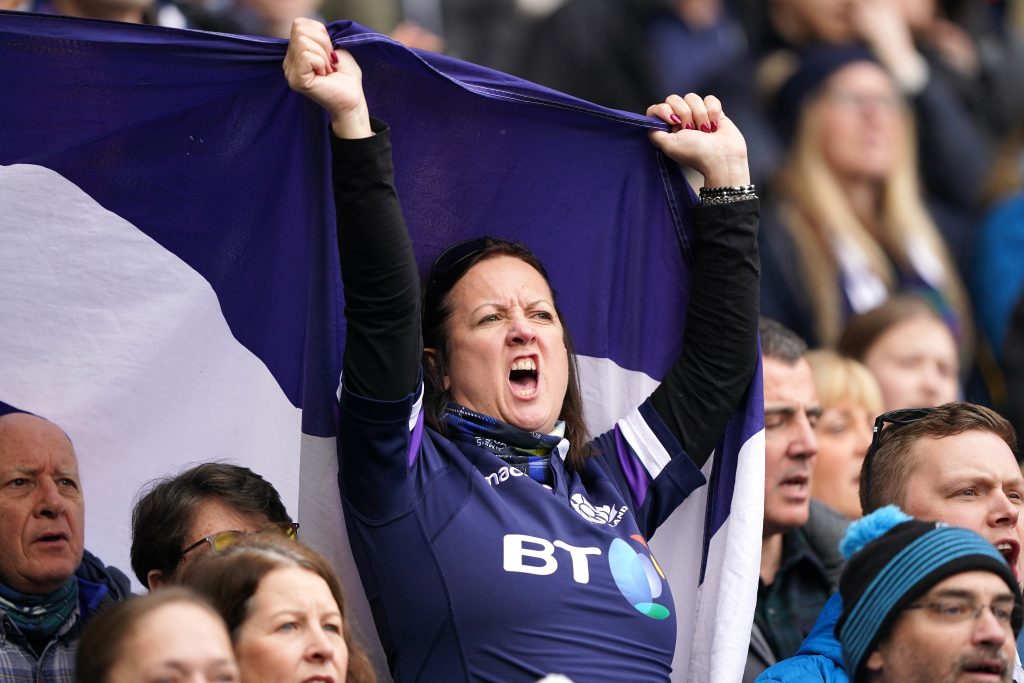 It seems utterly cruel that Italy will be saddled with the wooden spoon after a championship to which they gave so much. This is a team with star quality and immense potential, underpinned as they are by a young core a domestic pathway which continues to excavate talent. They're in that horrible near-miss stage which befalls almost every side that ever amounted to something. France, Wales, and now Scotland, off the hook. A 5m lineout against the French to win it. Eleven – yes, eleven – line-breaks against Wales with far too little to show for it. A slew of red-zone possession in the dying minutes at Murrayfield. Too many errors, too little reward. A heap of frustration and anger, but an awful lot of encouragement about where they're heading. This tournament is brutal, all right. Italy will have their day. Kieran Crowley talked about the "massive, massive strides" his players have made this term and there is scope to go much, much further yet. The Six Nations should rejoice that it has a credible, authentic and daring Italy at last.
Scotland, finally, didn't succumb to the wacky inconsistencies that have torpedoed many a promising championship.
You could chuck those adjectives Scotland's way, too. For something was different this year in how they played and how their mettle held. We've seen Gregor Townsend orchestrate Calcutta Cup triumphs and then preside over garbage the following week. Scotland, finally, didn't succumb to the wacky inconsistencies that have torpedoed many a promising championship.
The conquering of Twickenham was epic. Each try beautifully constructed, from Van der Merwe's gladiatorial battle charge to the giant winger's match-winner, coursing from touchline to touchline and 22 to 22 with sweet precision. The second-half dismantling of Wales was pleasing in a different sense. Here was Scotland coping with pressure and expectation and in Warren Gatland, a coach they had never slain in all his years at the Principality. Italy was a let-off, no doubt, but Scotland found a way to save their own bacon. Fifteen points from those three matches is a very good return.
There is no shame in finishing third behind the two top teams in the world but there is a degree of Scottish ruefulness, of wondering what might have been had they not handed France a 19-0 lead, or had they done more to capitalise upon Irish adversity at Murrayfield.
That Parisian showdown was there for the taking, and Scotland gave it a mighty go, delivering their best rugby of the Six Nations in an ultimately fruitless attempt to wipe out the deficit. In the end, it was just too much. An overthrown lineout – a recurring sore – was the final nail in their coffin.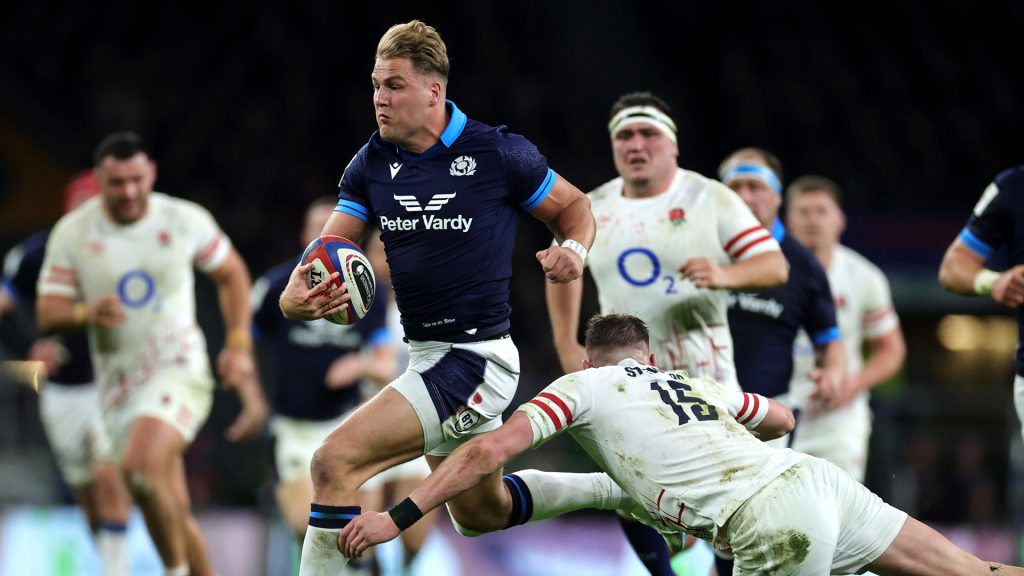 Ireland were a different proposition but Scotland have not had a better shot at beating them in an age. They botched chances in the first half and withered meekly in the second, while Josh van der Flier threw in to lineouts, Cian Healy packed down at hooker, and Caelan Doris was off the pitch. That half showed the measure of Ireland's supreme cohesion, discipline and mindset, but it revealed something about Scotland and their streetsmarts too. They didn't breach the Irish 22 once, didn't challenge Van der Flier enough, didn't seize a game that was there to be grabbed.
There were problems at the lineout whenever the born-again Richie Gray or the wily Grant Gilchrist were unavailable. That needs some tightening up before the big dance in France. More impact was needed off the bench, particularly from the tight-five forwards. There is still a significant drop-off behind Zander Fagerson at tight-head prop. And there remains too great a fluctuation in Scotland's performance over the course of an ultra-intense 80-minute Test.
Van der Merwe scored three of the greatest tries of any Six Nations, his last against Italy a truly supersonic display of athleticism and guile, but he was far less conspicuous against France and Ireland. Scotland will want to make more of his precious skillset in that level of contest.
There's a place in this squad for a man of Kinghorn's vast skillset and versatility, but Townsend has a big decision to make about where it lies.
At 10, Kinghorn is a vexing conundrum. A fabulous, languid runner with strength, pace and intelligence. The first two tries of his Italian treble were exceptional, blasting through soft shoulders close to the line. His third showed his speed endurance, support play and loping, deer-like gait in all its splendour. But for spells on Super Saturday, Kinghorn was quiet, not exactly a peripheral figure, but not as influential a presence as Townsend would have wanted in a fly-half. Especially as the game hung in the balance and the pendulum swung Italy's way. Adam Hastings will return from injury. Ben Healy looked assured in his brief introduction to Test rugby. There's a place in this squad for a man of Kinghorn's vast skillset and versatility, but Townsend has a big decision to make about where it lies.
There is much scope for Scottish improvement. The losses will sting, but the trajectory here is overwhelmingly positive. Statement performances were issued by many hitherto fleeting figures. Sione Tuipulotu can maim teams with his brutality, distribution or short kicking game. Huw Jones has surged back on to the Test scene with dazzling directness and confidence. The pair of them blend with Finn Russell in a lethal midfield cocktail.
Richie Gray is fitter than ever and playing some of his very best rugby at 33. Jack Dempsey emerged as a ball-carrier of Test status, with 13 of them for over 80m and the man of the match award against Italy. Pierre Schoeman was a relentless and effective workhorse. There will be some simmering in English quarters that Ben White slipped the net and is now outperforming all of England's scrum-halves in a Scotland jersey. What a campaign he had. Over the piece, Scotland built their depth and their identity. Darcy Graham and Rory Darge will come back into the mix.
We talk so much about Townsend's attack, but the Scottish defence needs marking too. Steve Tandy continues to do a quietly excellent job on that front. His system had the best tackle success rate – close to 92% – making the most hits and missing the fewest. Scotland conceded the second-fewest points and tries behind Ireland, and were the only team to deny the Grand Slam juggernaut a four-try bonus point.
What happens next will be fascinating. The unresolved issue of Townsend's future has bubbled away in the background as the tournament raged on but now that it's over, the coach becomes the biggest story in Scottish rugby.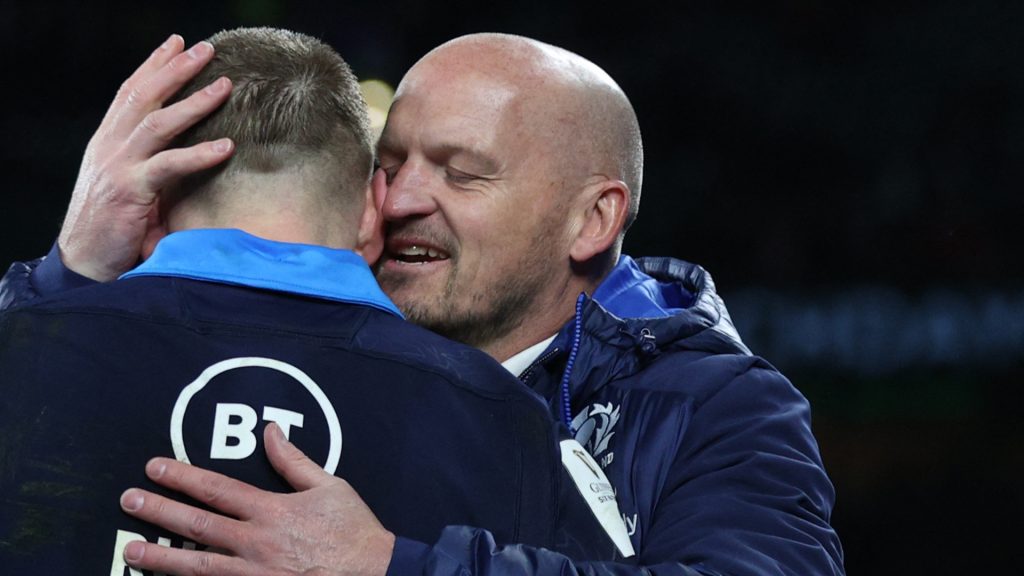 On Saturday, he was grilled about in the aftermath, and not for the first time. Townsend is normally a relaxed and verbose post-match presence, but he quietened as the inevitable volleys were fired. When would his future be resolved? "Soon." Very soon? "I don't know," he replied, before going on to explain that initial talks had taken place, to arrange further dialogue after the tournament. Discussions about discussions and, not yet, a whole heap of clarity.
Asked directly if he would like to stay in post, Townsend replied: "Yes, at this stage. Probably not the time to be answering these questions when you're just off a victory, the crowd are behind team and you're connected with players – of course it's a great feeling. I don't want to commit to anything right now."
The coach is expected to remain in charge. And that would make sense, for him as much as for Scotland. No plum Test jobs are likely to appear after the World Cup. The best clubs have their coaches locked in. The Racing 92 job might have appealed, but Stuart Lancaster landed that gig. Townsend was heavily linked with Leicester Tigers but that role now belongs to Dan McKellar.
Having occupied top jobs and exerted his own control for over a decade, would Townsend fancy stepping back to an assistant's position? And are there any vacant jobs on the rugby circuit more attractive than the one he holds, moulding the greatest crop of Scottish talent in over 20 years? For all that Townsend savours travel and new environments and learning from different cultures, sticking with what he has seems the smartest move.
Ireland, the best in the world, and South Africa, the enormous reigning champions, swim in Scotland's pool of death. Escaping it will be a Herculean ask.
Crucially, he has the tools to take Scotland forward. He has learned from his errors, from his occasionally overbearing nature in the past, from the rancour of the Finn Russell affair, from the doomed credo to play the fastest rugby in the world. He has ended hoodoos in Wales, London and France. He has instilled the kind of rugby that gets you on your feet and reminds you why you love the game. He has a playing group the equal of any in the professional era and unmistakeably better than all but the class of 1999, the side he spearheaded as a player. And finally, he has a level of consistency in performance and results.
"I've tried to put this to the side," Townsend went on. "The brain has so much capacity on one thing and that has been doing the best I can as the coach. Whatever happens in the next week or two of reflecting and thinking about the future and getting those discussions going, I'll think about it then.
"I'm really thrilled with the players who have come through, younger players, older players like Richie Gray, players who haven't been involved over the past couple of seasons like Huw Jones, are playing at their best level. That's exciting.
"I believe the team feel they've got the game that can take on anybody in the world but there are a lot of areas we can improve and the tests are only going to get bigger with who we face in the World Cup."
Ireland, the best in the world, and South Africa, the enormous reigning champions, swim in Scotland's pool of death. Escaping it will be a Herculean ask. Townsend has never toppled either powerhouse. Yet there's so much more hope about France and how Scotland might fare than existed six months ago. There's genuine belief one of the titans can be upset, that Scotland have a style and a squad that can wreak damage on rugby's leading lights. They now have only six months to prove it.