Back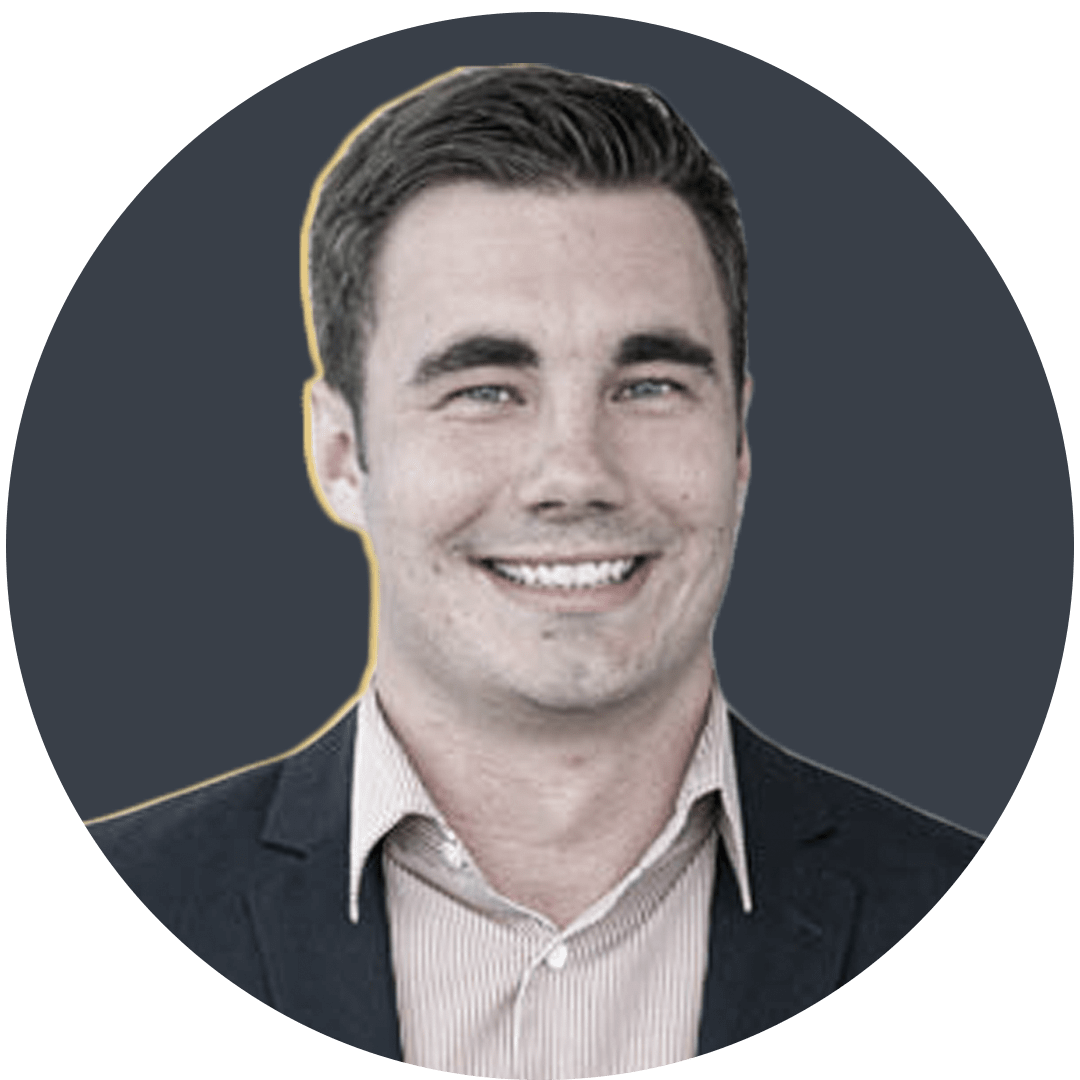 By Tom Vinicombe
School of hard knocks
Anton Lienert-Brown struggled emotionally when he first became a professional. He talks to The XV about his journey from being a nervous 18-year-old in Super Rugby to becoming a world-class All Black to close out Mental Health Awareness Week in New Zealand.
There are few occupations where your every mistake and every error is put on show for the world to see. Young rugby players, however, are subjected to exactly that.
Schoolboy superstars are often touted as the 'next big thing' and when their careers don't pan out the way that everyone hopes, it's often chalked up to them supposedly lacking some sort of mental fortitude. Even the best and the brightest aren't immune to the challenge of being a professional sportsperson, however, and even those who do succeed haven't necessarily travelled an easy path.
From an early age, Anton Lienert-Brown was identified as a potential future star of the game. In fact, he was so highly regarded that All Blacks mastermind Wayne Smith made a special trip down to Christchurch to watch Lienert-Brown play schoolboy rugby and subsequently invited the midfielder to Hamilton to get a taste for the Chiefs environment.
Eight years on, Lienert-Brown has cemented himself as a regular starter with the All Blacks.
While it would appear that the talented Cantabrian has followed the established route of a young man earmarked for greatness, the transition from schoolboy superstar to proven professional was anything but smooth sailing for Lienert-Brown.
A shoulder injury suffered in the 2012 South Island high school final prevented Lienert-Brown from representing New Zealand in their annual secondary schools showdown with Australia – and that's when the troubles began.
"I dislocated my shoulder in 2012, rehabbed it for six months and was supposed to play club rugby, but then the week during training, I dislocated my shoulder again so I had to get surgery," Lienert-Brown told The XV. "I was out for the whole of 2013."
Dave Rennie and Wayne Smith, the then-Chiefs coaches, had anticipated that their schoolboy prodigy would be able to acclimatise himself to professional rugby during 2013 by linking up with Waikato. Lienert-Brown's injuries prevented that from happening.
"At the end of 2013, Smithy and Rens sat me down and said that because I'd been out of the game for so long, they wanted to bring me into the wider training group just to speed up my progress as a rugby player.
"They said, 'don't worry, you won't play; we've got so many midfielders and so many wingers, you'll be sweet'. They almost jinxed themselves because every man and his dog went down at the Chiefs.
"There I was, just an 18-year-old – my last game of rugby was at high school, almost 18 months earlier – and I was named to play against the Bulls at Loftus on the wing."
As far as Super Rugby debuts go, Lienert-Brown's would rank as one of the toughest. The Bulls were sitting on a three-match winning streak while the Chiefs had just been tipped over by the Western Force in Perth.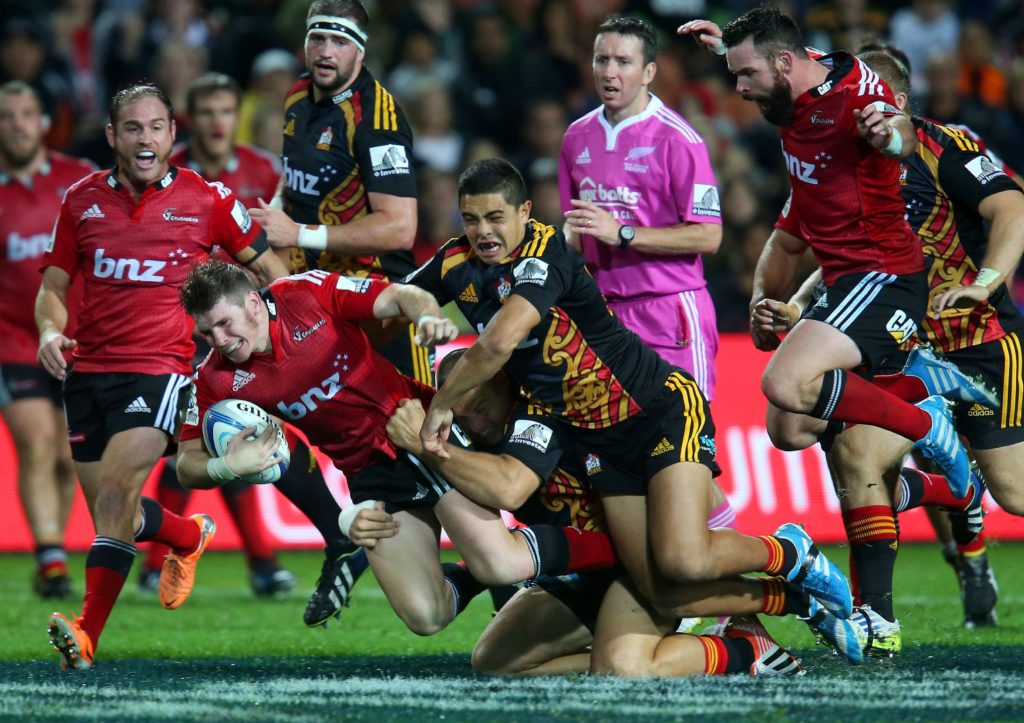 Loftus Versfield is not an easy place to visit at the best of times – but it's certainly not the stadium where you want to be tasked with trying to get your season back on track.
Still, Lienert-Brown performed admirably in his Super Rugby debut – especially when you factor in his complete lack of experience and match-fitness. The specialist midfielder was forced into the outside backs and tasked with marking Springbok Bjorn Basson.
"It was an experience and a half," Lienert-Brown said of the match. "It wasn't my flashiest game of rugby, but it was something I'll never forget.
"At that stage, I was barely 95kg and couldn't really do what Sonny Bill Williams or Bundee Aki could do and punch holes and stuff like that – I'd just get knocked right over – so they chose to put me on the wing."
Lienert-Brown lasted until the 50th minute before being replaced by Tim Nanai-Williams. While his debut was nothing to write home about, the 18-year-old certainly didn't embarrass himself.
The greatest criticism you could probably level at the debutant was that he wasn't hugely involved in the match. The play before Lienert-Brown's subbing, however, saw Basson step around the young man eight years his junior and cruise away for a well-taken try.
There I was, just an 18-year-old – my last game of rugby was at high school, almost 18 months earlier – and I was named to play against the Bulls at Loftus on the wing.
When Lienert-Brown exited the game, the Chiefs were staring down the barrel of a 15-34 defeat. The Hamiltonians rallied in the final half hour, however, and a three-try burst combined with a clutch sideline conversion as the final act of the game secured the travelling side a 34-all draw. That was little comfort for Lienert-Brown, who left the field feeling like he'd let his team down.
"From that Chiefs debut, it took me a while to fully regain my confidence as a rugby player," Lienert-Brown admitted. "I was young, I felt as though I let down my teammates and my family, and I felt as though I'd embarrassed myself on a world stage.
"When I first started playing for the Chiefs, I was comparing how I performed for them with how I'd performed at school because I guess that was the last time I'd actually played rugby. But Super Rugby's obviously a few levels up and you can't quite do the same things that you got away with at school; it took me a while to understand that.
"I also had a feeling that I needed to prove myself. I was around my idols and I felt as though I had this pressure on me, like I needed to show them that I was up for it and I was in the team for a reason. At school, you're one of the bigger players, you're one of the leaders, but when you get to this professional stage, you start all over again.
"The coaches were very positive after the Bulls match though. I was on the bench against the Cheetahs for the next game and although I was only on the field for about 10 minutes, I got a few good touches in and I walked off that field feeling really happy with how I'd played. In just one week, I'd seen the highs and lows of rugby."
Lienert-Brown's confidence was still down, however, and after some discussions with the coaches, decided to temporarily depart from the Chiefs camp to link up with the New Zealand Under 20s for their run at the World Championship.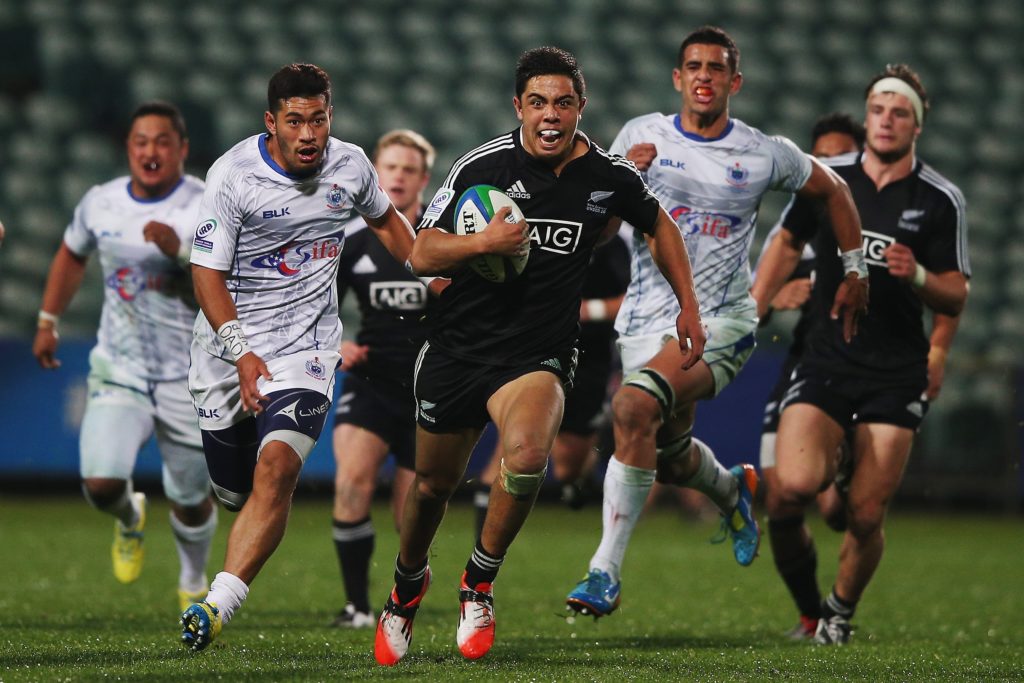 "Rens sat me down and said, 'you've got two options. You can keep playing for us and you'll probably be on the bench, or you can go play Under 20s'. I chose the Under 20s because I was just lacking so much confidence at the time and I thought that if I were around players my age, I might be able to get that confidence back.
"That's exactly what happened. At that competition, everyone's on the same level – everyone was new to it. Whereas in Super Rugby, you've got all these superstars, you've got your idols. I went through the Under 20s tournament and I started to be myself as a rugby player again. I wasn't thinking so much about the outcome, I guess, but I was just playing rugby. That's where it really started.
"In 2015, the next year, I played a handful of games for the Chiefs. I was one year wiser and I started building a bit of momentum as a player and I started being confident at that level. I played in another Under 20s campaign, which we won, and it probably took until then that my confidence really built up inside me again as a rugby player. It was a long process. In 2016, the year where I became a starting Chief, that's when it only really felt as though I was good enough to be playing rugby professionally."
Like with his initial selection in the Chiefs, a bout of injuries in the All Blacks midfield paved the way for Lienert-Brown to receive his first call-up to the national team in the same year that he only really first established himself as Super Rugby starter.
The initial squad for New Zealand's Rugby Championship campaign included four midfielders, Ryan Crotty, Malakai Fekitoa, George Moala and Sonny Bill Williams, while Lienert-Brown was included as part of an extended squad to effectively make up numbers at training. Lienert-Brown's Chiefs teammate Charlie Ngatai had missed selection due to ongoing concussion problems.
In 2016, the year where I became a starting Chief, that's when it only really felt as though I was good enough to be playing rugby professionally.
Two weeks later, Williams was invalided because of an injury suffered during his stint with the New Zealand sevens team while a head knock in the All Blacks' opening match of the competition also side-lined Crotty.
All of a sudden, Lienert-Brown was the next cab off the rank.
"That first week, we were in Sydney, and I'd become pretty tight with Lima Sopoaga," Lienert-Brown said. "We were just holding bags and stuff and were joking like, 'this is our job for the next six weeks.'
"I was content with that in a way because it was just awesome being there but then, obviously, Crotty went down with a head knock. The next week, I was on the park. I was thinking to myself, 'hang on, I'm just supposed to be a bag holder here, aren't I?' It all happened pretty quickly – almost too quickly for my mind to get its head around it all."
At just 21 years of age, Lienert-Brown was set to run out in Wellington and earn his first All Blacks cap. Unlike his last landmark debut, however, the midfielder was mentally prepared.
"The best thing about my 2014 debut when I was 18 was, I learned so many lessons from that. In the same way, I was chucked in the deep end a little for my first game for the All Blacks. I wasn't sure if I was ready, but one promise I made to myself post that Chiefs debut was that if I had the opportunity again, I wouldn't go into my shell.
"Against the Bulls, I made a couple of mistakes and I went into my shell a bit and I didn't fully express myself. All week in the lead up to my All Blacks debut, I said to myself, 'no matter what happens – even if I go out there and drop four balls in a row – I'm still going to express myself'.
"Luckily enough, we won that match and the first touch I got as an All Black was a try assist. So it was just good to go in with that mindset and it gave me a lot of confidence."
Despite Lienert-Brown's prodigious talents as a schoolboy, his unfortunate run of injuries ensured he managed to stay relatively under the radar until his first appearance for the New Zealand national side. It's fair to say that the 25-year-old has never slid back under the radar since.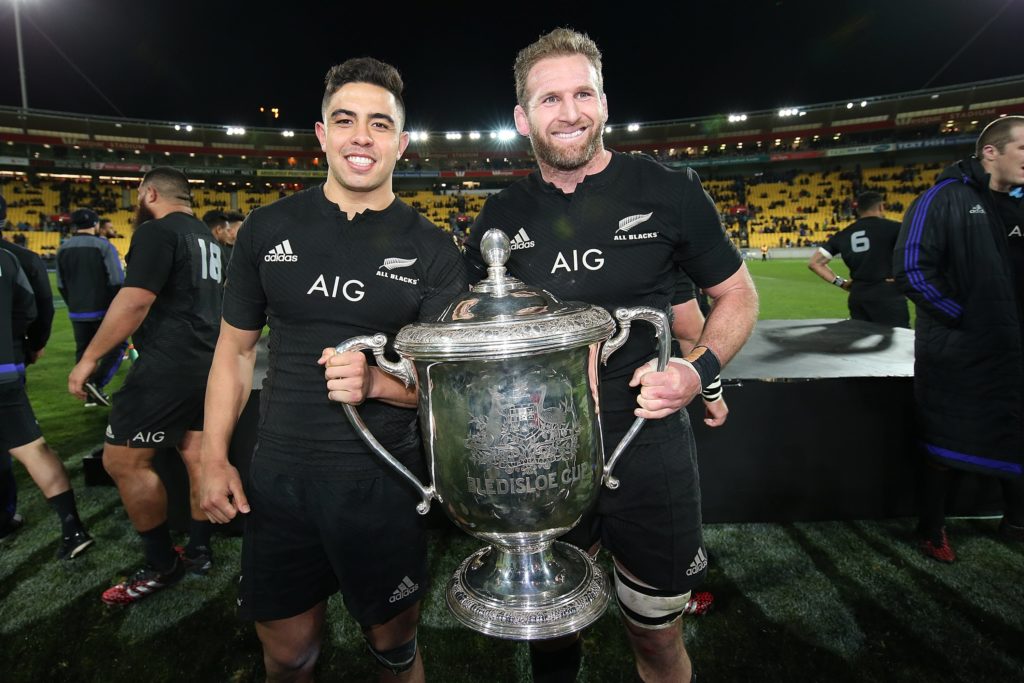 "In the All Blacks, something just clicked," said Lienert-Brown. "I hadn't really played that well since school – not in Super Rugby, not for the Under 20s.
"You're always so lucky that if you get the opportunity to play for the All Blacks, you have so many good players around you. Obviously the coaching environment's world-class too. I guess you just have all the best ingredients to play great.
"I said before that when I first started playing Super Rugby, I wanted to be able to play the same way I had as a school kid. How I played for the All Blacks, that was how I envisioned myself playing. On an international stage, I just felt as though I was a school kid just playing again. It was crazy."
Four years down the track, Lienert-Brown is only a handful of games short of his 50th match for New Zealand. While the exceptionally talented and hard-working Chief has gone from strength to strength since his test debut in 2016, the early stage of his career was anything but smooth sailing and it's a harsh but necessary reminder that even the most talented players aren't immune to the stressors of professional rugby.
It's also a lesson in how important the mental skills side of the game is and a warning to players, coaches and rugby personnel across the globe. No matter how physically gifted a player is, mental health challenges can't simply be outrun or fended off.
While Lienert-Brown has already paved out a successful rugby career and will remain a mainstay in the New Zealand midfield for years to come, his success to date is not one that's come without its own trials.
More stories