Back

By Tom Bradshaw
Santiago Carreras: 'It could sound quite arrogant, but I want to be the best player in the world'
Dressed entirely in black in unbranded hoodie, loose joggers and unflashy trainers, Santi Carreras cuts a low-key – almost anonymous – figure as he signs Gloucester shirts in the Kingsholm reception. Few around Gloucester Docks, you suspect, would pick him out as Argentina's supremely gifted playmaker if he walked past.
Yet there is a quiet, compelling intensity to Carreras, his penetrating dark eyes hooded by thick brows. And while his civvy clothing is understated, his ambitions are most certainly not.
"It could sound quite arrogant, but I want to be the best player in the world," he tells me as we talk in the one of the stadium's lounges, relaxing as we get further into the interview. "It's a motivation to try to improve every day."
Since arriving at Gloucester in January 2021 following the demise of Buenos Aires-based Super Rugby side Jaguares, few could dispute that Carreras has made steps towards that lofty – if still distant – ambition. Whether at wing, full-back or fly-half, the young Argentinian – he is still only 25 – has transposed his southern hemisphere skills to the European scene with ease and assurance. And his performances for the Pumas have developed apace too. Indeed, Carreras has had a significant hand in giving Argentina a groaning swag bag of scalps in the past year, not least New Zealand, Australia and England. His orchestration of the loop move that resulted in Emiliano Boffelli's try against England in November was a thing of rare artistry. It did for England that day at Twickenham, and you might say it also eventually did for Eddie Jones's career as Red Rose head coach.
I ask him how he would define his style on the pitch. Carreras, whose English is good and rapidly improving, pauses to check on Google Translate exactly what the word is that captures how he wishes to be seen by opposition teams.
There is a 12-second gap. Then. "Threat," he says, looking back up from his phone. "Yeah, a threat for the defence.
"I'm not really a man who just passes the ball. I like to attack and be a real threat to the defence, in terms of them having to defend me as well."
Threat is an apt word selection. Arguably more than any other fly-half in the world right now, Carreras should be giving the world's defence coaches sleepless nights ahead of the Rugby World Cup. The triple threat he poses are almost impossible to contain: sharp distribution, balanced running and all-round kicking.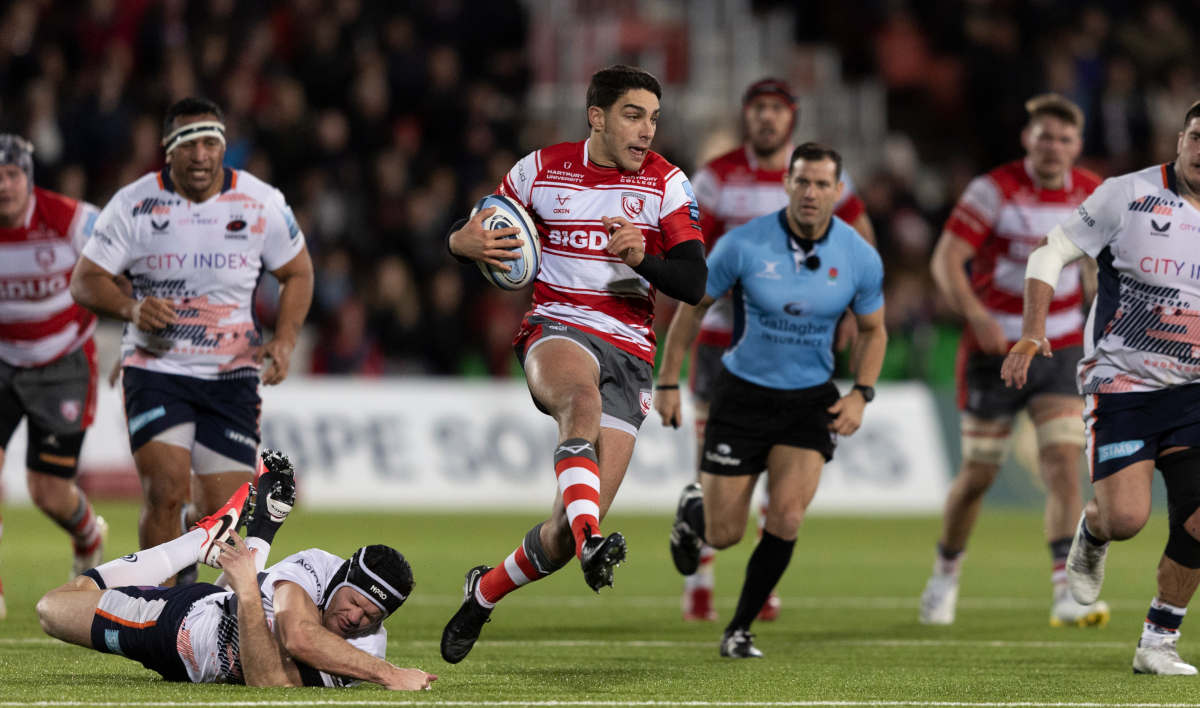 In common with other leading playmakers, Carreras has the ability to manipulate time. His composure with ball in hand means he seems to have longer on the ball than others, and therefore longer to make his decisions. This in turn makes those around him look and play better – another attribute of the game's finest distributors.
With a relatively modest stature Carreras has a hand-off like a piston gun, which in turn creates time for the off-load. His ability to use his speed and footwork to initially get him into a half-gap, followed by the fend and off-load to release others, is a familiar sight, and meat and drink to the likes of wing Louis Rees-Zammit at Gloucester.
But it is not just about setting up others. Carreras is also a strike runner of both style and instinct, cutting the kind of diagonal lines that target weak shoulders and put defensive lines off balance.
Such speed and footwork means Carreras is also equally at home as an outside back or at full-back. This help sets him apart from many fly-halves, although it can lead to him being the recipient of the "utility back" tag – invariably a double-edged sword, hinting as it does at both versatility but also a lack of specialism.
The maddening thing for opposition coaches is that Carreras is equally strong regardless of his position in the backline or the number on his back. Rather than being a jack of all backline trades and a master of none, he is a jack-in-the-box who is master of all.
As a 10 you've got more responsibility for the game and the team but I'm happy to cover any position that the team needs. Obviously, I'd prefer to not play winger but if the team need it I do it.
But Carreras is clear about where he prefers to play. His first-choice (or "normal", as he puts it) position is 10; second is 15; third is on the wing.
"I like the challenge of that responsibility at 10," he explains. "You can understand the game, read the game, make your team-mates play and work in a good way.
"As a 10 you've got more responsibility for the game and the team but I'm happy to cover any position that the team needs. Obviously, I'd prefer to not play winger but if the team need it I do it.
"Fly-half or 15 is my natural position – I'm not as quick as the wings now!"
Scotland's defenders would probably beg to differ with Carreras' modesty about his speed, with the Argentinian scorching through them last summer. And his pace from the 10 position is something that England will have to closely monitor ahead of their meeting at the Stade de Marseille on September 9.
To say that Carreras is already relishing that match would be a thumping understatement. A huge smile breaks out across his face and he refers to it as the "Argentina bosh". There is no hint of apprehension. Carreras and Co are clearly confident about their prospects in Pool D. As well they might be given their international form, not least their win over England in the autumn.
"It's exciting to talk about the World Cup," says Carreras, sitting up a little straighter at the very mention of the global jamboree. "I think it's going to be a massive World Cup for us. We are doing everything to have a really good World Cup and challenge every team. I'm 100 per cent confident.
"The group energy is there and we're still growing as a team. We want to get better as a group. I think we're in a really good position. Winning gives you confidence. We can beat anyone."
Along with the rest of England and Northern Hemisphere-based Pumas, Carreras is in regular contact with Michael Cheika and the other Argentina coaches. Their last get-together was in Paris in the middle of March. Carreras chatters away about the camps, clearly energised.
Yet the path to playing rugby for the Pumas was not preordained. Indeed, Carreras was a handy footballer of the round ball variety as a youngster – a fact which will be no surprise to Gloucester fans who have seen him slot match-winning penalties with the clock dead, nudge audacious 50-22s, and deliver the deftest of cross-field kicks.
Thankfully, a long-standing family connection to Cordoba Athletic, for whom Carreras' grandfather, Julio, played wing, eventually got him playing with an oval ball.
"I used to play football when I was a kid, from three or four right up to 11," he recalls. "I used to play as a forward and I still really enjoy football, even now. I find some of the things from football useful for when I play rugby.
"I don't know at what point I decided to turn just to rugby, but I remember when I was 10 or 11 I went to my club because my grandfather used to play there and we had history there, and since then I've never stopped. I used to play in every position, but I started playing at fly-half.
"The dream started when I got picked for my city – I realised I could do this professionally."
The boys here at Gloucester and the facilities here are really good for me. Playing in front of The Shed is massive and a big motivation for me
The collapse of Argentinian Super Rugby franchise Jaguares briefly punctured that professional dream, but Carreras says his two years with the franchise helped him appreciate the physical demands of the elite game, and also instilled in him the importance of ultra-professionalism.
"Physically it was a big challenge for me. I grew up with the Jaguares. I understood just how professional you need to be as a rugby player if you want to be at the top. I was surrounded by those kinds of players and it was a big learning for me.
"It's about habits – doing things day by day. Every day you can be better and grow up just a little bit. And it makes a difference."
The disappearance of the Jaguares led to an Argentina diaspora to the North. Carreras was quick to get on a flight and has never looked back, although he admits balancing the demands of the European club season with the Southern Hemisphere international calendar can be testing.
"The boys here at Gloucester and the facilities here are really good for me," he says. "Playing in front of The Shed is massive and a big motivation for me. It's mad in terms of how good it is playing here. I see a good project here in terms of the goals the club has."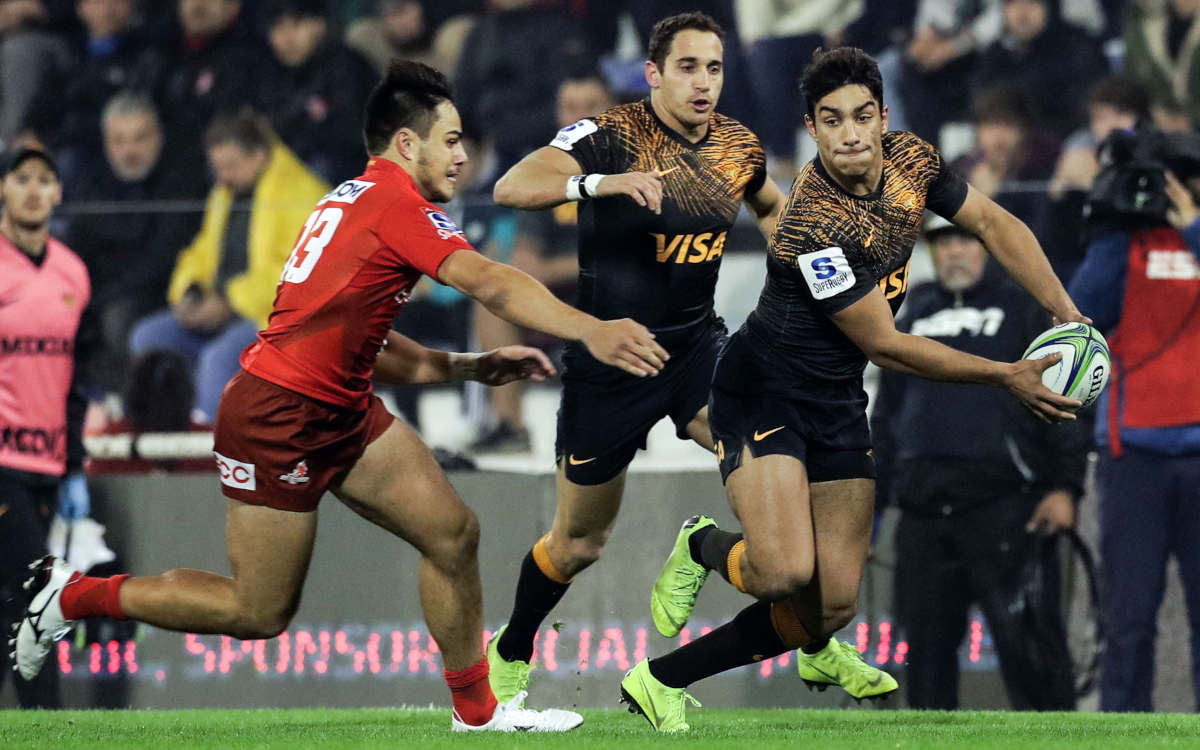 Right on cue, Billy Twelvetrees walks past, issuing a good-natured mock complaint about whether Carreras is giving him enough credit. Carreras grins back as Twelvetrees scuttles out of the door.
"Billy is a legend. I've spent a lot of time kicking with him after training – we've discussed decisions, kicking, everything. But everyone here at the club is an influence. I can't say one person over others."
Carreras interlocks his fingers and stretches out his palms as he elaborates on his goal of becoming the best player in the world. He picks out Antoine Dupont as a key motivator, along with the consistency and longevity of Johnny Sexton and Beauden Barrett.
To stay at the highest level – like Johnny Sexton, Beauden Barrett – those kind of players have that mindset of always getting better. That is why they're still playing top-level rugby.
"I've just challenged myself to keep improving and to get better at everything," he says. "You are always working and you can always improve a bit more. That's the way I think. You can be the best player in the world but even then you can still keep improving. Dupont is the best player in the world but he didn't kick on the left and now he does. He's still improving. Those kind of players are 100 per cent an inspiration to me.
"To stay at the highest level – like Johnny Sexton, Beauden Barrett – those kind of players have that mindset of always getting better. That is why they're still playing top-level rugby."
Carreras has the goal and drive to reside in such exalted company. And whether in the cherry and white of Gloucester or the blue and white of the Pumas, his wide-ranging gifts as a playmaker of rare speed have evolved rapidly in the past three years. The stage is set for him this autumn in France. And, he says, he will be aiming to play with his usual attacking audacity.
"The idea is to play what's in front of us," he says, looking at me unblinkingly. "To see what the defence is doing and play. That's rugby, mate. I like to play rugby – to play what's in front of my eyes."
A threat, you might say.