Back

By Martyn Thomas
Rugby World Cup stories: How the 2019 Springboks united a nation
Much of Francois Louw's final match in Test rugby is a blur. He does not remember exactly how he felt as the Springbok bus pulled into Yokohama International Stadium or what ran through his mind as he trotted onto the pitch to warm up.
As kick-off approached in the Rugby World Cup 2019 final, Louw entered what he describes as a "focused mode", becoming a conflicting ball of nerves, confidence and fear as he psyched himself up to take on the biggest challenge of his career.
During the first 63 minutes of the showpiece match against England he watched on from the sidelines. "You've run everything through your mind a hundred times," he tells RugbyPass+. "Reaffirming that you are fit enough, strong enough, good enough."
His clearest memory of the final comes, unsurprisingly, from his time on the lush Japanese turf and it is one that will stay with him for the rest of his life.
With a little less than two minutes remaining, Louw and his team-mates calmly strolled towards the England 22 to pack down for the final scrum of the match. As they did so, with a 20-point lead cushioning their steps, the feed on the stadium's big screen cut to footage of the words 'SOUTH AFRICA' being engraved on the Webb Ellis Cup.
So emphatic was their superiority by that point that the engraver was already working on the final 'A'. "I'm on the side of the scrum and I look up and I see Billy [Vunipola]. A lot of blood, pretty much red all over him. He had a tough day at the office," Louw adds.
"For some other reason, the camera pans on to the engraver and he's already engraving South Africa on the trophy. I look at the screen, I look at him and you saw the energy just fall out of them.
"We're not celebrating but inside you're kind of bursting, you're like, 'This is it. We've done it'."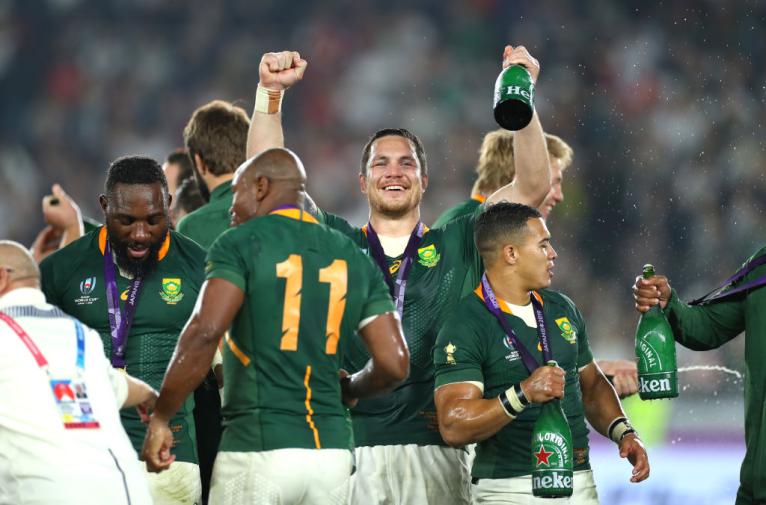 Up in the coaches' box, Rassie Erasmus broke into a wide smile as he got to his feet, apparently tethered to the ground only by the headphones still clasped to his head. On the sidelines, captain Siya Kolisi embraced Willie Le Roux as he took in the magnitude of the achievement.
Out on the pitch, Louw helped South Africa win the scrum and following eight phases, replacement scrum-half Herschel Jantjies delivered the ball back to Handré Pollard, who kicked it gleefully high into the night sky.
Twelve years after their most recent triumph, and 24 years since Nelson Mandela handed the golden trophy to Francois Pienaar in Johannesburg, the Springboks were world champions for a third time.
In beating England, the Springboks created history, becoming the first team to win a Rugby World Cup having lost a match along the way. This is the story of how a team ranked sixth in the world only 18 months previously pulled together to scale new heights.
"We always knew we had the ability and the players," Matt Proudfoot says as we chat over Zoom. Proudfoot had been appointed forwards coach when Allister Coetzee was asked to lead the Springboks in 2016 and when his boss' position became untenable less than two years later, he expected to be asked to follow him out of the door.
For the former Scotland prop, the nadir of a period in which the Springboks lost sponsors as easily as matches and came under pressure from the South African government, was reached in Dublin in November 2017.
Jacob Stockdale's try, Ireland's fourth of the night and third in the final nine minutes, added gloss to the hosts' 38-3 victory. "That was really painful," Proudfoot says. "We played poorly. That was terrible, we weren't at our standards."
As viewers of Chasing the Sun, the documentary which charts South Africa's journey to the 2019 title, will know, it was also the night Erasmus' determination to become Springbok coach strengthened.
I think the assistant coach's role is to take the bullet for your head coach and when Allister was moved on, I expected the same.
Having sat in the Aviva Stadium stands and watched the team's supporters slink into the Dublin night resigned to their fate, he convinced his then-Munster assistant Jacques Nienaber they were the men to turn the sinking tanker. Erasmus was due to return to the South Africa set-up the following month as director of rugby but by 1 March it was confirmed he would replace Coetzee as coach.
Proudfoot probably would have walked the plank too had Pieter de Villiers accepted an invitation to join the new coaching team, but instead Erasmus asked his former Stormers colleague to stay on.
"Obviously, if the team doesn't perform, your job's not safe," Proudfoot admits more than five years later. "I think the assistant coach's role is to take the bullet for your head coach and when Allister was moved on, I expected the same.
"Rassie turned around late in the piece… they offered me the position and I had to think about it, and I took it. I felt I still had something to give."
Proudfoot had enjoyed a successful stint working alongside Erasmus and Nienaber in Cape Town, leading the Stormers to the 2010 Super 14 final. Erasmus had departed Newlands to become general manager of high performance at SA Rugby and it was in this role he gained a better appreciation of the issues which faced the Springbok head coach.
On his return to South Africa, Erasmus set about restoring some pride in a team that had lost 12 and won only 11 of Coetzee's 26 matches in charge. His goal was to mould a team that could win Rugby World Cup 2023, but he did not shy away from the here and now.
Sat under the glaring lights of the SuperSport studio on the day of his unveiling, Erasmus was asked whether the Springboks could be successful in Japan in a little over 18 months. "I think we've got the players and the IP to win the World Cup," he replied confidently.
"It's how quickly can we align the players, talent, coaches, IP working together in South Africa? If we can do that quickly I think we're in with a big chance."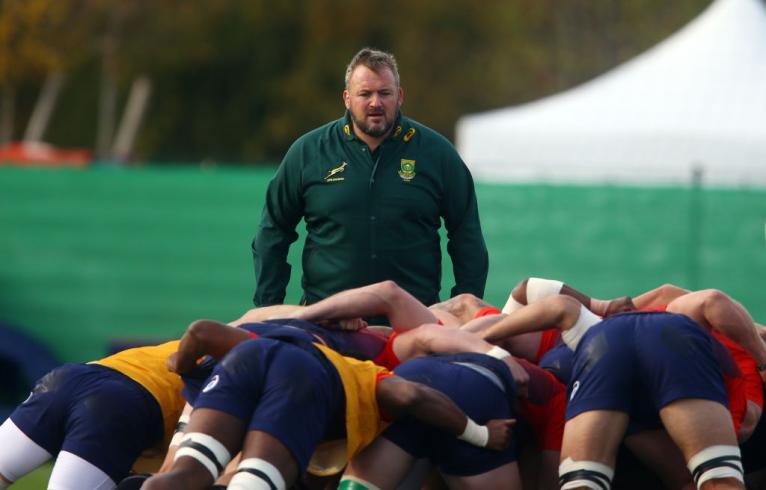 Erasmus reasoned success on the pitch was the key to winning back fans, sponsors and the government. He spread his net far and wide in order to achieve that, opening the door to players based overseas and even raiding his former employers, Munster, for strength and conditioning coach Aled Walters.
But, in terms of playing style, he was keen for the team to get back to basics. "The strength of the South African team is if you get it organised, well organised, very clear in their plan then they're very hard to beat," Proudfoot explains.
"Defensively, they became very, very tough. When South Africans are strong defensively, they're tough to beat."
He adds: "Rassie gave very, very clear clarity in what he expected and what he wanted. That allows you as a coach to know where to coach towards. You know what he wants."
Another aspect in which Erasmus provided clarity in the early stages of his reign came in the identity of his captain. Ahead of the 2018 June series against England, he confirmed Siya Kolisi would become the first black player to permanently lead the Springboks.
"The appointment of Siya as captain, I think that galvanised everything, you know, I think that was the one big catalyst," Proudfoot says. "When Rassie made the announcement, 'This is the way we're going. This is going to be the captain', I think it took a lot of doubt away and everybody got on with it and said, yes, that's going to be the identity of the team.
"So, I think that was a very big moment."
I said, 'Listen bud, I'm the quickest, fastest, strongest, most beautiful hooker in the world!'
As Schalk Brits relaxed on his Ibizan getaway, nursing aches and pains from his final season at Saracens, post-rugby life stretched out before him.
Brits had brought the curtain down on his professional career in style only a few weeks previously, bowing out with a half -hour cameo at Twickenham and a fourth English Premiership winner's medal.
Not even the 10 minutes of that he had spent in the sin bin could dampen the hooker's spirits as he bounced between benefit dinners and onto a year at Cambridge and a new life in business.
Having recently turned 37, Brits was ready to return to the real world – albeit via one more turn at Twickenham in the Varsity Match – and embrace a 9-5 and family life.
That was until a message alert flashed up on his phone from an unknown number.
With his wife Colinda beside him and his three sons sleeping in an adjoining room, Brits reached for his mobile to see who was texting him.
It was Erasmus, three months into his tenure as Springboks head coach and hoping to interest Brits with a proposition. Would the wily campaigner be interested in a return to playing?
At first Brits assumed it was a joke, a prank being played by his old friend and front-row colleague Vincent Koch. Believing it was a ruse, he sent some pretty spicy texts in reply. "I sent quite an arrogant message back to him," Brits admits. "I said, 'Listen bud, I'm the quickest, fastest, strongest, most beautiful hooker in the world!'"
It was not a joke. Within a couple of hours, having sought the counsel of Colinda, a solicitor, Brits was on the phone to his old Stormers coach discussing the possibility of a sensational return just weeks after walking away from the spotlight.
Erasmus made no guarantees about playing time or a place on the plane to Japan. But he assured him that should he be able to find a South African employer and maintain his form over the next 12 months then he would be in the frame.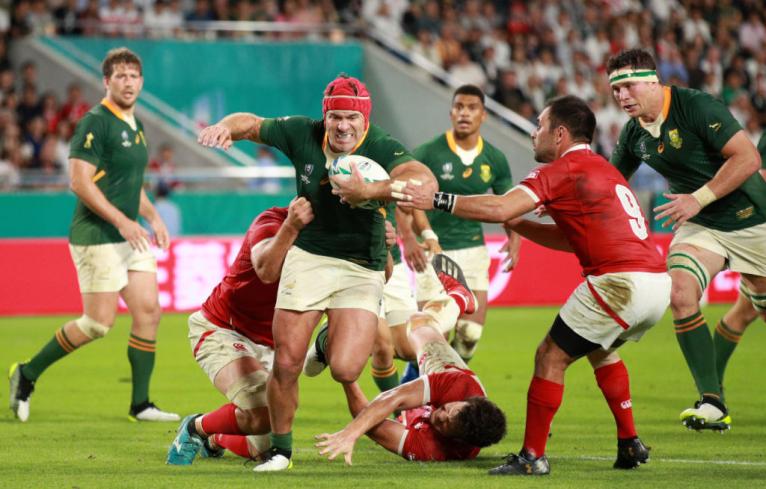 For Brits, whose talent far outweighed the 10 caps he had won in the famous green and gold jersey up until that point, it was a convincing pitch. His studies, and the real world, could wait.
"I thought, well, why not?" Brits adds. "The message Rassie portrayed at that specific time was all about entitlement, making the jersey what it should be, and I felt it was a great journey to go on, win or lose."
Brits would earn his place in the World Cup squad, and although he was very much third-choice hooker in Japan he was an invaluable member, captaining the side against Namibia – from the unfamiliar position of number eight – and wearing the number two jersey for the Springboks' final pool encounter against Canada.
Proudfoot, meanwhile, would lean on his experience and knowledge during training. "He would help me doing the throwing sessions with the other hookers," he says. "So, here he came, a 38-year-old hooker, third-choice hooker, knows hes not going to play a big part of big Test matches, just wanting to compete and be there.
"And he looked [to do] whatever he could do to add value to the team. I use that as an example to younger players to say, particularly around selection, you think to yourself, 'When am I going to get selected?' 'What do I have to do to get selected?'
"Well, here's a 38-year-old coaching his two competitors for his jumper at the World Cup and doing it with a smile on his face. You know, that's the mentality and that had such an effect on me to watch the way he did it. There was never a grumpy moment."
History is there to break and unfortunately we've got ourselves into a position now and now we'll have to fight.
Results in Erasmus' first year had been mixed, winning a series against England and beating New Zealand in Wellington but losing to Wales twice as the Springboks won seven and lost seven of their matches in 2018. Backing up that victory against the All Blacks a year later with a 16-16 draw that helped secure a first Rugby Championship title in a decade was therefore huge for confidence.
That campaign was also significant as Frans Steyn was reintegrated into the squad. The one-time prodigy of South African rugby, the man with a rocket in his boot had played only four Test in the previous seven years before he was selected as a replacement for the opening match of the 2019 Rugby Championship.
"Later in my career it became more stressful because it was closer to the end," he says about returning to the Springbok set-up. "When you start you always just think there's going to be another one. You're going to play another World Cup or whatever.
"So, there was a little bit of stress but at the same time, I think Rassie did it so well getting me into the mix of things again. I was on the bench most of the time before the World Cup – I was on the bench most of the time in the World Cup – but I got specific time like 30 minutes here, 20 minutes, 40 minutes, you understand?
"So, he really grew me back into things. From his side, he really looked after me coming back."
As well as being a richly talented and versatile rugby player, Steyn is a student of the game. His celebrations following the Rugby Championship had been tempered by the knowledge no previous winner of the tournament in a Rugby World Cup year had gone on to lift the Webb Ellis Cup.
History is constantly being rewritten, of course, and Steyn would soon take a different tack in the wake of the Springboks' opening RWC 2019 defeat by New Zealand.
South Africa had been the first team to arrive in Japan, Erasmus and his group planning to also be the last to leave. Any lingering ghosts concerning their hosts and the Miracle of Brighton four years previously were also exorcised by a commanding 41-7 warm-up victory against the Brave Blossoms.
But losing to the All Blacks on the second day of the tournament had certainly not been part of the plan. Erasmus seemed bullish in the immediate aftermath of a 23-13 defeat played at the stadium which would stage the final.
"I guess that's a challenge we'll have to now take head on," he told Rob Vickerman on the Yokohama pitch. "History is there to break and unfortunately we've got ourselves into a position now and now we'll have to fight."
That was a message Steyn helped to drum into the squad. "When we got to the hotel, we had a team meeting and I think it was quite a special team meeting," he explains.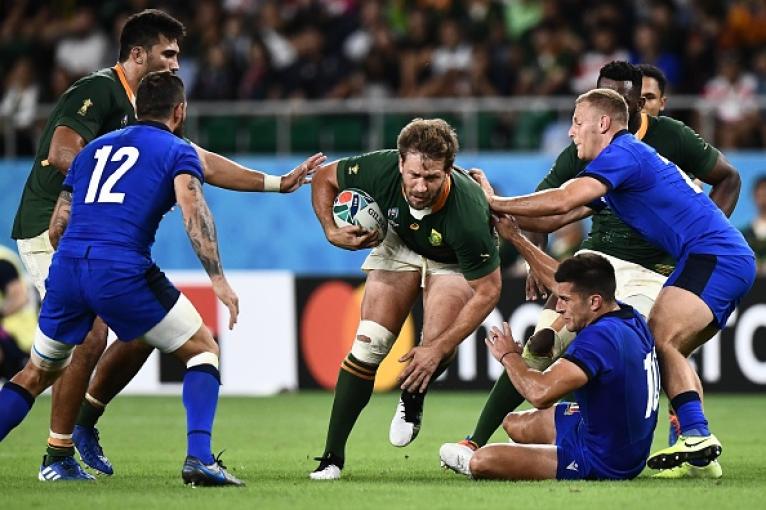 "The vibe in the team room was, we are definitely going to win this thing no matter what because it was knockout rugby. We just had to win the next game, win the next game and I think it helped us in a way. We couldn't get side-tracked looking too far ahead."
Although Steyn hadn't been selected to play New Zealand, his inclusion in the World Cup squad enabled Erasmus and his staff to enact a change pivotal to their victorious campaign. His ability to cover every position in the backline bar scrum-half meant with Steyn as a replacement, the Springboks could name an extra forward on the bench at the expense of a back.
"He was the key to the six-two," Proudfoot says. "Having Frans who could play 10, 12, 15 without having to worry about it, that gave the selectors the freedom to then pick where we were strong, and we were strong in the tight five. We had a massive tight five."
According to Proudfoot, the Springbok coaches knew they had the ability to switch to a six-two split at the start of the 2019 Rugby Championship but needed to let combinations bed in before they could unleash it. The form of RG Snyman, Franco Mostert and Louw meant the idea became harder to ignore.
"That's where you could see the six-two coming from, you could change the whole tight five," Proudfoot adds. "Mostert could probably go to seven if we needed him and then you had Flo (Louw) who could go to six and eight. So, we just had such big guns in the team at that moment."
Italy were the unfortunate guinea pigs who had to endure the Springbok experiment and the Azzurri's cause was not helped by the fact they lost both their tight-head props to injury in the opening quarter. South Africa ran out comfortable 49-3 winners but despite virtually clinching their quarter-final place, the Springbok celebrations would not last long.
In the immediate aftermath of victory, the Shizuoka Stadium Ecopa spider cam caught Makazole Mapimpi walking towards a group of white team-mates, who appeared to close into a huddle in response. Steyn then waved the black winger away, as he did to starting second-row Lood de Jager seconds later.
The six players – Steyn, Louw, Mostert, Snyman, Koch and Steven Kitshoff – had all started the game on the bench and were part of a group that was quickly forging an identity as the 'Bomb Squad'. They wanted to celebrate the role they had played in the win together, but the clip quickly went viral as did accusations that the snub was racially motivated.
So now I'm a racist and people were saying on Instagram, 'where's his wife?' 'Where's his kids?" and all that stuff.
Several players involved, including Steyn and Mapimpi, after he had posted a clarification on social media, received death threats. "From a South African point of view, you must understand, so now I'm a racist and people were saying on Instagram, 'where's his wife?' 'Where's his kids?" and all that stuff.
"But I locked myself in my room and Mapimpi and everyone, they knew me by now, and it was definitely not a racist thing, I chased Lood away because he wanted to intrude in our Bomb Squad photo. It was a tough time."
Brits admits getting emotional when he was shown messages being sent to Mapimpi and Steyn. "It was a big issue, and we got a lot of social media abuse as players from South Africa, from abroad, from everywhere," he says.
"Two people that showed me some of their feeds were Frans Steyn, and I knew from my perspective there was no malice intended, and then I saw Mapimps putting something on Facebook where he explained that it's got nothing to do with any racial thing, it's a team and please let's be united.
"He got slaughtered as well, being told he is a preacher for the old (Apartheid) regime and he's under Rassie's control, which is not the case. Oh, my goodness.
"So, as a team we got together and said, listen, people in South Africa, from our past, do not want us to unite, they do not want us to succeed. Let the way we play be an indication that we can work together, and we can succeed, and we can be stronger together."
With four weeks of the tournament left to play, the incident could have derailed the Springboks' challenge. However, the squad had been together for the best part of 18 months by that stage and had displayed its unity in negotiations with SA Rugby over match fee payments before the players even stepped foot in Japan.
If anything, it galvanised the group and brought the squad closer together, determined to prove it could be a force for good. The win against Italy must have seemed irrelevant in the wake of what followed but coupled with a closing win against Canada it confirmed the team's place in the quarter-finals.
Japan awaited in the last eight and the squad used a sense of injustice to drive them to victory. The Brave Blossoms had been the darlings of the tournament, beating Ireland and Scotland to top pool A but according to those in the South Africa camp they became slightly less hospitable hosts in the lead-up to their encounter at Tokyo Stadium.
Suddenly, training pitches were further away, and it became harder for players and staff to book rooms for family and friends. "There was stuff they did on that side that I think put fuel on our side," recalls Steyn, who otherwise only has fond memories of his time in Japan.
If it was a deliberate ploy to unsettle the South Africans, then it backfired as the Springboks broke clear in the second half to win 26-3 and set up a semi-final against Wales. Mapimpi scored two of his side's three tries.
South Africa had not beaten Wales in four attempts since the last World Cup in England, struggling against Warren Gatland's defensive game plan.
Erasmus' plan to buck that trend was simple: out-Wales Wales. The Springbok coaches prepared their players to kick, kick and kick some more. "They were so good defensively, they would strangle the living hell out of you," Proudfoot explains.
They were just writing about how good England were and how England were going to crush us and all of that.
"They were just damn good, and the Welsh are tough. They really are tough. They just stick in the fight, stick in the fight, stick in the fight and you've really got to take them deep."
So it proved in Yokohama as the Springboks edged a tense semi-final 19-16. "We do believe Wales are one of the teams in world rugby who can match us physically," Louw suggests. "It was almost both sides waiting to see which side would break first."
The decisive moment came in the final five minutes as Pollard stroked over a penalty won by Louw. "Flo was incredible," Proudfoot says. "He came on and made big, big moments. I mean, the Wales win was probably down to him, probably down to a scrum and one big moment in the breakdown from him."
South Africa were one step closer, but as the final approached much of the talk focused on their opponents. England had booked their place in the showpiece with a stunning 19-7 defeat of the All Blacks which sent shockwaves across the globe and marked them as favourites.
"It was probably a perfect performance," Proudfoot admits. "I don't think there's been a rugby game quite at that intensity level that semi-final was played at, since then. So, we were worried.
"We were worried at the speed that they played at. We were worried by just how in tune they were defensively. We were very worried, and we knew we had to literally batter them down."
The coaches might have been concerned, but the media's focus on Eddie Jones' side only poured "fuel on the fire" as far as the players were concerned. "It worked out in our favour because no one was writing about us in the final week," Steyn says.
"They were just writing about how good England were and how England were going to crush us and all of that."
By the time Steyn replaced Le Roux for the last 12 minutes at Yokohama International Stadium, to make his second Rugby World Cup final appearance, Mapimpi had scored the all-important opening try. Cheslin Kolbe would add a second soon afterwards to add gloss to South Africa's 32-12 victory.
Then came the moment Louw glanced skywards and caught sight of the engraver at work. The celebrations that followed would last for more than a week and took the squad from Yokohama to Tokyo and on to South Africa – in five different groups via multiple connections – where a five-day trophy tour would wind through cities and townships full of jubilant, smiling faces and dancing bodies.
"To arrive in South Africa," Brits says, "and see thousands and thousands and thousands of people at the airport. You couldn't move, it was crazy, my vocabulary doesn't do this justice but the enormity of this whole situation I only realised when we arrived in South Africa.
"Going from township to city to different places all over the country, driving in a topless bus and seeing absolute joy. People forgot for maybe just one week or one day about the problems that we have, celebrating with each other.
"I'm getting goosebumps, that was pretty much one of the best moments I'll remember in my rugby career. Not the playing, but those times celebrating with team-mates, celebrating with random people you meet and seeing the joy on people's faces about a team that succeeded against the odds."