Back
By Ben Wylie
Room to move
"We've got to have space to play."
Those were the words of referee Ben O'Keefe to Chiefs captain Brad Weber after Mitchell Brown was penalised (again) for advancing in front of the kicker in the second half of their Round 7 win at Forsyth Barr Stadium.
The preservation of space to attack has clearly been high on the agenda for match officials in Super Rugby Aotearoa so far this season — both during kick exchanges and in phase play.
Along with the newly introduced law innovations, New Zealand Rugby's National Referee Manager Bryce Lawrence insisted in preseason that a more consistent application of the offside law would be one of the key areas of focus for his team of referees this year.
And, according to Lawrence, this focus has been driven by the participating franchises themselves.
"What I'm hearing from teams is that they would like us to be consistently strong for the whole 80 minutes for the whole competition," he told allblacks.com in February. "Most people are saying there is not enough space in the game. Space is the main thing coaches give us feedback on."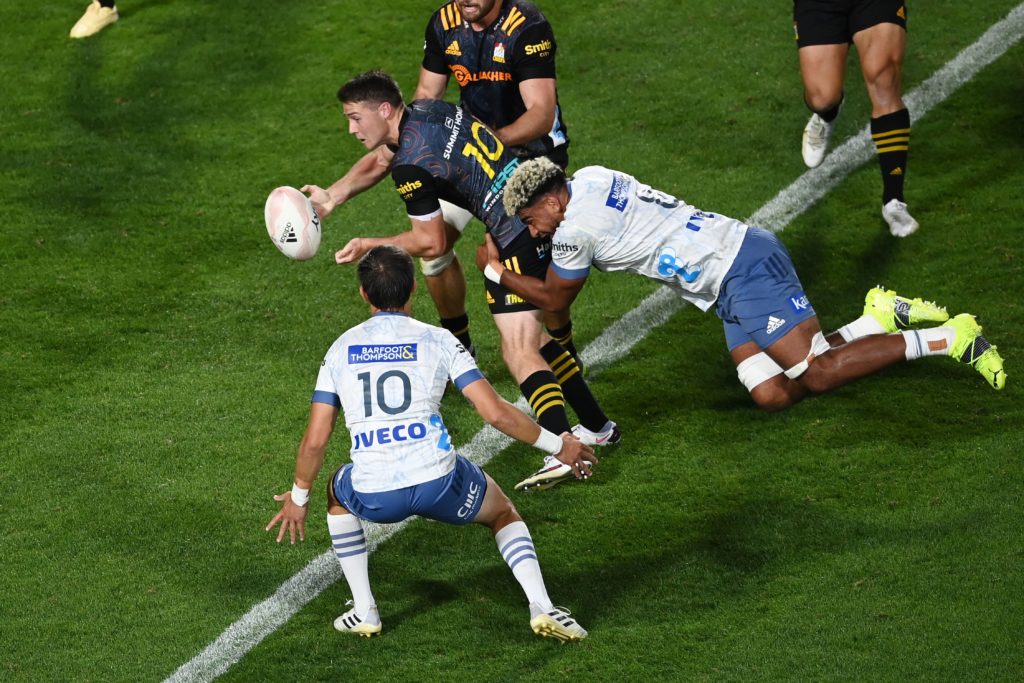 We are now 14 games into the 2021 edition of the country's flagship men's tournament, and attacking teams this year do appear to have considerably more breathing room.
Despite the rate of clean breaks — carries which usually result in large gains — having fallen since last year and the rate of defenders beaten remaining constant, the average number of metres gained per carry in Super Rugby Aotearoa has jumped from 3.5m in 2020 to 4.1m in 2021.
Notably, this is contrary to the direction in which Super Rugby in New Zealand has been trending in the past: between 2015 and 2020, the average number of metres gained per carry by the five Kiwi sides fell from 4.3m to 3.6m.
Of course, there are a number of factors other than referees being more stringent on offside rulings that might underpin this change.
With Super Rugby Aotearoa being played in warmer months this year compared to last, for instance, you might suggest that weather conditions that are more favourable for running rugby are driving the increase.
However, metres per carry is a metric that doesn't appear to vary all that much with the time of year in New Zealand — and there's certainly no clear trend to suggest that Super Rugby teams have historically made better gains earlier in the calendar year.

It's also important to be wary of possible changes to the process of collecting the on-field data that is made available to the public, as match coding practices could be altered subtly without consumers being made aware.
However, this doesn't seem to be driving the change either. According to ESPN, the average gain per carry in Super Rugby AU has fallen from 3.6m in 2020 to 3.4m in 2021 — meaning that it's unlikely that their data provider has fundamentally changed how they account for carries in a way that inflates the number of metres made.
Were the increase in the space available to attacking sides to be a result of more consistent application of the offside law, there are a number of things we might expect to see. Firstly, the increase should be evenly distributed across all of the teams in the competition — rather than being skewed by one particularly porous defensive side.
As we can see from the chart below, this is clearly the case: all five Kiwi franchises are conceding between 1.1 and 1.2 times more metres per carry in 2021 than in 2020.

We would also expect the increase to be fairly evenly distributed by position, as the benefits of a deeper defensive line should be apparent to all attackers — wherever on the pitch they make their carries.
The chart below shows that this is the case too. So far in Super Rugby Aotearoa 2021, every position on the field is averaging more metres per carry than last year.

On the basis of this data, it seems reasonable enough to suggest that better policing of the offside line has in fact afforded attacking teams more room this season.
And, with that extra space, teams have been able to put the ball through more sets of hands when they have possession.
While the 2020 edition of the competition saw 125 passes completed for every 100 carries made, that figure has risen to 137 in 2021. Again, this is not a case of one anomalous team skewing the figures: each of the five sides has seen the number of passes per carry made by their opponents increase by approximately 10 per cent.
In particular, forwards — who typically do their on-ball work closer to the defensive line — have benefited from additional time on the ball by taking on a greater playmaking load. They have made 21 per cent of all completed passes this year (up from 18 per cent in 2020) and are passing once every 1.9 carries, compared to a rate of once every 2.2 last year.
Despite the rate of clean breaks — carries which usually result in large gains — having fallen since last year and the rate of defenders beaten remaining constant, the average number of metres gained per carry in Super Rugby Aotearoa has jumped from 3.5m in 2020 to 4.1m in 2021.
As in 2020, the Blues are the team whose forwards pass the least: Tom Coventry's pack did so once every 2.6 carries last year, and once every 2.2 in 2021. However, even just a small increase in the rate at which they pass has seen them improve the fluency of their phase play considerably — and exploit the extra space that now seems to be there for the taking.
When they have the ball, the Auckland franchise tends to align in quite a structured 1-3-2-1-1 set-up. Their front five generally fill those pods of three and two in the middle of the field, while their back-row forwards hold width on the edge.
With slightly more room to operate in this shape and a tendency to look for the pass more frequently, they have been able to improve their attacking returns right across the pitch. Their front-five forwards have made 2.2 metres per carry so far in 2021 after averaging 1.6m in Super Rugby Aotearoa 2020, and their back-rowers are making 4.4m on each carry after averaging 2.7m last year.
The build-up to their fourth try against the Crusaders in Round 4 exemplified the way that their structure benefits from more time and space. From a ruck in the left-hand 15m channel, the Crusaders' defensive line is noticeably set back a couple of paces from the offside line when scrum-half Finlay Christie lifts the ball to pass.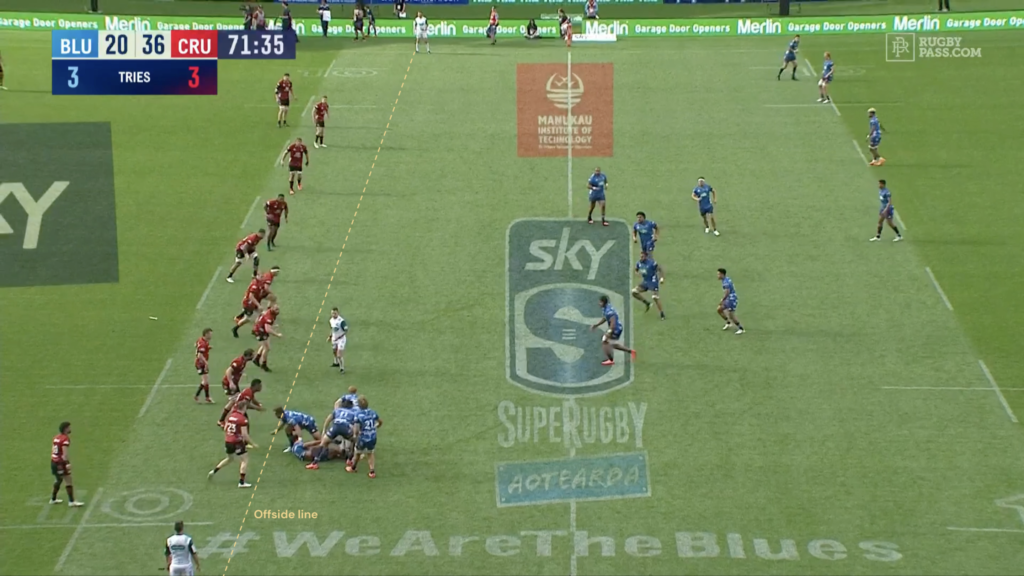 With this additional distance to cover to reach the first receiver, the defence are unable to shut down Gerard Cowley-Tuioti — the first player in the Blues' pod of three — before he turns and plays a pass to Stephen Perofeta.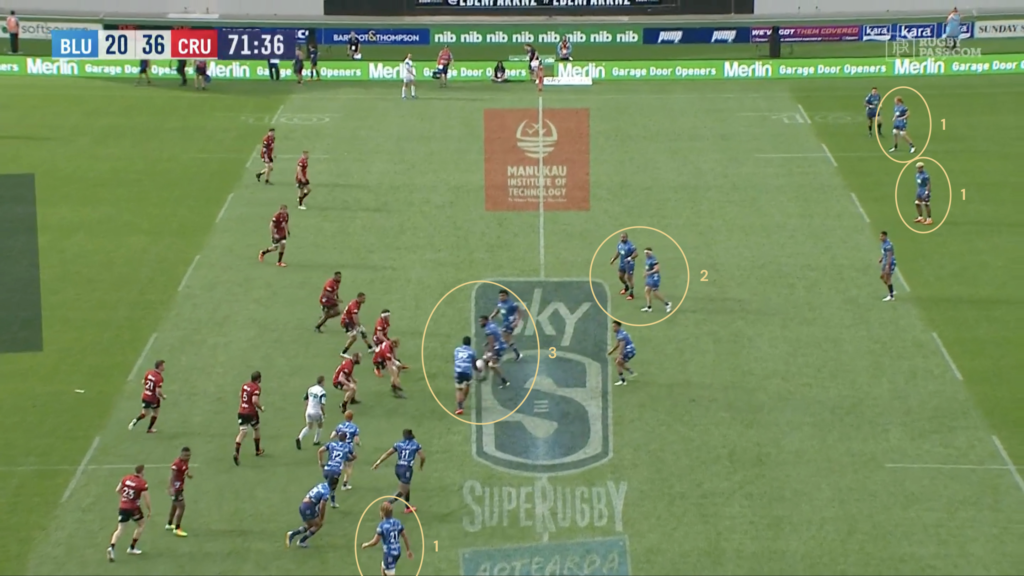 After receiving the ball from Perofeta, the first player in the pod of two — replacement hooker Kurt Eklund — exchanges a tip pass with the second, Karl Tu'inukuafe, who can trundle across the gain line and take contact.
At the consequent ruck, the Crusaders again set their line a clear distance from the back foot — sacrificing space to the attack in return for a lower risk of being penalised for offside.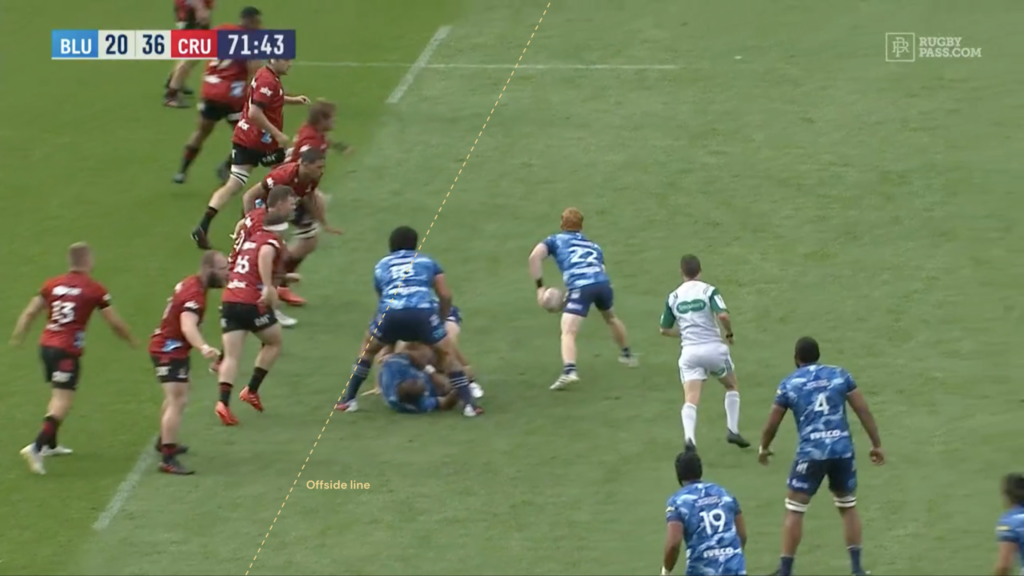 But the Blues capitalise on this extra space. Their two wide forwards combine well with outside backs Rieko Ioane and Bryce Heem to create a break up the right for Tom Robinson and, after an offload out of contact, a try for Hoskins Sotutu.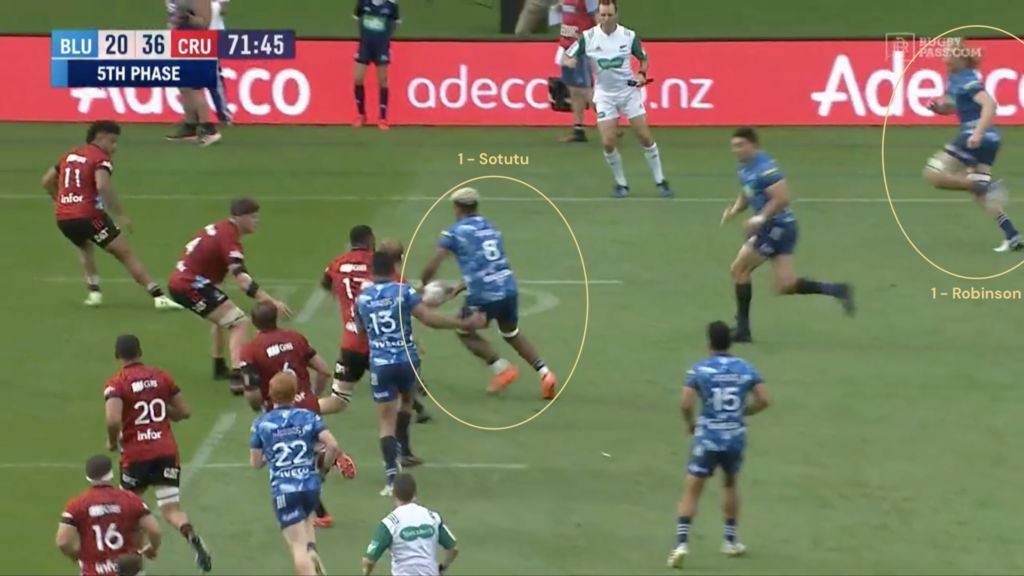 It's a sequence that is ultimately finished by excellent interplay between two mobile, skilful back-row forwards, but one that is only possible because of the Crusaders' defensive decision-making.
That decision-making, in turn, has been shaped by their awareness of the fact that referees are penalising teams that aren't clearly onside at the ruck more harshly. The match officials have been far from perfect in Super Rugby Aotearoa 2021, but — on the basis of this evidence — their policing of the offside line looks to have had a real impact on the amount of success teams can have when they try and run the ball.
More analysis