RFU tackle-law debacle highlights rugby's existential crisis
The domestic duties are done and dusted and rugby's thoughts are turning to the Six Nations, with more sub-plots than a Le Carre thriller. Wales is in turmoil, the Irish are wondering how to keep expectations in check, while England are probably revelling in their slight underdog status. With the Scots hopeful of a Calcutta Cup raid on Twickenham, the tension is starting to rise.
Here's what RugbyPass+ has spotted from a weekend of intrigue and drama…
RFU find the outrage line amidst fan backlash
Balance. It's a word that is so easy to say yet so difficult to achieve. Try asking rugby's rule makers. When the RFU announced the reduction of the tackle height in the amateur game to the waist a week ago, they couldn't have anticipated the anger and dismay that they would unleash in their sizeable fanbase. Within days, a petition of over 75,000 was mobilised to put forward their robust disapproval of the new changes, taken without their consent.
With concussion crisis growing ever more high-profile, professional rugby has long known it has to act to make the game safer, and a series of protocols has been implemented to firstly treat concussion but then how to prevent instances of brain injury. This seismic change to improve safety, however, showed there was a line to how much rugby fans want their game tampered. The RFU found the waistline was clearly unpalatable to most.
Countless high-profile players and ex-players came out denouncing the new laws, set to come into force in September, with Johnny Sexton among the most vocal. The Ireland captain said point blank he didn't think it was going to work. "I don't agree with it. I just think you've got tall people that play the game and it should be their decision as to how they tackle. We need to get the head shots out of the game, but the tackles we really need to take out of the game are the reckless, out of control, sprinting out of the line."
Critics argued that concussive episodes regularly occurred in the 'amber' area of the hip, knees and shins, and countered that the rule change  wasn't a panacea to reducing head injuries. After a vote of no confidence signed by over 200 RFU clubs, within days, there was a volte-face came from the RFU, who issued a contrite mea culpa for the 'anger', 'concern' and 'upset' unleashed within the amateur game. Instead a series of forums and workshops with the key protagonists within the game would be arranged to better understand what the optimum height for a tackler to stop a ball-carrier. They've accepted they must be guided by that feedback.
The erudite data scientist Ross Tucker, led the way from World Rugby, who back the changes. On BT Sport, he explained how the data-driven recommendations had been made, explaining there wasn't an anatomical term between the sternum to the hip that could be adequately used, and that the overarching objective was to prevent head on head collisions in the red zone. Master of the understatement, he said that recent days had been a 'steep learning curve to get better safety' in games.
What this furore tells us is that there is no simple answer. No silver bullet into making a game one without risk. Indeed, there is a large percentage of current and past practitioners who do not want their game changed beyond all recognition, despite the risks. Finding that balance will be key to rugby's future.
WRU upheaval leaves the game in Wales fighting to restore its reputation
You find out a lot about your friends are when you're facing a high-profile crisis. Steve Phillips found out in six bruising days that his allies were non-existent as the regions, semi-professional clubs, community clubs, sponsors, administrators and the body representing the game's professional players called out their disgust at the claims of racism, sexism and misogyny that went unchecked on his watch the WRU. It was utterly damning, leaving the 58-year-old with nowhere to go, despite doubling-down that he was the man to take the custodians of the game in Wales forward days previously.
Phillips who was already under pressure, thought he had staved off criticism by headhunting Warren Gatland in December, but it was only a temporary reprieve. By Saturday evening, his position was untenable and he tendered his resignation, leaving Nigel Walker, the former Wales wing and Chief Executive at Sport England as acting CEO. Ieuan Evans, the embattled chairman, who has only been in post 63 days, will appear before the Senedd to answer questions about the organisation and he has announced an external taskforce will be set-up to investigate the 'toxic' culture at the union.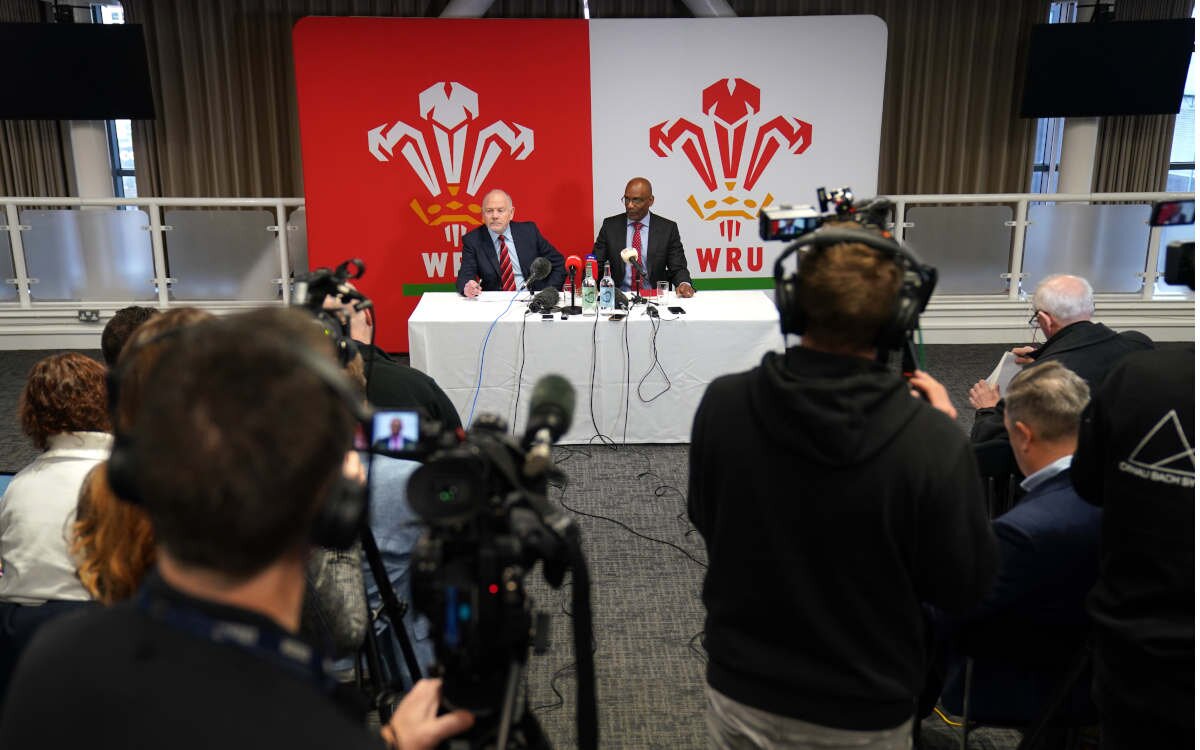 For their part, the regions, it was clear, had been waiting for their moment. Phillips was a willing architect of the strategy to prioritise 'Team Wales' to the financial detriment of the Ospreys, Scarlets, Blues and Dragons, implemented by divisive former CEO Roger Lewis. This policy has bolstered the WRU coffers, and in 2022, it posted an annual revenue of £94.3m, bouncing back from the ruinous pandemic period, yet it didn't share enough money with the regions which produced the player to the national team, saddling them with a widely unpopular £20m debt that had to be repaid.
This impasse between parties that clearly loathed one another has seen players signing contracts out of Wales and with a written agreement still to be signed, nearly two months after a verbal agreement was announced. The regions are on a precipice and facing an uncertain future. While the players gamely play on, they cannot plan for the future and this sorry saga has had has consequences, yet not the one's Phillips expect.
Whether this affects morale in camp is unknown, but the world's number one ranked side travel to Cardiff in five days, so minds will have to be focused, to block out what Walker called Wales' existential crisis.
Are Ireland undercooked heading into the Six Nations?
The world's number one side picked a familiar looking squad for this week's Six Nations opener, all the big names there: Sexton, Furlong, Aki, Murray, Earls, Lowe.
Five of those are British and Irish Lions; two are international centurions while all six played significant parts in Ireland's successful summer tour of New Zealand.
So all seems normal. But it's not. Since the November Series, injury has restricted Furlong to just 36 minutes of competitive rugby. Sexton has fared little better, playing just 84 minutes since November, having featured in just one Ireland's three games that month.
Then there is Earls. He is no longer a regular with Munster, getting 223 minutes of an injury-hit season. Like Earls, Lowe didn't play a minute for Ireland in November – Aki getting just 27 minutes that month. Between them Lowe and Aki have made just 10 appearances in 2022/23.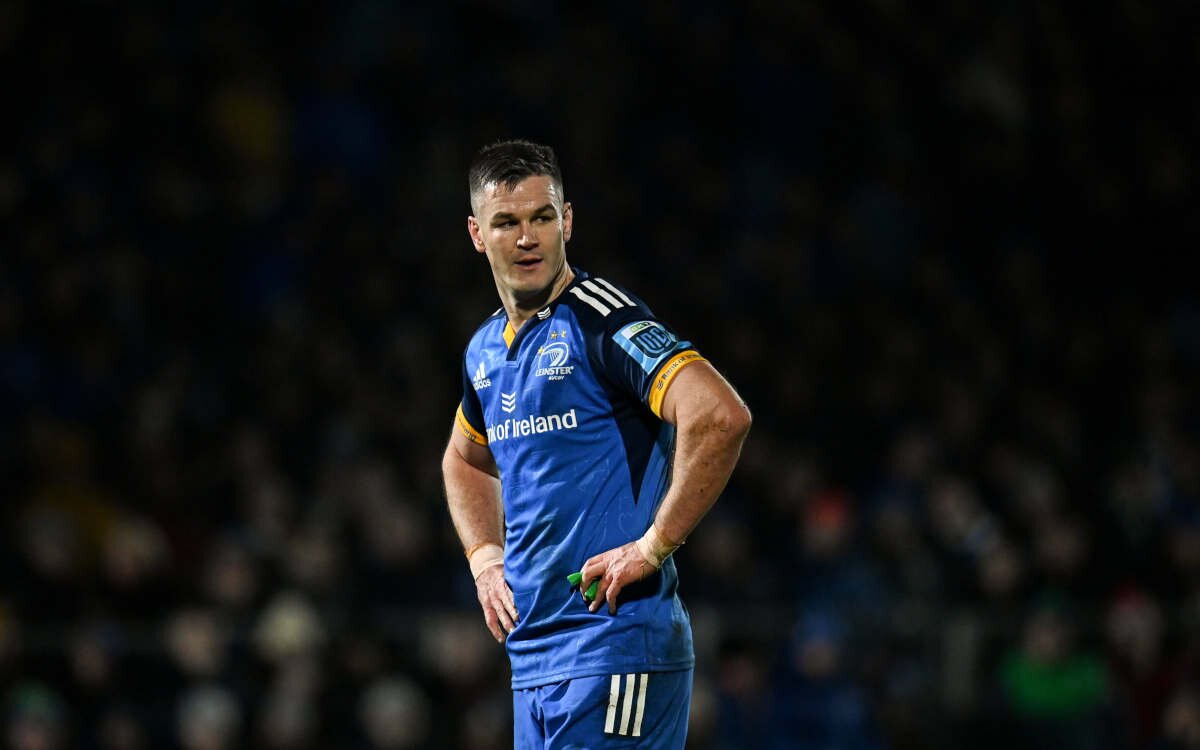 Murray is no longer first choice with Munster, let alone Ireland, yet there they are, all six selected and while there is an understandable reason to Andy Farrell's thinking, there has to come a time when you don't just pick a player on what he did in the past.
Coaches, even the best ones, have blind spots. The memory of what a player did for them in the past can blur their vision of what he is capable of producing in the future. Is 37-year-old Sexton finished? Is Furlong undercooked? Can Earls, Murray and Aki continue to impress? Is Lowe match sharp?
The truth is we just don't know. But it won't take long to find out.
Glasgow's Cancell culture
Any professional club that ever amounted to anything, any of the great teams we have seen claim championships and trophies and plaudits, have underpinned their strong home-grown core with foreign stardust.
In Scotland, with only two pro-teams, this balance is doubly important. The guts of a squad must be Scottish, or at least Scottish-qualified. The accepted figure is around 80%. To this, coaches must add a sprinkling of overseas talent. Men with nous and skill and leadership honed in other rugby cultures, adding points of difference on and off the pitch.
At Glasgow, Sebastian Cancelliere emphatically falls into that bracket. The Argentine had an encouraging first season in a struggling Warriors side, but now settled in his new home, has been one of the URC's most effective and most deadly performers. Every time he touched the ball during Glasgow's perfunctory dispatching of Dragons, Cancelliere looked capable of making something happen. Pulses quicken when he gains possession and starts to probe. In recent weeks, he has struck with the speed and venom of a cobra.
A predatory 80m intercept try took wing's tally to eight in his past nine matches. He has beaten more defenders than anybody else in the URC, sits third in the competition for line-breaks and third again for running metres. Those stats will look even glossier once the weekend's numbers have been crunched in full.
Glasgow have always relied on this edge from abroad. Their 2015 champions were laced with the brilliance of Niko Matawalu and Leone Nakarawa, the ruthlessness of DTH van der Merwe and the grunt of Josh Strauss, who soon became eligible for Scotland. All of the best Glasgow teams, under Sean Lineen, then Gregor Townsend, then Dave Rennie, have recruited well and supplemented their Scottish internationals with this kind of quality.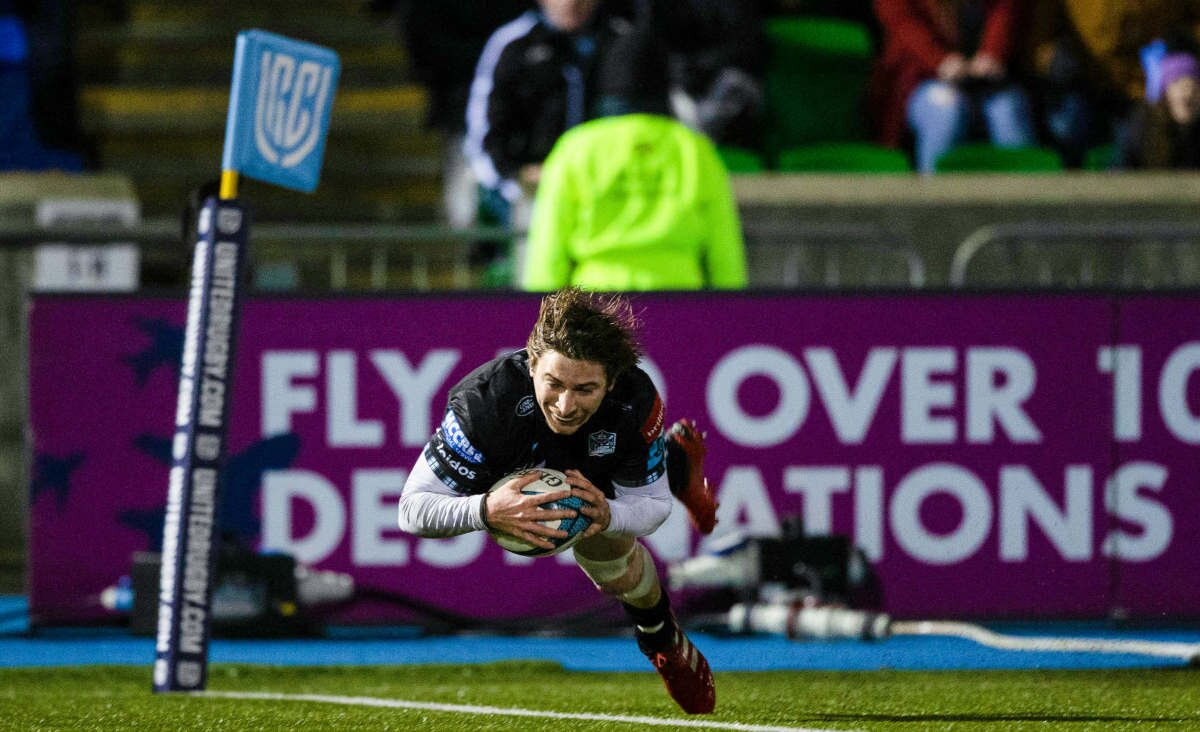 Though Franco Smith has signed virtually none of the current crop, he deserves huge credit for getting such a tune from it where Danny Wilson toiled. The Newport triumph stretches Glasgow's unbeaten run to nine, the only minor blip last weekend's Challenge Cup draw with Bath. They have won five away games on the spin which, according to statistician Kevin Millar, is a club record in the professional era. They are playing marvellous rugby again, scoring stunners and filleting teams. They have reinvigorated a fan base worried at where their team was heading and, in some cases, apathetic towards the decline. They host the Dragons in the Challenge Cup last 16 come April and will be overwhelming favourites.
Before that, the Six Nations brings hard-earned rest for a squad Smith has worked and worked again. Glasgow were blitzed in pre-season to haul their fitness levels up, so they can play this high-tempo fare. Sione Vailanu, the Tongan juggernaut, has shed a ridiculous 15KG since rocking up from Worcester in the summer. Vailanu is still enormous and still a powerhouse, but where before he may have been good for 50 minutes and a few eye-catching carries, he is playing 80 every weekend and making telling contributions to the last.
Next up, Ulster rumble across the water to Scotstoun. Then Glasgow head for Johannesburg and the rearranged clash with the Lions. Both will be seriously testing, for different reasons. With the white-hot Cancelliere firing, a mouth-watering month beckons.
Referees in the firing line
When weighing in on the debate over referees and how we interact with them, it is instructive to listen to officials themselves. Hearing one elite whistler lament excessive high-profile criticism, and how it can embolden angry fans to go further, was stark.
We can talk about Andrew Brace and the bile posted beneath eulogy of his late father. Rassie Erasmus's tweets and the ensuing online threats towards Wayne Barnes and his family. Erasmus has previous for stepping over the line. Top female officials are still subject to misogynist nonsense. Now we have Australian broadcaster Stan Sport filming an item with Nic White and Ned Hanigan, firing tennis balls at a picture of Mathieu Raynal. The Frenchman penalised Bernard Foley for taking too long over a Bledisloe Cup penalty, leading to a last-gasp All Blacks win.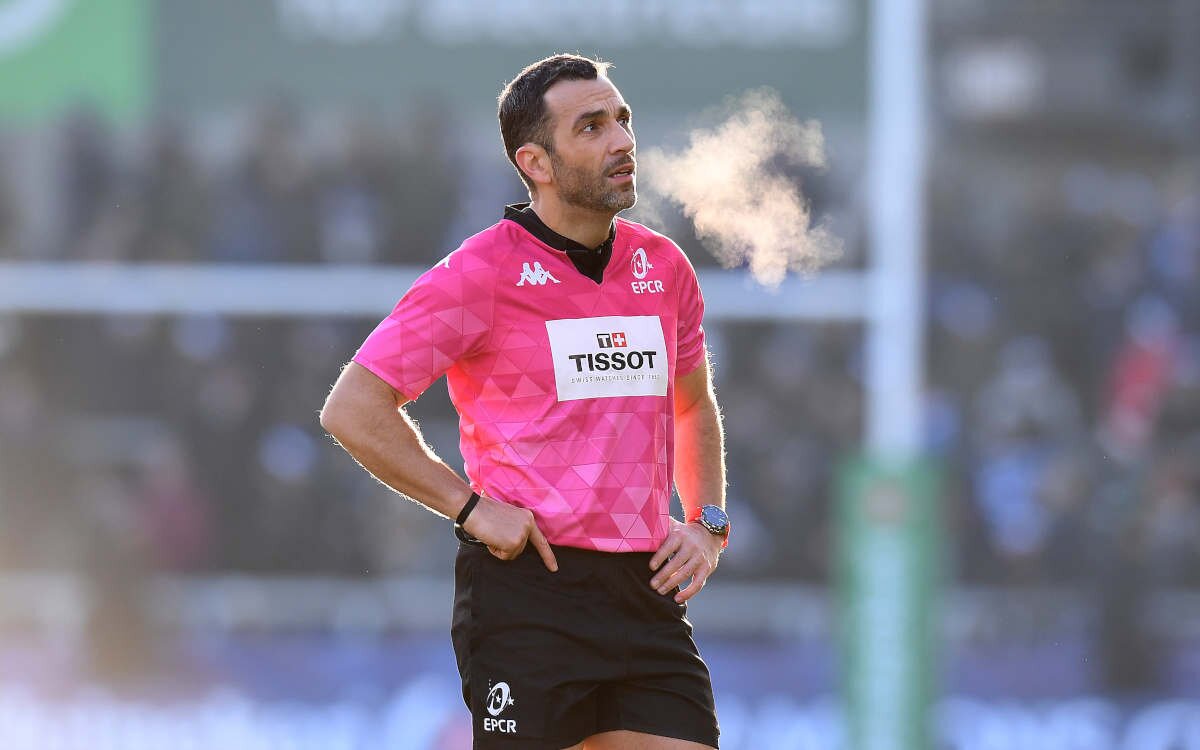 Okay, so a couple of players swatting tennis balls at Raynal's mug is hardly a capital crime. You could argue it's innocent fun. When did we start getting so offended? The clip has since been taken down.
The problem isn't an ill-judged media skit, it's the shift in culture. A certain type of fans sees Erasmus' tweets or prominent Wallabies in a TV and has their fumes of outrage fanned.
Rugby needs to be careful here. It cannot on one hand trumpet its precious sporting values while on the other, allowing abuse of match officials to seep into the game.
There's a lot to like about this new Munster
A sunny January in Treviso is not really the place to make brash judgement calls about a new team and a new look.
Still, there was something deeply impressive about the way Munster went about their business against Benetton.
Having previously been over reliant on an exceptional maul and an efficient pick-and-go game, they've restyled their game plan this year under attack coach Mike Prendergast, overseen by Graham Rowntree. In the process they've been the recipients of the most generous amount of praise any midtable rugby team has ever been handed.
Even when results were bad – and five defeats out of their opening seven was awful – the narrative stayed the same, that training was sharp, that players were adjusting to their new system, that results would come.
Well, they have arrived. After that poor start, there have been eight wins from their last 11, the latest coming on Saturday.
But it wasn't the fact they won, it was how they did it, just one of their six tries coming from that pick-and-go playbook, which Irish rugby patented during the Joe Schmidt era. The rest involved attacks from deep, starting inside their own half for the first, scored by Paddy Patterson, involving eight swift, sharp passes for their third, scored by John Hodnett, numbers five and six also coming out wide.
What we saw was a glimpse to the future. In Hodnett, their resourceful openside, they have a successor in waiting for Josh van der Flier's Ireland shirt. The pair even possess his and his' matching red scrum caps. Scrum-half Patterson has been a real find while tighthead Roman Salanoa, the Hawaiian who ended up in Irish rugby on the back of a TV producer's thesis, is beginning to look the real deal.
Before we can categorically say the same about Munster, they need to produce a bigger result than an away win over a weakened Benetton. They have to do it in knockout rugby, either in the under appreciated URC or the Champions Cup. Then we can say they've arrived. Right now we're enjoying the journey.