Back

By Gavin Mortimer
Portugal are a work in progress that must be supported
There were 32,000 lucky people in Toulouse last Saturday to witness probably the most dramatic pool game yet of this Rugby World Cup.
Portugal fought back from 13-0 down to draw the match 18-apiece with Georgia, though they could have won had Sousa Guedes kicked a last gasp penalty. It was a hell of a contest and for most of the Portuguese one played in front a crowd they've only ever dreamed about.
Seventeen of their World Cup squad are signed to French clubs but only two – Perpignan hooker Mike Tadjer and Oyonnax centre Pedro Bettencourt – play in the Top 14. The rest belong to a variety of clubs, from Beziers and Grenoble in the ProD2 to Bassin D'Arcachon in Nationale 2, the fourth tier of French rugby.
The French connections runs deeper than clubs. Portugal's two coaches are both Frenchmen; the head honcho is Patrice Lagisquet, aka The Bayonne Express, the slim and elegant wing who scored 20 tries for France in 46 Tests in the 1980s, including four in five matches in the inaugural World Cup in 1987.
His forwards' coach is David Gérard, neither slim nor elegant in his heyday, but a heftily effective lock who won two Heineken Cup titles with Toulouse in 2003 and 2005.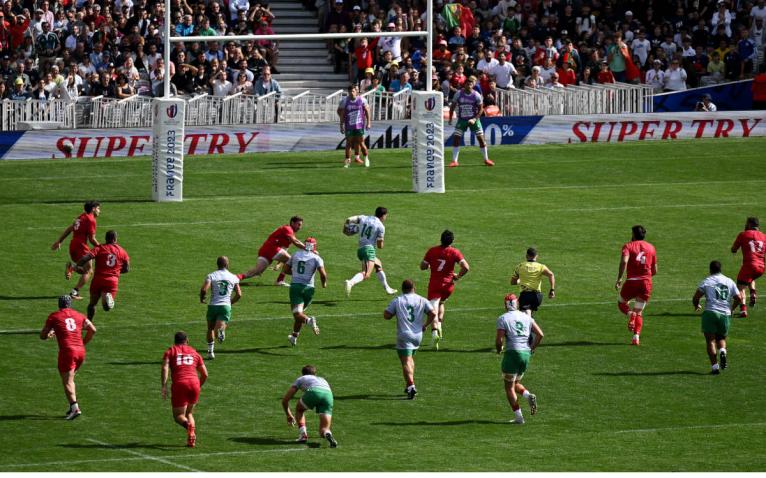 "I forgive the bad choices because they defended really well in the second half," Lagisquet said of the draw. "We are a young team and there's so much to learn. We are growing every game and we need experience."
They'll get more experience in their remaining pool matches: the still-smarting Australians on Sunday and then Fiji in Sunday week in Pool C's last group game. They'll likely lose both matches – though with the Wallabies at rock bottom, who knows? – but nonetheless RWC 2023 already represents a significant step forward for Portuguese rugby, the 20th and last nation to qualify for the tournament.
They were outstanding against Wales, losing 28-8 but picking up plaudits for their adventurous rugby. The draw against Georgia was their first result in six RWC matches. In their one previous appearance in the tournament, in 2007, Portugal lost all four pool matches, including a 56-10 defeat to Scotland and a 108-13 shellacking by the All Blacks.
"There was a generation of very talented players, and we knew there was potential."

Patrice Lagisquet, Portugal head coach
What's particularly pleased Lagisquet and Gérard this tournament is that the squad have stayed true to their style. In a pre-World Cup interview with the Guardian newspaper, captain and centre Tomás Appleton (he owes his surname to a great grandfather from Manchester) explained: "With our DNA we're not physically the strongest players in the world. But we're really fast and people can expect a high-tempo game from us. We love to play quick, fast rugby."
They did that against Wales but were strangely subdued in the first half of the Georgia clash. So Gérard gave the boys the hair-dryer tournament at half-time. "We were dominant in the first half but we were too slow in defence and attack," he said. "I told them to play without fear in the second half."
Lagisquet was appointed coach of Portugal – the 'Wolves' as they're nicknamed – in the summer of 2019. Germany had eliminated Portugal in the qualification process for that year's World Cup and the Frenchman was brought in to replace Martin Aguiar. "There was a generation of very talented players, and we knew there was potential," said Lagisquet.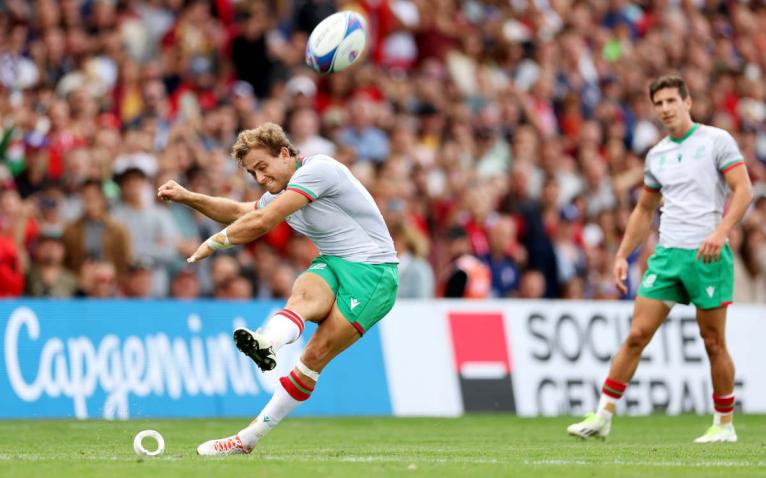 He calls this the '2007 generation', epitomised by José Madeira, the 6ft 5in and 17st Grenoble lock, who became hooked on rugby after watching Portugal in the 2007 World Cup.
But Lagisquet needed an old head as his skipper, so he appointed Appleton, now 30, who had enjoyed a spell with Darlington Mowden Park in England's National League One several years ago when he was studying dentistry in the UK.
Appleton is an erudite and insightful man, particularly on the question of Portuguese rugby, explaining that the country "made a mistake" in 2007 by failing to capitalise on the interest generated by the World Cup.
"The difference in size [against Samoa] was enormous. But we must adapt and find ways to beat teams who are physically bigger than us."

David Gérard, Portugal forwards coach
Lagisquet agrees, though he offers mitigation. "Back then the clubs were not equipped to receive a big intake of youngsters in rugby academies," he says. "This year it is a discussion that all the actors have already had: the clubs and the Federation. They intend to take good care of the kids and expand the base to allow them to have competitive teams in the future."
Few of the youngsters being drawn to the game this month will grow into men as massive as José Madeira. As Appleton explained, the Portuguese lack the bulk of other nations, a point reinforced when they organised a day's training shortly before the World Cup with the Samoan squad. "The difference in size was enormous,' said Gérard. "But we must adapt and find ways to beat teams who are physically bigger than us."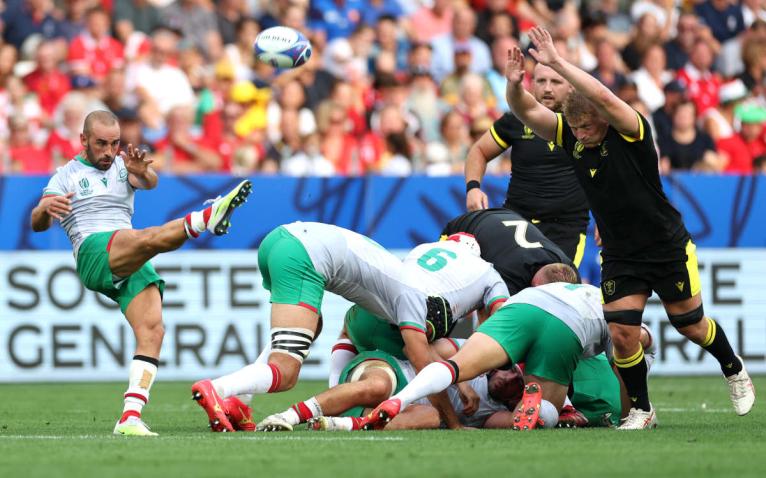 One of those ways is precision." We're banking on our speed of execution, our timing and our strategy," continued Gérard. "We mustn't be afraid to innovate, because we can't do what everyone else is doing."
The day with the Samoans was organised because Lagisquet felt his squad's preparation had been inadequate with only two matches against the USA and Australia A.
That is an indication of perhaps the greatest challenge facing Portugal in their ambition to grow the game: a lack of opportunity to test themselves. "It's really a small rugby country," said Lagisquet. "There are only about 6,000 licensed players for a population of 10 million. Rugby is of interest to a microcosm. A bit like those who followed the sport in Argentina in the 1980s and 1990s.
Portugal is likely to find an abundant resource in France. They've already unearthed one gem: 6ft 5in flanker Nicolas Martins, who grew up in France and played for Colomiers as a youngster.
If Argentina can establish themselves than why can't Portugal? In their favour is France. The Portuguese diaspora in France is approximately 1.5m, a result of extensive migration throughout the second half of the 20th Century.
Just as Scotland have for decades selected 'kilted kiwis', New Zealanders with Scottish heritage, and Australia and New Zealand have leaned heavily on players of Polynesian descent, Portugal is likely to find an abundant resource in France. They've already unearthed one gem: 6ft 5in flanker Nicolas Martins, who grew up in France and played for Colomiers as a youngster before signing for Soyaux Angoulême in the Pro D2.
Lagisquet has strengthened the ties between the two countries, and the creation in 2021 of the Rugby Europe Super Cup has also helped. This tournament features franchises from countries such as Portugal, Georgia, Spain and Romania and its aim is to help develop rugby in the emerging nations. "This has enabled young players born in Portugal to make rapid progress," said Lagisquet. "We've managed to send some of them to Pro D2."
The Frenchman has widened the selection net, "bringing together amateur players who play in Portugal and professional players with dual nationality who play and were born in France."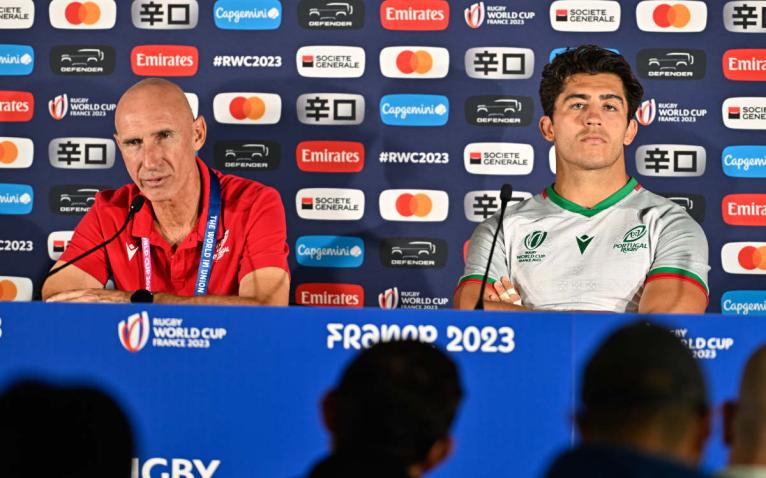 In a recent interview with Le Figaro, Lagisquet admitted that there were a few teething problems. But then Portugal began winning. "The players started celebrating together. That helped build a group with a shared life and shared experiences."
Lagisquet steps down after the World Cup. He came into the tournament promising that Portugal would not be pushovers and so far he's been true to his word. Whoever succeeds him as head coach must push on, building on the progress made in the last month. World Rugby and the home nations must muck in, too, with fixtures and support so that it's not another 16 years until Portugal light up a Rugby World Cup.