Back
By Tom Vinicombe
Perfect prototype
Caleb Clarke is the next big thing in New Zealand rugby.
Having announced himself for the Blues during Super Rugby Aotearoa, the 21-year-old has now strung together three exceptional performances for the All Blacks and is understandably being lauded near and far for his dominant physicality.
The burly left wing beat 18 defenders over 91 minutes of play in the opening two Bledisloe Cup matches played in New Zealand. Ardie Savea, with nine beaten defenders to his name, was a distant second on the rankings – and that's with an extra 69 minutes of game time.
While Clarke was comparatively quieter in Sydney, breaking just two tackles, that was a product of the added focus the bulky wing received from the Australia defence.
In a different timeline, Clarke would not have played for the All Blacks this year. He may not have even played for the Blues. Before COVID-19 hit, Clarke was set to travel to Tokyo with the New Zealand sevens team for the Olympics.
Fate had other plans for Caleb Clarke, however.
With the coronavirus running rampant, large-scale international events became impossible and the Olympics was understandably postponed. In June, the 2020-2021 sevens World Series was also called off for the year, with New Zealand subsequently declared winners.
With no competitions on the horizon, Clarke was set to spend New Zealand's six-week lockdown with his feet up – then Blues coach Leon MacDonald came calling.
When Super Rugby Aotearoa kicked off, Clarke was summoned to play his first game of the fifteen-man code in almost eight months and ushered straight into the No. 11 jersey.
Clarke, son of former All Blacks Eroni, made an instant impact for the Blues. In their opening game of the competition, Clarke burst onto a Rieko Ioane pass on the Hurricanes' 10-metre line and brushed past two tacklers to score a perfectly taken try. The 110 kilogram wing finished the game with five beaten defenders and 105 metres run.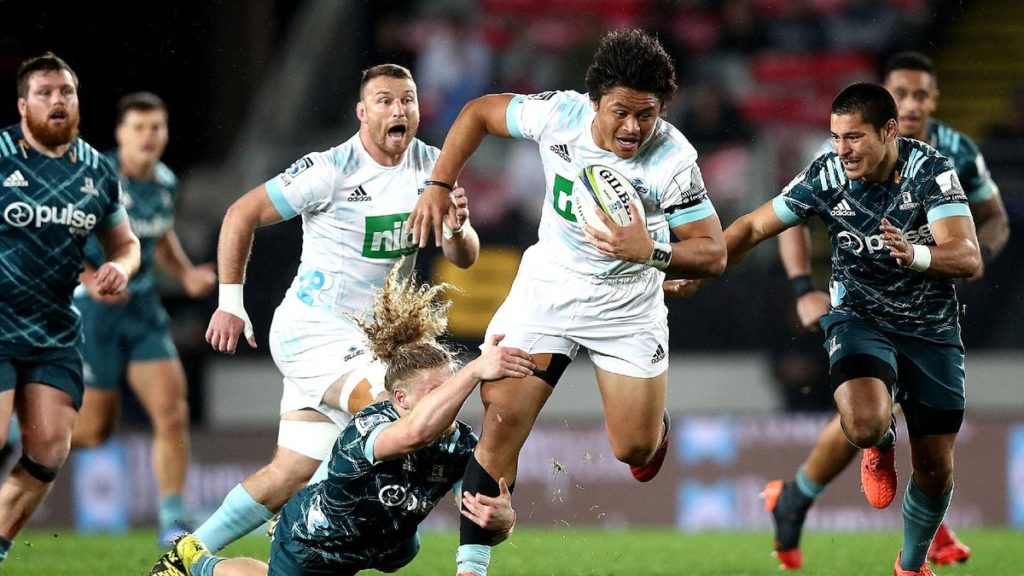 And while there's no denying that Clarke is a power player – deceptively quick with a relatively low centre of gravity – it would be entirely unjust to label the left wing as a one-trick pony.
Comparisons have already been made between Clarke and the likes of Jonah Lomu, Inga Tuigamala and Julian Savea. Clarke absolutely possesses the pace and strength of that trio but there are other areas of his game that are above and beyond what many would expect of a traditional power wing, and it's this diverse skillset that could increase the young All Blacks' longevity in the game.
While Clarke's opening performance of the year for the Blues is most remembered for his running game, it's the other aspects of his play that would have first alerted the national selectors that Clarke could be something special.
Clarke's first touch of the ball saw the 1.88m wing leap above Wes Goosen and James Blackwell to claim a high ball. Despite the attention of the two Hurricanes defenders, the Blues outside back winger was safe as houses.
Later in the match, just as the Hurricanes were starting to mount a fight back, Clarke then forced a breakdown turnover to halt any of his opponent's momentum.
They were two relatively small moments – but moments that highlighted Clarke's wider range of skills. They weren't one-offs, either. Throughout the competition, Clarke was tested time and time again under the high ball – and time and time again, Clarke came through for the Blues.
In the All Blacks' 43-5 win over the Wallabies in Sydney, Clarke's wide skillset again came to the fore. The outside back was bombarded with high kicks from Australia but he remained infallible and again took one swirling kick with his arms high up in the air like an Aussie Rules specialist. Later in the game, he forced a breakdown penalty with a good post-tackle contest.
Throughout the competition, Clarke was tested time and time again under the high ball – and time and time again, Clarke came through for the Blues.
It's these skills that Clark Laidlaw, head coach of the New Zealand sevens side, identified early in the talented winger.
"When we first took a look at Caleb, what probably really surprised me was his soft skills and the subtleties within his game," Laidlaw told The XV.
"He was such a big 18-year-old everybody knew he was a power winger, he could run and break tackles, but quickly what we learned was how good he was with his soft skills and we picked him in our squad for the Commonwealth Games based on one tournament."
While many players have to switch positions between the standard and contracted forms of the game, Clarke was employed by the sevens team on the wing – and one of the most important roles of a wing in sevens is to secure possession from high balls, especially from kick-offs.
"There are twice as many kick-offs in sevens as there are scrums or lineouts," said Laidlaw. "It doesn't take a rocket scientist to work out that it's a massive area of the game and probably an area of the game that we've really have to work hard over the last three years to get some real parity.
"Every team now is trying to work really hard to get those kick-offs back because if you can score and get the ball back again, and score back to back tries, it's huge.
"[Taking the high balls] is actually quite a hard skill to coach quickly, so if we can find players with raw speed, raw power and can catch the ball above their heads, they've got a real good opportunity to crack into the team."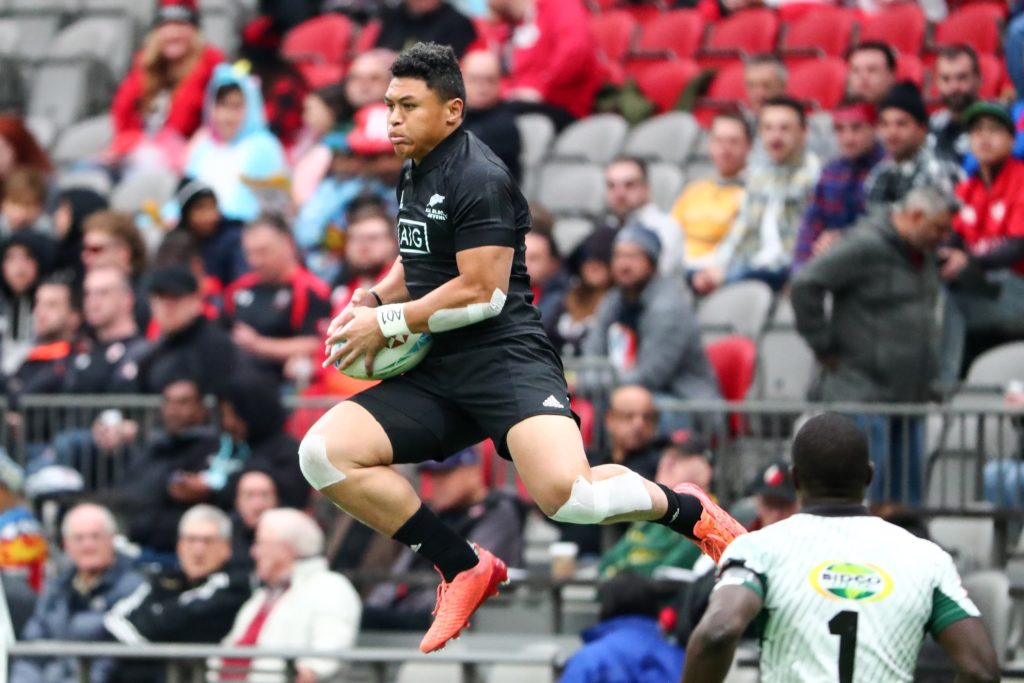 With just seven players on the pitch every individual is also naturally expected to take on a much more expanded role than in fifteens.
While test matches, Super Rugby and fifteens, in general, boast their own forms of pressure, sevens is a completely different kettle of fish, given the inherent nature of regular tournament play.
"Sevens gives you a really great ability to work on your individual skill and decision making under real pressure," Laidlaw said.
"The breakdown is a great example where if you get it slightly wrong in fifteens, you've got another three mates coming in to clean out. Then defensively, if you scrag a tackle, you've usually got a guy coming from the inside to help you out. With sevens, you miss that clean out, miss that tackle, mess up that ball placement, it can cost you a tournament – so it's a great way of increasing pressure on a guy's different skill sets.
"Caleb's skillset around his tackle, breakdown, his high balls, it's all there. If you want to keep improving, you can chip away at it in fifteens but I think what sevens does is it really accelerates it because it's under pressure all the time.
"Whether it's because of physical fatigue, heat, different opposition, it lends itself to really test a player across all the different pillars. Can you cope with losing to Spain, and you've got to beat Australia in two and a half hours' time to go through to the finals? Can you cope with being two tries down with 45 seconds to go in South Africa, against South Africa?"
Historically, the All Blacks have underperformed when it's come to the knockout stages of the World Cup.
Can you cope with losing to Spain, and you've got to beat Australia in two and a half hours' time to go through to the finals? Can you cope with being two tries down with 45 seconds to go in South Africa, against South Africa?

All Blacks Sevens coach Clark Laidlaw on the pressures of the contracted game
Between 1991 and 2007, New Zealand typically entered rugby's showpiece tournament as favourites – or thereabouts. While the 2011 and 2015 sides didn't bow to pressure, the most recent competition again saw the All Blacks fall late in the tournament, despite being arguably the most impressive side in the four years leading up to 2019.
Clarke, and any of his fellow sevens stars that crack the All Blacks in time for France 2023, won't be playing knockout rugby for the first time, however – which is another strength of the softly spoken Kiwi.
And when it comes to his physical skills, opposition will slowly realise that kicking the ball to the 21-year-old is far from a bright idea.
New Zealand have preferred to employ high ball specialists on the wing in recent years, given the proliferation of both defensive and offensive box kicks.
In 2011, the All Blacks opted for Richard Kahui (a centre) and Cory Jane (a fullback) as their two starting wings while Julian Savea and Sevu Reece were the exceptions in 2015 and 2019, alongside Nehe Milner-Skudder and George Bridge.
Ben Smith, an All Blacks stalwart, was usurped last year, ostensibly because he'd lost some of the pace and X-factor that he'd used to great effect over the last five years.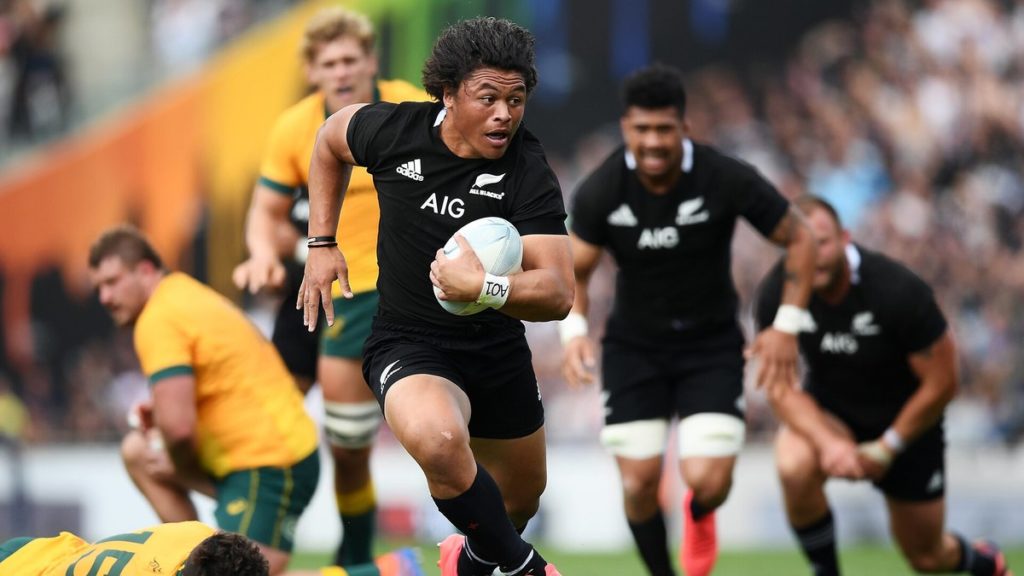 Reece's appointment appeared to signify the selectors conceding that reliability isn't enough on the wings anymore; defences are simply too watertight, and you need someone who can break open a game.
In Clarke, the All Blacks may well have found a man who covers all bases.
As Australia have now discovered, if Clarke gets a head of steam, then bodies are going to be left in his wake – but he's also by no means a weakness in the All Blacks' armour.
"I think what people are starting to realise with Caleb is that he's got a very low error rate," said Laidlaw of the 21-year-old.
"He's got a really wide skillset and he's tough. He's tough over the ball, he's good in contact, he's a good defender too."
While Clarke's certainly not the finished package yet – nor should anyone be at such a young age – there's no telling how high his ceiling could be. In the short-term, however, the three-cap All Black is already a huge threat at the highest level of the game.
Clarke may not be the classic fullback-cum-wing that New Zealand have favoured in recent years, but he's also no one-trick pony simply bashing through bodies on the left wing. The All Blacks may have unveiled their first hybrid wing – perfect at causing mayhem and destruction but also perfectly capable of handling the finer aspects of outside back play. International teams, beware.
More stories