Back

By Garry Doyle
O'Connell helps Farrell learn from the ghosts of 2007
It was like a scene from Father Ted with a little bit of Only Fools and Horses mixed in. The year was 2007, the last time the Rugby World Cup was staged in France, when – just like now – a lot of people were tipping Ireland to go all the way.
Before they even landed at the airport, though, there was farce. A warm-up with Italy had been arranged for Belfast. So far, so unremarkable. Until it dawned on the person whose one job it was to bring an Italian flag for the occasion that he had left Dublin without it.
Cue panic. An IRFU official was sent across Belfast with a begging bowl and a copy of the yellow pages, scouring every side street in the city for Italian restaurants.
The mission was simple. Find a flag to run up the pole. For those of you who know Belfast, the number of flagpoles in the city narrowly exceeds the number of people who live there.
In any case, after a thorough search, a pizzeria was discovered, the situation explained, and before the official could say, La Dolce Vita, he was in a cab and heading back to Ravenhill with his prize under his arm.
All sorted?
If only.
Sadly the flag was a bit tattered at the edges but worse than that, years of use had faded the colours to the extent that the red section of the Italian tricolour looked a tad orange, meaning the alleged Italian flag looked remarkably similar to the Irish one.
Let's cut to the chase here, in the Unionist part of east Belfast, where Ravenhill is located, the only time you see an Irish flag is when it is on top of a bonfire.
So, if you were to choose any story that sums up the chaos of Ireland's 2007 World Cup then this was it, a tournament when anything that could go wrong, did go wrong.
And it started three months out.
Despite his best efforts, the then coach, Eddie O'Sullivan, was unable to rearrange Ireland's June tour to Argentina, which had been agreed prior to the draw for the 2007 World Cup. Conscious of showing his hand prior to their World Cup pool date with the Pumas, and aware too that his frontline players needed a rest after a long season, O'Sullivan took the calculated decision to bring a second string squad south of the equator.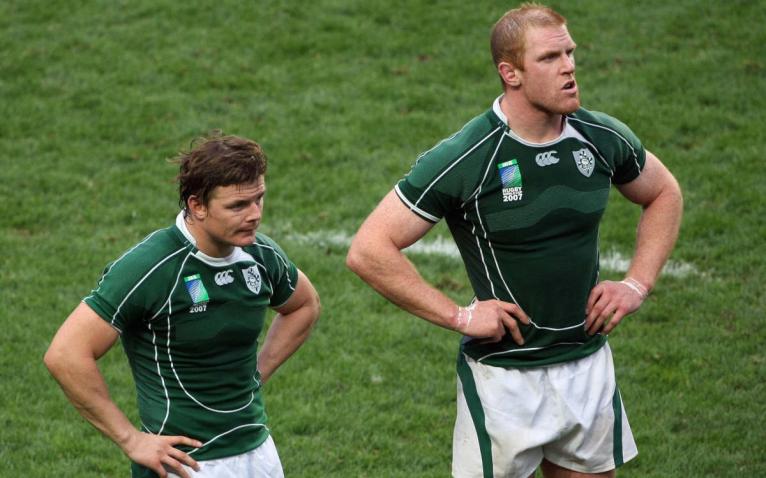 Hindsight is a wonderful judge. In doing so, a them-and-us mentality developed among Ireland's fringe players, which only really manifested itself as the tournament progressed. Before then there was a different kind of trouble. Three tests had been fixed into the August calendar but at the last minute, South Africa withdrew from one of those, leaving O'Sullivan to frantically arrange an eve-of-tournament match to fill the gap.
French side
Bayonne
answered his call. And then their players engaged in a war, firing cheap shots, one of which left Brian O'Driscoll with a damaged sinus.
On it went. By the time the Italy game was played, Ireland were clearly struggling for rhythm. A Test with Scotland afforded the fringe players an opportunity – which they made a mess of and so, come the actual tournament, Ireland were undercooked and out of sorts.
Namibia came first. That was bad. Georgia were next. That was worse.
Based for the opening two weeks in an industrial estate on the edge of Bordeaux, the players were going stir crazy by the time they played their tournament-defining game against France. They lost unsurprisingly.
Farrell's backroom team is so heavily populated that if you added those people into a village, it'd immediately be recategorised as a town.
Indeed the only real shock was how much of a kicking O'Sullivan received, considering how good a job he had performed with Ireland, taking them to three Triple Crowns and four wins in a row over England.
All this matters now because the lessons from that tournament have never been forgotten. Even now, some of the faces we saw in 2007 have returned, Paul O'Connell the most famous of those.
And the difference between then and now is seismic. The 2023 team is based in Chateau Belmont in Tours, a swanky resort that the Croatian footballers stayed in during Euro 2016. O'Sullivan campaigned hard for Ireland to have their own chefs with them in 2007. No luck. Lesson learned, Farrell now has two chefs flown across from Ireland for the tournament.
It's not just that. Farrell's backroom team is so heavily populated that if you added those people into a village, it'd immediately be recategorised as a town.
The most notable member of that support staff is O'Connell, whose arrival a year into Farrell's reign, was a huge turning point. Until then, results and performances were iffy, the head coach placing too much emphasis on changing the culture from the strict Schmidt era.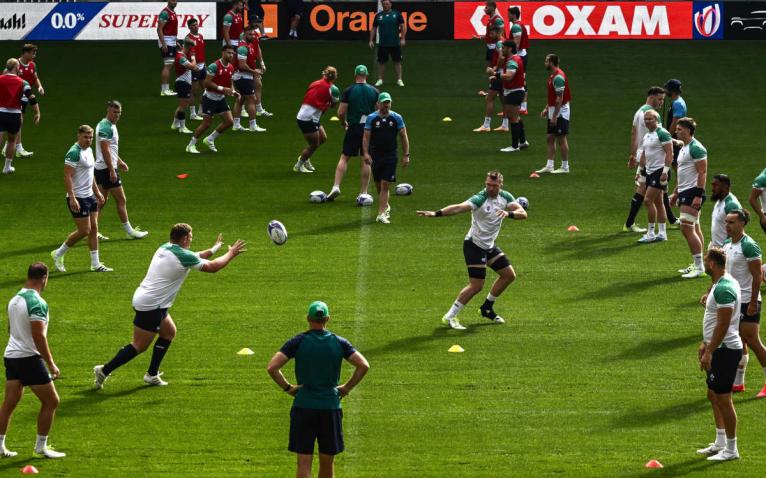 And while it was all well and good to make players feel relaxed within themselves, there was still a need for coaching messages to be more detailed. With O'Connell, a Schmidt disciple entering the fray, that immediately changed.
Straight away Ireland returned to a rucking game, O'Connell's rigour apparent in training, where his concise, strict messages meant Ireland's players became obsessed with securing quick ball.
Yet from Farrell there was also an awareness that quick possession was pointless if you didn't have quick players to use it. Fitness became his priority and was evident in his team selections, Jamison Gibson-Park, Craig Casey, Tom O'Toole, and for a time, Kieran Treadwell, promoted to the national squad ahead of provincial team mates who were taking their place at club level.
"Let's see how we cope under severe pressure. Let's see how we adapt, how I cope, how the staff cope, how the players react."

Andy Farrell
But one of the reasons why 2023 is likely to fare far better than 2007 for Ireland is because Farrell is a luckier man than O'Sullivan. The former Ireland coach is primarily the person responsible for implementing the structures that other unions envy – the monitored game minutes for internationals; no end of season tour in a World Cup year; an early introduction to strength and conditioning in schools and academies.
The benefits are there for Farrell to exploit.
And he has. The team is unbeaten in 15 games now, a seismic change noticeable on the day Japan were hammered at the Aviva in 2021, when Ireland put 60 points on the side who humiliated them in the 2019 World Cup. Never before had Ireland's attack appeared so accurate and quick.
That was when the best aspects of Farrell's personality mixed with the obsessive parts of O'Connell's were married. And the two of them are still in the honeymoon period.
For each man, Ireland's World Cup prep didn't start in August this year but in June last year, when they purposely asked for an additional two games and turned a three-test series of New Zealand into a five-match tour.
"Let's see how we cope under severe pressure," Farrell said. "Let's see how we adapt, how I cope, how the staff cope, how the players react."
This was the tour when a scrum crisis saw a retired dairy farmer, Michael Bent, answer an SOS call to represent Ireland in a victory over the New Zealand Maoris. It was also the tour when Ireland won in New Zealand for the first time.
Sixteen years on from Ireland's toughest World Cup experience, Ireland are back in France, and about to enjoy their best one.
"It takes a leader who has confidence in himself to want to break the mould," said the team's psychologist and performance guru, Gary Keegan, this week. "Andy wants to reach for the stars."
So, to be fair, did O'Sullivan in 2007. The difference between then and now is the stars are aligned in Irish rugby. If it wasn't for bad luck, O'Sullivan wouldn't have had any luck at all. But 16 years on from Ireland's toughest World Cup experience, Ireland are back in France, and about to enjoy their best one.