Back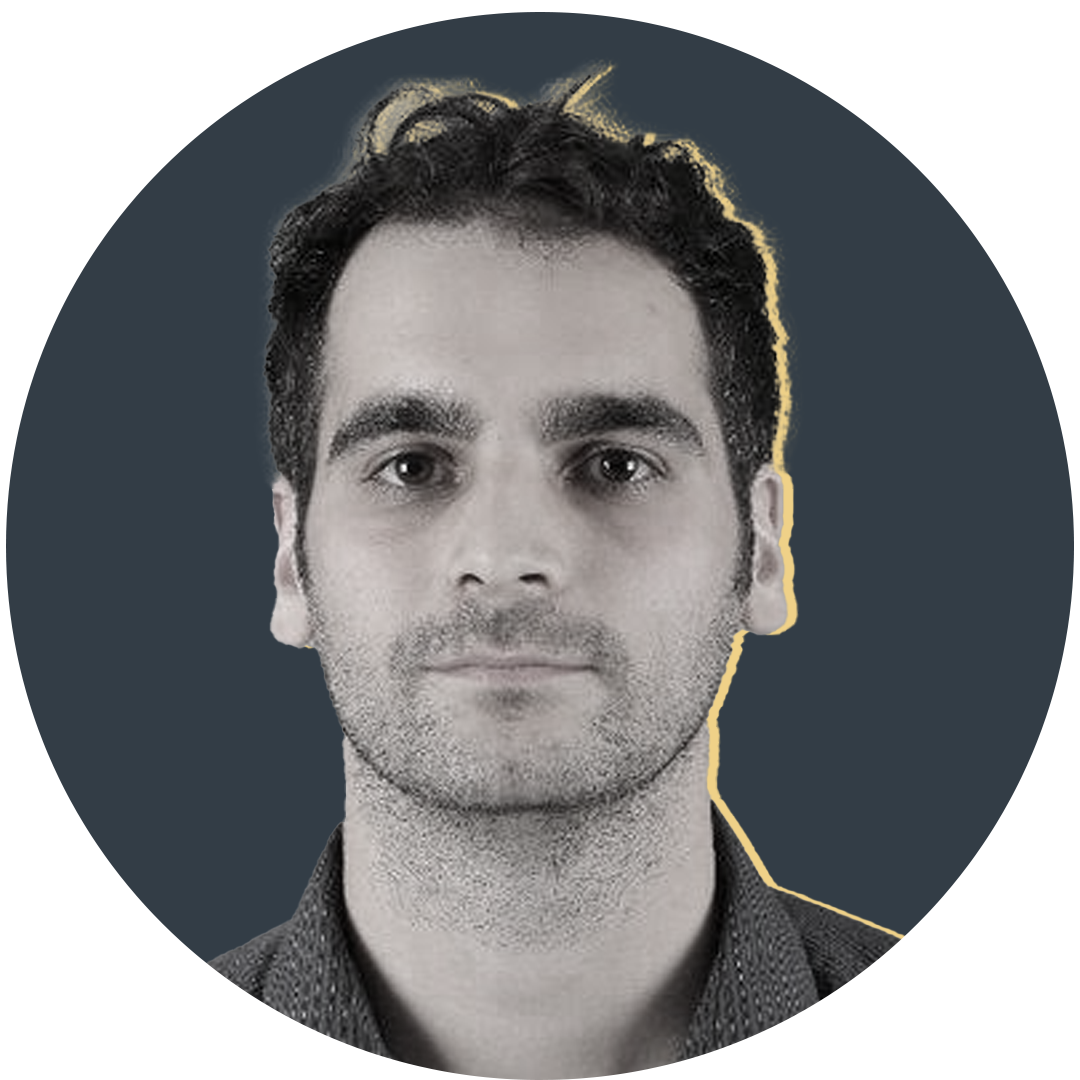 By Jonathan Bradley
No holding back
Ask a question about Bundee Aki and the answer will likely leave you in little doubt as to whether you're speaking to a team-mate or an opponent, a friend or foe.
Glasgow's Ryan Wilson, for example, has clearly never lined up alongside the Connacht centre.
"Bundee Aki actually made me cringe a little bit how much he was going at it," he told the Offload podcast of the Irish international's vocal demeanour during the Warriors' loss to the western province in the PRO14 earlier this month. "I even asked a couple of his players, 'Like, you boys must be struggling?'… there is a good way to do it and there is a way which is like, 'C'mon, rein it in a bit pal'."
To play against Aki in times of Covid-19 restrictions is to have his voice echoing around a near empty stadium and rattling through your head for 80 minutes. In that win over Wilson's Glasgow, even after being substituted and sat on the sidelines, it was he that could be heard above all others, drowning out those still in the heat of battle as well as the 200 supporters dotted around The Sportsground. Without crowd noise to contend with, he's made sure to have a holler for every opposition knock-on, a whoop for every penalty conceded.
"I'm not surprised that there's been one or two complaints," laughs Nigel Carolan, now Connacht's attack coach but a fixture in Galway going back to Warren Gatland's time in charge during the mid-nineties.
"It's funny, when we came back after lockdown, it was a while between then and the first time we could have a sort of 15 on 15 in training. The first game session we had, he'd have been on the yellow bibs team and the noise that he brought was unbelievable, he'd be the only voice you could hear to the extent that we'd even be going, 'jeez, would he ever shut up?'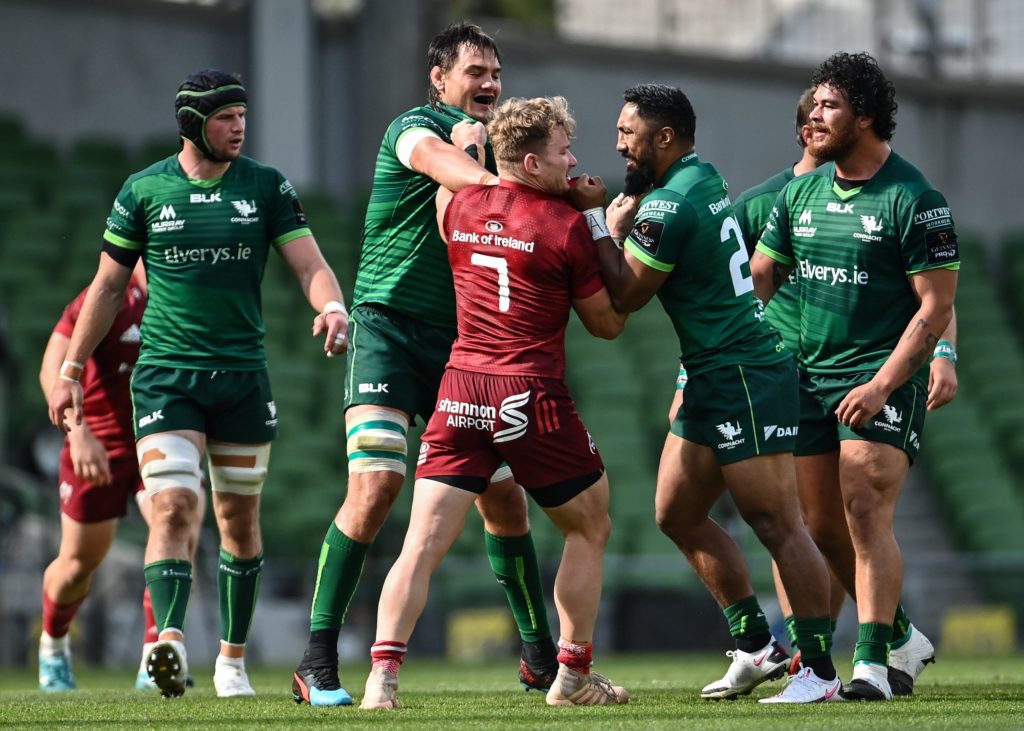 "Afterwards there was a bit of a chat about whether he needed to control that emotion or control that energy because a few of the guys playing against him would have been thinking 'oh, my god, what a pain that was' and it got under their skin, but the guys that were on his team, the rest of the yellows, turned around and said 'no, it was bloody brilliant'.
"It was really driving them on and that's Bundee. He just drags everyone along with him.
"Everything he brings, his skillset, his nous, that's all brilliant but it's a given now for a player of his quality. The energy he brings, that's something else and if it gives each of his team-mates an extra one percent, that's 14 percent across a team. That's massive."
Not that the 30-year-old is all sound and no vision. He's in a vein of form comparable to any in his career and most certainly in the shape of his life. Many were still in the middle of lockdown when the first pictures of his new, more muscular physique caught the eye on social media. Carolan admits to being just as shocked as those on Twitter when he saw him in person.
"The Bundee that came in at the end of lockdown, he was a bit frightening, seriously intimidating. You're looking at him and there's muscles on muscles."

Nigel Carolan
"He's gone through a total transformation," he says. "He was actually quite chunky a few years ago. He'd still have been bringing that physicality but he'd have been carrying a bit of excess too. Going into the World Cup last year, for whatever reason, he stripped it all back and was down to about 90 kilos. He felt being leaner would assist him. He sort of stripped it down and now built it back up.
"Going into lockdown, he was in a fairly confined space and I'd be getting videos of the skills work he was doing, he'd be kicking tennis balls against the wall and that sort of thing. I was thinking it was fantastic how he was applying himself but I didn't see the physical progress as it was ongoing.
"The Bundee that came in at the end of lockdown, he was a bit frightening, seriously intimidating. You're looking at him and there's muscles on muscles."
Whatever size, having joined in 2014 Aki has long been the key cog in Connacht's wheel. From the unforgettable match-winning try to end a 29-year winless run in Thomond Park, to his key role in the fairytale Pro12 title win of 2016 and through to the present day there is an argument to be made that, pound for pound, no player in Irish Rugby is more central to what his team does than Aki is to Andy Friend's men.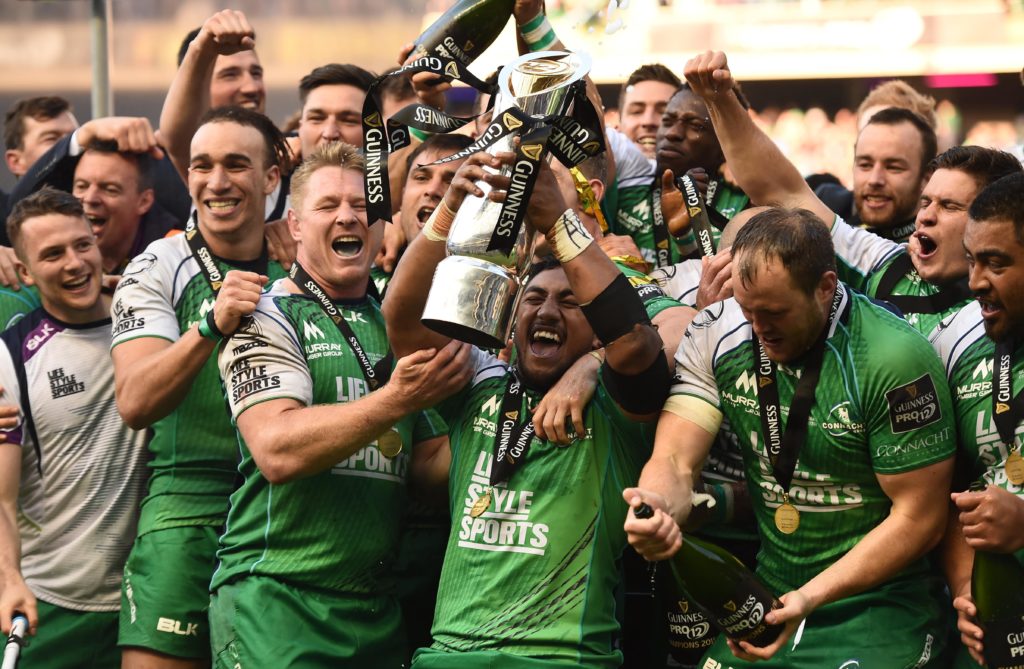 A regular starter for the national team is no guarantee for a side once deemed so peripheral that the IRFU shamefully considered winding them up, the last to feature as routinely in two different shades of green as Aki being Eric Elwood. And while Connacht's Test representation has grown steadily over the past five years, that status means even in one of sport's ultimate team games, he stands out as an individual at The Sportsground, a rockstar within an orchestra.
The effect his presence has on the province feels more than merely enhancing, it feels transformative.
"When he's in that Connacht team, it's a lot more dangerous than when he's out of it," says Ulster and Ireland's Jacob Stockdale, whose famous try to beat the All Blacks in Dublin two years ago came from a pass spun his way by Aki.
"That sounds obvious but when you think about it that's a massive, massive thing to say about a player.
"You can't say that about too many players, that they're missed as much as Bundee is when he's not there."
Aki viewed the game initially as both a way to see his friends on a Saturday morning and a gateway to the reward of a sausage roll or meat pie afterwards.
And yet, he nearly never was, almost lost not just to Connacht but to rugby.
Fua Leiofi Bundellhu Aki – it would become Bundee only later, primarily for the ease of his first rugby coach – was born in Auckland to Samoan parents, the second of seven children. His childhood was typical of New Zealand, taking up rugby before old enough to have given any conscious thought to the decision, viewing the game initially as both a way to see his friends on a Saturday morning and a gateway to the reward of a sausage roll or meat pie afterwards. Nearing his teens before he began to take note of his own talents, progression through three sets of New Zealand under-age trials looked set to be only the start of a burgeoning career.
A year spent in the unlikely environs of Truro College in Devon, under the tutelage of current Exeter Chiefs skills coach Ricky Pellow, had even given him an early taste of life as a rugby import but the impending arrival of his first child while still a teenager would force his priorities to shift dramatically. A future All Black no longer, he stepped away from the game and took up a job as a bank teller.
Irish fans, especially those native to Galway, have an unlikely figure to thank for the story not ending there.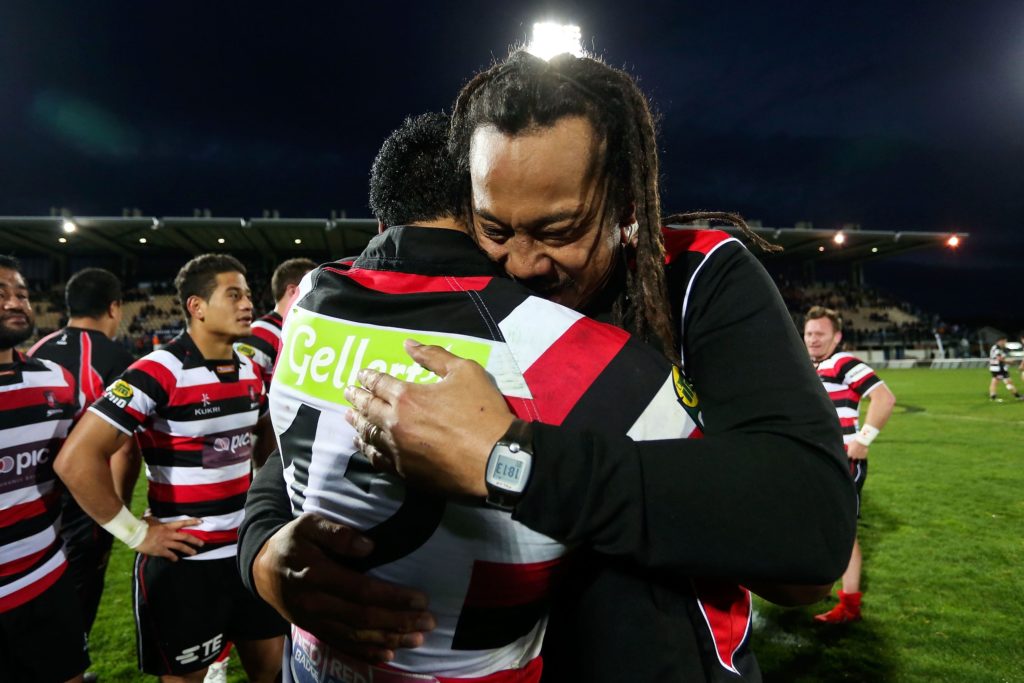 To those of a certain locale, Tana Umaga's name will be forever linked to that of Brian O'Driscoll's but his impact upon Ireland's midfield stretches far beyond that infamous spear tackle on the '05 Lions tour. It was Umaga that brought Aki back to rugby.
Upon the recommendation of Aki's childhood friend Tim Nanai-Williams, now of Clermont and a Samoan international, Umaga had called in to the bank and, while the once promising footballer sat behind the desk had by then ballooned to well over 100kgs, talked him back into training with Counties Manukau.
It was a conversation that set Aki back on the road back to pro rugby and, ultimately, on the unlikely road to the small stadium, ringed by a peculiar dog track, on the edge of the Atlantic Ocean with which he has now become so synonymous.
After a tough year of training before and after his shifts in the bank, his breakthrough at Counties preceded a similar impact at the Chiefs. When he agreed upon the move to Ireland, he was prominent enough on the radar of the All Blacks that the contract drew a broadside from head coach Steve Hansen.
"When you watch him play, he's all heart, he doesn't hold back, and he's the same in life.
Despite already having won a Super Rugby title and worked with the likes of Dave Rennie and Wayne Smith, Aki was still just 23 when he moved to the other side of the world, leaving his family behind him during that first season in Galway. While there was a natural kinship with his new head coach Pat Lam and fellow former Chief Mils Muliaina, both Samoan Kiwis themselves, it was a lonely time.
"He's a very family orientated guy, he's very close to them and even now, he's in constant contact with them," says Carolan, at the time heading up Connacht's Academy. "To break that link initially, it obviously took its toll on him and he'd be quite an emotional guy.
"When you watch him play, he's all heart, he doesn't hold back, and he's the same in life.
"To be away from his family, it was definitely pulling on his heartstrings. Because of that there was the occasional social…blip, shall we say?
"But that was probably a part of his release in dealing with being away from his family. I don't know whether he was led astray but it was a part of the settling in period.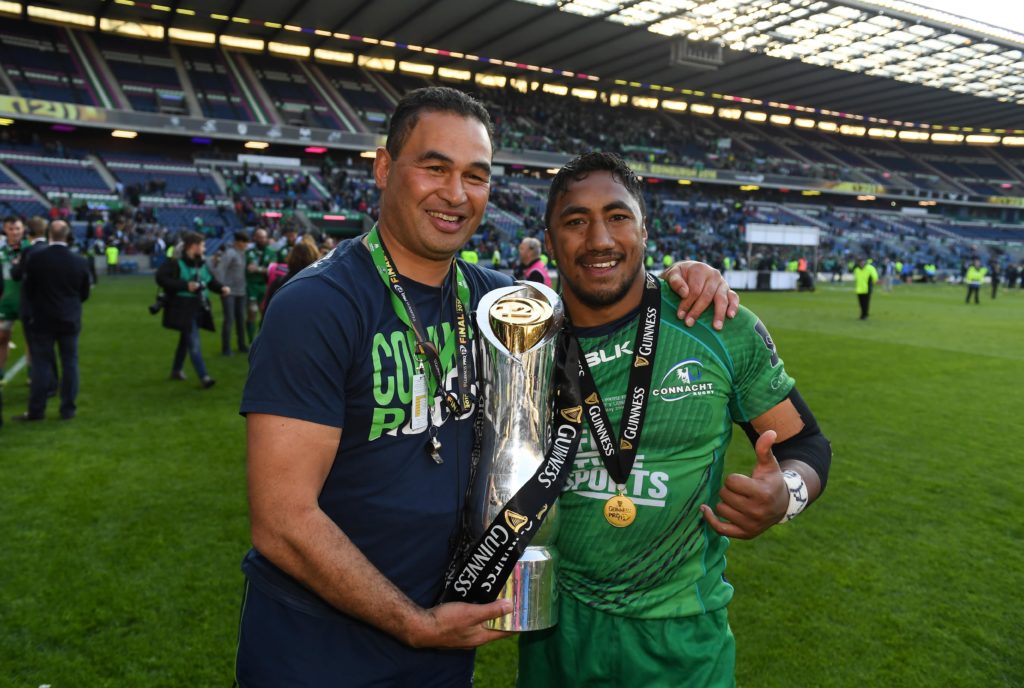 "I don't think anyone here would ever hold that against him. It certainly didn't affect the way he played. He only knows one way, 100% all in and nothing less.
"He was always 100% committed to Connacht Rugby."
Lam was certainly of that opinion, once declaring 'you can truly say that boy is a Connacht man. Pacific Islanders, everything is around family and extended family, (that) doesn't need to be blood'.
It was to prove a prescient observation, for to understand Aki's relationship with his adopted home is to understand his attitude to kinship.
Brand new boots will be handed to team-mates without explanation while the cheque at dinner will vanish. Those in the squad when the team were stranded in Russia after visa issues following a Challenge Cup game in 2015 still recall the sight of him walking through the airport with tray upon tray of coffees to keep the flagging party awake.
"He's extremely kind and he's very caring," adds Carolan. "I remember there was a video that went around last year. It was of this girl of about seven or eight who absolutely idolises Bundee. She'd stand before training, just trying to catch a glimpse of him when he was walking between the dressing room and the gym. One day she missed him coming through and she was a bit down about the whole thing and I guess somebody asked her was she okay.
"He cares so much. He cares so much about his team-mates. He cares so much about Connacht."
"This was just before the warm-up was about to start but somebody got the word to Bundee and he ran out to her as quickly as he could.
"You can see her jumping up and down as she realises he's coming and then he gives her the biggest hug. She broke down in tears, she was so happy.
"He knew he could have just left it but he has daughters himself and he knew what it would mean.
"That's Bundee to me, just a moment of selflessness.
"He cares so much. He cares so much about his team-mates. He cares so much about Connacht."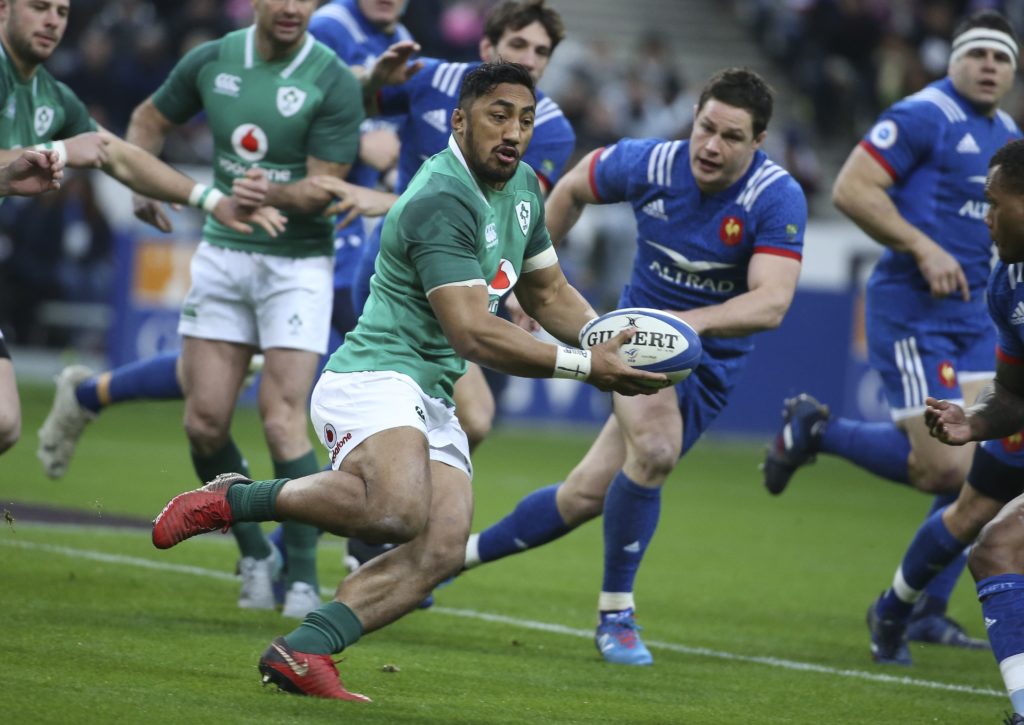 That much is clear for all to see. It's why Aki can feel simultaneously from Auckland but of Galway, why a player who once struck a bum note when stating he wanted to play international rugby but was unsure for who has come to represent Ireland with such pride, why he could start his celebration of 2018's Grand Slam by leading a call and response reminiscent of the haka on the field and end it back at the hotel in the early hours of the morning by using the Triple Crown as a bodhrán during a rendition of 'The Fields of Athenry.'
It's his bond to the area and its people that has kept him there, kept him beating his fist upon that Connacht badge next to his heart when more lucrative moves abroad have been mooted.
It's what's kept him in Ireland's midfield too, where once again he'll be lining up alongside his old Connacht pal Robbie Henshaw as Ireland go to Paris in hunt of a second Six Nations title in three years.
There's a good chance Les Bleus will hear him before they see him.
If you've enjoyed this article, please share it with friends or on social media. We rely solely on new subscribers to fund high-quality journalism and appreciate you sharing this so we can continue to grow, produce more quality content and support our writers.