Back

By Mick Cleary
Mick Cleary: 'Even Tom Curry will have to go some to reclaim that starting shirt. Willis is back in the frame'
Who were these guys in white, riding in to town like a posse of avengers looking to reclaim the territory lost over the last couple of years? Muscled-up, tight-knit, single-minded, Steve Borthwick's side played as Steve Borthwick himself might have done. There was no need for the coach to resort to the ludicrous hyperbole of a decade ago when he replied as England captain, 'Fabulous,' as an assessment of England's play against Italy in the face of all evidence on the field.  This time it was a fairly decent back-to-basics performance, not to be sniffed at if not yet to be drooled over. And that is how Borthwick called it. No frills, no nonsense, no wavering.
So far have England fallen that their fans no longer demand pyrotechnics to get them in the mood. They want England to be England. As the screeching chump on the stadium PA might have bellowed 'Welcome Your England,' shouting to make himself heard as if he hadn't realised that he had a microphone for that very purpose. This was modest fare by comparison with Saturday's box-office offerings from the Aviva but England no longer command top billing. They will have to serve their time honing their craft on the Rep Theatre circuit in the provinces before the bright lights of the West End once again beckon.
Of course there are caveats to the glass half-full perspective. In the first half Italy were a pale imitation of the Italy of only seven days ago in Rome, back to their bad old selves; floundering and flailing at every turn. At the very moment that those myopic numbskulls calling for their relegation from the Six Nations championship have been silenced, Italy were in danger of giving them cause to question their tournament existence once again. Well, to put it bluntly, stuff that. Italy's progress, evidenced as much by their results at under-20 level as by their forthright display against France, would disappear down the gurgler if they were to be dumped into the wilderness. So no more of that nonsense, please.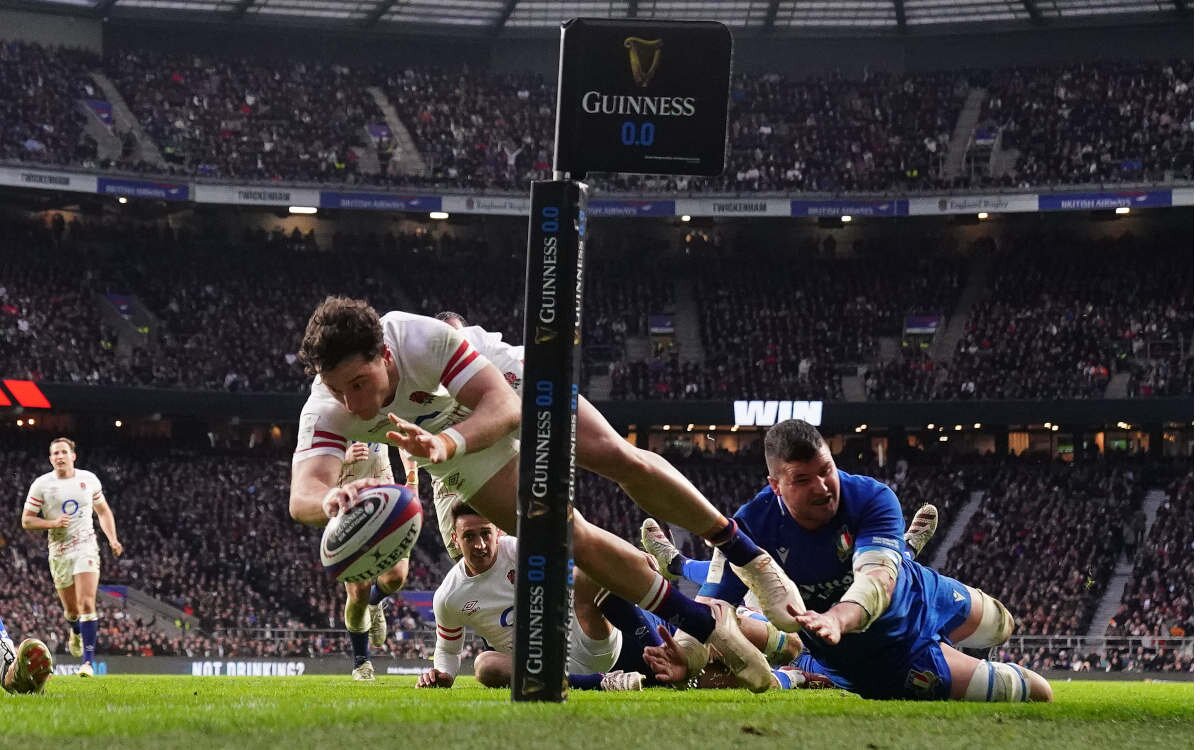 Their revival in the second half, modest but meaningful enough to see them ahead on that scoreboard, 14-12, ought to be of some concern to the England management with tackles missed and intensity dipping. Mind you, when will coaches up in their cocoon in the stands stop fiddling and meddling?  Just because there is a bank of replacements available does not mean that they have to be used. It was a misstep by Borthwick to keep reaching for his walkie-talkie to tell another player to shed his tracksuit and get out there to confuse the issue. You can take Alex Mitchell at scrum-half as an acceptable change, Henry Arundell, too, as they served the cause well. Arundell managed to do what Ollie Hassell-Collins has not managed to do across these opening fixtures and that is get himself noticed. His touchdown was that of a true finisher and he ought to be rewarded with a start in Cardiff.
Jack Willis ought to have Kipling's Twin Imposters, Triumph and Disaster, inked across his chest for the man has been on both ends of that spectrum in this fixture alone.
England, understandably enough perhaps, did not scan the horizon too much to see what delights there might be out wide. They didn't need to and that in itself indicates good game management. So what if the accumulated distance of their bonus point four-try haul only amounted to about ten metres as the churning mob of forwards mauled their way to the line? The England maul as a thing of beauty or ugliness depending on what colours you are sporting has been missing in action for too long. Again, welcome back.
There were greetings to extend to individuals as well, notably Jack Willis and Ollie Lawrence. Both have had their fair share of woe, principally with their clubs, Wasps and Worcester Warriors, being consigned to the scrap-heap. Willis ought to have Kipling's Twin Imposters, Triumph and Disaster, inked across his chest for the man has been on both ends of that spectrum in this fixture alone. Two years ago he mangled his knee so badly against Italy that it took him well over a year to recover fully. On Sunday he made his international return and picked up from where he left off in his 53 minutes on the field: forever involved, gritty and clever in equal measure, hard over the ball, aware to every possibility. His euphoric yell on being on the end of England's first mauling try came from deep within. England have a potential raft of top-grade flankers to consider for World Cup duty. Even Tom Curry will have to go some to reclaim that starting shirt now that Willis is right back in the frame.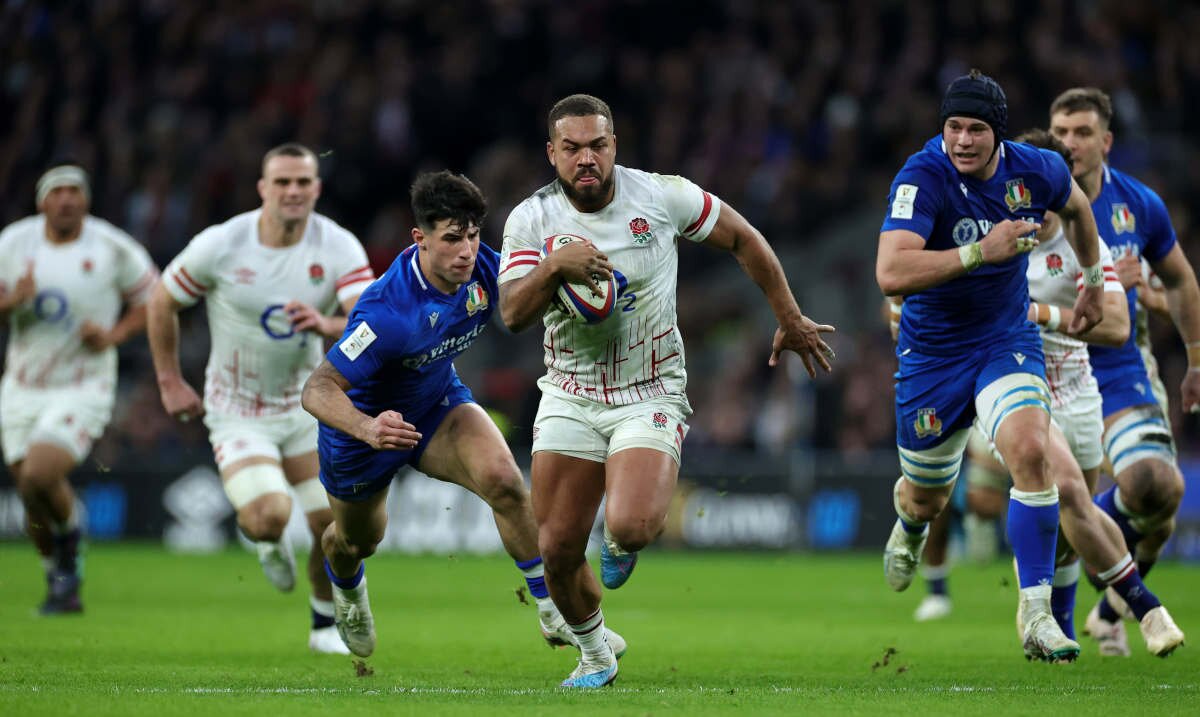 Lawrence, too, did his claims no harm whatsoever. If an Act of God did for Willis then it was an Act of Eddie that stalled Lawrence's rise to the top. If there was a rugby equivalent of the Royal Society for the Prevention of Cruelty to Animals then Lawrence, as well as Max Malins plus about a couple of hundred support staff, would have every right to use their services. Malins was dumped from a great height for his supposedly limp body language while Lawrence was punted from consideration for the heinous crime of not getting his hands on the ball enough even though the coach's instructions to those around him was to kick the leather off it. The 23 year-old is a level-headed sort which is just as well. He hasn't sulked but simply got on with making the best of as bad job when the Worcester calamity struck.
Owen Farrell didn't have need to do more than he has done a zillion times – do what was necessary while his pack of forwards chewed up ground.
It's a sign of the turbulence of the Jones' era that Lawrence became the 11th midfield England partner of Henry Slade. Who would have thought that a direct-running inside centre, steaming on to the ball to get his team on to the front foot, could be a strategy that brought dividends? Where on earth did that one come from?
Owen Farrell didn't have need to do more than he has done a zillion times – do what was necessary while his pack of forwards chewed up ground.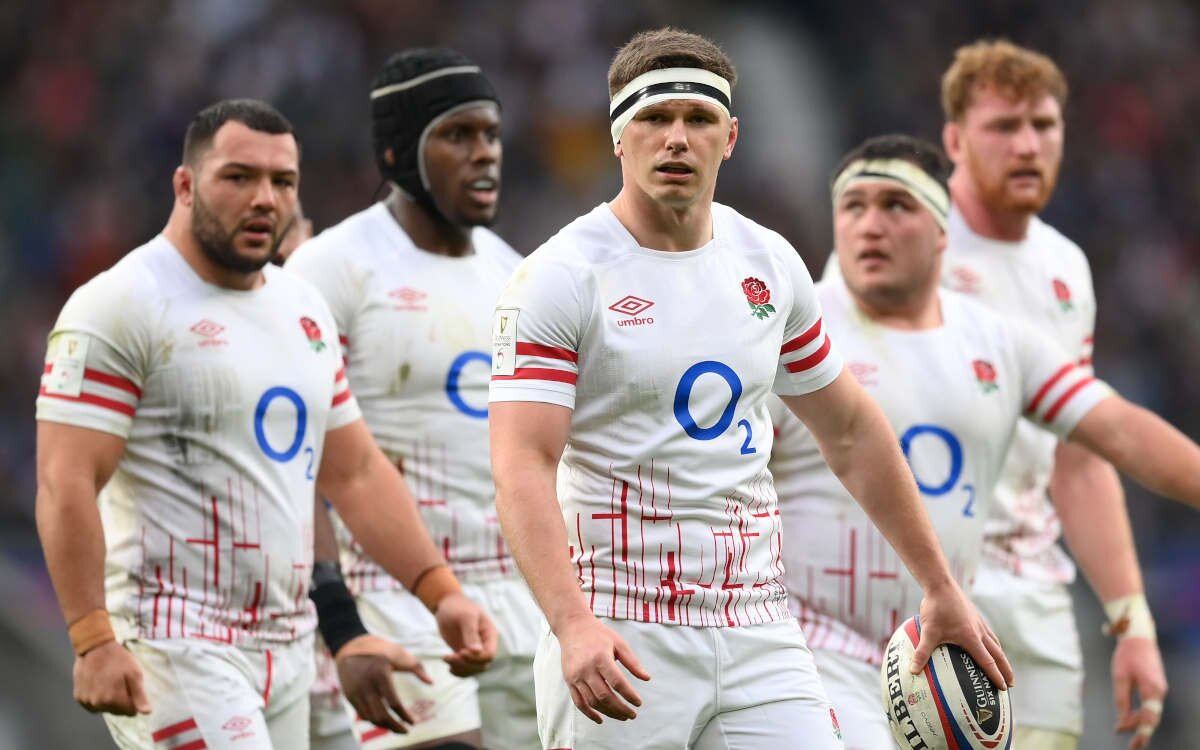 England have nudged themselves forward. They will have to go again and grow again if they are to come away with a result at the Principality in a fortnight's time but they will have had far more difficult assignments to ponder down the years  given the wretched state of affairs in Wales.  Of course the sight of white shirts coming across the Severn Bridge has been known to galvanise a Welsh opposition (RIP Phil Bennett) but Borthwick's men approach that task not with  undue arrogance but with a renewed sense of self. And that, for the moment, is all they can expect.