Back

By Jim Tucker
Jordan Petaia is starting to deliver on his unlimited potential
When Jordan Petaia made a try-scoring Wallabies debut at just 19 at the last Rugby World Cup, everyone predicted a seamless run of top form forever after.
That is never a reality in rugby. Even teen debutants like Jonny Wilkinson and David Campese experienced being dropped during their stellar careers.
It's almost as if Petaia has spent the past four seasons training, playing, stuttering and proving his resilience to catch up to the initial hype.
That's why it is such an upbeat thread for the Wallabies that the winger-fullback-outside centre is enjoying the hottest form of his Queensland Reds career.
When Eddie Jones assembled his first Wallabies training squad on the Gold Coast this week, Petaia wasn't a "maybe" character for assessment; he's in Jones's blue-chip brigade.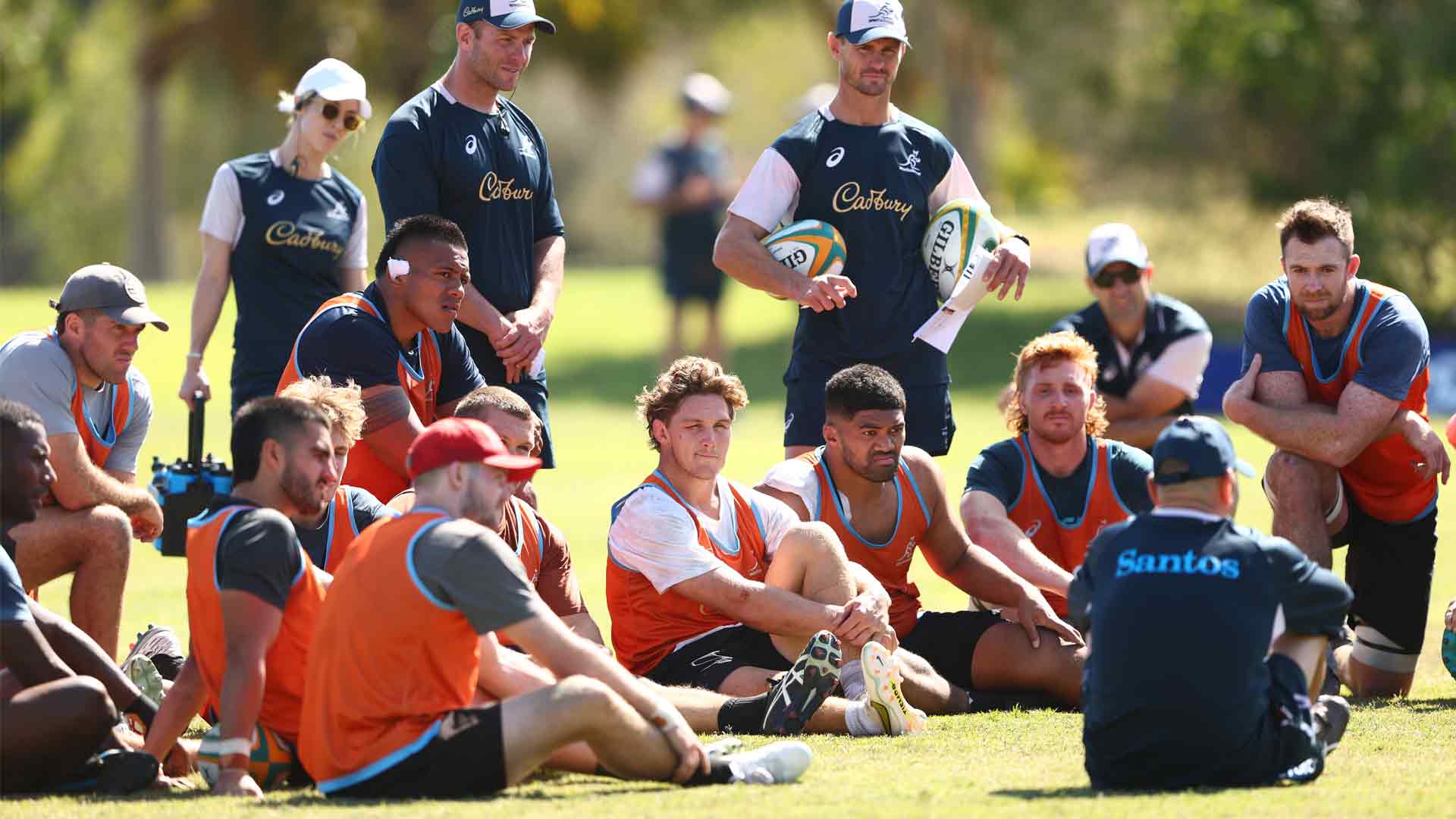 Jones doesn't forget. If there was one player who caused first-half headaches for England in the 2019 World Cup quarter-final, it was the youngest Wallaby on the pitch in Oita that day.
Jones often harks back to the wisdom passed on by his early club coach Bob Dwyer, the 1991 World Cup-winning coach.
"Something I learnt from Bob Dwyer was [you should] always try to pick guys with things you can't coach," Jones explained. "One of the things you can't coach is the feel of the game."
Speed and size are others. X-factor impact like Petaia possesses is five-star gold.
The reason Petaia was so confidently backed at 19 was he came with far more than rapid gear shifts of speed, feints, footwork and fearless power to excel in attack.
Petaia is still only 23. That's the headshaking part.
Even then he could step up on both sides of the ball. We've seen it in Super Rugby Pacific this season.
He's one of the best cover defenders in the game. He buried Crusaders winger Leicester Fainga'anuku over the sideline with one tackle and did the same to ACT Brumbies finisher Ben O'Donnell a week later.
Petaia is still only 23. That's the headshaking part. For perspective, fellow backline Wallaby Jock Campbell was 23 when he made his Queensland debut.
Petaia has 25 Tests behind him. He is one of those youthful yet experienced types that Jones will bank on to make a mark from the outset at the World Cup in France.
Petaia's strong season for the Reds has included a fine showing against the champion Crusaders.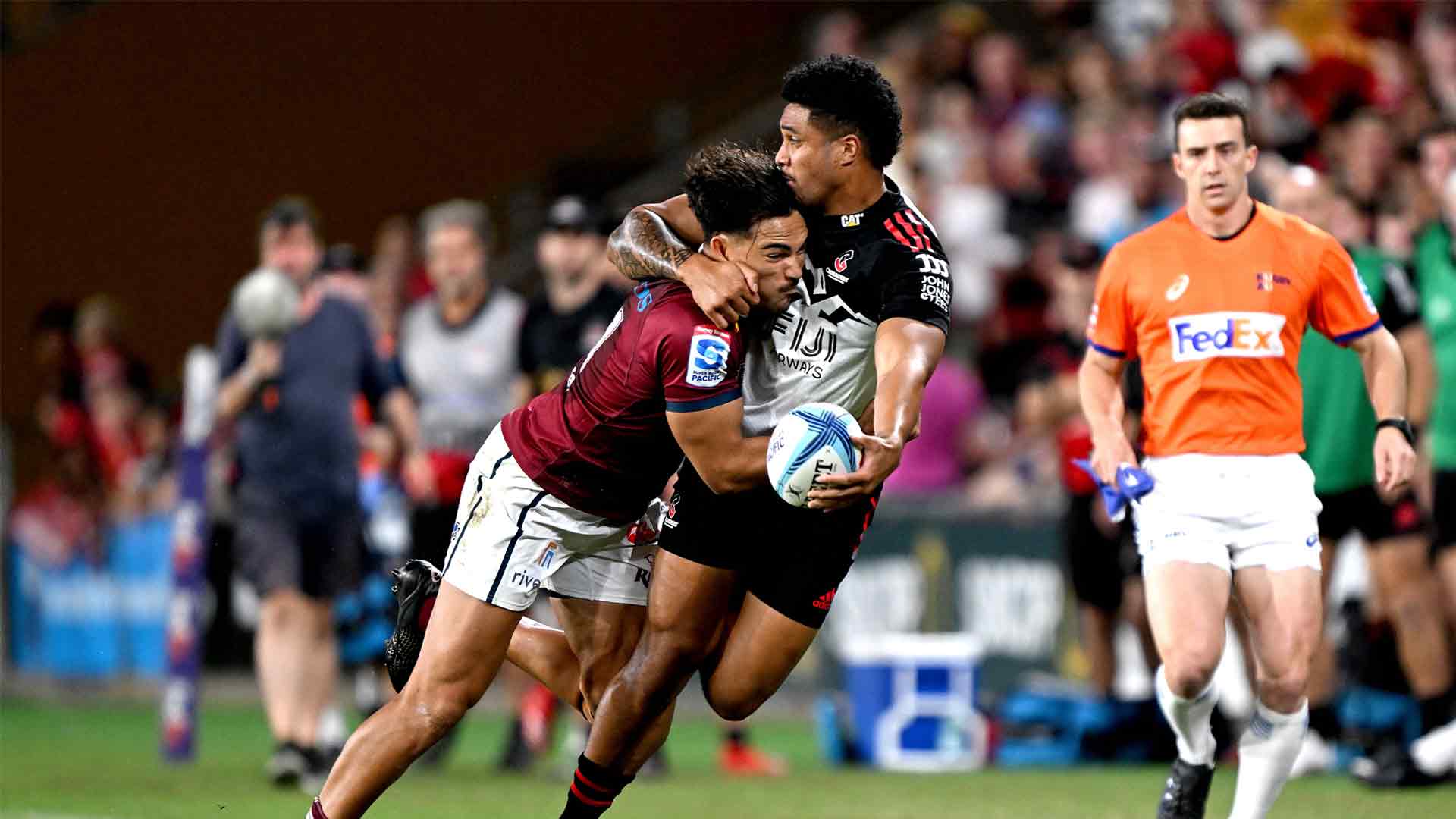 His 16 runs for 95 metres demonstrated his appetite for work on top of a try that night. As important was his work off the ball. When halfback Tate McDermott banged a kick downfield early in the game, it was Petaia who chased after it, pressured and won the ball back.
If there has been one persistent criticism of Petaia in recent years, it has been making half-breaks and pushing passes to make even more of them. His ball control brought him unstuck far too many times.
Strikingly, he has corrected that trait in 2023. Playing a little less rugby has turned him into a far better player. He's restraining himself from throwing the high-risk 50-50 pass.
His visit to Apia last week to play against Moana Pasifika had special meaning for the proud man of Samoan and Australian heritage. There was a family fan club of more than 20 at the game.
"It was a special and emotional 50th (game for Queensland) over there. I couldn't believe it worked out that I'd play it in Samoa," Petaia said.
The upbeat reception around the game from the Samoan people left Petaia in no doubt that Super Rugby Pacific should make more regular visits to Apia.
"It had a different feeling too, playing in front of the family members who'd never seen me play in the flesh before."
The significance ran deeper. He was "playing in memory of dad."
It was the first visit to Samoa for Petaia since his father Tielu passed away suddenly in 2021. Many relatives were passing on respects in person for the first time.
"Dad was one of 12 brothers and sisters. Obviously, a lot of relatives weren't allowed to come to Brisbane for dad's funeral which was tough on them during Covid," he said.
"It was good catching up. If there were 20 uncles, aunties and cousins at the ground, that's just a fraction of the family."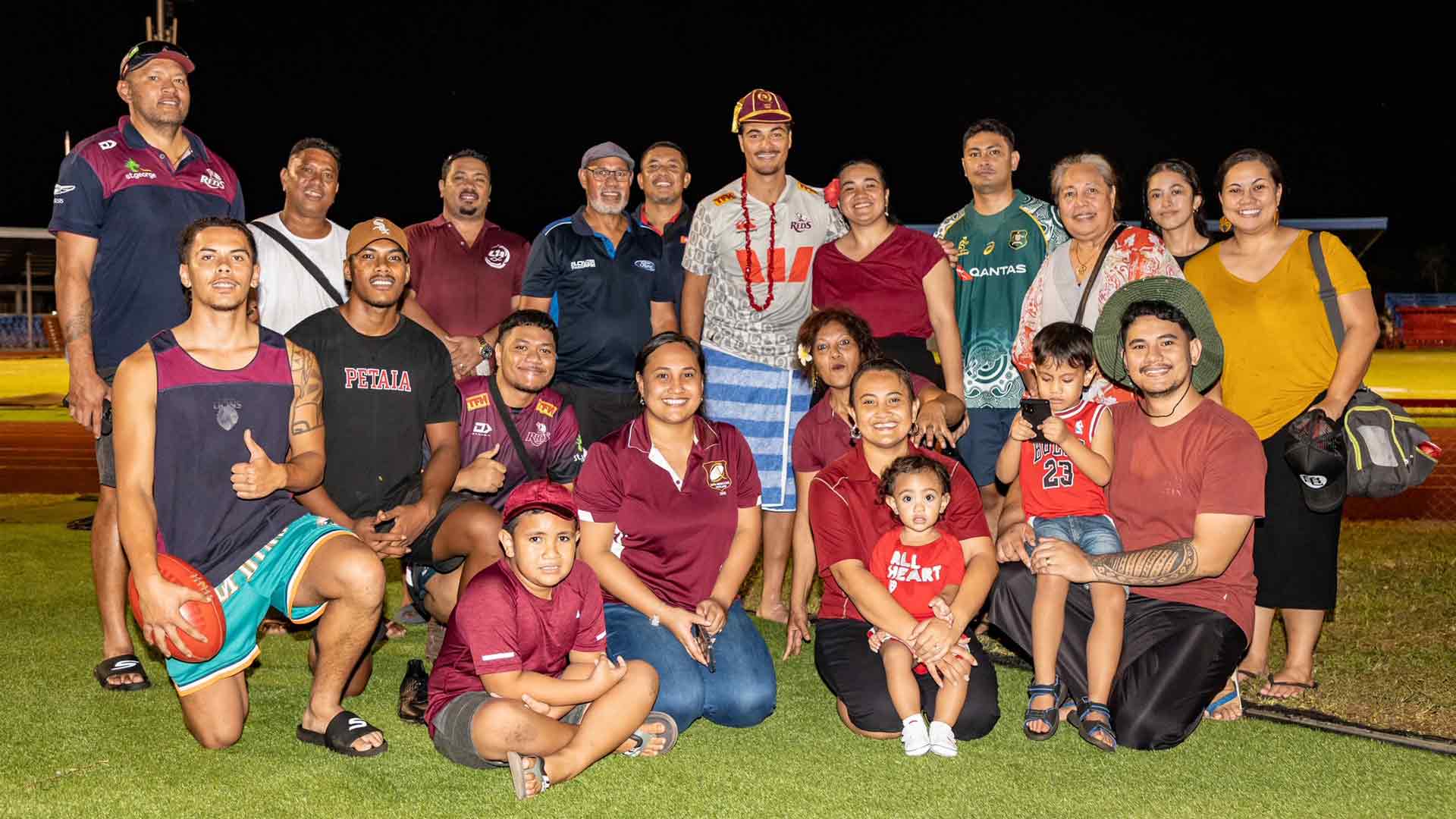 The upbeat reception around the game from the Samoan people left Petaia in no doubt that Super Rugby Pacific should make more regular visits to Apia.
"Definitely. I think it would be very cool to see more games in Apia to grow the game in Samoa. It would be good for the country and the people," Petaia said.
During the visit, the Australian Department of Foreign Affairs and Trade announced a $220,000 grant to aid Manu Samoa's preparations for the World Cup.
The backing has the best of rugby intentions. You'd also have to think that it's timely in a political sense with China's growing influence in the Pacific.
Former Samoan Test lock Dan Leo was on the trip in his Queensland Rugby Union role as Pasifika Engagement Manager. His advocacy for the welfare of Pacific Island players is well known.
It's a valued position considering more than 40 per cent of the Reds squad is made up of players with Samoan, Fijian, Tongan, Papua New Guinean, Maori and Indigenous heritage.
He is convinced: "For me, hosting the game was clearly a success for a country starved of Test and Super Rugby for too long. It indicated the need to get this Moana Pasifika team back to the islands from Auckland and based in Samoa full-time," Leo said.