Back

By David Ferguson
'It feels like I've awakened something' - Healy and Redpath's Scottish ascent
With new rules allowing players to return to their birth nations, and move to others, this may be the Rugby World Cup with the most players turning out for countries in which they were not born. If so, Scotland could lead the way with 15 of the 33-man squad born outside the country.
Scottish rugby used to be famous for its 'Kilted Kiwis' as it scoured the globe for players to swell a small rugby-playing arsenal, but there is no little irony they will launch this campaign against another country to which it has turned heavily in recent years.
South Africa was never a fertile hunting ground for Scottish players in the past, but it perhaps should have been as many Scots adventurers feature in the Republic's history, led by Borderer James Logan who developed railways, telephone lines and was considered a founding father of South African cricket. The familial ties may have long gone, but, still, South Africa has boosted Scotland's drive up the world rankings.
Among supporters, Duhan van der Merwe is something of a founding father of a new level of try-scoring threat in Scotland's ranks, but he is joined by props WP Nel and Pierre Schoeman, and wing Kyle Steyn in this tournament's 'ScotBoks' contingent.
And that is the tip of the iceberg, with both of Scotland's pro teams, Edinburgh and Glasgow, being coached by South Africans this season, Sean Everitt and Franco Smith respectively, and their squads including 12 players from the country.
It is perhaps no surprise then that when Scottish Rugby cut its 'SQ' (Scottish Qualified) recruitment scheme, it was the home-based scouts they dropped and those based in England and South Africa who were retained.
So, what does it feel like to grow up with one national affiliation only to switch when it comes to winning an international rugby cap? The Scots-South Africans have spoken about this quite a bit, and are well settled, but two newcomers to the World Cup have had reason to contemplate that very thing in the past two years, with 24-year-old Ben Healy opting for Scotland over Ireland – and switching Munster for Edinburgh this summer – and Cameron Redpath, 23, for Scotland over England.
Both came through the age-grade set-ups in the countries in which they grew up and were in the frame for Test caps there, but with parents from Scotland, and current head coach Gregor Townsend in their ear, they were swayed.
Healy recalled: "I've always known I had Scottish blood, of course, because my mum Maria (nee Robertson) is from Turriff just north of Aberdeen, and we would have family holidays there growing up, which were great.
"The Scotland coaches knew it too, and since I left school Scotland has shown a massive interest in me, and been very clear in their communications that they wanted me over. My mum always wanted me to play for Scotland as well, so, the move isn't a huge surprise for me. I always knew it was an option, even though I was in the Irish system and was coming through the age-group teams, and then the opportunity presented itself, and now I'm here I'm delighted and I just feel very, very proud to be representing Scotland – I wouldn't change a thing to be honest."
They've been having a laugh looking back to my last World Cup 'involvement' – I was a toddler at the 2003 World Cup when my dad was playing and we went to Australia to support him.
For Redpath, it has been a more circuitous route. He was born in France when father Bryan, the former Scotland captain, was playing for Narbonne, moved to Manchester when dad joined Sale and even followed the round ball into the West Bromwich Albion football academy, which looked set to claim him through his early teenage years until Sedbergh School got him firmly back on the rugby track.
"I enjoyed my football," said Redpath, "but I always liked rugby too – I was too slow for football!
"As I developed in rugby and chances came my way, mostly with the England age-groups because that was where I went to school and played, I knew that that was where my future lay and now I think I made the right choice! When you're a kid you dream of going to a World Cup, and being in the squad is just incredible."
After impressing for England Under-20s, scoring against Wales and France, Redpath was courted by Eddie Jones with offers of a full England cap on the 2018 summer tour to South Africa. Townsend had been in regular contact too, and after injury ruled the centre out of the tour, and Jones' interest waned, Townsend moved in. Then just 21, Redpath made his debut for Scotland against England in the Six Nations, and found himself wrapped up in a special piece of Scottish history as the Scots claimed their first win at Twickenham in 38 years.
"That was amazing to be part of and it just underlined that I'd made the right choice," Redpath added. "My mum's family are all from Edinburgh and my dad's rugby side are all from the Borders, so I get plenty of support and it provides a strong connection to Scotland. They are all so proud of what I've achieved.
"They've been having a laugh looking back to my last World Cup 'involvement' – I was a toddler at the 2003 World Cup when my dad was playing and we went to Australia to support him. It's incredible to now actually be there myself, and to be in France where I was born is just that bit more special."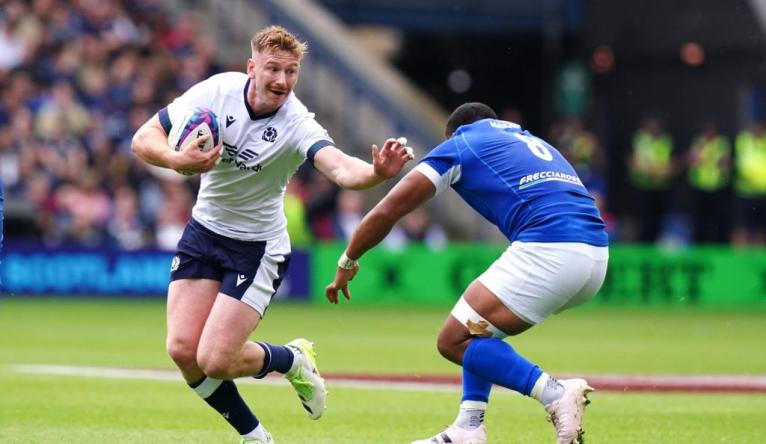 Both players go into the tournament as outsiders, unlikely to start against the Springboks, but able deputies and key figures in Townsend's plans for building a Scotland team post-World Cup which can maintain the nation's place in the world's top five. Healy acknowledges the challenge of taking Finn Russell's place, and insists he is enjoying working closely with and learning from the talismanic fly-half, but both players are aiming to push among Scotland's leaders in the next few weeks.
Redpath said: "The last couple of years have been tough with injuries, so it is just nice to be back involved again, and I see this as a kind of reward for all the hard work that's gone in to getting back playing, and to a level that's good enough to get picked. So, I feel very privileged and honoured to be part of this Scotland squad … but now I want to push on and play.
"The centres are very competitive with Sione [Tuipolotou], Huw [Jones] and Charris [Chris Harris] quality, experienced players, but I want to push into the matchday 23, and I can do that as a 23-year-old I'll be very happy.
"I've not really had the chances since my debut, because of injuries and then players coming in and paying well, and there's no much I could do about that. So I back myself and feel that if I'm put in the situation where I need to perform I think I would, so it's about getting my head down, working hard and taking the chances that come my way."
Healy, whose first start for Scotland earned him a man of the match award against Italy last month, added: "Now I'm at a World Cup all guns blazing, playing for Scotland feels very real, and you don't just want to go to a World Cup, you want to play in one.
"When you're looking at a thistle on your chest, learning more about the history of the country, the rivalry with England, which was always there but feels different when you're living in another country, it feels like I've awakened something. Hopefully, that can help me reach high levels of performance when I get the chance."