Back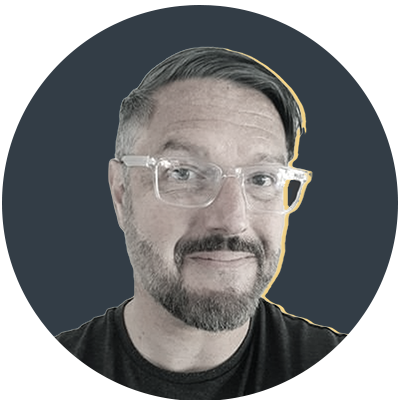 By Paul Williams
Instant classic
Feelgood factor has been in short supply in 2020 but Exeter Chiefs and Racing 92 decided the warm the cockles with two hours of Test match intensity rugby that has neutrals quietly smiling to themselves, and those with a vested interest gnawing away at fingernails and hopping round living rooms in the Devon and apartments in Paris' most stylish arrondissements. It was a humdinger of a final that was rightly being trumpeted in the 'best ever' category within minutes of the final whistle. Here's what The XV made of the spectacle.
Perfect covid medicine
We may be a few months away from a Covid vaccine but the Champions Cup final was as good a tonic as we could have asked for. When you consider that preparations for this game would probably have been the most difficult since the competition was created, it was a final that kept on giving, in a good way. Fifty-eight points in a northern hemisphere final is almost unheard of and eight tries is Super Rugby Aotearoa territory. The pattern of scoring was as if it had been formulated by Marvel. First one team scored, then the other countered and so it continued.
Both teams largely reverted to type, as you'd expect in knockout rugby. Exeter did it all up front with a pick-and-go strategy that is unrivalled in the club game, in any hemisphere. Whilst Racing stuck to their wonderful blend of miss-two passes, dinks over the top and Virimi Vakatawa, Juan Imhoff and Simon Zebo gliding through like a hot knife through olive oil. It was the two varied styles which made the game so riveting. With neither able to counter the other's strength, we were essentially given 80 minutes of Hulk v Spiderman. And it really was epic. Chapeau to both.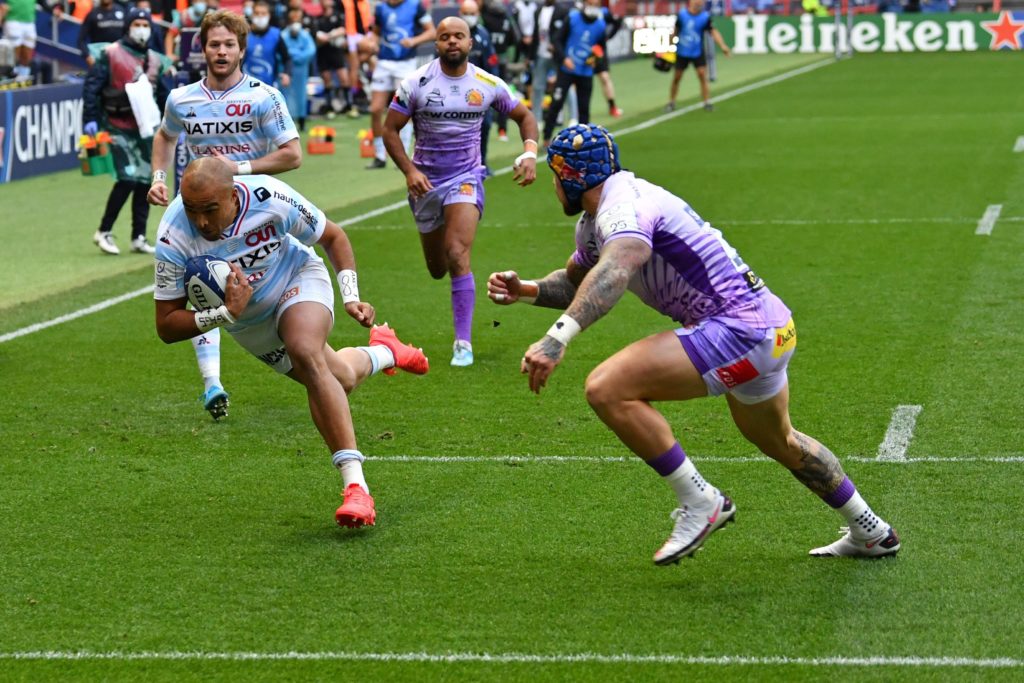 Exeter's game deserves an architectural prize
The way that Exeter approach rugby can be overly simplified as a pick-and-go game. They do of course possess genuine 'bums-off-seats' backs like Henry Slade, Jack Nowell and Stuart Hogg, but when things get tight, their go to is the tight five. But for some reason, their approach doesn't get the recognition it deserves. Their pattern is sublime in its execution and the blueprint for their rise from the English Championship to European Champions. The way that they hit short, then send in two (never more) 'cleaners', is as precisely constructed as the blocks that built the pyramids.
The detail in the cleanout is remarkable. In the final five metres of the pitch, Exeter often dispense with a 'latch' and keep the two 'cleaners' detached – a metre back. It allows them to hit the impending 'jackal' with momentum, rather than just being a static mass at the ruck. To see them repeat this process upwards of ten times is like watching a skyscraper taking shape and in rugby terms they have now hit similar elevation. Exeter's power game may never get the plaudits that the expansive teams receive. In which case, they should maybe qualify for this year's Pritzker Prize – their work really is a beautiful construction.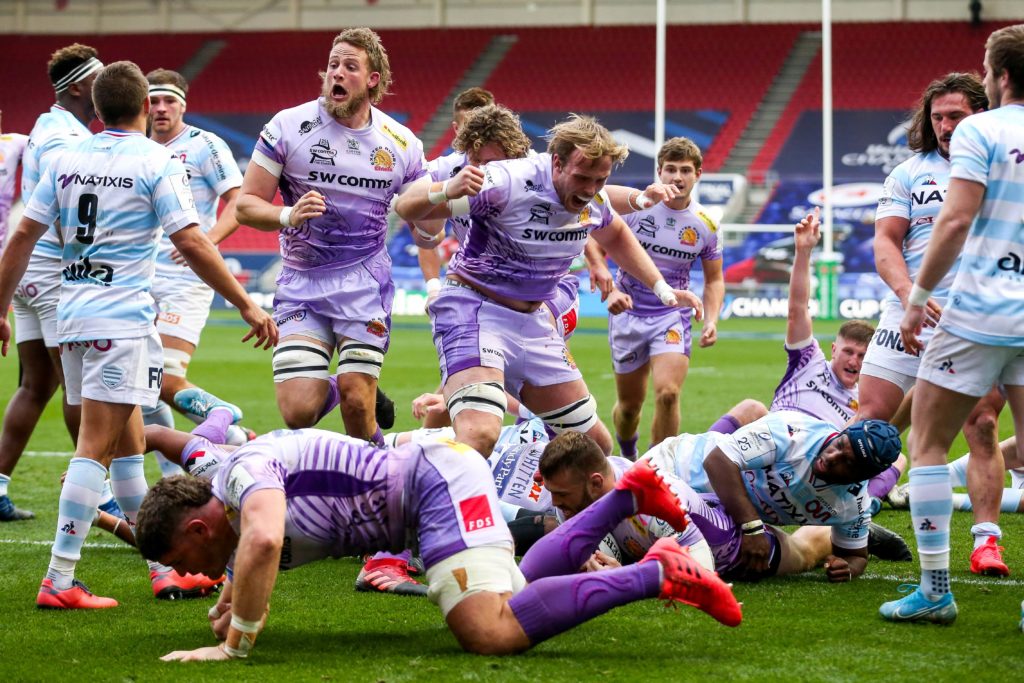 Even the elite get nervous
You can bench-press as much as you like, drink as many protein shakes as your bowels will allow and watch as much game-tape as your brain can absorb, but there is still no legal solution for big-match nerves. Sadly, this time around, it was Racing's scrum-half Teddy Iribaren who got the butterflies/ wandering albatrosses in the stomach. Only in very limited circumstances does it seem fair to criticise an individual player for their performance, but unfortunately this really did feel like one of those occasions.
It started with a stiff legged touch finder which drifted over the tryline, was followed by an unnecessary quick-throw-in to himself, then came a twitchy no-look pass, topped off with a sloppy tackle. It resulted in the undoubtedly talented No 9 emerging from the tunnel at half time only to sit on the bench. He was replaced by the calming influence of Maxime Machenaud, who had been warming up on the sidelines from the 15th minute. Iribaren is an excellent player and this will come as little consolation, but for the amateur players out there it is comforting to see that professionals crack, just like the rest of us.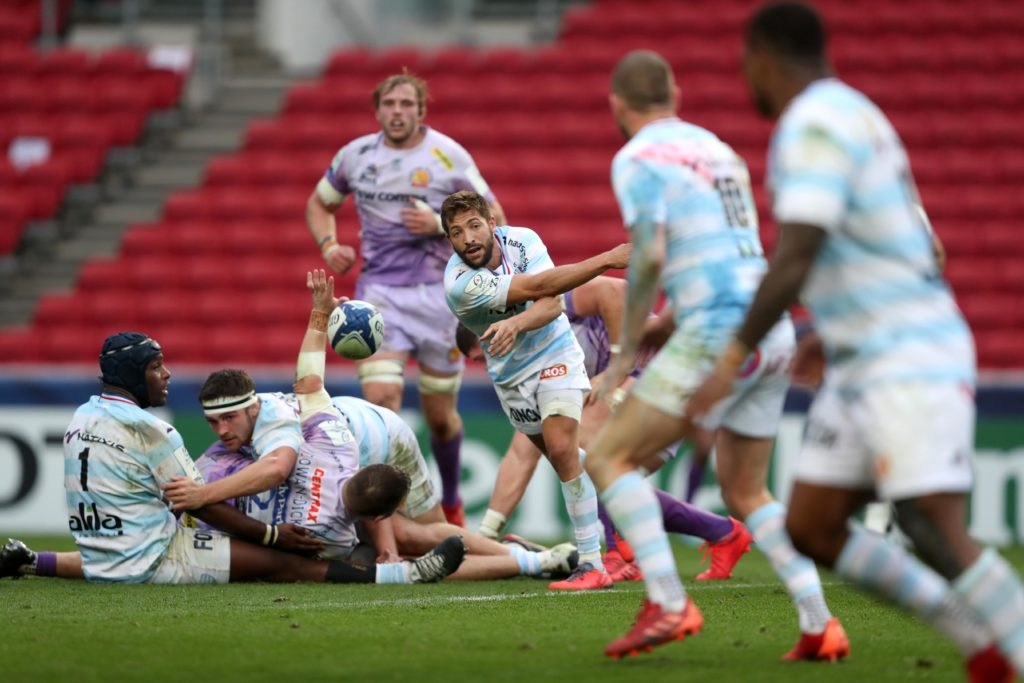 Finn Russell – the one-man match
Finn Russell is essentially a full 80-minute match in one person. You get the impression that he could have stood in the middle of the pitch at Ashton Gate, on his own, played himself for 80 minutes and it may have been the most entertaining game of rugby you'd ever see. As with virtually all of his performances, his display against Exeter was at the very limit of what is possible in the 10/12 channel. He played flatter than the Fens and when it worked his passes unlocked parts of the field that some tens aren't even aware exist.
His miss-two pass to the fired-up Simon Zebo was immaculate and without it, Racing may have been buried before half-time. His chip kicks were tremendous and reversed the midfield defenders quicker than a localised Covid policy. But there was also the pass for the intercept, which having been delivered in Racing's 22, meant an instant score for Exeter. Finn Russell may not be every coach's dream, but for the neutral he is the very embodiment of rugby and a glimmer of an age gone by for outside halves. Never change, Finn. Never.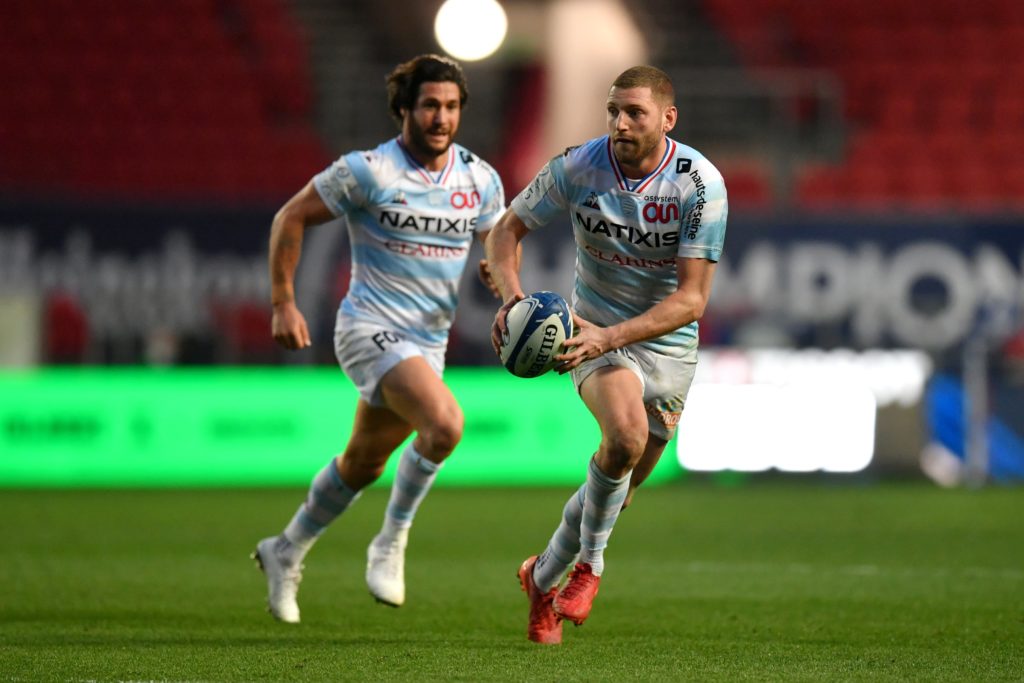 Jonny Hill defies the stats
Some player's contribution to the game can't accurately be reflected in stats. It is often the case for locks and was certainly the case for Jonny Hill against Racing. His stats were actually on point. He was Exeter's top tackler, with 16 tackles completed, and shunted the ball forwards ten times. But his impact was far greater than those numbers convey. To truly measure the impact of Hill you would need to count the times that one of the Racing players felt their dreams being crushed.
Every time a Racing player looked back over their shoulder to offload, Hill came swooping over the top like a blanket of misery. If he wasn't stopping the offload from behind, he was closing doors from the front. He may not have been the big-name lock on the pitch, but he was the big-time player. Don't bet against Eddie Jones taking a look at him in the next 12 months, he was that good.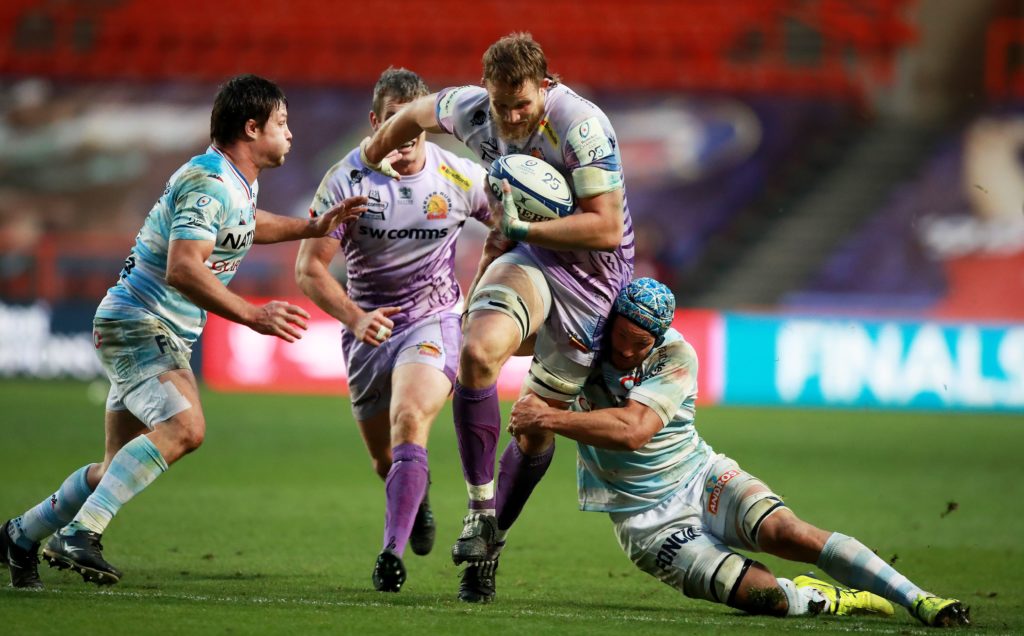 Rapid rucks
Part of the rapidity of the final was down in large part to the officiating. The clock issue aside, the ruck was whistled as it should be – in nano-seconds. Nigel Owens gave the carrier one chance to place and the defensive team one chance to steal. Anything else and it was a penalty.
The outcome was exactly why the stricter interpretation was brought in in the first place and forced both teams to zip the ball away from the base of the ruck as soon as possible. Well played officials.
If you've enjoyed this article, please share it with friends or on social media. We rely solely on new subscribers to fund high-quality journalism and appreciate you sharing this so we can continue to grow, produce more quality content and support our writers.