Back

By Russell Forbes
How Saracens have switched up their play to become an attacking force
Saracens, like another successful North London side – George Graham's Gunners in the Nineties – are often unfairly pigeon-holed as a bit boring. While the terrace chant, '1-0 to The Arsenal' became folklore, fans have regularly flogged Mark McCall's side and derided them for lacking the flair and invention you would customarily associate with a Harlequins, or Northampton Saints. There have been periods where Saracens have preferred to put boot to ball, or weaken the resolve of other side's with the shock and awe of their defensive 'Wolfpack' system, but this season, caution has noticeably been cast aside. Saracens have added va-va-voom to an already powerful recipe for success.
The smile on the face of playmaker Owen Farrell, tells a story. Along with Nick Tompkins, Alex Lozowski and Alex Goode, there has been a licence to thrill and attack from every area of the pitch. Of course, being Saracens, this isn't champagne rugby, championed by the Racing 92 side of the Eighties, there is method and structure behind their joie de vivre but it is a strategy that sees them 80 minutes away from picking up their sixth Premiership title. After the relative snore-fest of last year's final against Leicester Tigers, Saracens will not die wondering.
OPTA's data shows how Farrell's men have reinvented themselves and added panache to power.
Comparing the last two seasons 
The overriding consensus is that Saracens are attacking more this season. Where before they would have always looked to kick in certain areas, now they will consider pinning their ears back and looking for space. The graph below looks at the data behind their attack for the last two seasons, illustrating the % difference from last season to this season, and visualises a marginal increase in their attacking numbers. Firstly, they are kicking less, but not massively, with their average kicks in play per game down from 29.7 last season to 28.1 this season and their average kicking metres coming down from 877 to 822. This slight reduction in kicking is mirrored in their data with the ball. The general "attacking" metrics are all up between 10 and 15%, as they make an average of 21 more passes a game and have 11 more rucks, whilst they are averaging 1.3 more linebreaks per game, adding 0.5 per game more from their own half. Finally, the graph displays a decrease in their turnovers conceded but an increase in penalties conceded in attack. However, due to the small values associated with attacking penalties (they are averaging 0.7 per game more this season) compared to turnovers (1.3 less per game), the % change is amplified on attacking penalties and in total, they are losing less possession this season.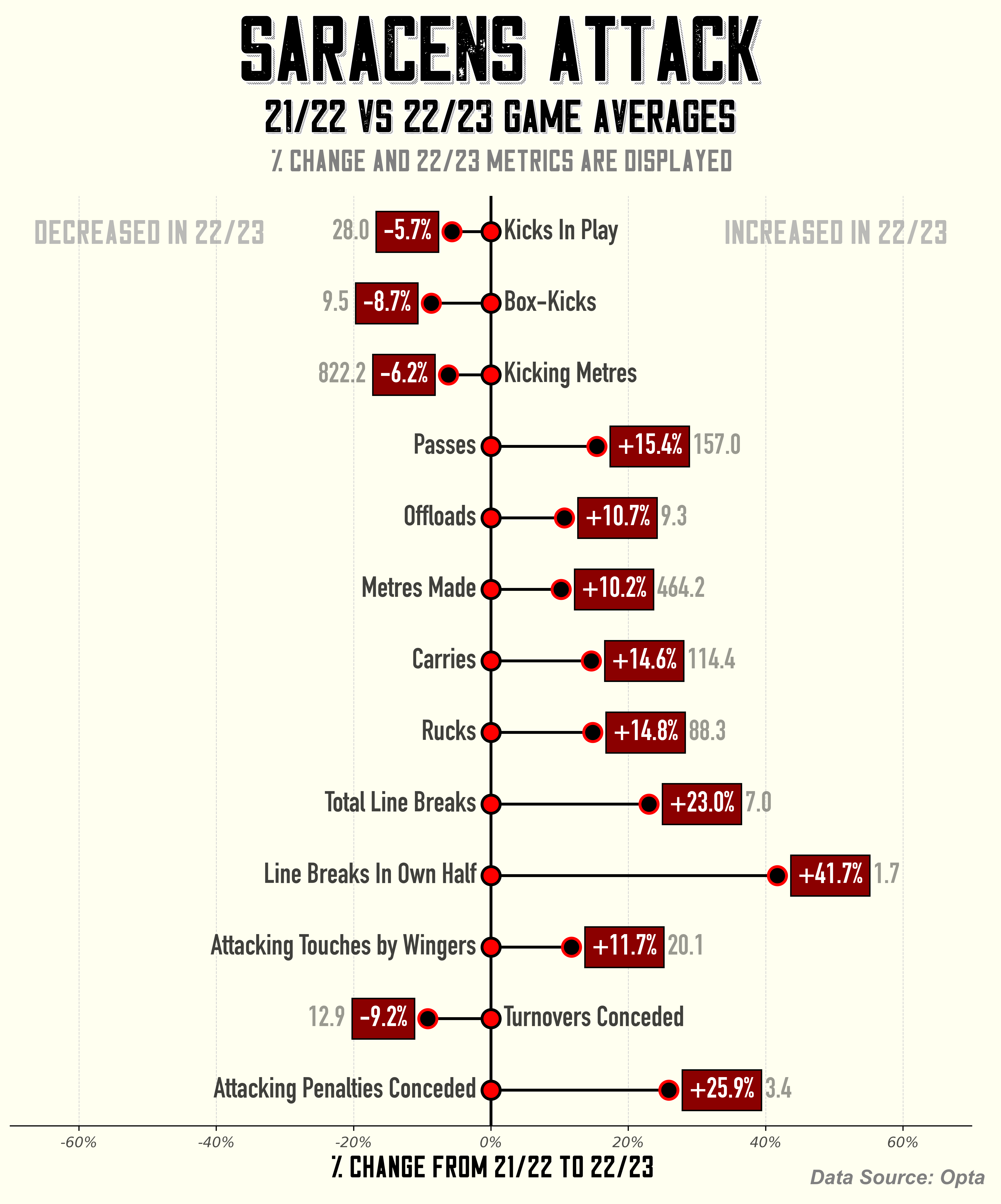 How they rank in attacking metrics this season
Below is a snapshot of where the increases in Saracens attack have put them in the 2022/23 season ranks. Saracens are ranked 4th for both average kicks in play and average carries, however none of three teams ranked above them for kicks in play (Leicester, Sale and Gloucester) are in the top three for carries (Exeter, Northampton, Bristol). Exploring these two stats further, on average, teams are ranked five places apart for kicks and carries (for example, Northampton are ranked 2nd for Carries, but 7th for kicks) so Saracens sit as a bit of an anomaly in being so closely ranked for both. The fact that Saracens are ranked 1st for linebreaks and linebreaks from their own half highlights just how dangerous their attack has been this season.

Out-passing their opposition
As well as measuring a change in Saracens attack through game averages, the below graph looks at the number of passes Saracens make in a game compared to the number of passes their opposition make. In the 2021/22 season, Saracens made more passes than their opposition in 12/26 games (46%) whereas in the 2022/23 season this has increased to 15/21 games (71%). Although this metric is affected in part by the opposition team, over the course of a season it paints the picture of Saracens looking to attack more this season, whereas last season they were happy to pass less and rely on their defence and kicking game.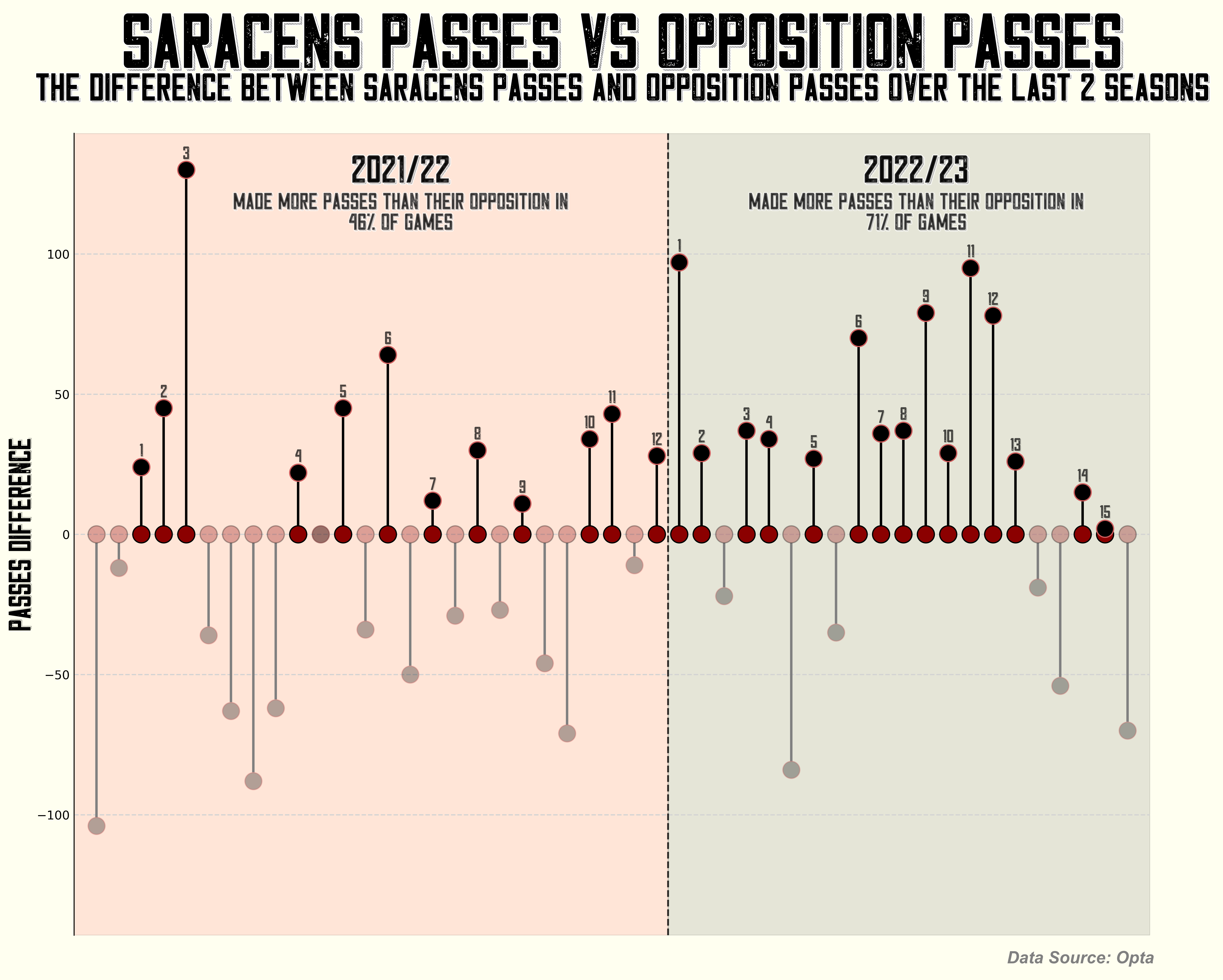 Where their tries originate from
For a final look at comparing Saracens' last two seasons, the two pitch maps below show the possession starting points for each of their tries from the last two seasons. These maps display how Saracens have been scoring from deeper this season. Last season, 54% of Saracens tries started in the opposition's 22, with the map showing that the majority of these started on the touchlines (lineouts), supporting the idea that Saracens played by winning penalties and strangling the opposition with their kicking game. This season, only 42% of their tries have started in the oppositions 22, with a 10% increase in tries that began between halfway and the oppositions 22. In addition, the current season's map highlights how a large proportion of the tries from this area are starting closer to the half-way than the oppositions 22.

Premiership No 10 passes per 80 minutes
The final graphic visualises the passes per 80 minutes of every player who has started in the fly half shirt for a club in the Gallagher Premiership this season, with Saracens fly-halves highlighted in red. Only Paddy Jackson is ahead of Farrell for passes made per 80 and their numbers are almost identical, with Marcus Smith then only passing 0.3 times per 80 minutes less. Saracens back up fly half, Manu Vunipola then sits in 4th, making 23.3 passes per 80.  Although passes per 80 alone isn't an indication of a potent attacker, it again highlights Saracens' intention to attack.