Back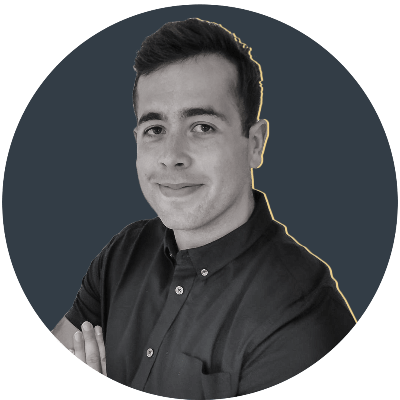 By Jamie Lyall
'He pointed his gun on my chest' - Van Rensburg's journey from armed robbery to salvation
"You've seen our faces," said the old robber, pointing his gun through the car window. "You could bring the police back here. We can't risk that."
As the weapon was thrust into his chest, Rohan Janse van Rensburg knew he was about to die.
Earlier that evening, three masked men broke in to his Johannesburg house, looted his valuables, and had the Springbok centre drive them to their township at gunpoint.
The ordeal was the final act in a period of heinous trauma; bereavement, grave injury, and this near-death experience. It is only now, four years on, Van Rensburg has faced his demons, rather than running from them. It is only with the help of good people, at home and at Sale Sharks, that he has emerged from the far-reaching blackness.
To understand his voyage, you must go back to early 2017, a time when Van Rensburg, a burgeoning talent in a successful Lions team, felt invincible.
"I was 21 years old when we won the Currie Cup in 2015," he tells RugbyPass. "The next year, I made my debut in Super Rugby. Then I became a Springbok. Everything was going for me, man. The world was my oyster.
"But with that, mentally, you start to think you're untouchable, better than the rest, because you have more, that you are more. Your humility goes out the back door.
"This is where everything started. I may have thought I was the best at what I do, but I didn't know what the world had in store for me."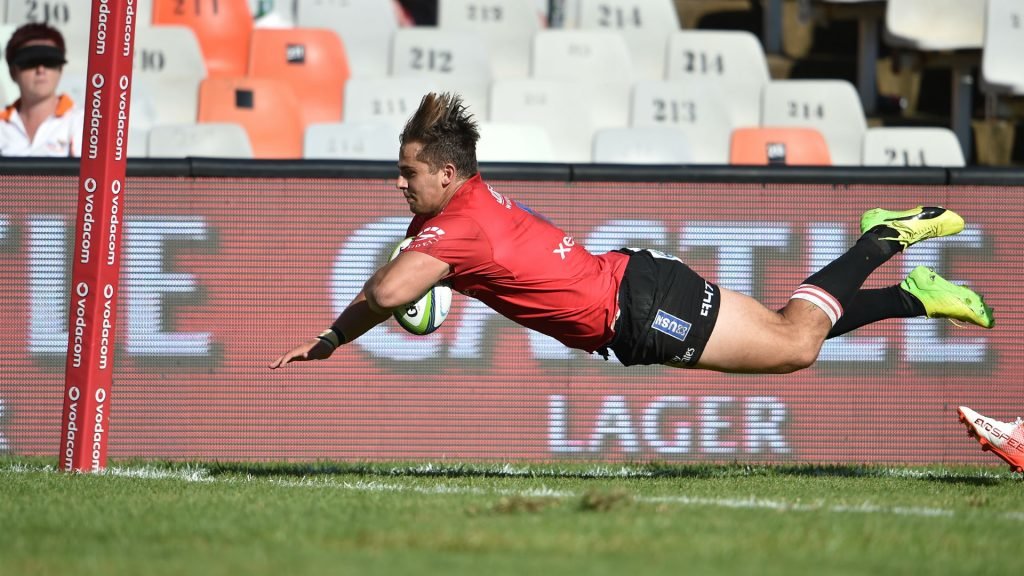 Van Rensburg has a strained relationship with his father, whose own rugby career stalled, and who placed unfair pressure on his boy to succeed where he had failed.
Van Rensburg's mother was his tower of strength. She had battled cancer for as long as he can remember. Six weeks before her death, she was taken seriously ill, meaning he could at least spend precious time at her side as her health began to wilt.
"She was that person I could always call for guidance. No lies, she just told it as it was. She was my rock and my pillar.
"One night, I had a call – her lungs gave in. I drove all the way from Johannesburg to Pretoria. I held her hand, and she wasn't responding. I had to scream, 'mum I'm here, I'm here!'. All of a sudden, you could feel her fingers move a little, the doctor said her pulse was coming back.
"I didn't spend a lot of time with my parents when I was younger. I held a lot of frustrations against them because of the way I was handled as a kid by my dad. I didn't want to be around that energy. Because I started succeeding, I thought I'd have a lot of time with her at the end of everything.
"I had a full month-and-a-half with my mum before she passed away. We were playing the Waratahs that weekend, and because I was filled with such confidence, I still wanted to play.
"I had to show that it didn't bother me, I was raised to not let people know I was not happy or show that in any way. I stuck to that. I carried on, and I scored two tries."
Swept up in the tumult of rugby, and warped by the macho notion he must show no weakness, Van Rensburg never grieved openly.
On the way to the township, I spoke so much to them that they took their masks off, they felt comfortable talking to me.
Soon after, life floored him again. This blow delivered inadvertently by Eben Etzebeth. When a hulking South African lock falls on your leg, you tend to feel it. Sure enough, Van Rensburg's knee ligaments and hamstring were ripped clean off the bone. He was immobile and helpless when the robbers came prowling to his door.
"All I could do was sit there with my crutches and tell them to take whatever they wanted. I was relaxed, calm, I made them feel comfortable in my home even though they weren't invited.
"When they were about to leave, they realised they didn't have a vehicle to get out. I told them I couldn't drive with my knee, so they said my mate, about four years younger, would have to do it.
"I said, 'no, he's not going anywhere – I'll do it'. They loaded up my car and I drove them out. And on the way to the township, I spoke so much to them that they took their masks off, they felt comfortable talking to me. I said to them, 'listen guys, you're not stealing these things, I'm giving them to you freely because I know how tough life gets'."
After relieving Van Rensburg of his possessions, the thieves argued at the back of the car. That was when the ringleader walked to the window and delivered his chilling ultimatum.
"He pointed his gun on my chest and I looked at him, looked down and started praying. Then I just heard the scatter, these guys running away. It felt so rapid, they ran away into the distance, and all they left me with was 100 rand, about £5, for petrol, because the car was empty."
He is still unsure why the men spared him. Perhaps his warmth formed a bond they could not bring themselves to sever with a bullet. Perhaps they were simply unwilling to add a murder charge to armed robbery should they ever face justice.
The impact on Van Rensburg was profound. His dear mother gone, his leg wrecked, his house ransacked and his life so nearly ended.
He began to shy away from things he loved. He deleted his Instagram account. He says "self-sabotage" became his biggest weakness. He felt the urge to flee South Africa, and wound up signing contracts with both Gloucester and Sale, later copping a large fine from the RFU.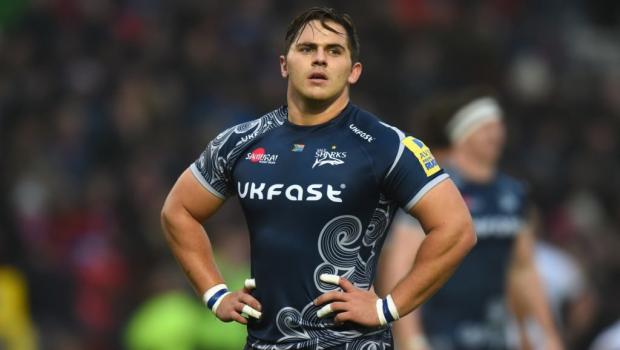 "I suppressed my inner identity because of the things which happened to me," he says. "For most of the time I've played for Sale, I was still fighting this feeling, I still felt the world owed me, the coaches owed me."
For years, the pattern continued, until Alex Sanderson pitched up at Sale and sparked an awakening in his muscular centre. Sanderson is a cerebral figurehead, always talking up the importance of mindset and emotional wellbeing. He brought in Jamie Langley, a former rugby league international, in a newly-created 'peak performance coach' role. Langley's remit is broad, but he has taken a particularly keen lead on mental health.
"Langers set up this mind gym where we do yoga, you can look at your life and see what you want to achieve, and I just realised for four years, I've been the same person," says Van Rensburg.
"I haven't changed the way my eating habits, alcohol, the way I see or view life. I keep fearing bad things will happen. I haven't challenged myself in any way for four years. So obviously I'm going to keep going down into the same self-sabotaging mindset. Things have to change.
"I'm trying to develop confidence within me again, being able to do things that people have portrayed me as not being able to do… 'He's just a ball-carrier, he can't do this or that'. Once you believe that, you lose confidence and lose what you think you are. And 100%, it reflects on your game.
"Now, I can finally fully play, a coach can say something to me and I'll learn from it, not take offence. A 19-year-old guy at the club can say to me, 'in the defence, I feel you should have gone then instead of when you did', and I can listen to it."
Van Rensburg has removed the shackles of that awful year. He has learned the pitfalls of defining oneself by one's profession. He owns property in South Africa and hopes to enter the market here, with fellow juggernaut centre Manu Tuilagi. Fondly nicknamed 'the bruise brothers' at Sharks, you can't imagine any prospective tenants will be late with the rent.
I'm seeing how players in my position play, how freely they move and the metres they obtain, and I literally can't do that because my muscles start cramping up or something happens with my body that I can't handle.
Recently, the pair embarked on weight-loss campaigns. Tuilagi is reportedly playing lighter than ever and looks good for it. Van Rensburg, built like the proverbial brick outhouse, aims to get down to 100KG.
"I don't like where rugby players' minds go at the end of their careers, and especially within their careers. I don't like the fact a job has to make you feel insignificant.
"The reason I do these journeys is because I want to make a difference. I don't want to be known just as Rohan the rugby player and yeah, he was good from this time to this time.
"I want to be valued as something way more, not because I want to be great, but because I know how many people went through the same things, the same mental struggles, the same doubts. If you can be the one person who tells them you are good enough, why not be that guy?
"I've learned I have to take my ego out of every situation. Your ego always determines how you handle things. I have to see if there's a value in what has been said, and if it's true, admit it and work on it.
"Nobody said anything about my weight, but internally I had this argument with myself consistently – 'listen, you weigh too much' – and I'm seeing how players in my position play, how freely they move and the metres they obtain, and I literally can't do that because my muscles start cramping up or something happens with my body that I can't handle. That's the hard truth."
In laying bare his struggles, Van Rensburg talks again and again about rugby's often staid culture. The game craves personalities, but castigates those who stand out from the crowd. The dearth of transcendent figures recognised beyond the sport gnaws away at him.
"When you do speak openly, guys around you are going to give you a lot of shit for it. You'd rather shut up than saying or doing something out of the norm of what a rugby player is portrayed as. I feel very strongly about that.
"You want to get to know players for more than just rugby. Look at all these players in boxing, football, NFL, NBA, they have these brands and interests and what they want to do with their name. That builds the relationship with people who watch them play and want to support them. It brings interest to the game. You never want people to lose interest, but why would they come and watch you play if they don't even know who you are?"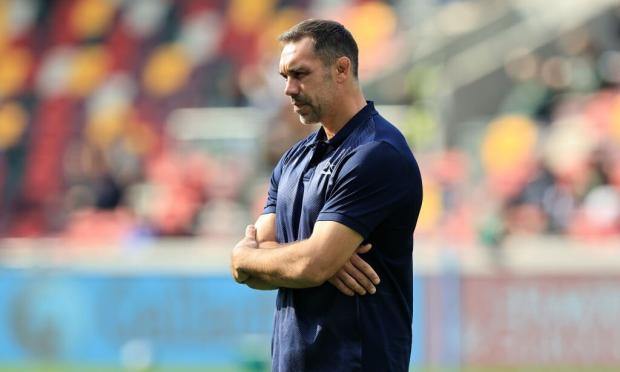 And so to Sale, and a colourful squad building its own identity as a Premiership heavyweight. Although beaten in the semi-finals by Exeter, and steamrolled in the Champions Cup quarters by La Rochelle, last term was a significant step forward.
This year has not started so buoyantly. Shorn of their internationals in a ruthless Premiership, Sale languish in 11th place, with three wins from their nine fixtures. They begin their European venture on Sunday, a trip to Ospreys and a game they are expected to win.
"The season has been up and down because we haven't had a full squad for months," says Van Rensburg. "All the internationals are coming back which is exciting for us.
"We want to build a brotherhood at the club that is not just about winning games of rugby. That will come over time. It is more important the team is so close-knit that anything will come and we can beat it.
"That said, it would be nice to be in contention for winning a cup, winning the title this year. Harlequins showed last year you can turn anything around. Going in to Europe, we want to be able to contest for everything. Everyone wants to win trophies, but for us it's a bit different – we want to build a legacy."
No longer does Van Rensburg burden himself with the suffering of the past. No longer does he let rugby rule his happiness. No longer is he quite literally staring down the barrel of a gun.