Back
By Nick Bishop
Emmanuel Meafou could have been a world-beater for the Wallabies
Emmanuel Meafou could have been either an offensive, or a defensive lineman in America's NFL. He had the extraordinary size that gridiron scouts look for at the tackle positions on both sides of the ball. Linemen routinely dial in at 140 kilos (310 lbs) but they are frequently much bigger than that; whether they are trying to protect the quarterback, or attack him when he drops back to pass. What is more, they are all athletes, with fast-twitch reactions of hand and foot alike.
'Manny' stands six feet eight inches tall and tips the scales at 145 kilos, but the scouts scouring the world outside the United States for promising talent wanted even more. They felt he could hang another 10-15 kilos of muscle off his already-massive frame.
The big man takes up the story:
"At the time they were running trials in Australia, called an NFL combine. I was living in Sydney but the trial was in Queensland, where my family was living.
"I just thought of it as a free trip home to see my family, so I went over and did it. It was very professional. They measure the width of your hand, your fat percentage and run you through some drills."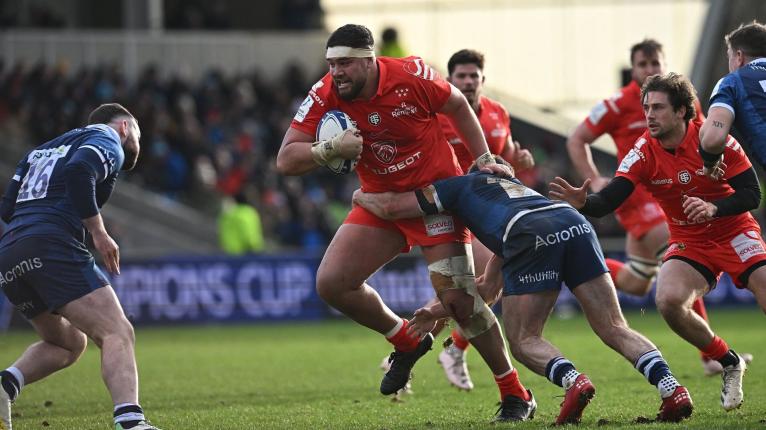 "I weighed in at 150kg at the time but they wanted me heavier, gym-ing three times a day to get up to 160 kg of pure muscle. I thought: 'I can live this life'."
Meafou's first love was rugby. He had appeared for the NRC's Melbourne Rising in South Australia, Darren Coleman-coached Shute Shielders Warringah and the New South Wales Sea Eagles on two dozen occasions, and he had a burgeoning rugby portfolio.
But at 20 years of age, he had failed to secure a berth in any of the Super Rugby franchises in Australia: "Rugby was still a passion and dream of mine. The only reason I went down the NFL road was because I had no offers [at home]. For me, rugby was over."
In retrospect, it is the tale of a talent-spotting opportunity missed, and an indictment of the structural weaknesses in Australian rugby. Not only were none of the Super Rugby sides unwilling to offer Meafou a full-time contract, they would not even let him train towards the weight and fitness targets they wanted:
"Near the end of the NRC I had some talk with the Waratahs, but it was also part-time, just coming in for a couple of training sessions. I ended up going into the Waratahs for a physical and just never heard back.
Just like the NFL, the Top 14 loves a good big man – the bigger, the better.
"It was kind of like a Will Skelton situation again, for them [New South Wales]. At the time, I was just too big, and they wanted me down at a certain weight, but all me and my agent were pushing was we just wanted a pre-season deal where I could be in there and do the training, to have the help of them to get my weight down.
"But it felt like they wanted me down [in weight] before I got there."
Just like the NFL, the Top 14 loves a good big man – the bigger, the better. Contractual offers were not slow in coming in from three of the most prestigious French clubs: Lyon, Clermont and Toulouse. Meafou was offered a three-year JIFF (joueurs issus des filières de formation) academy deal, with the player becoming qualified to play for France upon expiry under the World Rugby residency rules at the time.
Manny picked the current Top 14 champions, and five-time European Champions Cup winners Toulouse. By the end of the 2021-2022 season, he was an established starter for les rouges et noirs, typically partnering Rory Arnold in the engine-room of the tight five – and more often than not, keeping Rory's twin brother, and newly-fledged Wallaby Richie out of the starting team in the process.
By the time Rugby Australia saw fit to call, it was already too late in the day:
"I don't know what was going on at the ARU [RA] and that's not my business, and I am sure they had their reasons. It's nothing personal.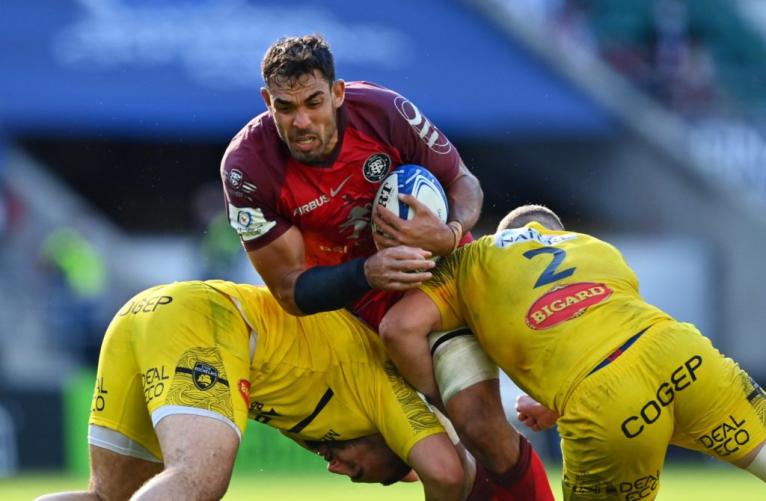 "But I felt let down, and the other thing was it was only after I came here, and started playing good that they contacted me. Then they started chats about me coming back. We had literally been in Australia and I was pretty much begging just for a full-time training deal, nothing special. Just to develop me. And we were asking for that, and it didn't happen.
"I have come here and developed myself, and Toulouse gave me the chance to grow into the player I am now. It's nothing personal.
"I made my commitment to France, and it's nothing against Australia. I will always call Australia home, but French rugby gave me my opportunity and I wanted to give back."
If you hear the words, "It's nothing personal" not once, not twice but three times, you know there is clearly a large amount of hurt and frustration present. Emmanuel Meafou chose to repay the faith of the people who saw his potential and had faith in his ability when it mattered. It is the same in any profession.
With World Rugby's qualification-by-residency rule now revised upwards from three to five years, it means Meafou will miss the World Cup in September, but that does not change the basic situation. Manny Meafou still feels that loyalty to his adopted rugby country, not his country of origin.
How does Australia get its talent identification and recruitment processes so wrong when it scarcely has enough players to make its five-team structure competitive?
So why do the biggest of the big men gravitate to France? Even Sydney-sider Mitch Lees, who was unable to get a professional contract at home, but became an Exeter folk hero and fringe England squad second row down in Devon, now plays for CA Brive in the twilight of his playing career. France is the rugby home from home for the outsized.
How does Australia get its talent identification and recruitment processes so wrong when it scarcely has enough players to make its five-team structure competitive? The absence of a semi-professional tier below Super Rugby like the NRC sure doesn't help. It would trawl more of the available talent in a wider net, extending the safety margin when there is any doubt about a player's potential.
The Tahs passed on Meafou for South African Le Roux Roets and now they have lost Miles Amatosero too. Their current roster only features second row/back row tweeners like Jed Holloway, Ned Hanigan, Taleni Seu and Hugh Sinclair. There is not a single dedicated second row among them.
At least Rugby Australia has belatedly recognized the value of one very big man in the shape of Will Skelton, although he had to move from New South Wales to La Rochelle (via Saracens) to find his true rugby mojo and demonstrate the full range of his skills.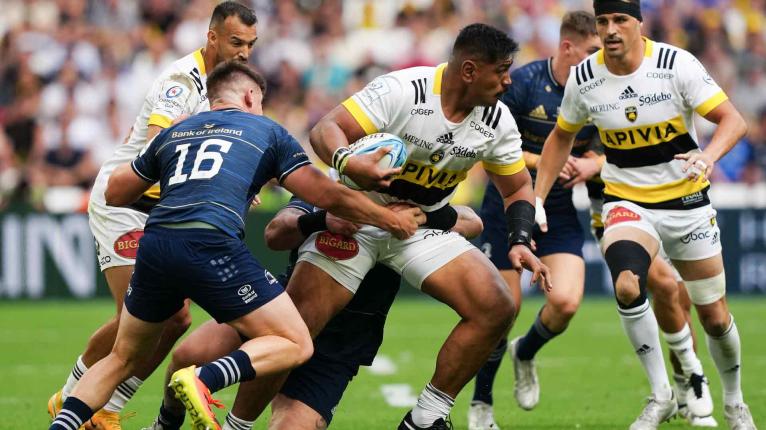 How does Meafou measure up to Skelton? The comparative stats over the course of the Top 14 regular season suggested there was not much to choose between them – on attack:

Meafou carries slightly more frequently, but Skelton has more impact. Neither are primary lineouts targets – between them, the pair only won 10 lineouts in Top 14 regular season play.
Here are the stats on defence:

The biggest single difference on defence is the number of defensive steals Meafou makes on the deck.
Forget about fancy lineout jumping. Both players are there for the hardest of hard contact scenarios, to do the filthiest of the dirty work. They are power-based, tight-head locks who shove behind the man under the most pressure of all in the front-row. It was Meafou's side of the scrum which jolted forward in the grapple for the Bouclier de Brennus last weekend – even if the Toulousain set-piece was not always properly rewarded by the referee:
In the first clip, it is Pierre Bourgarit, the Stade Rochelais hooker, who clearly breaks his bind and pops out of the top of the scrum first to release the pressure. In the second instance, his loose-head Reda Wardi is under stress from Dorian Aldegheri (with Meafou's massive assistance behind him) and on the retreat at a five-metre scrum.
It was the Toulouse leviathan who was a king in lineout defence on the day:
https://youtu.be/lQV3WZUlm-s?t=29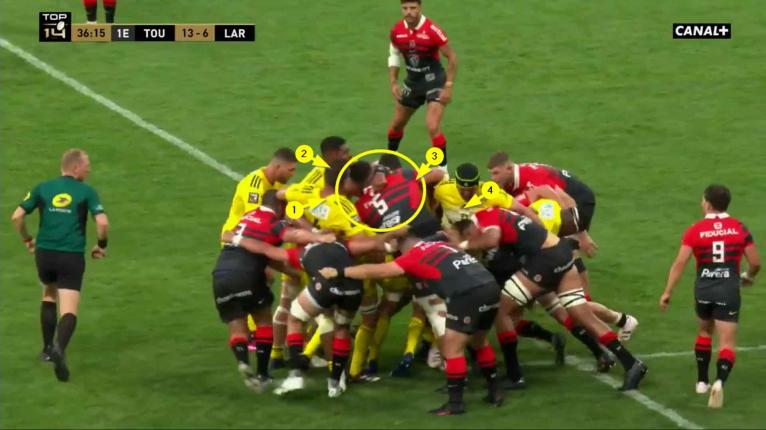 Meafou aligns opposite the Rochelais catcher, then drives ahead on an angle towards touch, and there is nothing that Skelton or the other La Rochelle forwards can do to stop him. When the men in yellow try ill-advisedly to play away from the tram-lines, the red-and-black defence is free to tee off and centre Santiago Chocobares picks off the intercept for a breakaway try.
The disruption Meafou caused to the La Rochelle lineout drive throughout can be clearly viewed in the screenshot. He has created a vast hole in the blocking front and the opposition forwards are having to work around him, not through him.
He is also a smart operator:
The delivery over the 15-metre line entitles Meafou to ignore the blocking wall and pincer on the ball with Toulouse number 7 François Cros jamming in from the other side. There is no offside line and the drive is going nowhere.
It is all about hard contact, the further you progress in the knockout stages of any big tournament:
As soon as he sees the initial cleanout on the ground and spent, Meafou leads a counter-ruck straight through Rochelais #9 Tawera Kerr-Barlow to win an important penalty.
The quick first step and fast reactions that NFL line coaches cherish so much are part of the Emmanuel Meafou rugby package too: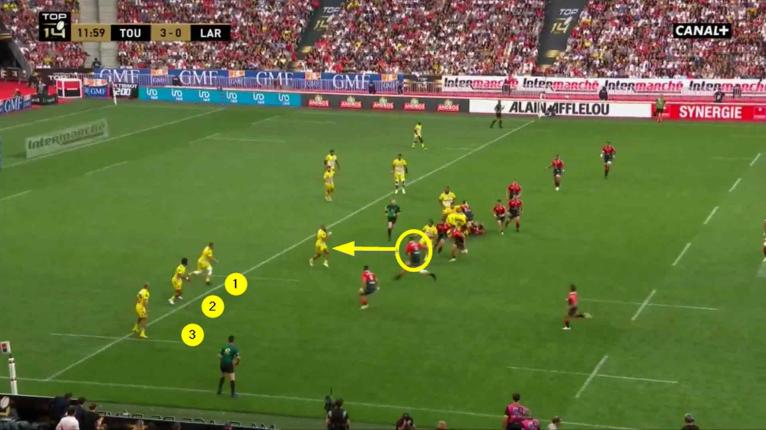 That is the big lock, understanding that La Rochelle have numbers available out to the right and shutting down Wardi smartly before he can get the ball away to exploit it.
Rugby Australia needs to be a lean, mean administrative machine. It cannot afford to haemorrhage talent by ignoring, or misidentifying it when four of its five regional teams are on their uppers.
The trawl needs to be deeper, more accurate; the likes of Emmanuel Meafou and Mack Hansen need to be able to learn to swim in a multi-tier professional and semi-professional pool at home in Australia; or if they do go to France or Ireland, let them go on sabbatical deals which will them bring back as better players for the green-and-gold, not in emerald green or French blue.
The system needs to be elastic enough to accommodate two or three years spent learning overseas, while insisting on ironclad primacy of contract with Rugby Australia. Let the dream go where it wants, knowing that it will boomerang back home.