Back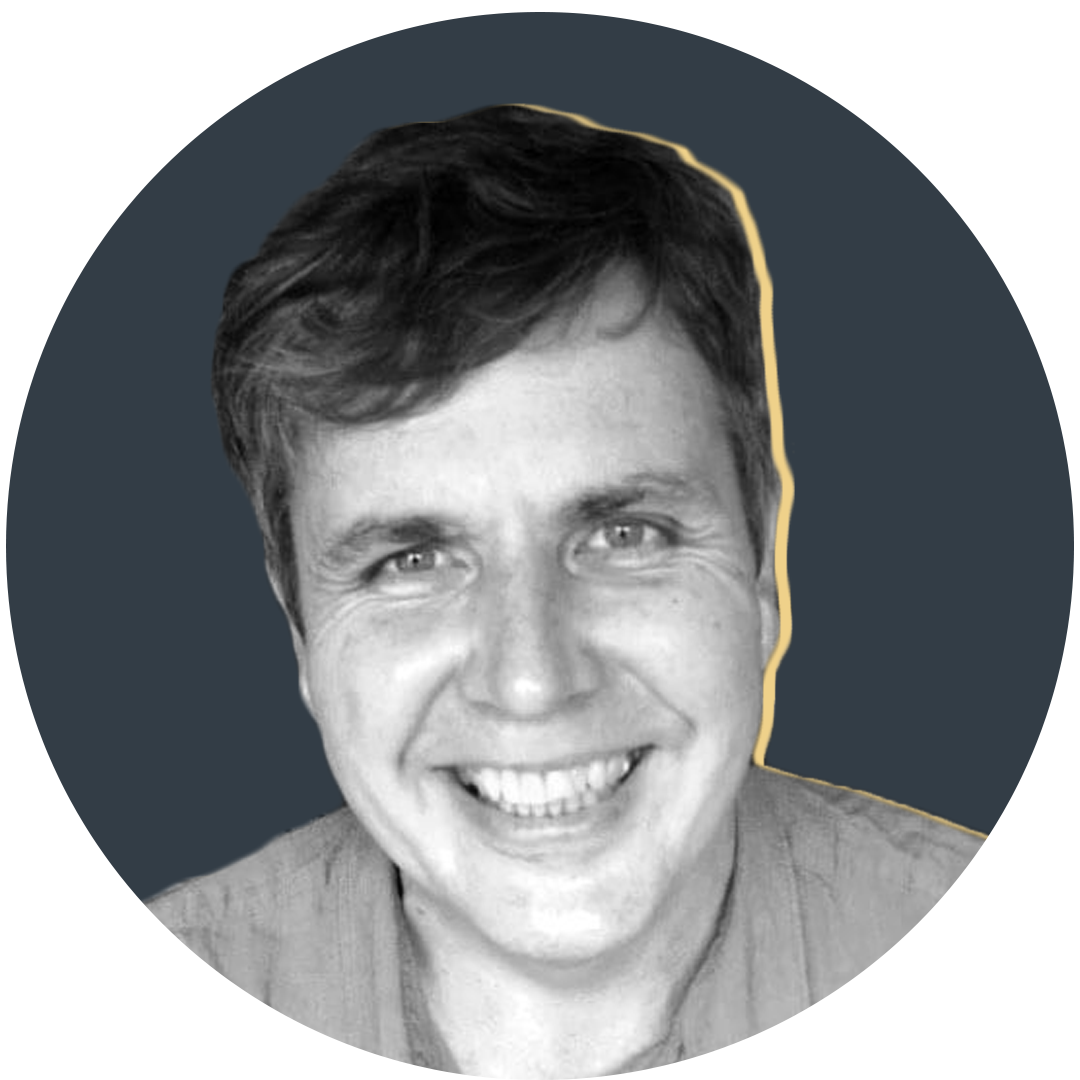 By Nick Bishop
Does Roger Tuivasa-Sheck have the makings of a test midfielder?
Has there ever been a greater fanfare surrounding a rugby league player's switch to union than the background to Roger Tuivasa-Sheck's move from the New Zealand Warriors to the Blues? If there has been more media noise, it is hard to imagine how much louder the trumpeting could have been.
Expectations are rising to unmanageable levels, as it always tends to do when a star in one code crosses the iron curtain to the other. It happened to England back in 2015, when the South Sydney Rabbitohs league legend Sam Burgess swapped the white-hot spotlight of Australia's biggest city for Bath, and the gentler waters of the West Country in English Rugby Union.
Slammin' Sam's experience underlined the problems that can beset even the cream of the cross-coders. Ex-Great Britain League coach Phil Larder, who was the mainstay of Clive Woodward's coaching staff on the other side of the fence at England's only World Cup triumph in 2003, always used to say that if a team of Rugby League players walked through the door, a casual bystander would struggle to determine their positions on the field.
In union, the body shapes are much more distinct, and there is no mistaking a second row for a prop or a full-back. Although Sam Burgess was a terrific Rugby player, there was never any agreement upon which spot he should play. Bath regarded him as a back-row forward and looked to develop him at No 6, England wanted him at inside centre or second five-eighth.
Even though he appeared with some distinction at the 2015 World Cup, Burgess' union career fell through the cracks of that positional confusion and came to an abrupt end after the tournament finished. Slammin' Sam left the sport and returned home to Sydney bristling with anger, rather than with the quiet satisfaction of a job done.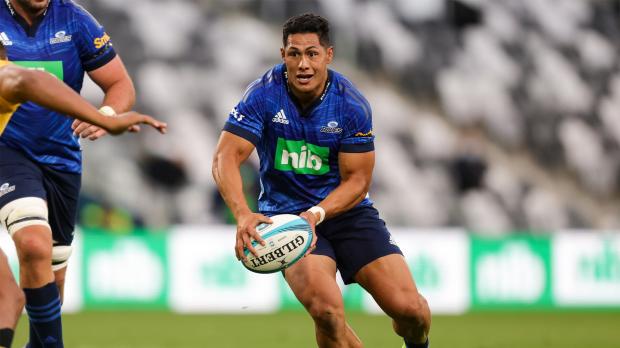 The primary issue is similar for Roger Tuivasa-Sheck. Although there is no doubt that he is a back rather than a forward, it is by no means certain where he should play in the back-line. In the second round of Super Rugby Pacific for the Blues against the Hurricanes, he started at number 12, and there is little doubt that this is exactly where the New Zealand coaching staff hope he will develop in time for the World Cup only 21 months hence.
In 15 matches over the course of 2021, the All Blacks coaching staff started three players at second five-eighth (Quinn Tupaea, Anton Lienert-Brown and David Havili) and three more at centre (Rieko Ioane, Braydon Ennor and Lienert-Brown) in five different combinations. A settled consensus there is not – which is where Tuivasa-Sheck comes in.
There is such a positive upswell of sentiment behind his code swap that it threatens to carry him all the way into the All Blacks starting XV, regardless of actual performance. His coach at the Blues, Leon McDonald, offered one of the more measured appraisals of his contribution against the Canes:
"Roger had a very, very good game, considering it was his first real game of Super Rugby. There was a lot of work, I thought he was always dangerous on attack, he played within our structures well, and you could see he's still learning.
"There was some detail around the breakdown etc, where he got penalised at one point, but you watch next time, he won't do that again. There were some good signs there."
Many New Zealand and Australian scribes, however, were rather more effusive in their praise.
It was a mixed bag, and it should be a performance which will raise the longer-term question of whether Roger Tuivasa-Sheck's optimal position will be second five-eighth, further out at centre, or in the back three at international level.
So, where does the truth really lie? Let's start with the raw stats. On attack, Roger Tuivasa-Sheck had 11 runs for 50 metres, with four tackle-breaks and three offloads. Good, but not game-leading compared to those of returning wing Caleb Clarke, with his eight runs for 95 metres, three clean breaks, five tackle busts and a try.
At a deeper statistical level, Tuivasa-Sheck breached the gain-line on 55 per cent of the rucks he set, compared to 75 per cent by Clarke; only 14 per cent of those rucks produced lightning-quick ball, compared to 100 per cent of those set by Clarke. On defence, he made 13 of 16 tackles and allowed two offloads out of contact. Caleb Clarke completed eight tackles with no misses and no offloads allowed.
It was a mixed bag, and it should be a performance which will raise the longer-term question of whether Roger Tuivasa-Sheck's optimal position will be second five-eighth, further out at centre, or in the back three at international level.
He made a great start to the game on attack, featuring a mix of fast-twitch footwork and top-drawer deliveries on the behind-the-back offload:
The electric feet and the offload are almost enough to get Rieko Ioane through the defence and across the goal-line in the first example, and you will struggle to find a quicker first step after receiving the pass anywhere in the world in the second. The sense of expectation is fully justified.
Defence in one-on-one tackles was more variable. Let's look at his three misses. Tuivasa-Sheck set up at some good angles of entry to the tackle, but then missed the target: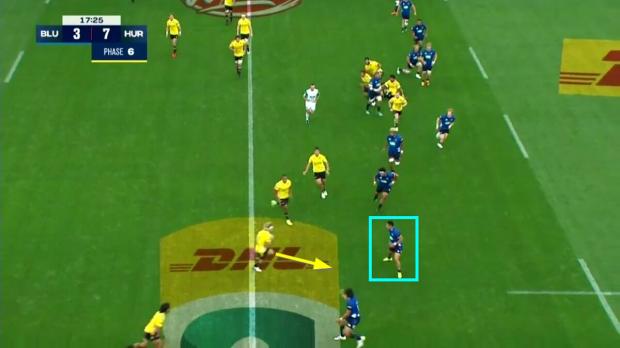 He has flanker Blake Gibson in his sights, but is bumped in the contact after dipping for the tackle.
At the death, it was a more significant mistake which led to the break by Bailyn Sullivan, and the Hurricanes' go-ahead score:
Once again, RTS has pushed off the inside attacker successfully and has a nice angle on to Sullivan, but the tackle height is wrong and a high 'league' style attempt is brushed off: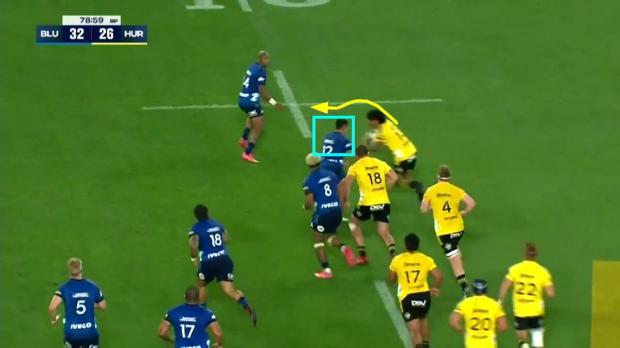 There is a suggestion – but no more than that – that Tuivasa-Sheck may struggle with straight-ahead power on the carry. He was confronted by the Hurricanes' biggest back, Julian Savea, directly from a set scrum. Savea made 15 metres after first contact with RTS, and the failure of his initial grab attempt:
Some alterations in tackle technique will be necessary and no doubt forthcoming, but the struggle with raw power may linger. There are some very big and powerful bodies, like Jonathan Danty for France and Bundee Aki for Ireland, currently occupying the number 12 spot for the top-tier international nations.
Leon McDonald's comments on the detail around breakdown work were very pertinent, because the modern second five-eighth needs the behaviour of a good No 7 in order to survive the ordeals in contact. Some of the fixes are easier than others:
Roger Tuivasa-Sheck gets up and goes again, without releasing the ball, after the tackle by Julian Savea is completed, and that is a clear and obvious penalty. Judging by the comments of Hurricanes' wing Salesi Rayasi, he will learn very quickly:
"He was such a keen learner and he wanted to learn as much as he could from the players. He would always ask questions.
"I remember the boarding house [at St Patrick's College, Silverstream], watching him on a Friday night before rugby and on a Saturday, we'd all sit there watching 'Rog' and a bunch of other Kiwi boys for the Roosters.
"When he was in the team and asking for tips, we stood back wondering what was going on. It was awesome."
It is the attitude to the breakdown that Tuivasa-Sheck will have to spend most of his time swotting up. Every play-the-ball is 'live' and contestable and a number 12 like Danty or Aki will be a constant on-ball threat. Can Roger Tuivasa-Sheck do the same?
In the following example, the ball-carrier (Ardie Savea) has been trapped behind the gain-line from lineout, so it is a real opportunity for Tuivasa-Sheck to advance and counter-ruck at source: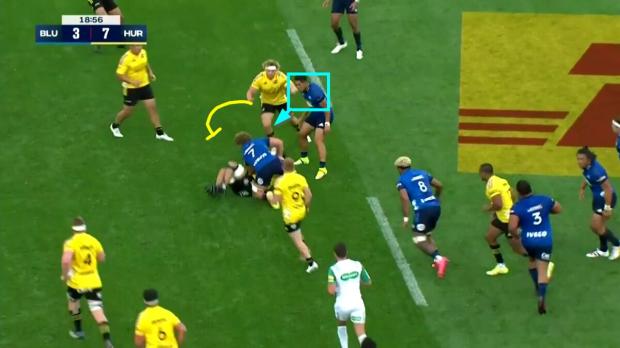 The first cleanout support (Gibson) is caught ahead of the ball and has to retire to re-ruck over Savea, so RTS can safely commit to contact, rather than drifting back to join the defensive line.
The same theme was at work in an example midway through the second period: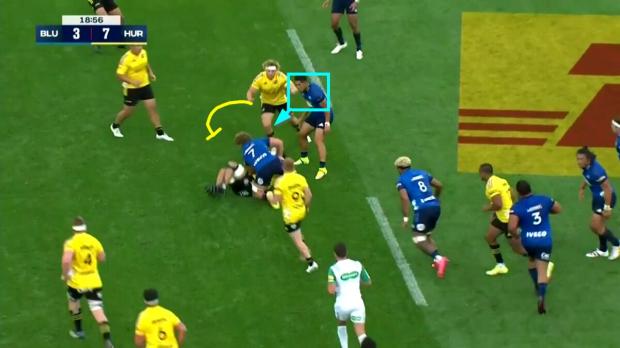 Once Tuivasa-Sheck gets behind the broken play, and on to Canes number 20 Braydon Iose, there is a clear chance to execute the choke tackle, but the Blues man releases his hold and looks to rejoin the line instead.
Given the very physical approach to the number 12 spot in current praxis, RTS will also need to become more ruthless at cleanout time:
In this event the penalty was awarded to the Blues for a defender dragging his hands back on to the ball, but the first cleanout support has to be able to create more immediate impact at the point-of-contact.
There is no doubt about the quality of Roger Tuivasa-Sheck's handling skills, his support play and his footwork. The problems will come in changing his tackle height in defence, and the speed at which he can learn new skills at 'live' play-the-ball situations after the tackle. Number 12 is one of the most punishing physical positions in the professional game at the highest level, and only the strongest survive.
The issue for Roger Tuivasa-Sheck (and the All Black selectors) will be the same one that tends to follow every league convert around like a faithful dog: what position suits him best? For RTS, it could be anywhere from numbers 12 to 15. Only time will tell.