Back

By Tom Bradshaw
Dan Biggar takes French leave but Welsh ambitions burn brightly
Dan Biggar walks into a room where there's an Englishman, an Irishman and a… Never fear, this isn't the start of a journalist's lame Six Nations joke. No, Dan Biggar walks into a room and Toulon's defence coach, the former Munster Number 8 James Coughlan, suddenly wants to change the topic.
"I've played against Dan and I know how much of a competitor he is," Coughlan is telling me, just as the door swings open and Biggar strides through. "Ah, there he is! I won't be singing his praises too much now he's walked in! But competitors thrive on challenge. Going to the Premiership in England was a new challenge for Dan. Coming to France is a new challenge for him. But he's a competitor who wants that challenge. And there's no better boy than himself to have a go at another challenge."
Biggar has only been at Toulon a matter of weeks since leaving Northampton Saints but, clearly, he is already making something a splash on the Cote d'Azure.
Since swapping the Midlands for the Mediterranean at the start of November, Biggar has guided Toulon to the knock-out stages of the European Challenge Cup and is seen by the club as a pivot around which they can stabilise their Top 14 form, which has been indifferent at best.
The gusto with which Biggar has thrown himself into learning the local lingo has also caught the attention of his team mates.
"I've actually got the same guy who taught Jonny Wilkinson," grins Biggar, although speaking in English, admittedly. "I'm hoping my French will be somewhere near his in a year or so's time."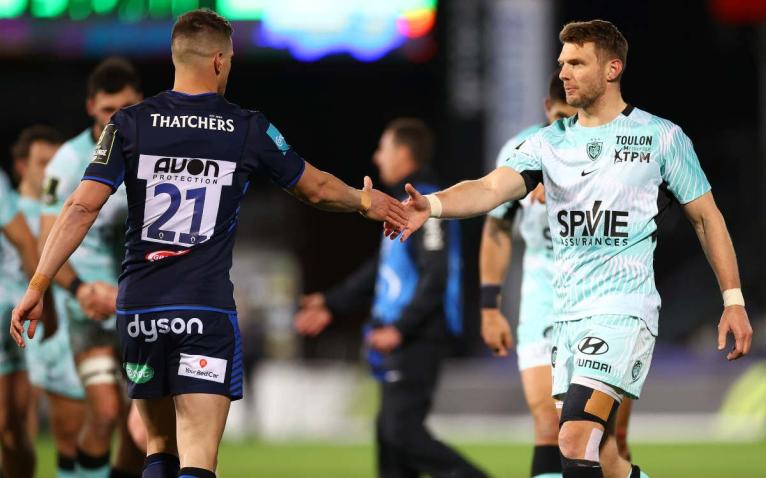 Even in such a throwaway comment there is a hint of Biggar's unflagging competitiveness. Watch out, Jonny, your smooth Gallic irregular verb endings could soon have a Welsh rival.
Wilkinson, of course, is just one of the names on the list of illustrious playmakers to have preceded Biggar at Toulon. And what a list it is, with Juan Martin Hernández and Matt Giteau among those to have chucked the ball around at the Stade Mayol in relatively recent times.
All hugely gifted players, and probably more naturally talented than Biggar in terms of off-the-cuff flair. But do any of them, even Wilkinson, match Biggar in terms of the ability to harness competitive drive and team organisation to such consistently successful effect?
Coughlan has played against and coached a truck-load of galacticos, and while it's early days with Biggar it is evident that he likes what he sees.
To see somebody like Dan come in and make such an effort with the language, it's greatly appreciated. That speaks of the type of guy he is and the influence he has.

James Coughlan, Toulon defence coach
"We saw the effect Dan had on Northampton when he went there from Ospreys – he's a leader on and off the pitch and he leads by example," says Coughlan, himself effortlessly slipping from fluent French into an Irish brogue. "For the foreigners who have been here for a while and who are maybe struggling with their French, to see somebody like Dan come in and make such an effort with the language, it's greatly appreciated. That speaks of the type of guy he is and the influence he has.
"As Dan said himself, he's here to write a page in the story of Toulon. He'll have time to find his feet in French rugby. There's no fear for Dan in France."
If there are pages to be written for Toulon then there are still pages to be written for Wales, even if the book is already a pretty hefty tome. With the knee injury that kept him out of the Autumn Internationals now behind him, Biggar is focused on the Six Nations. After that comes the World Cup in his new back yard. Although still fresh-faced, Biggar will turn 34 during the global jamboree. It may be something of a last hurrah for his country.
Due to his injury, he was one-step removed from the final sorry days of Wayne Pivac's tenure as national head coach. Biggar was in the team camp during the Autumn Internationals and receiving treatment off the field, but powerless to change the fortunes on it.
There was, he admits, something of a depressing aura around Welsh rugby in the immediate aftermath of Pivac's sacking. But Biggar does not do negativity for long. He is confident Warren Gatlands' newly assembled coaching team and the Ospreys' recent double over French champions Montpellier can act as twin spurs to the national side's fortunes.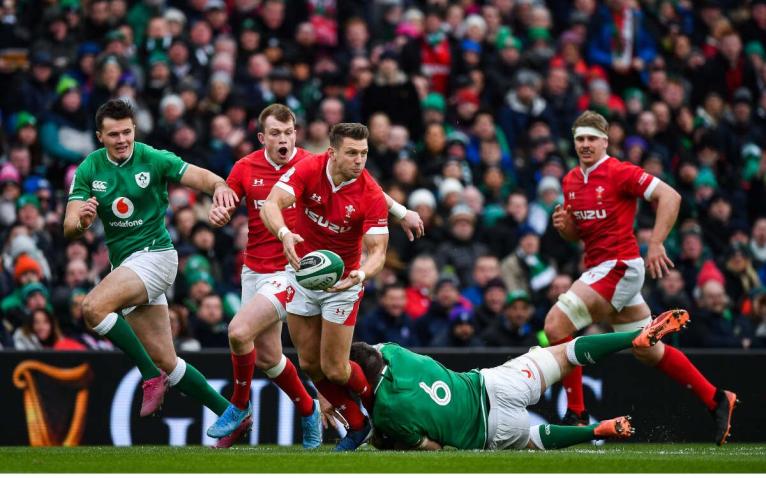 "There's been plenty of doom and gloom about Welsh rugby over the last couple of months but I think that has slowly started to turn and we can start getting some excitement back. There have been a couple of good results for the Ospreys, teams seem to be playing a bit better, confidence seems to be there, and with the new coaches and Gats' record, hopefully there'll be some positive weeks coming up."
While sorry to see the departure of Stephen Jones under the Gatland 2.0 shake-up, Alex King's appointment as attack coach is one that excites Biggar. The two share some interesting similarities in their career histories and perhaps a similarly broad, outward-looking mentality. Like Biggar, King also headed over the Channel after picking up an array of medals and honours at fly-half in his homeland. In King's case it was a successful move to Clermont Auvergne following wide-ranging success at Wasps and a handful of caps for England.
Biggar enjoyed his spell with King when the latter was briefly in charge of the Welsh attack during the 2017 Six Nations, and confesses he'll be shamelessly mining him for more tricks of the outside-half trade.
We haven't got long to get to grips with Alex's new ideas, but what he'll do – like he did in 2017 – is make things quite simple and allow us to put a bit more meat on the bone.
"I've worked with Neil Jenkins and Stephen Jones and I find that for me personally having a 10 who's been there and done it at the top level is really helpful. Strip away the team element, for me – and for 10s generally from a purely selfish point of view – it's really nice to pick their brains about what they'd do in such-and-such circumstances and how they'd get things across. And it's the same thing with Alex. He won everything at Wasps and I've spoken to a few of the Gloucester lads as well and he did a really good job there too.
"We haven't got long to get to grips with Alex's new ideas, but what he'll do – like he did in 2017 – is make things quite simple and allow us to put a bit more meat on the bone."
Biggar is talking to me after a heck of a long weekend. Due to flooding, Toulon's match with Bath has been relocated and moved to Gloucester. Following their impromptu tour of the West Country, Biggar has just steered the French side to a 32-23 win in front of as sparse a crowd as he will have witnessed since his days running around the pitches of Swansea as a junior. The Stade Mayol or Principality Stadium it was not.
Not even showered, Biggar is genially chatting. Many players after such a long weekend would remain on their feet and be understandably keen to get the questions over as swiftly as possible, half an eye on the post-match grub. But Biggar is seated, body language open. The team bus and the plane, it seems, can wait.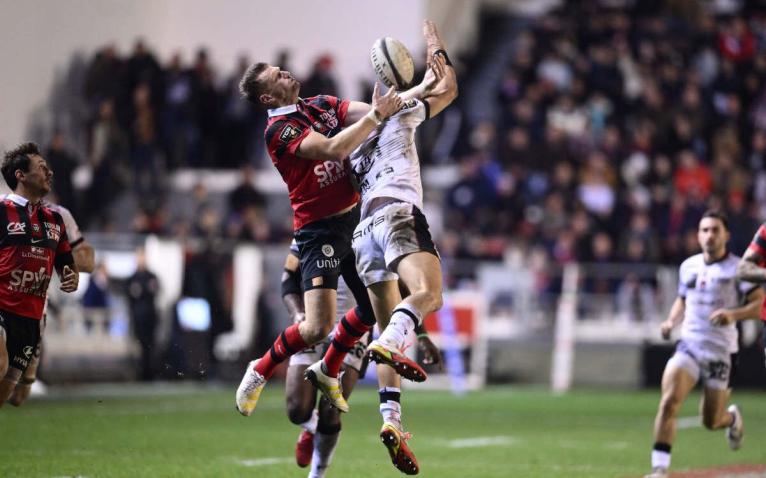 The chance to share a bus and training ground with the likes of Sergio Parisse and Charles Ollivon, though, was an enormous Gallic pull for Biggar, who remains determined to expand his rugby education. That education, he believes, will be to his – and by extension Wales's – advantage.
"One of the reasons I came to Toulon is that it's great to pick up ideas from different players and different coaches," he explains. "It's very different coming from the English Premiership, which is very structured and everything is put in place.
"Here you deal with emotion a little bit more and you have to be up for that. The coaches have been patient with me, because with the language it's very much a case of me speaking in sentences at the moment rather than putting my full stamp on the team. I'm hoping that will come through in the weeks and months to come.
"It's been great picking up little drills and various bits and pieces. Playing alongside guys like Sergio, Cheslin (Kolbe) and Baptiste Serin is only going to benefit me in terms of picking up ideas. I've loved it so far – difficult, different, but on the whole really positive."
"Dan's had a very calming influence on the group. We're seeing it every day with the training he's doing during the week and the effort he puts into his game."

James Coughlan
Putting himself into different, challenging environments is, it seems, Biggar's style. And it has worked in the past. His move from the Ospreys to Northampton in 2018 did not impede his continuing progress as Wales fly-half. His kicking, tenacity and all-round generalship was vital in his country's run to the semi-finals in Japan in 2019.
Biggar may not be Wales's official general for this Six Nations – the captaincy has gone to Scarlets hooker Ken Owens – but he will be a trusted lieutenant who has already earned his medals several times over. His leadership skills have already been identified at Toulon.
"Dan's had a very calming influence on the group," says Coughlan of his Toulon squad. "We're seeing it every day with the training he's doing during the week and the effort he puts into his game."
Calm is far from how Biggar describes the home support at Stade Mayol. "The only way I can describe playing there is that the walk-in is better than an international atmosphere," he says. "It's absolutely incredible before a big game. You're made to feel like an absolute superstar." Wales fans, find your voices – the challenge has been laid down to you for this coming Six Nations.
Toulon have a slogan: "Ici tout est different". Here, everything is different. Dan Biggar, for all his 100-plus caps and Lions tours, continues to do things slightly differently, travelling Europe's top leagues with his blend of self-believing ambition and almost boyish amiability. And there is another French saying: Plus ça change, plus c'est la même chose. And the more Dan Biggar changes, the more he stays the same.